The paint color you choose for your walls can have a significant effect, especially when it comes to small spaces like small bathrooms. These tiny bathrooms can feel cramped, and claustrophobic, and that's the reason why choosing the right wall paint color is very important.
If you have a small bathroom, we highly recommend you choose off-white, warm gray, beige, or light yellow colors for your bathroom walls. Those colors had the power to create an illusion of openness and brightness, while still keeping your bathroom looking cozy and stylish.
In this post, we'll explain why those colors can be considered the best paint colors for small bathrooms, along with some alternatives that not only will help maximize the limited spaces, but also infuse your space with a sense of charm, character, and tranquility.
So, after reading this post, you can say goodbye to the cramped bathroom and hello to a new space that feels refreshingly spacious and utterly delightful.
1. Off-White
If you want a color that is slightly warmer than the classic white for your walls, off-white is the best option.
This bright hue not only makes the bathroom feel more spacious, but also gives an important brightening effect that will be very helpful for any dark spaces. You can combine the off-white walls with wood or metal elements or accessories to add life to your bathroom.
Recommended Off-White Paints
White Flour (SW 7102) by Sherwin Williams
White Dove (OC-17) by Benjamin Moore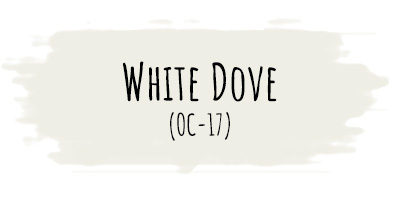 ---
2. Warm Gray
Warm gray is not only a more modern alternative to the classic cool-toned gray, but also a great option when it comes to a small space. Unlike typical gray, warm gray has a remarkable ability to make any space feel more spacious, creating a cozy and inviting atmosphere.
Its neutrality makes it easy to pair warm gray with your existing bathroom design and decor, and can also fit into almost any bathroom color scheme.
Recommended Warm Gray Paints
Gray Clouds (SW 7658) by Sherwin Williams
Alaskan Husky (1479) by Benjamin Moore
---
3. Light Blue
If you need to give your bathroom a new life, while still helping make the small space feel larger and more spacious, then you can go with light blue.
This beautiful shade is often associated with water and ocean, bringing tranquility and calmness that are essential for any bathroom. Repaint your bathroom walls with a light blue can easily transform your compact bathroom into a tranquil retreat that has a spa-like ambiance.
Recommended Light Blue Paints
Iceberg (SW 6789) by Sherwin Williams
Misty Blue (820) by Benjamin Moore
---
4. Sage
This soft, muted green color can instantly exude a calming and serene vibe, making it an ideal choice for a small bathroom where relaxation and tranquility are important. Sage walls can also create a fresh connection to the outdoors, bringing natural beauty into your indoor space, and promoting a sense of well-being and harmony.
You can also create an aesthetically pleasing bathroom by combining sage green walls with neutral elements and accessories.
Recommended Sage Paints
Willow Tree (SW 7741) by Sherwin Williams
Saybrook Sage (HC-114) by Benjamin Moore
---
5. Beige
Beige can make your bathrooms look larger effortlessly. This true neutral creates a calming effect and can be paired with almost everything from other neutrals to any vibrant or bold colors.
Beige-painted walls will look simple yet elegant, giving a soothing and inviting feel to the bathroom. Moreover, this timeless color can easily adapt to various design style, ensuring your bathroom remain in style for years to come.
Recommended Beige Paints
Accessible Beige (SW 7036) by Sherwin Williams
Revere Pewter (HC-172) by Benjamin Moore
---
6. Light Yellow
Light yellow walls not only bring a bright and cheerful vibe, but also infuse your small bathroom with a sense of positivity and energy, creating a pleasant and inviting space. Bringing the sunny outdoors to your home, light yellow will have a big impact on setting up the mood of your bathroom.
The brightness of light yellow, even if not as strong and vibrant as any typical yellow, will be a crucial benefit for small rooms where maximizing perceived space is important.
Recommended Light Yellow Paints
Venetian Yellow (SW 1666) by Sherwin Williams
Sundance (2022-50) by Benjamin Moore
---
7. Mint Green
Mint green will transform any boring bathroom into a richer and more lively space. And like any green shade, it can infuse freshness and tranquility that is essential for any bathroom. The bright, fresh tone of the mint green had enough power to brighten up the entire space, making the small room feel more spacious.
Often associated with positive energy, growth, and harmony, the mint green wall can evoke a sense of optimism and well-being in your home, while also creating a calming oasis that you can use to relax and unwind after a long day's work.
Recommended Mint Green Paints
Mint Condition (SW 6743) by Sherwin Williams
Spring Mint (2040-70) by Benjamin Moore