While some people may think that mid century modern design is outdated, we actually think the opposite. In fact, we tend to prefer this approach rather than some currently trending style that in most cases, can easily look boring.
And this is very contradictive with the timeless appearance of the mid-century style, so you don't need to think about redesigning your interior for years to come.
One of the main reason for this long-lasting beauty is the composition of many different organic materials that comes in a stylish and sleek design. Thus, the mid-century decor will have many different layers of element and texture that make the entire space looks rich while still keeping the natural and fresh appearance.
Choosing any furnishings to fit in into your modern mid-century interior can also be relatively easy. Just looking for any items that incorporate wooden elements, metal or brass elements, had a sleek and clean line, and still prioritize their main functionality.
However, based on our experience, there is one kind of item that tends to be more difficult to choose than the others when it comes to a mid-century modern living room: a rug.
If you are currently looking for a rug to complete your mid-century modern home, don't worry, we want to help you by curating some of our favorite rugs that will be a perfect fit for this particular decor style. And here they are :
15 Best Mid-Century Modern Living Room Rug
Mid-Century Modern Abstract Wool Rug by Safavieh
Without any doubt, this is our most favorite mid-century modern style area rug. Blending unique looks, artistic design, and stylish appearance making this item a perfect focal point for any living space.
Another thing that we love from this rug is the perfect color selections where the designer beautifully incorporates neutral shades like ivory and black with some vibrant yellow and brown accents, resulting in a stylish aesthetic look that will perfectly represent a typical mid-century appearance.
---
Gray Lattice Trellis Rug by Rugs.com
Most mid-century modern interiors will be filled with warm, neutral shades such as brown, beige, cream, taupe, or ivory.
Thus, you may need to add some cool-tone to help balance out the entire look and at the same time bring some coziness to it.
If you are facing a similar situation, then you can try using this elegant choice by rugs.com. Its color may not be a typical mid-century modern design, but its gorgeous pattern surely will fit in perfectly.
---
Handmade Modern Ivory / Gray Rug by Safavieh Studio
Its simple design makes this rug can be easily blended with almost any decor style, including the mid-century modern.
Moreover, using this rug can be a great way to add some contemporary touch to make your living room feel a bit modern and up-to-date.
The neutral color combinations also play a big role to make this item very versatile and can be easily blended with literally any color scheme.
---
Boho Mid-Century Modern Rug by Wonnitar
This awesome rug combines the bohemian design with modern mid century style, creating an aesthetic and cheerful vibe that can easily live up any living spaces.
With combination of striking color like orange and black with soft and neutral off-white and pink, this colorful choices will bring plenty of richness to evoke fun and joyful ambiance to your spaces.
---
Boxes Rug by Well Woven
With classic boxes pattern, this rug bring simplicity to any spaces. Another great feature from this choice is the color palette, where it combine the soft, neutral color like gray and blue, with a striking yellow accents.
So, while the neutral becomes the dominant looks, it still bring a splash of pop to lighten up your interior.
---
Modern Abstract Rug by Safavieh
This is another great option for you who want any rug that spread a lot of mid-century modern look to your home. Or you can also use this rug to infuse a touch of mid-century feels into any decor style.
The gorgeous combination of a neutral palette with a sleek pattern makes this rug can easily elevate any room by becoming the main visual interest that captures anyone's attention.
---
Blue, Gray, and Yellow Rug by Well Woven
Even though neutral shades tend to be the main palette for a modern mid-century interior, but that doesn't mean that you cannot use any bright or vibrant colors in it.
In fact, this decor style gives you more flexibility to add literally any colors and still looks quite amazing.
So you don't need to worry to use any rug with vibrant shades such as this wonderful rug by well woven.
The designer of this rug did a great job to combine two opposite shades: yellow and blue, in an abstract retro pattern that looks amazing to bring a wonderful pop and cheer up the entire living space.
---
Pink Abstract Rug by Safavieh
Using subtle pastel tone, this rug embrace plenty of sweet charming vibe to your living space. It's softness and aesthetic looks works even better when combined with wooden mid century modern furniture that are staples for a modern mid-century interior design.
Lastly, its geometric design add a bit of modern twist to finish up this rug beautifully.
---
Geometric Zig-zag Diamond Rug by Home Dynamix
The combination of blue and taupe hues making this option an interesting addition into any room.
At first, this item may looks like a neutral, but thanks to it's blue shade, you can still get some richness and adding beautiful color to your interior scheme.
---
Modern Bohemian Rug by Jonathan Y
Bohemian and mid-century is totally different approaches in terms of visual appearance, elements, and characters. But actually, they can work really well together to create a unique, creative look.
One easy way to achieve this is by incorporating a boho-style rug into your mid-century living space, and this black boho rug by Jonathan Y is one of our favorites for this particular job.
Although it had a boho style texture, this item uses neutral black and ivory colors that make it works really well inside any mid-century environment.
---
Abstract Modern Multi-color Rug by Safavieh
If you need an eye-catching centerpiece to complete your living room, then we highly recommend this one. It's beautiful color combination make it easily capture everyone's attention.
Finally, the abstract geometric pattern will bring an artistic touch to make the entire space look much more interesting.
---
Simple Hexagonal Ivory Rug by Safavieh
At first, this rug may look quite simple. But if you take a closer look, it actually very artistic thank's to the combination of hexagonal patterns with randomized colors.
Thus, we love to use this option to bring some creative touch that will easily break the monotony and makes the room feel more attractive and interesting.
---
Blue and Gray Rug by Safavieh
For you who need to add a strong modern touch to your mid-century decor, then this can be a perfect option for you. It's beautiful stylish pattern creates a stylish look that make the entire room looks sophisticated.
Additionally, the perfect color combination choices making this rug stand out elegantly and becomes a new interesting focal point.
---
Geometric Brown and Gray Rug by Superior Store
With a perfectly neutral color combination, this choice can become a gorgeous base to let any furnishings above it to stand out and looks even better.
It's strong earthy tone emphasize the modern mid-century style interior, adding plenty of fresh and natural vibe to your space. For an even better result, put some greenery above or around it.
---
Moroccan Trellis Diamond Rug by Well Woven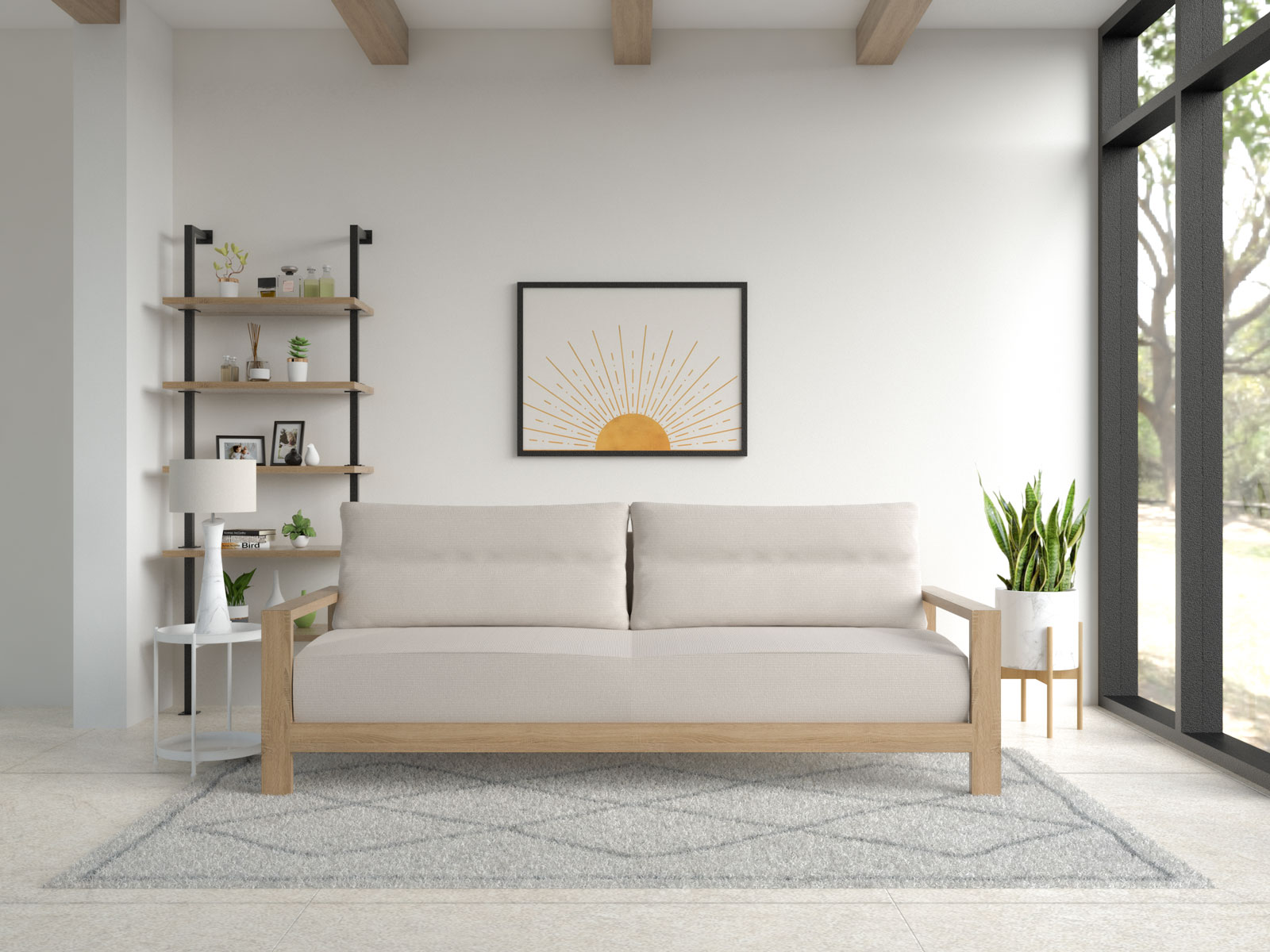 Diamond trellis pattern for any rug is quite common, but this rug presents it uniquely. So, it appears much simpler and doesn't look as cramped and crowded as any typical diamond trellis pattern.
And this simplicity surely is an important feature that makes this item will fit inside any mid-century modern living room.
Furthermore, its simple neutral shade also makes your next job much easier as it can be used with literally any other color.
---
Explore More Rug Ideas