Sherwin Williams offered a wide variety of white paint colors. Of course, this can be a good way as homeowners or interior designers can get a bunch of different options. However, on the contrary, this can also make the simple job of choosing white paint colors becomes tricky.
After trying a lot of different white interior paints from Sherwin Williams, we can conclude that Alabaster, Extra White, Pure White, White Flour, Arcade White, or White Snow. These options carries a well-balanced undertone, and easily adapt to various lighting conditions. They can pair easily with a range of colors and design styles, complementing both traditional and contemporary aesthetics.
In this post, we will be compiling a list of the 16 best Sherwin-Williams white paint colors for interior walls, complete with detailed info and image examples of each color. Let's get started.
16 Best White Paint Colors From Sherwin Williams for Interior Walls
Alabaster
Arguably, this is one of the best warm white paint options from Sherwin Williams, and it's easily proven by its popularity.
This paint had enough warmth – not too strong but still can make the entire space feel warm and comfy. Thus, it can be a great option if you need to liven up your home without making an overly stark ambiance.
---
Extra White
As one of the "truest white" paint from the Sherwin Williams collections, this paint can be an ideal choice for you who are looking a pure, clean, and crisp looks.
In terms of tones, this paint tends to be on the cool side rather than on the warm, so it can work beautifully to complement and balance out any room that had plenty of warm furnishings or elements.
---
Pure White
Although it's named Pure White, this paint is not totally "purest" or plain white. Instead, it had a touch of cream undertones that makes it looks quite warm.
However, compared to any other warm white paint from Sherwin Williams, this is one of the lightest options that can be a very interesting choice to brighten your home.
---
White Flour
At first, this paint may look like pale yellow paint but comes with a much lighter and brighter appearance. Thus, it can be a great alternative for you who are considering bringing some yellow undertones to your space but don't want it to become overly vibrant as any typical pale yellow.
---
Arcade White
We often said that this Arcade White is the lightest form of light beige, and you can see it yourself in the image above. And that's why, you can use this paint as a lighter alternative to the classic, popular beige paint, as it still brings the typical characteristic of the earthy, neutral beige but comes in a very light visual appearance.
Based on our experiences, the ideal situation where you can get the most of this paint is by incorporating it inside any room that uses plenty of wooden elements.
---
White Snow
If you are looking for a perfectly balanced white that is not too cool and not too warm, then this White Snow can be a great option for you. Its ambiance is just right, making this paint can easily be blended into any decorating scheme.
---
Frosty White
For you who prefer any white paint that had a slightly darker tone, then you can take a closer look at this Frosty White. Unlike most white paint, this color had a hint of pale look that makes it feel a bit dark.
And this character can be a great advantage if you want to make a more calming and natural space without being overly bright.
---
Heavenly White
If you still can't decide whether to go with white or pastel color for your interior wall, then why not utilize both by using this Heavenly White by Sherwin Williams.
This color offers a unique pastel look thank's to its pale pink and brown undertones that wrap up beautifully within the white base. So not only you get all of the clean and crisp looks as any typical white, but also get plenty of sweetness as any pastel paint does.
---
White Sand
Greige is one trending color in the interior design world in recent years, and this white sand is a beautiful lighter, white version of it. This white sand will bring a lot of warmth but still looks pretty clean, sleek, and crisp.
---
Origami White
This paint goes beyond any typical warm white, as it comes with a beautiful smooth and creamy appearance that comes from a perfect balance between gray and tan undertones.
When used for any large element such as the walls, this paint will spread a hint of fresh and natural feels that result in a comforting ambiance for your home.
---
Nebulous White
At first, this paint may look leaning toward light gray rather than white. But actually, it's still a white that had strong gray undertones that make it feel a bit darker compared to most white.
This paint can be a great option for you who need a lot of cool tones to balance out any warm items or elements inside your home.
---
Superwhite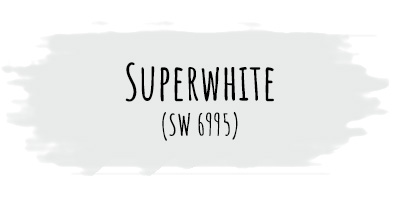 This is a great alternative for you who are looking for any white paint that is close to the "true white" but comes with a hint of cool tones.
Because of it, this paint brings an elegant twist and that's why we love to use this paint color for any modern, contemporary style interior as.
---
Soothing White
This is another awesome cool white alternative from Sherwin Williams. And like its name, it can instantly bring a soothing and calming ambiance to any space, so it can be a perfect option for any room where you want to calm down and relax such as a bedroom or family room.
---
Whimsical White
This is a unique white paint from Sherwin Williams as unlike most white options, it comes with a hint of purple undertones. And this purple undertones work beautifully to create a rich, aesthetically-pleasing look that goes beyond any mainstream white.
So if you want to add a bit of colorful depth to your space while still keeping the bright and light appearance, this paint can be a perfect choice for you.
---
Snowdrop
Blue shades are popular for their tranquil, calming, and airy vibe. Thus, if you want to have those ambiances in your home but avoid using any typical blue that may be too strong and can ruin your bright and sleek interior, then you can try using this Snowdrop by Sherwin Williams.
This paint may still be categorized as white, but it comes with an enough, noticeable amount of light blue hue that makes it more rich and alive than any typical, mainstream white paint.
---
Smart White
Smart White comes with a unique sweet and pretty appearance, thank's to its light pink undertones. So it can be an awesome, lighter, and more gender-neutral alternative than any light pink shades.
---
Browse More Popular Wall Paint Colors