As one of the largest elements inside kitchen, cabinets can make or break the entire kitchen visual appearance. And that's the reason why a lot of people tend to play it safe by choosing black for their kitchen cabinets.
This color will never goes wrong. It also had a timeless elegance that make it fit perfectly with almost any kitchen design style, from classic to modern kitchen.
If you are looking for some kitchen ideas with black cabinets for your kitchen renovation project, you are on the right place. Today, we will share with you some of our kitchen design that using black cabinets as the main feature.
You can try replicate those design, or use them as an inspiration to help you creates a stunning kitchen that reflects your personal style meets your functional needs.
10 Stylish Kitchen Design Ideas with Black Cabinets
Modern Farmhouse Kitchen with Black Cabinets
Black isn't the first choice when it comes to modern farmhouse kitchen, but we want to create something different and the result is quite promising. As you can see, the black cabinets really stand out, especially since it's paired with a lot of white elements, such as white cabinets and white backsplash.
The black cabinets also boost the modernity of this kitchen, while still keep the beauty and charming vibe as the soul of farmhouse-style design.
---
Kitchen with Black Cabinets and White Marble Countertops
In this kitchen, there are two main feature that really pop and stand out : the black cabinets and white marble elements. We used the white marble not only for the countertop, but also for backsplash.
When combined with sleek black cabinets, the natural marble stone really unleash all of it's beauty and luxury vibe.
---
Modern Kitchen with Black Cabinets and Gray Travertine Countertops
This kitchen is actually pretty simple, but since we incorporate two bold and stunning element, black cabinets and gray travertine countertops, the entire kitchen looks amazing.
Thus, you can replicate this design if you want to have a modern elegant kitchen that still maintain simplicity and clarity.
---
Kitchen with Black Cabinets and Gold Accents
Black and gold is a great combination that never gets old, and we try to incorporate them in this kitchen design. The black cabinets work as a bold and sleek backdrop, while the gold tile backsplash adds a touch of glamour and elegance to the space.
This combination creates a visually stunning focal point and adds a sense of luxury to the kitchen design.
---
Kitchen with Black Cabinets and Light Wood Countertops
Since the black cabinets in this kitchen is looks overly dominant, we want to lighten and calm it down by adding light wood countertops. And this approach works perfectly. The light wood countertops soften the look of the cabinets without taking away it's elegance.
At the same time, the wooden elements help spread some warmth throughout the kitchen for a fresh and charming vibe.
---
Black and White Kitchen with Blue-gray Walls
This kitchen combine the classic, timeless combination of black and white with an elegant blue-gray walls. As you can see, the result is very interesting, as the simplicity of the black and white pair boosted by the strong and stylish blue-gray hue.
However, if you want to replicate this kitchen design, please make sure that you had plenty of natural lighting to avoid the entire kitchen looks dark and gloomy.
---
Elegant Black and White Kitchen
Simplicity and elegance becomes the main foundation of this kitchen. With black cabinets that pair beautifully with plain white countertops, creating a stunning contrast that let both the cabinets and countertops to shine.
To boost the black drama in this kitchen, we choose black appliances and hardware that blend flawlessly with the cabinets.
---
Minimalist Black and Cream Kitchen
For this kitchen, we want to creates a minimalist, elegant, yet warmth look. And that's the main reason why we choose the beautiful combination of black cabinets with cream marble countertop and backsplash.
The black cabinets giving this kitchen a bold, dramatic touch, while the cream marble bring a hint of natural warmth and glam twist that enhance the entire kitchen area.
---
Small Black and White Kitchen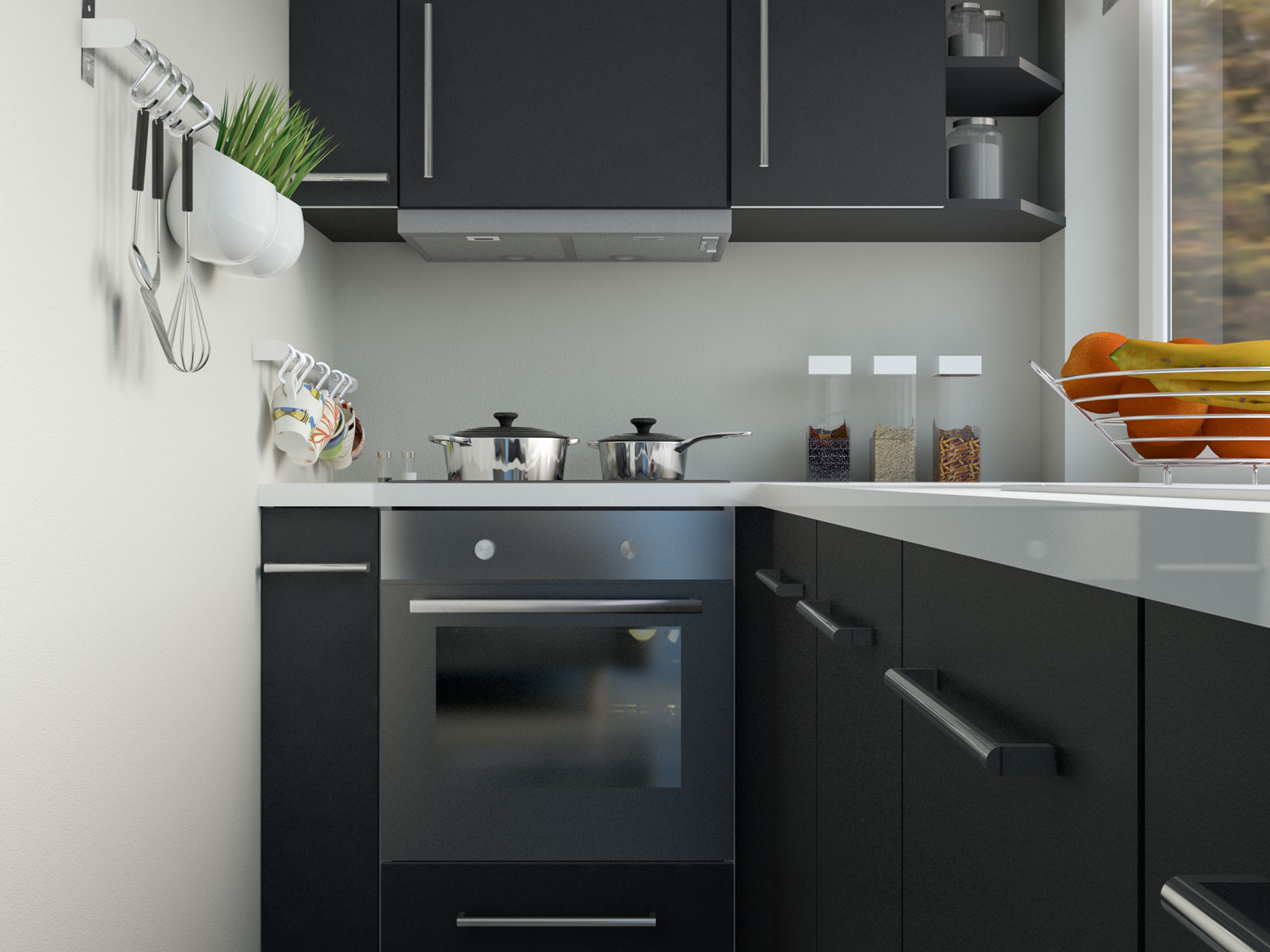 Most people may be avoid black cabinets when it comes to small kitchen. But actually, this kind of cabinetry can still works pretty well, especially when it combined with plenty of white elements. Take a look of this kitchen, where we combined the stylish black cabinets with white countertops and white walls.
The white elements give this small spaces plenty of brightness and lightness, while the cabinets do its job to becomes the centerpiece and elevate the entire kitchen appearance.
---
Kitchen with Black Cabinets and Butcher Block Countertops
If you want to creates a classical kitchen with a hint of elegant drama, then you can try this idea. In this kitchen, we combine the stunning black cabinets with butcher block countertops.
The sleek and clean looks of the black cabinets expose the beauty of the butcher block countertops, creating a stylish yet natural appeal.