White Dove by Benjamin Moore (OC-17) is one of the most popular off-white paint that is used by many interior designers and homeowners. This soft, creamy-tone white is a perfect upgrade from the typical pure white that sometimes can look a bit boring.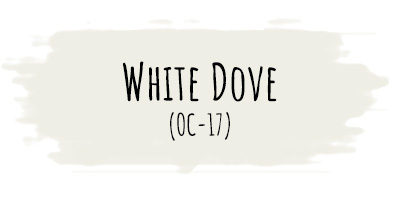 Unlike most off-white, White Dove doesn't have plenty of warmth, and sometimes may look on the cool side. Hence, this beautiful color can be a perfect choice to bring a modern twist while still keeping the cozy, sleek, and crisp appearance wherever it's used.
And that's why this beautiful paint color is not only popular as wall paint but also widely used in other elements such as kitchen cabinets.
However, since this color is a bit unique, it may be a bit tricky to find any other colors that can complement it perfectly. And in case you already painted your kitchen cabinets with White Dove, you may find out that not all countertop colors can blend well with them but instead can make the entire kitchen look a bit awful.
To avoid these kinds of disasters, we recommend plain white quartz, white marble, beige granite, brown marble, and black quartz as countertops for White Dove cabinets. The neutral tones of these countertops create a striking visual contrast against the crisp, clean look of the White Dove cabinetry. They can add depth and character to the kitchen, while still keeping the charming allure of the beautiful cabinets.
Read on as we will show you why those countertops are great matches to the White Dove cabinets.
1. Plain White Quartz
Bring a clean, minimalistic modern look to your kitchen by pairing White Dove cabinets with plain white quartz countertops.
Since both the cabinets and the countertops had a similar white base, you can achieve a beautiful harmony and seamless appearance.
Moreover, as one of the only few countertop options that had a lighter tone than the cabinets, using plain white quartz counter can help make your cabinet stand out more.
---
2. White Marble
Alternatively, you can go with white marble countertops. This option provides similar effects to the previous one but comes with a bit of an elegant, modern twist that can fully enhance the entire kitchen.
Even though the white marble may look quite similar to the white cabinets, it can still easily become the main focal point of your kitchen, thanks to its stunning and wonderful appearance.
---
3. Beige Granite
Since the white dove had a hint of light yellow tint, some countertops that had a similar yellowish tone like beige granite can also become a nice pair. Furthermore, the natural grain of the beige granite works beautifully to add some glam touch to elevate the entire kitchen's appearance.
This option will work best in a classical or vintage style kitchen but doesn't mean that it can't look great in any other design style – as long as you can carefully consider any other elements.
---
4. Brown Marble
A lot of people tend to choose countertops that have a much darker and bolder look relative to the cabinets, and if you are one of them, then you can consider brown marble.
Without any doubt, the brown marble countertops will easily boost your kitchen by bringing in plenty of glamorous appearance. To get an even better result, add some metallic, brass, or gold accessories throughout your kitchen.
---
5. Brown Granite
Or, you can try brown granite. The brown granite countertops bring very similar effects to the previous options, brown marble, but with a very different character.
The brown granite countertops bring a bold earthy vibe to your kitchen. So even though your kitchen will still look glam, it still feels charming and neutral. Thus, this option can easily fit in into almost any kitchen decorating style.
---
6. White Granite
Most white granite had some creamy, off-white looks. That's the reason why this is a perfect option for any off-white cabinets like a white dove.
More importantly, you don't need to worry about the boring, monotonous looks that often occur when combining visually similar cabinets with countertops, as white granite has a strong natural texture and grain that makes it pop beautifully.
---
7. Brown and White Marble
Although it's quite rare, some types of marble have gorgeous white and brown color combinations. If you had the luxury to get one of them, then don't miss the chance to create a stunning and fabulous kitchen look by combining these marbles with your white dove cabinetry.
Another interesting feature of any marble that has brown and white colors is that it brings lively, strong, and colorful two-tone visuals that make it look far more interesting than any other kind of marble.
---
8. Black Quartz
The high, dramatic contrast between black countertops and white dove cabinetry adds depth and visual dimension to your kitchen, blending a dynamic modern style with some charming warmth.
The countertops exude a sense of luxury, while the cream cabinetry keeps the entire kitchen feel inviting and welcoming.
This classic color combination is a timeless choice that won't go out of style, so you can enjoy this gorgeous pair for years to come without worrying about it looking outdated.