A backsplash tile is a minute detail that adds personality to the room and is one of the room's most visually striking features. Selecting the right backsplash that matches your maple cabinets is crucial to maintain precious wall space and ensures that it allows other design elements such as countertops to complement it smoothly. It is important to pick one that is trendy and functional.
Here are some important things to consider before choosing the right backsplash for a kitchen with maple cabinets:
Colour– Your preferred color choice is important. You might want to go with a colorful appearance as the highlight of the space or go for a neutral color for a sense of calm.
Backsplash Height– Maple cabinetry plays a huge role in deciding your backsplash height. You can either extend your tile if you have no overhead cabinets or can have a hint of tile if you have open shelves.
Material– Your backsplash material selection depends on the overall design you aim to achieve. What do you want to pair with your maple cabinets? Ceramic tile, stone, brick, mosaic, or glass tile are a few to mention.
Shape and pattern– Would you like to incorporate classic or fun patterns in the design? To achieve a timeless design, you can use a simple 3×6 subway tile layout or a straight pattern. If you like to experiment with shapes, you can go for metallic patterns of different shapes such as hexagons.
Budget– A lot depends on your budget. If you have a tight budget, opt for standard field sizes. You can add fun details such as mosaics or use hand-painted tiles. Specialty shapes and intricate glazes can add to your cost. Tips to remain within budget are to use high-quality grout, avoid using trendy tiles, and select classic white ceramic tiles.
What Backsplash Goes with Maple Cabinets? 
White Tile Backsplash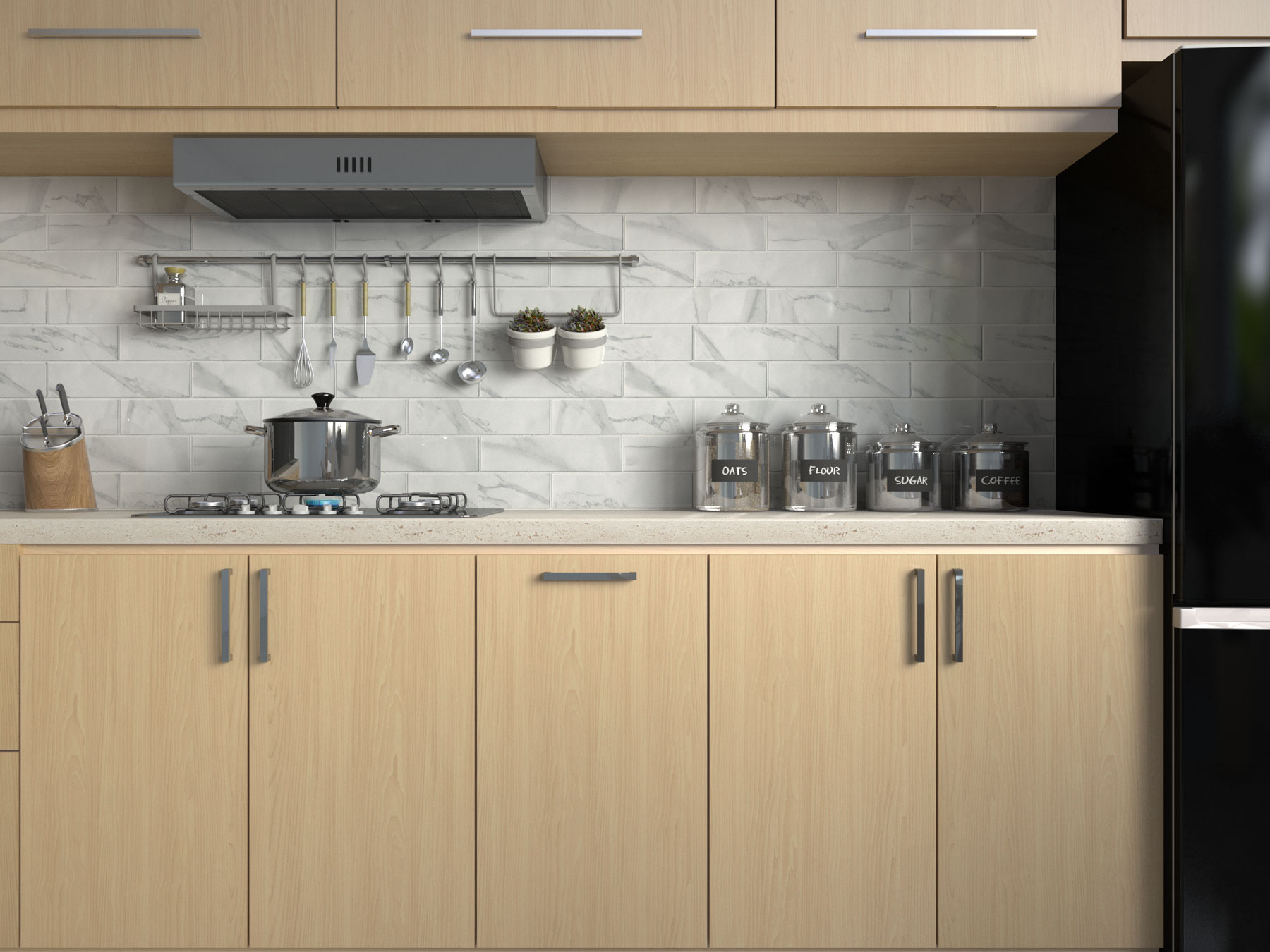 A white tile backsplash with maple cabinets gives the kitchen a fresh and timeless overall appearance. It adds a touch of brightness to the room if, for example, there are no direct windows around it.
If you prefer a blend of modern and classic looks you can go for white subway tiles with either white grout or grout that is a shade or two darker than the tiles. For an old-fashioned appearance, you can use grey grout.
---
Cream Marble Backsplash
Using cream marble backsplash with maple cabinets adds a classic and elegant touch to the kitchen layout. If you prefer lighter design appearances, then cream marble backsplash is the best choice.
It makes the kitchen look more spacious. The cream marble backsplash has soft tones and texture, which makes it a perfect match with maple cabinets.
You can go a little braver with your countertops to incorporate a combination of different materials and colors.
---
Gray Granite Backsplash
A gray granite backsplash makes the maple wood cabinetry stand out. It is a sophisticated color that enhances the look of the kitchen and creates a pleasing contrast with the warm maple cabinets.
This color creates several different looks when light falls into the room and helps achieve a more contemporary room in design. This results in a soft visual appearance to the eye.
---
Olive Green Mosaic Tile Backsplash
Without texture or contrast, designers are usually not satisfied with the end result of their kitchen look. The Olive green mosaic tile backsplash is a bold contrast with the maple cabinets.
It is a natural accent hue that adds depth to the kitchen and works well with a variety of colors. It allows you to effortlessly connect with nature and brings the outside inside.
---
Black Marble Backsplash
White has usually been a dominant material in kitchens. If you like to experiment with your kitchen design, embrace the trend of dark with a black marble backsplash.
Not only does it add layered looks with the walls, countertops, and maple cabinets, but also results in bold contrast with light flooring.
Additionally, it is a luxurious material used, stains less easily, and adds class and character to the space.
---
Dark Brown Marble Backsplash
To escape a bland and all-white kitchen, you can choose a dark brown marble backsplash approach to complement the neutral maple wood cabinets.
This modern backsplash tile brings a boring kitchen to life with its eye catchy look. It also acts as a centerpiece of the kitchen and works well with stainless steel appliances. This is the best way to make your maple cabinets look rich.
---
Yellow Mosaic Backsplash
Yellow Mosaic Backsplash has a timeless allure due to its linearity and brings radiance to the kitchen. Together with maple cabinets, it creates a harmonious yet contrasting effect.
These yellow mosaic backsplash tiles are used to brighten up the space with small windows or no windows at all.
Besides that, it is a color that brings positive energy to the space and is one of the best colors to add to your color palette with neutrals like maple for cabinets.
---
In conclusion, selecting the right type of backsplash is essential for the kitchen and has to be used wisely.
Choose one that helps shield the wall behind your stove from heavy grease and cooking stains, compliments the countertop, reflects your personality and fits within your backsplash budget.
Last but not the least, keep in mind your cabinetry since it also plays a major part in selecting the right color and material for the backsplash.
You can choose from a variety of backsplash tiles such as cream marble, white tiles, or mosaic tiles.