If you are like many other homeowners, you consider the kitchen to be the heart of the home. It is the place you gather with family for meals and chats. This is why it is important to ensure your kitchen is visually appealing for everyone.
Brown granite such as Baltic Brown Granite, Antique Brown Granite, or Coffee Brown Granite are great for adding a touch of warmth to your kitchen. However, you should always consider the color scheme before choosing a shade for your cabinets.
The last thing you want is a scheme that feels overwhelming. You want to create an aesthetic that makes you happy to be in your kitchen.
When you are ready to spruce up your kitchen, use the following ideas to select a cabinet color that works with your brown granite countertops.
12 Best Cabinet Colors for Kitchen with Brown Granite Countertops
White
White is always a safe choice for your cabinets because it goes with everything. In addition, white cabinets with brown granite countertops add an elegant look to your kitchen.
What seems like two simple shades can make a big splash in a country or rustic-inspired kitchen. The choices range from paper white to Navajo white, but any shade of white can make your kitchen feel bigger and brighter.
---
Greige
Greige is a mixture of gray and beige, which is great for adding both cool and warm tones to your kitchen. When paired with dark brown granite, the contrast of this color scheme is beautiful.
This neutral shade is the perfect addition to a modern or farmhouse kitchen. The best part is that greige is a timeless shade, so you do not have to worry about your cabinets going out of style.
---
Pale Blue
If you want to add a splash of color to your kitchen, pale blue looks great with brown granite. Pale blue cabinets adds charm to your kitchen without going overboard.
In fact, pale blue with brown creates a calming atmosphere in your space. Use this color scheme to add both warm and cool tones to your farmhouse, French country, or mid-century modern kitchen.
---
Beige
You can stick with warmer tones by pairing your granite countertops with beige cabinets. Beige is a very pale shade of brown, so you can rest assured that your cabinets and countertops are going to look great together.
Using a lighter shade for your cabinets also makes your kitchen feel bigger. You can pair your beige cabinets with brown granite to create a cozy scheme in your rustic, farmhouse, or modern kitchen.
---
Sage
Green can be one of the best hues to go with brown. However, when it comes to brown granite, we honestly thinks that sage green is the perfect green shade that not only looks flawless, but also keep the beauty of the earthy stone.
This soft, muted color can bring plenty of calmness and relaxing vibes to your kitchen.
---
Dark Green
But if you are looking for a velvet glam combo, then you can try using darker green shades. This paint color will go together with the strong and bold appearance of the countertops, making the entire kitchen stand out elegantly.
This rich duos also helps enrich your kitchen, avoiding a boring looks.
---
Light Brown
Why not create a monochromatic kitchen with brown granite countertops and light brown cabinets? This is a good way to enhance the warmth of your rustic, farmhouse, or country-style kitchen.
You can highlight the color scheme with beige, tan, and greige accessories, or you can give your eyes a break from the brown shades with black and white accessories.
Another idea is to add a splash of color with accessories in yellow, pale blue, or soft pink.
---
Black
Black is another shade that goes with everything. Pairing your brown countertops with black cabinets adds a fun, dramatic vibe to your kitchen. In addition, these contrasting shades also add a sense of balance to your space.
The black cabinets and brown granite countertop also work together to create a focal point without overpowering one another. This scheme is a great idea for modern, contemporary, industrial, or elegant kitchens.
---
Light Gray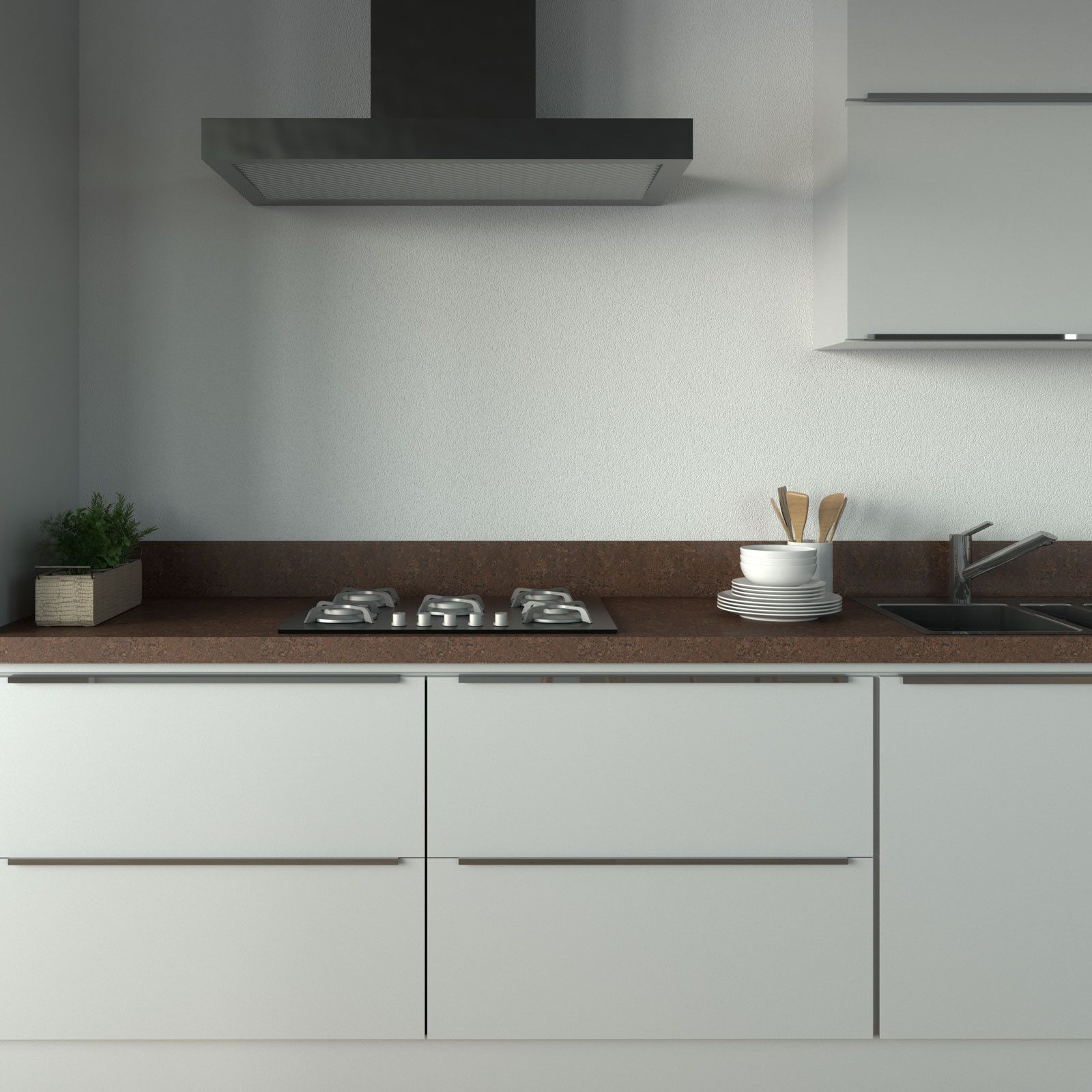 Pairing light gray cabinets with brown granite countertops is another way to add both cool and warm tones to your kitchen. Light gray is actually a versatile shade that works in various kitchens, from farmhouse to modern.
You can use your light gray cabinets to add a softer, brighter vibe to your kitchen. Just like greige, you do not have to worry about light gray going out of style because it works with various colors.
---
Light Yellow
Light yellow not only adds a bit of pop to your kitchen, but also lift up the mood so you can enjoy your time there. And since most brown granite had at least a hint of yellow undertones, they can blend pretty well together.
The light yellow cabinets also becomes a great choice for you who had a small kitchen
---
Pale Orange
If you need an even more vibrant hues, then pale orange will be a perfect choice. It also becomes a more mature choices compared to yellow shades.
And when it comes to earthy brown stone, pale orange can blend very well since they share a very similar hues.
---
Medium Gray
Medium toned gray can be a perfect neutral balance, not too light while not overly dark. This gray shade boost plenty of elegance that match beautifully with glam and luxurious vibes of the brown granite.
To brighten this pair, you may need to incorporate some warm backsplash, such as cream marble or beige tile.
---
As you can see, there are several shades that work with brown granite, which is great for bringing your ideal kitchen to life.
Believe it or not, the sky is the limit when working with brown granite countertops. You can add a cooler tone with pale blue or light gray cabinets, or you can enhance the warmth with beige or light brown. You can even add a touch of elegance to your kitchen with white or black cabinets.
Whether you want to add a dramatic feel or create a soothing atmosphere, the above cabinet colors can help you create the kitchen design you have in mind.
---
Explore More Cabinet Color Ideas