When it comes to choosing colors for an accent wall, there are two main approach that is often used. First, go with bright, cheerful, and vibrant colors, or, go with a deep, bold color.
The second approach is perfect for you who want to have an accent wall that looks elegant, sophisticated, luxurious, and relaxing at the same time.
We've already shared some of our bold accent wall designs such as gray accent wall and burgundy accent wall. Now in this article, we will give you another amazing idea using dark blue.
Blue is a timeless color that can be used in almost all kinds of interior design styles, from contemporary to classical ones. The darker shade of blue such as navy blue or royal blue is a perfect shade to create a great wall. As the warmer side of the spectrum, those kinds of blue created a calm and serene feel that will make everyone feel relaxed when seeing them.
Without further ado, here are our 10 dark blue accent wall ideas :
1 of 10
Bold and Natural Master Bedroom with Dark Blue Accent Wall
Our first bedroom design on this list is this stunning master bedroom with dark blue and french oak wall.
The combination of the bold dark blue wall with a more calm and natural wooden material creates a perfect balance that makes the wall look amazing.
We added some simple vertical lines on the wall to add some modern touch and help avoid the wall looking boring as we don't want to add any wall decor items there. Using some additional lighting also helps enhance the looks of this wall.
---
2 of 10
Simple Minimalist Navy and White Bedroom
For this bedroom, our main goal is to create a sophisticated minimalist style bedroom using white as the main color combined with navy. And as you can see, this color combination works great to complement each other and harmonize perfectly to create a simple yet attractive blue bedroom.
The feature wall for this bedroom is quite simple, just a plain dark blue wall. To make it more interesting, we added one full-length mirror and one stunning large abstract artwork.
Another important thing for this kind of bedroom decor is to add more navy elements throughout the room, such as some throw pillows or the rug.
---
3 of 10
Modern Classic Gray and Dark Blue Master Bedroom
As we already said before, blue is a timeless color that has been used since hundred years ago in interior design to create a luxurious vibe to any room. That's why we chose it for this modern-classical style master bedroom.
Paired with a neutral gray color that created some contrast to make the dark navy blue stand out more, we don't even need to add any wall decor items as the wall already looks gorgeous.
---
4 of 10
Elegant Small Bedroom Apartment with Marble Wall
This is quite different from any typical accent wall as we used blue marble materials for it.
Using this element helps create an elegant and luxurious look that we want to achieve for this bedroom. We wrap the marble around the white wall to make a great amount of contrast and help those marbles stand out.
---
5 of 10
Small Bedroom with Dark Blue Wallpaper
Another approach that you can use to get a great accent wall besides using typical paint is using wallpaper. There are several benefits of using wallpaper rather than paint, such as it will bring a more elegant look thanks to its texture and pattern, and you can easily change it if you want to create a new look for your space in the future.
Back to the design, we want to keep this bedroom simple as for this kind of small room, overly decorated can make it look awful.
On the wall, we add a set of decorative mirror that not only works to make the wall looks more attractive but also help make this dark blue bedroom feels a little bit more spacious.
---
6 of 10
Simple Contemporary Living Room with Dark Blue Accent Wall Behind TV
If you are planning to create an accent wall behind your wall-mounted TV, then dark colors it the most perfect option.
Using those kinds of colors can help make you focus on your TV without getting distracted by the wall behind – something that usually happens when you use a bright wall color behind a TV.
This kind of wall is also very easy and straightforward, as what you need is just to paint the wall, and you are done. You don't need to make any fancy decor or add some wall art.
---
7 of 10
Dark Blue Wall with Fireplace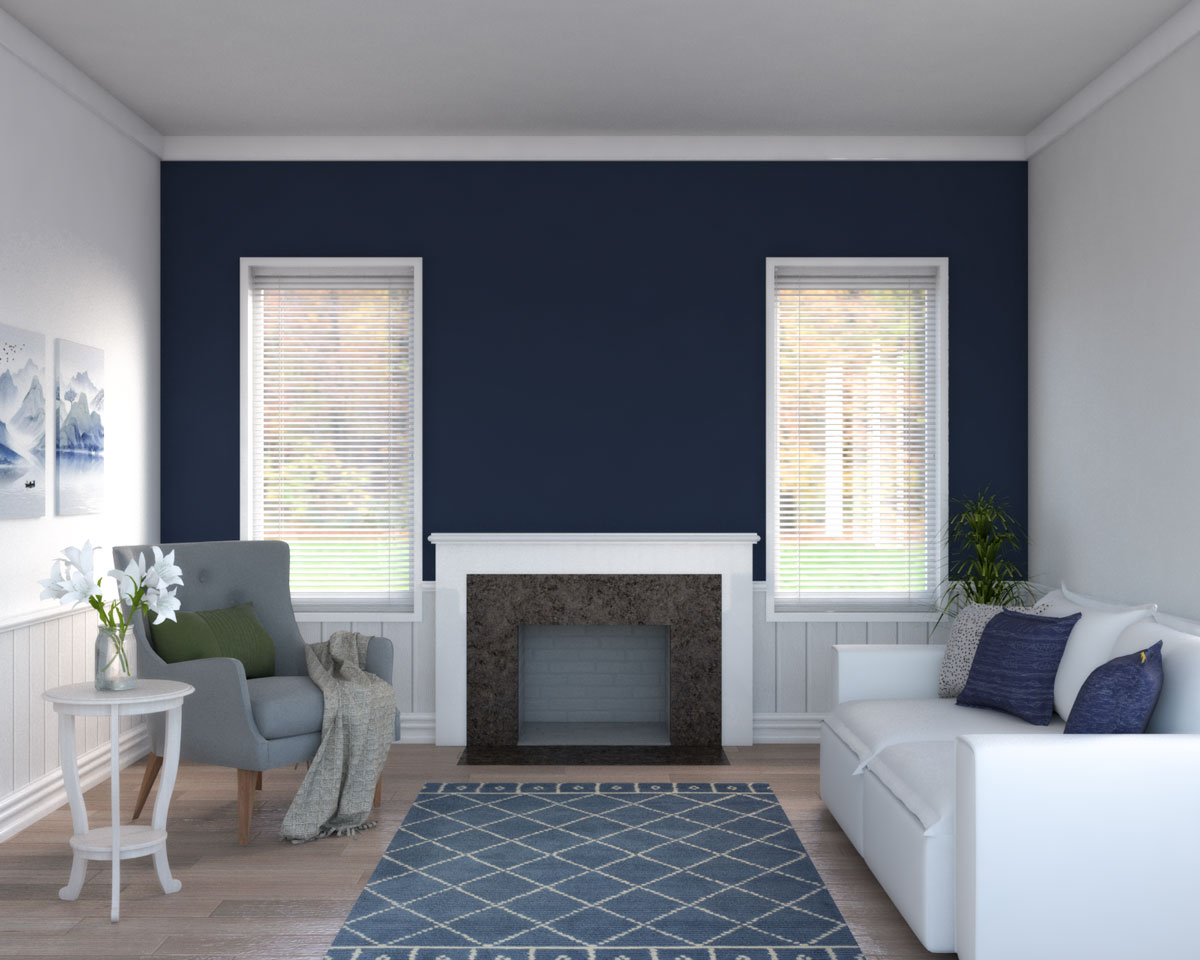 Another perfect place to create an accent wall in your home is on your fireplace wall. Usually, a fireplace becomes the main centerpiece of a living room, so creating an accent wall will help it more stand out.
As an example, you can see our design above, where we create a great bold wall to make the fireplace look even better.
For this kind of approach, you don't need to overdo the wall, just paint it with strong and bold colors, and you are done. We avoid using any wall decor there as we want to keep the fireplace as the main focal point.
---
8 of 10
Minimalist Living Room With Blue Accent Wall
For this living room project, we want to create a minimalist contemporary style living room with a dark blue accent wall behind the couch.
Another important approach that we want for this project is to make the wall stand out but at the same time we don't want to overpower it, so it will still look calm and relaxing.
---
9 of 10
Living Room Villa with Dark Blue Accent Wall
For a multipurpose room, you can make use of an accent wall to separate or divide the functions of each section of the room. As you can see in the image above, we separated the living space from the dining area using the help of a bold blue wall.
This way, visually we will see two separate room functions even though they are in the same space.
---
10 of 10
Simple Dark Blue Living Room Wall
Usually, homeowners will choose the smallest wall for their accent wall. But in fact, you can even use a large wall and it will still look great, as you can see in our image above.
The key to this approach is to make sure that there are some different wall decor items on that wall to help make it doesn't feel boring and monotonous.