If you want to bring an ultimate luxury and elegance to your bedroom, then using navy blue bedding can be a perfect choice.
As a color that can easily stand apart from the crowd, navy bedding can bring a rich and dramatic ambient to elevate the visual appearance not only to your bed but also to the entire bedroom.
However, as a strong and bold color, navy is quite difficult to combine with other shades. Hence, you must be very selective when choosing the colors for any accessories for your bedding such as the pillow or throw blankets.
Another thing that you should consider very carefully is the wall colors behind the bed, as it can serve as a background for your navy-themed bed sets. Pick the wrong colors, and your entire bedroom appearance would be unappealing and even worse, can look awkward.
So, what's the best wall color that will go perfectly with the navy bedding? Well, to answer the question convincingly, we did an experiment by tried different variations of colors for the wall behind a navy bed to find the best that will look amazing. And here are the results :
What Color Wall Goes with Navy Bedding?
White
To enhance and highlight your elegant navy bed, then using any neutral colors for your wall surely will be the best idea, and surely the most neutral choice is white.
Plain white walls can also make the luxury bed looks more dramatic with the beautiful contrast it providing, thus can make it stand out more as a focal point for the entire bedroom.
---
Light Gray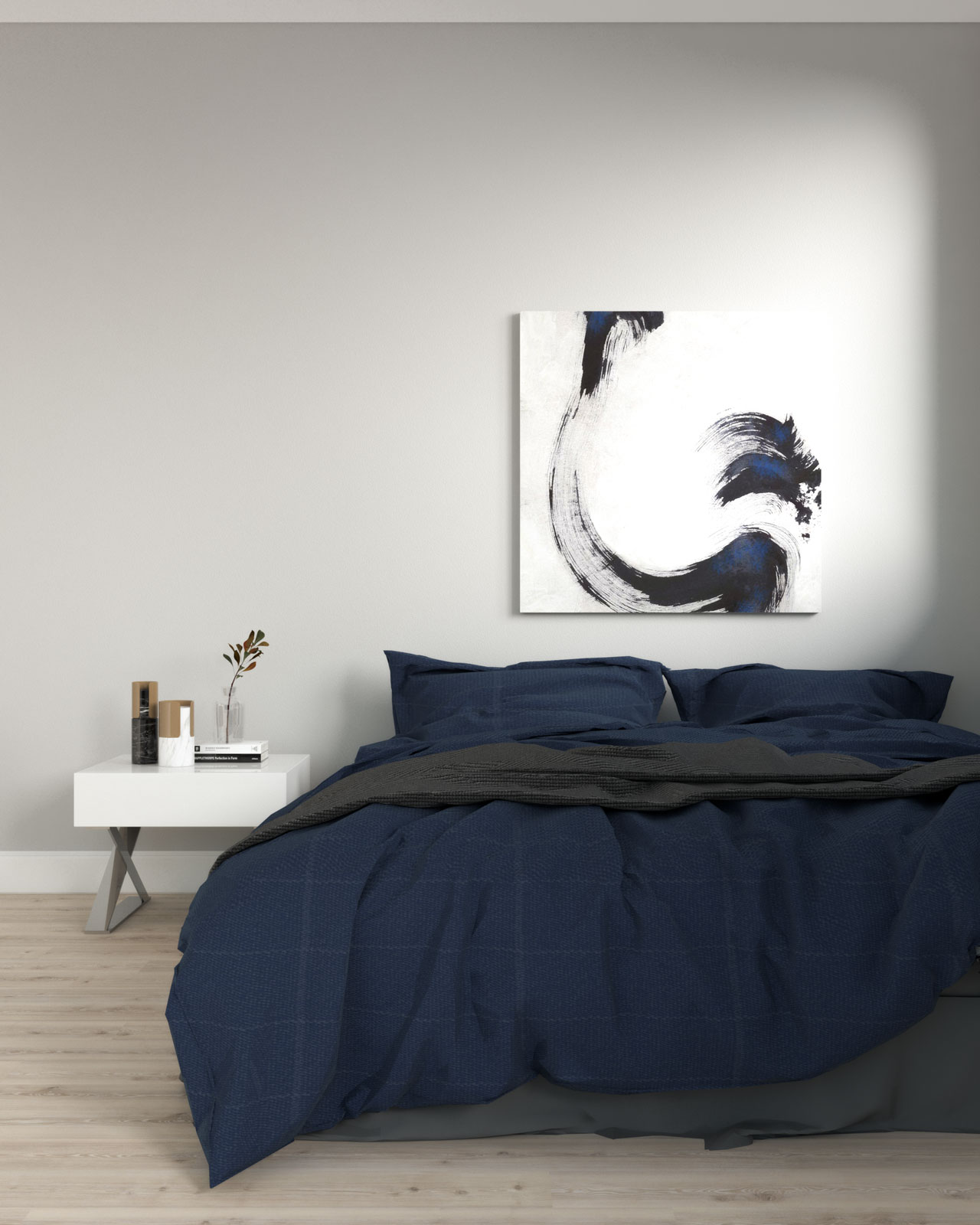 If you are thinking that white is too boring, then another great alternative is light gray.
Moreover, the light gray walls can still look blend well with the navy, it's because the navy blue shade had a bit of gray undertone in it, and that's what makes them look great when used side-by-side.
---
Slate
Slate is a unique shade, it's consist of some different hue, and one of them is blue, and that's why this shade can works perfectly as the background for the navy bedding.
If you are looking for a more harmonious combination but in a more light and neutral look, then surely this color can be one the best choice to paint the bedroom with navy bed.
---
Grayish Blue
Grayish blue is a color created by mixing blue hue with gray undertone, resulting in an elegant, neutral color that can be a perfect match for any navy blue elements.
This color surely can be a perfect choice if you want to keep your bedroom looks calm and comfy with some different shades of blue spread throughout the spaces.
---
Sky Blue
For a more bright and vibrant choice, sky blue can be one of the best alternatives. It has the similarity with the navy bedding, but in a very different temperature that will be resulting in beautiful contrast.
This color can also be a great choice for any small or dark bedroom, as it can provide some fresh brightness to make the entire space feels a bit lighter.
---
Charcoal
For you who want to enhance the masculinity of the navy bed, then a strong and bold wall color such as charcoal or dark gray can be a perfect choice.
This combination surely will instantly make your bedroom feel elegant in a stylish way, especially if you want to create any bedroom in a modern contemporary style.
---
Pale Green
In most cases, blue and gray don't work really well. However, things can be a bit different for a navy blue, as this bold and rich shade can still be paired nicely with green, and based on our experiment, pale green is the best choice when it comes to wall color behind a navy bed.
This wall color surely not as strong and vibrant as any other green, but still had the fresh and natural vibe that can bring a unique feeling inside your bedroom.
---
Coral
To be honest, it's quite difficult to find the best vibrant colors that can complement navy bedding. And after trying a lot of different options, our choices go to this unique and stylish shade, coral.
As you can see in the image above, the coral walls can create a beautiful contrast with the navy bedding, but in a smooth and softer way. Thus, the luxury and the elegance of the bedding will still be felt, but in a more fun and rich vibe.