Thousand years ago, the Vikings voyaged and explored almost any part of the world. Today, there is another part of the Nordic that doing a similar journey and going around the world: Scandinavian design.
Yes, this unique decor style has become more and more popular and has been used almost anywhere in the world. Its simplicity is added with a natural touch and unique shapes resulting not only in eye-catching and aesthetic looks but also a comfy vibe.
To get a perfect Scandinavian feel, every single detail of the interior should be selected carefully. Even a piece of item that doesn't fit can ruin the entire visual look.
Thankfully, with the rise of the popularity of Scandinavian decor, it's much easier now to find any decor items or furnishings that come in those styles and designs.
However, we often got a similar question from our readers who complained about the difficulties of finding the perfect rug that would fit into their Scandinavian living room. And today, we will try to help by curating the 20 best Scandinavian rugs based on our tests and experiences.
1 of 20
Dawne Scandinavian Rug by nuLoom
The neutral shade is obviously the best option when it comes to Scandinavian decor, and this rug comes with a gorgeous neutral base. Thus, it can blend easily with any color palette.
Additionally, the unique pattern brings up some artistic and creative looks that will enhance your living space.
---
2 of 20
Osme Rug by Well Woven
We love to use this choice for any Scandinavian living room that needs a bit of contemporary touch. With a soft beige color, the rug can bring some warmth to help make the room more inviting and welcoming.
Finally, the dynamic interlocking pattern gives a modern, aesthetic visual appearance that surely will amaze everyone who sees it.
---
3 of 20
Adie Multi-Colored Rug by Well Woven
This amazing item can be a great addition to any Scandinavian room that lacks colors.
Comes with a beautiful mix of colors in a soft and subtle appearance, this rug will instantly liven up any uninviting space.
Moreover, it can also be used to wrap up any different colors and elements inside the room.
---
4 of 20
Whoa Prism Rug by Well Woven
Sometimes, a plain, typical Scandinavian interior design can feel boring and soulless, and if your Scandinavian room feels the same, then you may try this one.
This product comes in multiple colors and a unique pattern that spreads joy and happiness to lift the entire room.
However, despite its colorful appearance, this rug still looks quite simple and that's what makes it blend easily into any room.
---
5 of 20
Modern Geometric Marbled Rug by Jonathan Y
This item brings the luxury of marble floors to your home, in a much fluffy and softer appearance.
Combined with abstract geometric lines, this sophisticated rug will be a perfect way to upgrade and modernize any Scandinavian living room.
---
6 of 20
Modern Geometric Lattice Area Rug by Eroyat
This rug uses a popular geometric pattern but is presented in a unique way that makes it look visually pleasing to the eye.
The soft, pastel color combination also plays a big role in making this item look amazing. If you need to instantly add multiple colors to your space without making too much drama, this is surely the best option for you
---
7 of 20
Light Gray Contemporary Scandinavian Rug by nuLoom
Combining artistic lines and elegant, neutral colors perfectly, this item can be used in literally any interior style, including Nordic ones.
Comes with a perfect balance between elegance and neutrality, this rug will work even better inside any room with a neutral color palette.
---
8 of 20
Carwa Brown Tribal Rug by Jonathan Y
If you are using some brown elements inside your home, then it's a good idea to use this option to tie up all of those brown items and create a beautifully cohesive look.
Furthermore, as a nature of any brown shade, this rug can bring a warm feel that will make all your guest feels at home.
Another interesting feature of this rug is its unique tribal diamond trellis pattern that surely will be a perfect fit into the Scandinavian decor.
---
9 of 20
Prosa Blue and Beige Rug by Well Woven
Combining blue and beige can be a very difficult task, however, the designer of this product can find the perfect way to make those colors work together beautifully.
While the blue element will spread the airy vibe in elegant ways, the beige pattern helps make the rug blend easily with any other colors and objects around it.
Its unique triangle pattern makes this rug look much more attractive and interesting compared with any typical mainstream geometric rug.
---
10 of 20
Ivory Stripe Cotton Rug by Safavieh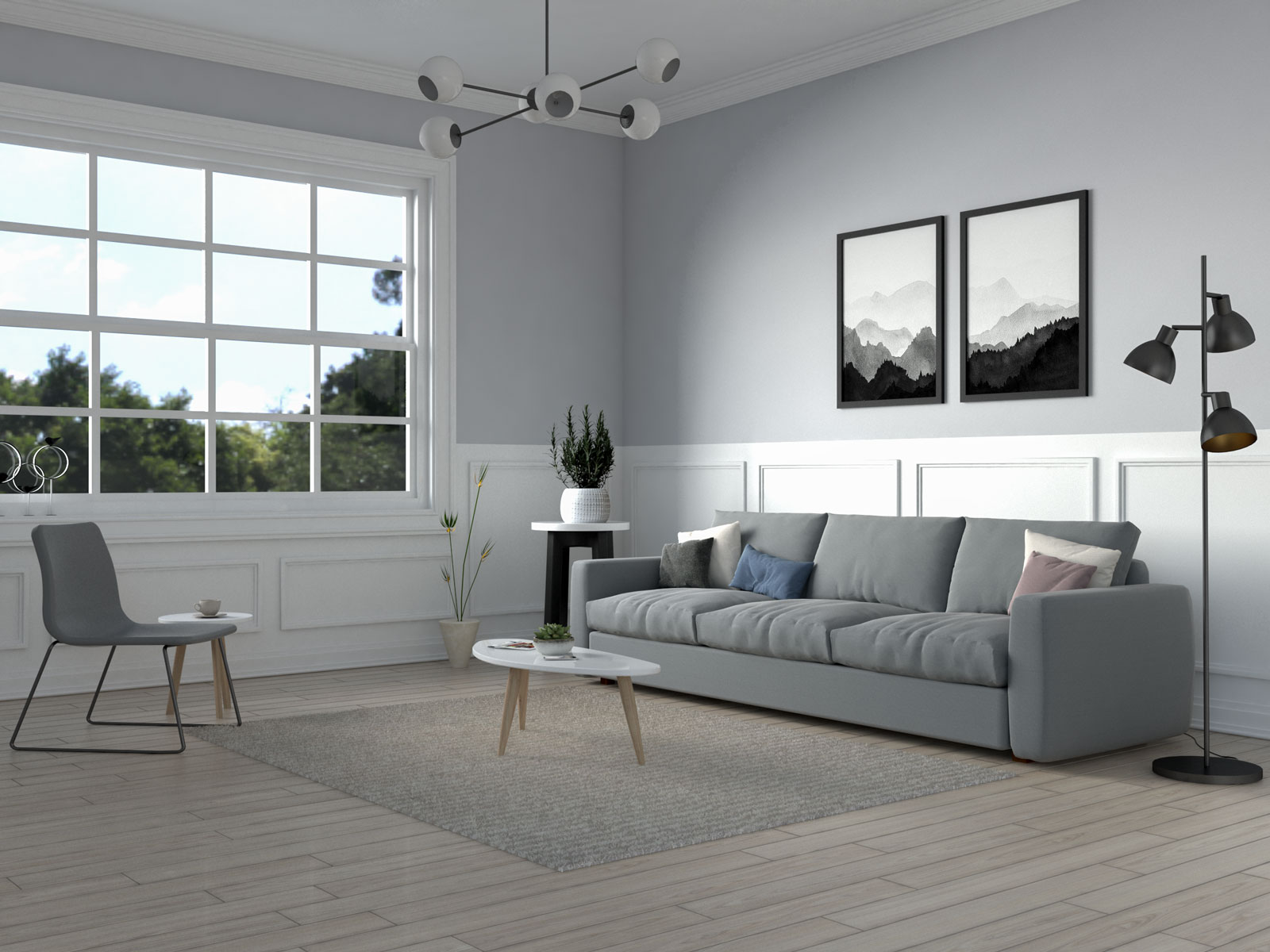 With a simple stripe pattern, this rug is a perfect addition for you who want to keep your entire space simple but still look stylish.
The neutral ivory tone also helped make this rug blend with literally any other furniture colors.
---
11 of 20
Light Gray Distressed Pattern Rug by nuLoom
Its unique pattern makes this rug a chic addition to your space.
Comes with neutral, monochromatic gray tone finishes, this item will work better as a base for any vibrant furnishings and let them shine beautifully.
---
12 of 20
Simple Geometric Rug with Reddish-brown Accent by Eroyat
Using this rug, you will not only get a beautiful geometric pattern that works nicely with a Scandinavian-themed interior, but it also comes with a glam pop of reddish-brown accent that infuses a bit of luxury.
---
13 of 20
Lincoln Rug by Well Woven
Another gorgeous colorful rug choice for your Scandinavian interior. This rug features a creative triangle shape in a multi-color pattern that can bring a touch of whimsy to any monotonous space.
It can also be a great choice if you need an item to work as a centerpiece for your seating area.
---
14 of 20
Takko Blue Nordic Shag Rug by Well Woven
At first, this option may look like another typical elegant blue rug. But if you take a closer look, it has a unique, creative pattern that distinguishes it from any conventional blue rug.
If you need a rug that will bring a punch of Scandinavian influence, this is surely the best choice.
---
15 of 20
Neveah Contemporary Chevron Rug by nuLoom
Fresh looks with modern style, that's our first impression when we saw this Scandinavian rug for the first time.
The stunning combinations of blue, yellow, and pink with a creamy base create a unique appearance that surely will pop and create a fun visual statement in any room.
---
16 of 20
Opal Geometric Rug by Well Woven
If you prefer a more soft and subtle option but still bring some splash of colors, then you may try this one.
Combining simple yet classic colors in a modern contemporary style, this rug can fit into almost any kind of decor style, including our favorite Scandinavian style.
---
17 of 20
Artistic Diamond Pattern Rug by nuLoom
With plenty of stylish warmth, this Scandinavian rug not only can easily lift up the mood of any space but also enhances the visual appearance.
---
18 of 20
Blue-gray Moroccan Diamond Rug by nuLoom
This rug combines a typical Scandinavian color: blue-gray, with a classic Moroccan diamond pattern. This resulting in an artistic, calming, and stylish visual appearance.
The neutral blue color of this blue helped any other furniture around it to shine, without overly dominating the space.
---
19 of 20
Classic White Rug with Blue Accents by nuLoom
This rug blends a traditional pattern with a modern look, creating a beautiful subtle distressed look that will fit perfectly into Scandinavian decor.
Its blue accent is just enough to give a hint of an airy and serene feel that is important for any living space.
---
20 of 20
Contemporary Bohemian Rug by Rugshop
Add a touch of bohemian beauty to your living room by using this gorgeous item.
Blending traditional touch with modern multi-colored motifs, this item will easily become a center of attention wherever it's used.
---
Browse More Rug Ideas