Countertops can be one of the most expensive part of any kitchen. And this is quite reasonable since countertop not only should had a great durability, but it also will be the focal point for your kitchen, so it must be stand out and looks great.
However, some – or most, countertop materials comes with a really high cost. For you who had a limited budget to creates your new kitchen or remodel your old kitchen, this can gives you some headache.
Furtunately, today there are some great budget-friendly countertops options available. So you don't have to sacrifice style and quality for affordability. With the right approach, you can achieve a beautiful and funcional space without breaking your back account.
In this post, we will share with you some of favorite options with picture examples so you can see how beautiful design can be achieved without overspending. Without further ado, here they are :
12 Budget Friendly Countertop Ideas
Laminate Wood
when it comes to a budget-friendly countertops, this is one of our favorite choice. This cost-effective materials is much more inexpensive relative to another options.
It also quiet easy to install, you can even do it yourself if you had some basic carpentry skills. Moreover, it doesn't need any other treatments such as sealing or polishing, so you can save quite a lot of money.
Lastly, wood laminate materials comes with a wide variety of colors and texture, allowing you to choose the perfect one to match your kitchen design style.
---
Laminate Marble
Nowadays, laminate marble comes with outstanding print and design that mimics the looks of the real marble materials perfectly. And you can't even notice that it's a faux marble unless you take a closer looks.
This affordable materials absolutely much more cheaper compared to the real marble stone, but still gives the extravagant, glam looks that will lift up the appearance of your kitchen.
---
Engineered Quartz
Engineered quartz can be a great alternatives to the real quartz. Its made using quartz particle bonded together using resin, pigments, and some other elements.
And thanks to the advancement of the current technology, the engineered quartz can looks very similar to the natural ones, with only a fractions of cost.
Another advantages using quartz is that you can choose literally any colors and pattern, whether you want to go with a plain quartz or a more complex ones.
---
Unfinished Concrete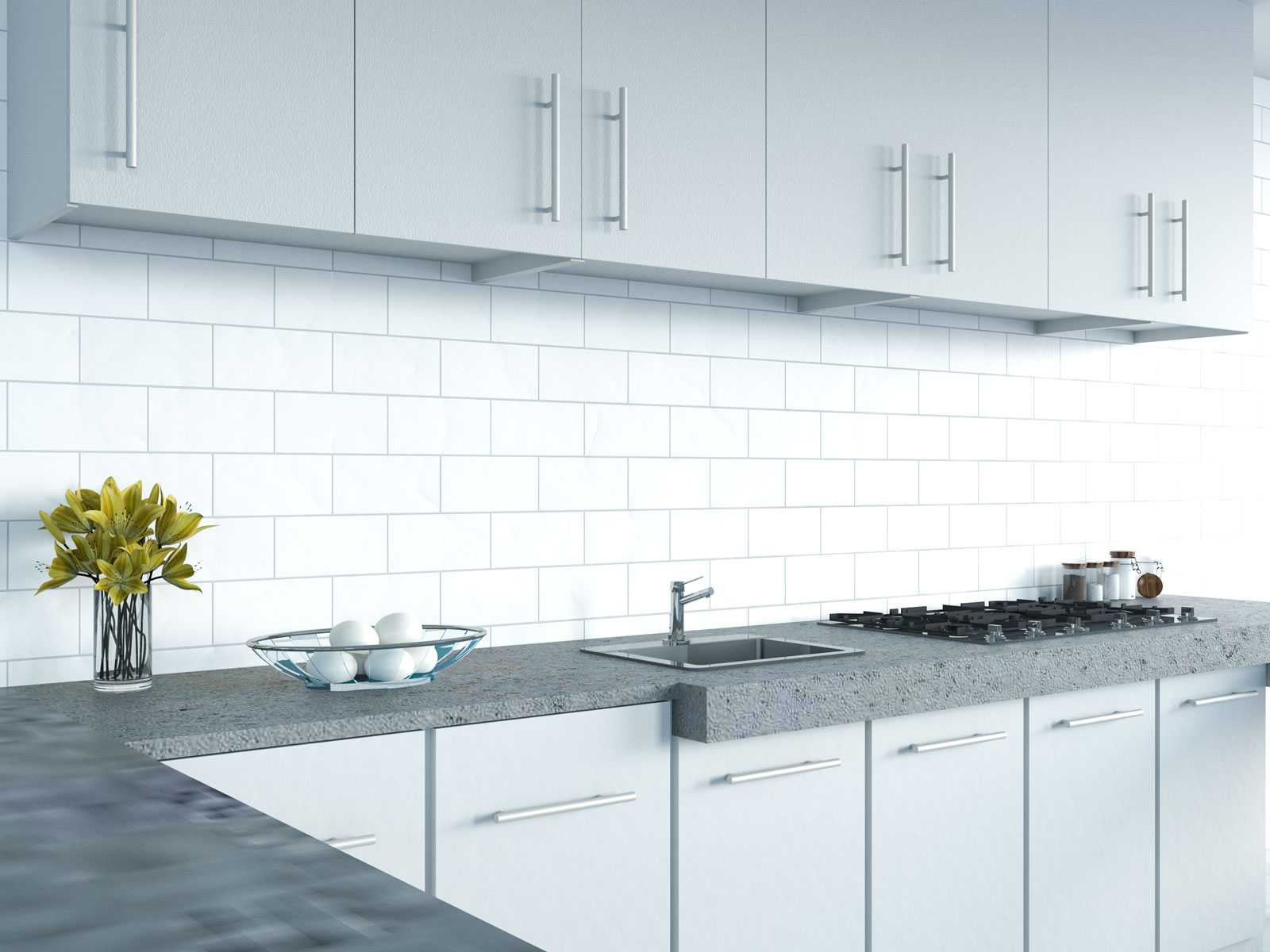 If you are looking for a cheap contertops to complete your unfinished-style kitchen, then concrete surely the best choice for you.
It's unfinished raw looks bring a unique twist to your kitchen, while also keep your entire budget low. Mix the unfinished concrete countertops with wooden cabinets for a beautiful rustic, industrial looks.
---
Ceramic Tile
With a high gloss, reflective porcelain looks, the ceramic tile can be a great choice to create a glam kitchen without breaking your budget.
With unlimited possibility, you can choose any kind of ceramic tile that will suit your kitchen decor style.
It's also will become a great low-maintenance options since the ceramic tile countertops are easy to clean with just using a damp cloth and mild detergent.
---
Butcher Block
Buther block may be a bit more expensive compared to other options in this list, but actually, it still much cheaper compared to any natural solid surface countertop materials.
This classic, timeless countertop options bring the natural beauty to your kitchen, while also offers durability and resistance to scratches.
Furthermore, using butcher blocks countertops can warm up and make your entire kitchen feel welcoming and inviting.
---
Cultured Marble
Another affordable way that you can use to bring the natural marble looks to your kitchen is by using cultured marble.
This element created using crushed stone that mix together to mimic the natural marble, and that's the reason why its much cheaper than the real ones.
However, even tough it's not the real slab of marble, it can gives a very similar appearance, adding some glam and luxurious twist to your kitchen countertops.
---
Painted Concrete
Another concrete options in this list, but this time, we apply some finishes to make the raw concrete looks a bit more colorful.
Painting the concrete countertops can also becomes a cost-effective way to bring a unique and personalized touch to your kitchen without spending a lot of money.
With limitless possibility, you can choose any color that fit perfectly to your kitchen color palette.
---
Stainless Steel
It's high durability makes stainless steel a great, long-lasting, and affordable choice for kitchen countertops.
Not only it can withstand daily wear, heat, and scratches, stainless steel can also gives resistant to bacteria and other germs, making your countertops much more hygienic.
This stunning countertops will works even better if you are creating a modern-style kitchen, bring a sleek and stylish appearance.
---
Wood
Some wood such as pine, birch, or cedar can be a great affordable options for you who want to have a beautiful wooden countertops.
These kinds of wood not only will keep your budget on track, but also gives warm and inviting ambiance to the entire kitchen, making it a cozy and comfy spaces.
And since wood is much easier to work with compared to stone materials, you can save a lot of installation cost or even get rid of it completely by installing it by yourself.
---
Cheap Granite
Adding granite to affordable countertop options may seems a bit weird, but did you know that there are some cheap granite choices such as baltic or cecilia granite that is much more affordable than most typical granite?
Using these cheap granite can gives you all the beauty of the natural stone appearance without spending a lot of money.
Furthermore, granite countertops had been proven to increase the resale value of your property, making your return of investment high.
---
Bamboo
Bamboo is not only popular because of it's affordability, but since it's a sustainable resource, it can be a great eco-friendly choice for you who cares much about the environmental.
From the visual perspective, bamboo had a unique looks that will creates a beautiful, aesthetically pleasing looks when using as countertops.
It's versatility is another advantages of using bamboo, as you can use this beautiful material in almost any kind of kitchen, from traditional to a modern contemporary ones.