Black furnishings are not only popular because of their practicality and durability, but they also can become a bold and elegant addition to create dramatic looks for any home. Furthermore, black furniture can easily fit into any decorating style, from old-classical decor to a modern one.
However, the one big problem with any room that is dominated by black furniture is that they can make the room feel dark and a bit gloomy. Thus, it's highly recommended to incorporate some colored accessories amongst black furniture to bring a bit of colorful spark and lighten up the ambiance.
Moreover, incorporating vibrant accents alongside black furniture can help refresh your spaces, and avoid those furnishings looking monotonous and boring.
At first, it may seem like an easy task, but the truth is, it isn't. Finding the right colors that can complement black furnishings can be very tricky. Choosing the wrong ones and you will lose all of the sophistication of your precious black furnishings, and worse, it can make the entire space looks awkward.
We want to help you avoid this by sharing some gorgeous colors that based on our experiences, work very well alongside black furniture.
Best Accent Colors for Black Furniture
Yellow
Actually, this combination can be quite risky, but if you can combine them in the right way and find the sweet spot, the results will be fantastic.
A hint of yellow hue can easily lift up the black elements and bring some vibrant spark to make the entire room feel more fun without taking over the elegance of the black furnishings.
And this can work even better for any room that used a lot of black elements. However, avoid overusing the yellow as too much of it can bring more harm than good.
---
Taupe
For you who want to brighten up your black furnishings in a soft way, then taupe can be a great option.
This shade can still be a great accent against black elements with plenty of contrast between them, but thank's to its soothing and neutral appearance, the taupe accessories will keep the black furniture becomes the main focal point for the entire room.
Another benefit of using taupe amongst black furniture is that it can spread a beautiful earthy tone to help make the furniture less intimidating, looks more friendly and welcoming.
---
Sky Blue
Some people may say that blue and black won't go well together, and it can be true for any darker shades of blue.
However, any lighter one such as light blue or sky blue can still work quite well alongside black, especially when they are used only as an accent.
As you can see in the image above, the sky blue accessories do their job perfectly to enrich the living space and bring a soothing and tranquil vibe to create a cozy atmosphere.
---
Lime Green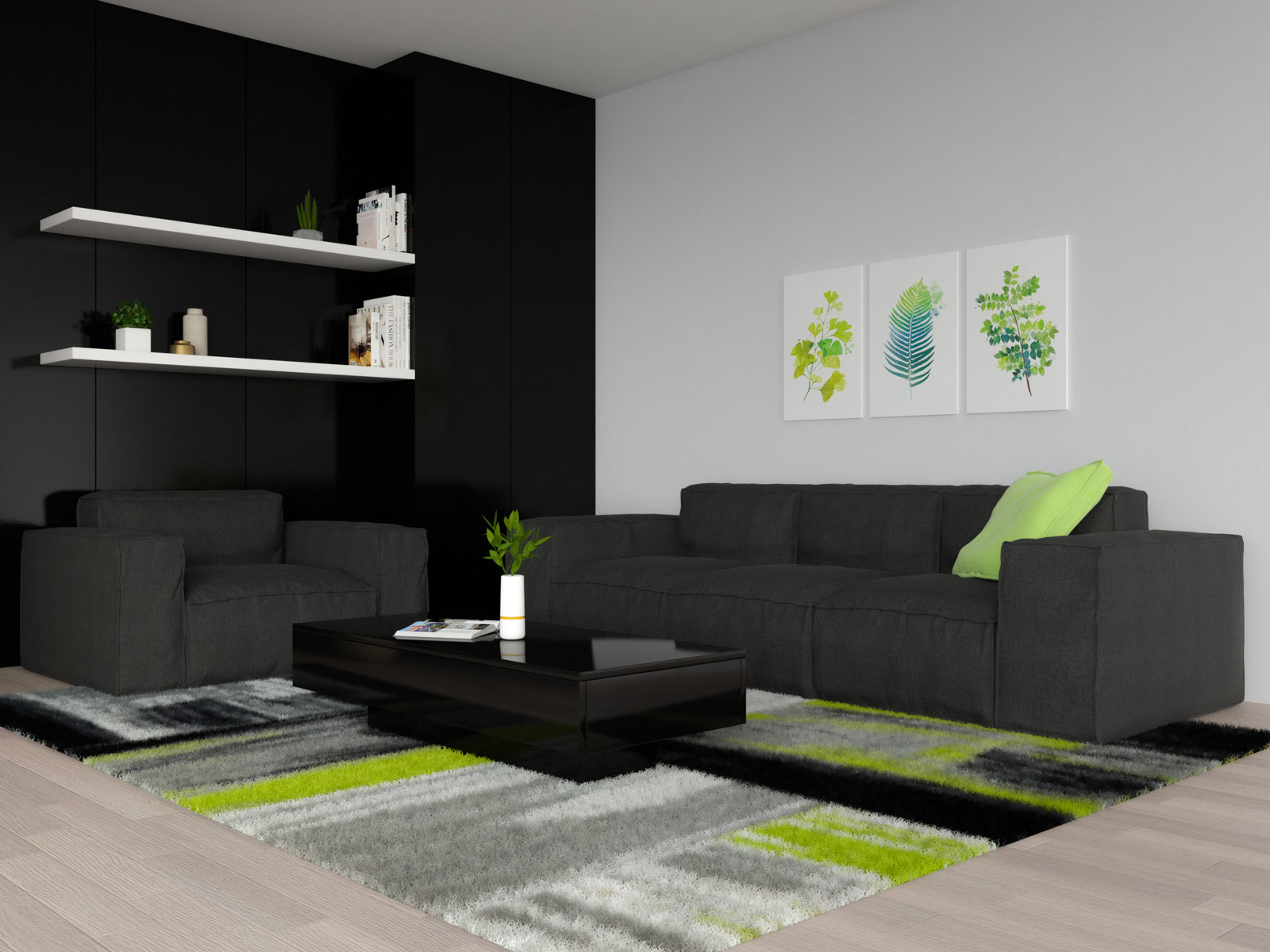 If you are looking for an accent color to refresh the looks of your black living room, then green is surely the best option.
With its fresh and natural looks, the green-hue can easily break the monotony of the black aesthetically.
Literally, any shade of green can work really well alongside black furniture, but if we had to choose one, we will go with this lime green. These particular shades had a strong and vibrant appearance that is very essential to make a big impact even when it's only used as an accent.
---
Teal
This combination may not be as popular as other combinations of this list, but as you can see in the image above, they actually work together perfectly.
Both colors complement and enhance each other nicely, thus not only the black furniture looks even better, but the teal accents also look amazing.
And the most important part is that they blend flawlessly to create an aesthetic and eye-pleasing look.