When designing any kitchen, the two most important element that should be perfectly matched is the kitchen cabinets and the countertop. And this is quite obvious, as both of them will become the center of attention of your kitchen, thus, making sure that you are choosing the right combinations can make or break the visual appearance of the entire cooking area.
If you are already decided to use white kitchen cabinets, then congratulations, you have already made your next job a lot easier. Without any doubt, as an ultra-versatile color, white can blend with literally any counter color. However, sometimes too many options can make you overwhelmed since there are a ton of different counter materials you can choose.
In this post, we will try to help you by recommending some of the best granite colors that go nicely with white kitchen cabinets. Every suggestion will come with a demonstration picture to give you a clear view of how they will perform alongside the white cabinets.
After reading this post, hope you get a lot of inspiration and clear ideas that can be applied to your own kitchen. Without further ado, here they are :
Granite That Goes with White Kitchen Cabinets
Black Granite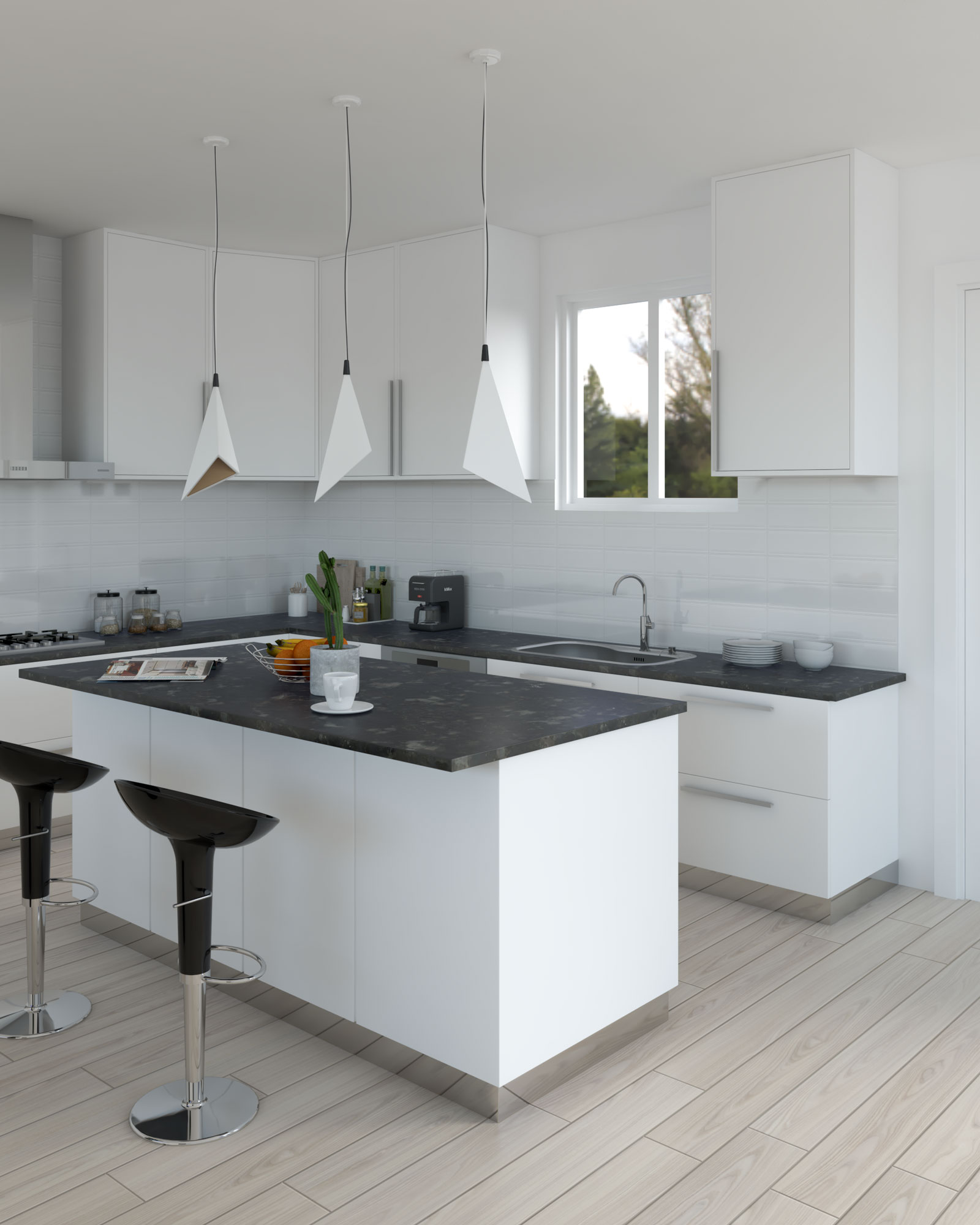 Arguably, this is the best option for any kitchen with white cabinets. The black granite will bring a totally different look and contrast against the sleek white cabinets, and make both elements stand out beautifully.
While these combinations surely will work amazing in any kitchen with modern contemporary style, they can also look great in any classical decor.
Last but not least, black granite can be a very practical option as it's much easier to maintain and clean compared to any other granite color. Literally, any kind of black granite can do the job perfectly, but here are some of our best recommendations: Black Galaxy, Black Pearl Granite, Impala Black, and Cambrian Black.
---
Gray Granite
If you think that black is too much, then alternatively, you can try using gray granite. There are so many different kinds of gray granite that you can choose from, and some of the most popular ones are Gray Pearl, Bianco Antico, and Steel Gray Granite.
The gray granite countertops will still bring an adequate amount of contrast against the white cabinets, but at the same time still looks flawless with them.
---
Baltic Brown Granite
This particular granite originated from stone quarried in Finland. One of the main reasons why this granite is very popular is its elegant blend of brown and black colors.
And with such an amount of elegance, surely this granite can work well to improve the looks of any kitchen with white cabinets.
Furthermore, when used as a countertop, this Baltic Brown Granite will stand as a luxurious focal point for the entire kitchen area.
---
Dark Green Granite
One of the most common problems for any kitchen that is dominated by while elements are that it may lack freshness. Thus, if you are not only just using the white kitchen cabinets, but also a lot of other white elements such as white backsplash, then we highly recommend you to use the dark green granite to bring the fresh and natural looks that lack in your kitchen.
Based on our experience, dark green granite works best compared to any other green shades as they have a bold and elegant appearance that will be in line with the visual appearance of the white cabinets, thus the dark green granite and the white cabinets will look flawless together.
---
Salt and Pepper Granite
Arguably, this is the best option if you are looking for seamless connections between the white cabinets and the countertops.
With plenty of white colors, the salt and pepper granite keeps the white flows between the cabinets and the counter, creating a harmonious and flawless visual appearance. Moreover, you can also use these granite countertops if you aim for a minimalistic decorating style for your kitchen.
---
White Sardinia Granite
Alternatively, you can try this Sardinian White Granite alongside white kitchen cabinets. This Italian-based granite dominated with white but also had some gray and brown grain in its structure that created a stunning visual look where the sleek and elegance complemented with some warmth.
This granite had been known for its versatility to adapt in any decor scheme, so it's quite easy for this granite to blend inside any kitchen with white cabinets.
---
Himalayan Pink Granite
For any kitchen that lacks some warmth and welcoming ambiance, this will be a great granite option. The unique Himalayan Pink Granite provides plenty of warmth, thank's to its dominant soft pink appearance.
Furthermore, its black grain elevates the looks of this granite to become much more elegant compared to any typical pink granite, while at the same time, still feeling soft and subtle enough to make it blend flawlessly with crisp and sleek white cabinets.
---
Browse Similar Posts