Butcher block countertops is a fantastic, timeless choice that can give a warm rustic charm to any kitchen. The unique wood pattern and grain give a touch of nature, creating a cozy and inviting atmosphere for your culinary space.
Futhermore, butcher block countertops are known for it's long lasting durability and sturdiness. Thus, it can withstand any demands of daily kitchen activities, while also relatively easy to keep clean and maintain.
Lastly, butcher block can be an affordable choice for kitchen countertops, especially when compared to any stone countertop materials, such as granite or mable.
However, to make the butcher block countertops blend inside your kitchen, it need to be combined with the right cabinet colors. With the right cabinetry, you can unleash all the potential of your countertops and boost its appearance to become the main focal point of your kitchen.
In this article, we will show you some of our favorite cabinet colors that will beautifully enhance your butcher block countertops. So, whether you're looking for a classic or contemporary style, join us as we navigate through the different choices and find the perfect cabinet color for your kitchen.
8 Best Cabinet Colors for Kitchen with Butcher Block Countertops
Antique White
Antique white cabinets and butcher block combination creates a vintage and charming aesthetic that make them a beautiful choice for any classic or rustic style kitchen. This pair also evoke a sense of elegance and nostalgia, giving your kitchen a cozy and inviting atmosphere.
Moreover, the sleek appeal of antique white cabinets allow the beauty of the butcher block to shine and let it take the center stage of the entire kitchen.
---
Blue-green
As a beautiful classical hues, blue-green can be a perfect pair to butcher block. The cool and soothing tones of blue-green complement the warmth natural beauty of the countertops, provide an interesting contrast and drama.
Furthermore, the blue-green cabinetry provide a touch of tranquility and serenity, making it an excellent choice for those seeking a fresh and vibrant culinary space.
---
Beige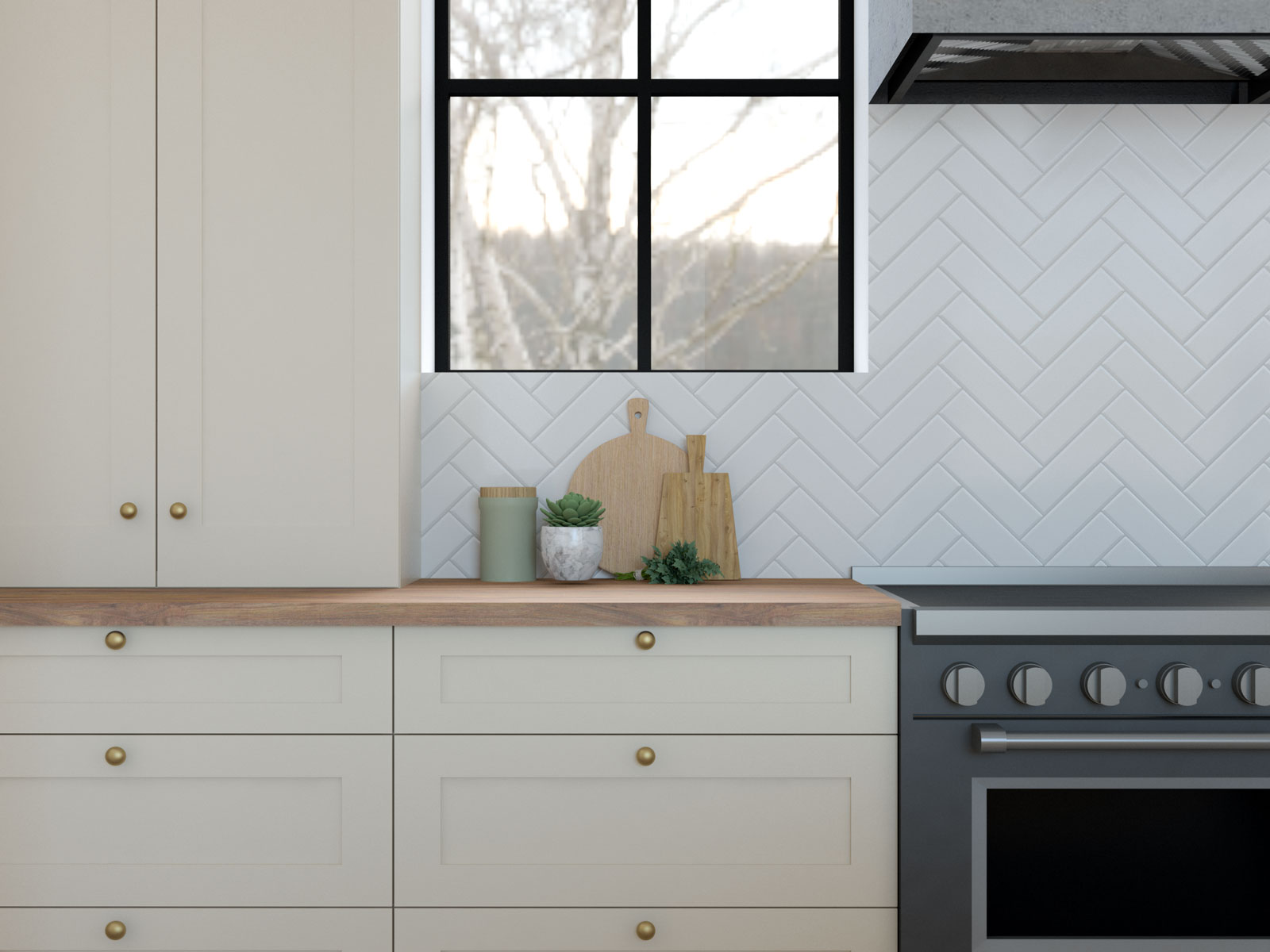 With strong neutrality and versatility, beige can be used anywhere and paired with any kind of elements. Thus, it's relatively easy for beige cabinets to blend with butcher block countertops, even if you are choosing any kind of wood that had rich, bold, and strong colors and grain.
The warmth of beige cabinets boost the natural beauty of the butcher block, making it a great option for you who want to create a warm and inviting kitchen space.
---
Cedar Brown
Since most wood will had some brown undertones, then cedar brown can be a perfect choice to create a flawless connection between the cabinetry and countertops.
This neutral brown shade complement the rustic and organic charm of the butcher block, while also adding character and depth to the kitchen.
---
Olive Green
Comes with earthy natural tones, the olive green cabinets can be a great pair to complement an wooden countertops. With warm and rich contrast, both the countertops and cabinets with stand out together to elevate the entire kitchen.
You can also use olive green cabinets to enrich and give your kitchen a pop of color, adding a new visual interest to your kitchen design.
---
Pale Yellow
The soft and cheerful tones of pale yellow beautifully complementing the natural beauty of the butcher block, making it looks brighter and more vibrant.
This pair creates a sense of natural freshness, evoking a welcoming and uplifting atmosphere that makes your kitchen a joyful and cheerful space.
---
Warm Gray
If you want to upgrade the looks of your kitchen with butcher block countertops by adding some modern elegant touch, then warm gray cabinet can do this for you.
With strong elegance, the gray shades can instantly lift the entire kitchen without taking away the natural beauty of the butcher block. Moreover, the warm gray can creates a sense of calm and balance, making your kitchen feel cozy and charming.
---
Pale Blue
Pale blue cabinets and butcher block countertops create a charming and refreshing combination. The soft and serene tones of the pale blue cabinets spread tranquility and serenity to the space, while at the same time expose the beauty and natural appeal of the butcher block.
Pale blue can also be a great choice if you want to create a well-balanced aesthetic between your cabinets and countertops.