Today, small or even tiny houses become a common thing, especially in dense, high-population urban areas, due to soaring land prices. This problem increases the creativity of many interior designers, finding and applying various tricks to make the small spaces feel more spacious.
Some of the popular ones are choosing the right wall color, using a lot of mirrors, or even adding extra natural or artificial lighting.
But there is one important trick that is often forgotten that actually can have a lot of impact on any small room: choosing the right flooring colors. Yes, by using the right flooring color, you can easily make your entire space feel much more larger and spacious.
So, what color flooring works best to make a small room look bigger?
Drawing from our experience, some of the best flooring colors to make room look bigger include white marble tile, plain white tile, cream tile, light gray tile, green tile, and light natural wood. These options reflect plenty of lights, creating an illusion of openness and airiness, which is especially beneficial in compact spaces. Additionally, these options serve as a timeless foundation, providing a classic and enduring backdrop that can stand the test of time.
Read on as we explore further into all the great flooring options for small spaces.
1. White Marble Tile Flooring
When it comes to designing a small room, this is our number one choice for the flooring. As you may already know, the white element is the perfect option for any small room to make it feel larger. This color brings a clean and crisp look, and also reflects a lot of light that is very crucial for any tight spaces.
Furthermore, the marble element makes it even better with more reflections and glossy – mirror-like effects. It's like placing a large mirror on your floor.
---
2. Plain White Tile
Or, you can go with the simpler version: plain white tile. The clean and sleek looks of this flooring help make any space feel larger, even for a room that doesn't have plenty of natural lighting.
The simplicity of this flooring also helps you add whatever kinds of furnishings or decoration items.
---
3. Cream Tile Flooring
A cream tile will bring similar results to the previous ones but with a more soft and warm look. Thus, it's the perfect flooring for any of you who want to create a space that feels comfy and relaxing, while at the same time, helping make the entire room look bigger.
As a neutral color, cream can be easily blended with any other color. This kind of flooring also can work with almost any kind of interior design style – from classical to contemporary ones.
---
4. Light Gray Tile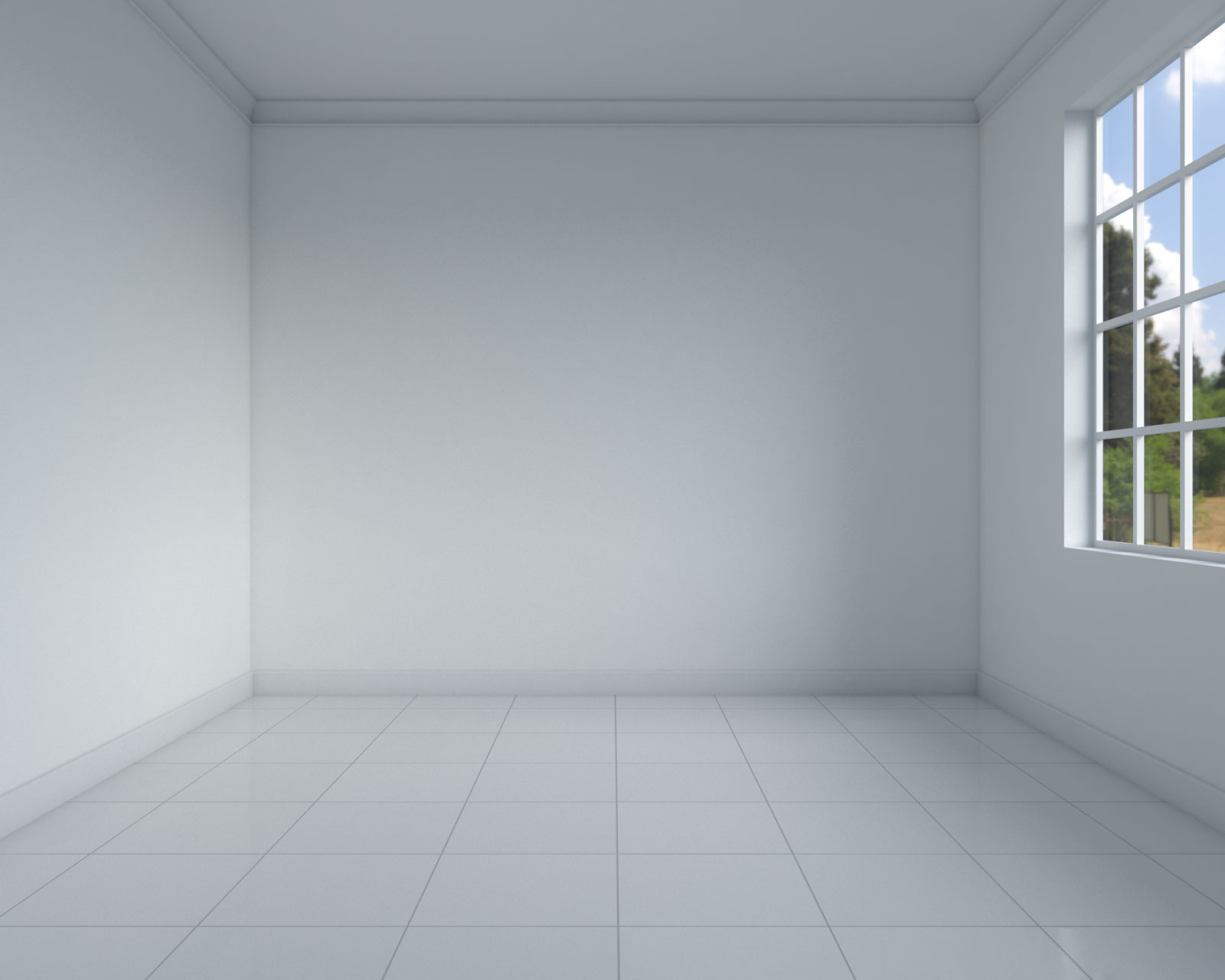 This is another great choice for you who don't like the simple white choices. The light gray tile adds a hint of elegance, while still looking pretty bright and light, thus making the entire room feel a bit more spacious.
The lighter gray tile that you choose, the better.
---
5. Vibrant Green Tile
If you want an option that not only can help make your space feel larger but also can add some rich color to it, then you can try this vibrant green tile.
This tile looks vibrant and striking enough to brighten up any dark space while adding additional richness to make your home feel more interesting. You can combine this flooring with darker green furnishings to achieve an awesome monochromatic look.
---
6. Black Marble Tile Flooring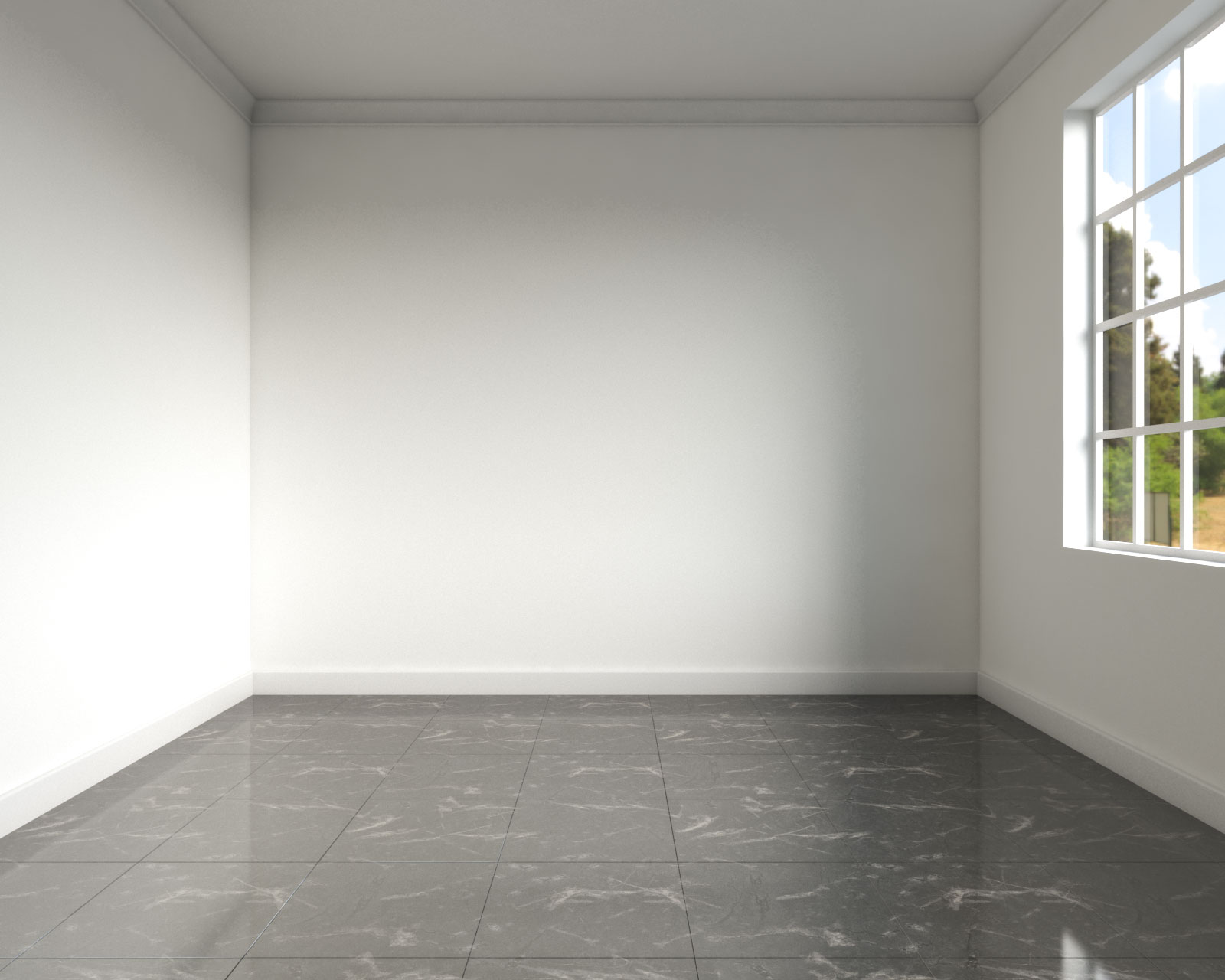 Usually, light or bright colors tend to work best for any small room. But actually, you can also use any darker color, and if you want a dark flooring color, then black marble tile is the perfect option for you.
A black marble tile flooring usually comes with a very high glossiness and reflections that make it look almost like a mirror. This reflection effect is the most important and crucial factor when it comes to selecting a floor for a small room.
Therefore, you should avoid using a black marble tile with matte finishes and only use the one with high glossy and reflections.
Another important thing to consider before choosing this flooring is to make sure your room has plenty of lighting, both natural and artificial. Avoid using any dark tile – even when it looks very reflective and glossy – if there isn't enough lighting inside the room.
---
7. Light Natural Wood Flooring
If you prefer any wood flooring rather than tiles, then one of the best options is to go with a light cream wood. There are a lot of different options of wood flooring that come with this color, some of the most popular ones are bamboo, maple, pine, or oak.
---
8. Dark Brown Wood Flooring
Although it's not the most ideal option, you can still use any brown-colored wood for your small room flooring. But you must choose the ones with high gloss and reflection effects. Another thing that you should consider is choosing any brown wood flooring with the most minimal grain possible.
---
Flooring Tips to Help Make a Room Feel More Spacious
1. Put Board Parallel to the Longest Wall
If your small room has a perfect square layout, then you may skip this tip. But if you have a long or narrow room, this simple thing can make a big difference.
Rooms with wood boards arranged parallelly to the longest wall tend to look bigger than the opposite. This trick works by manipulating our visual perceptions, so, even though the room is the same size, our brain see the first one to be a little bit larger.
2. Choose a Wide Plank Instead of a Narrow One
The more narrow the wood plank, the more grout and joint that is visible thus will make the floor space feel cramped and crowded. Thus, a wider wood plank tends to work best for small spaces.
3. Choose a Long Board Instead of a Short One
With the same principle as the previous ones, a long wood board works better for any small space rather than the short one. Even better if you could use a full-length wood board so there are no joints visible in the middle of the rooms.
4. Choose Bigger Tile
For tile flooring, the bigger the tile is, the better. It will minimize the number of grout that can make the space look cramped. Too much grout also can ruin the reflection effects that are needed to help make any space feel more spacious.
5. Keep Your Floor Shiny
As we already said many times in this article, the reflections and glossiness of the floor can make a big difference in a small room. So keeping your floor shiny is as important as choosing the floor colors. To get the best results, we highly recommend you use a professional floor cleaner.