Setting up and decorate any room that using brown carpet flooring can be a tricky job. Although its neutral and earthy appearance, brown floor to floor carpet is not as versatile as it may look. And things can even worse when it comes to large elements or furnishings, such as the sofa or couches.
Since replacing your carpet flooring can be a costly task, the most reasonable solution is to carefully select all of the items that you want to put inside that particular room.
And actually, the brown carpet flooring can bring a very welcoming and inviting ambiance that you don't want to lose by replacing it with another kind of floor, especially for rooms like the living room or dining room where your family or relatives will spend a lot of time there.
To get reliable answers to the questions of what color couch goes well with brown flooring, we did an experiment in one of our living room project that using the awesome brown carpet floors by trying different couch colors. Finally, we can confidently complied some best couch colors that you can use as ideas and inspirations for your own spaces, and here they are :
Best Couch Colors for Brown Carpet Floors
White
Stylish, sleek, and comfy, those are the effects that you will get when put in the white couch inside any room with brown carpet floors.
The white couch looks amazing against the earthy brown, but at the same time still giving way to the brown to become the main palette for the entire space.
Using a white couch or sofa can also give plenty of spaces to bring other colors in case you need to accentuate your seating area with some splash of vibrant accents.
---
Gray
Gray is a great alternative to white, in case you don't like the complexity to maintain the cleanliness of the white couch that is very vulnerable to any stain or dirt.
Moreover, the gray couch can bring a dose of elegance that mix beautifully with the glam brown carpet.
Almost any shade of gray will works nicely with brown carpet flooring, from the very light gray to the dark charcoal couch, so you can easily choose whatever tone is the perfect fit for your decor scheme.
---
Cream
If you are looking for any couch that can blend harmoniously with the brown carpet, then a cream finishes couch is one of the best choices.
With a bit of brown tone in it, this kind of couch will keep the brown flows between all of the different elements inside your room, resulting in an aesthetic monochromatic look.
Furthermore, you don't need to worry about the potential boring feel that will occur if you are using any brown-shades furnishings, as this couch can still bring some noticeable amount of contrast especially if you are using the medium to dark brown for the carpet.
To make this scheme looks even better, you can add a lot of greenery throughout the room to refresh and enhance the natural ambient.
---
Darker Brown
This is another great alternative to create a flawless living space. The dark brown couch will stand out elegantly while at the same time blend together in harmony with the brown carpet.
Surely this is a great option if you want to make the couch become the centerpiece for your living room with brown carpet. For the best result, you can use the dark brown leather couch to introduce different textures and enrich the overall visual appearance.
---
Black
Black and brown, this bold combo looks stunning when used together and provides a gorgeous dramatic vibe to create an elegant living space. The black couch also becomes one of the most practical choices in terms of durability and easy maintenance, so, this is surely a great option for a busy living space.
However, with the layered depth of bold tone, the overall look may look a bit dark, so only use this combination if you are pretty sure that there is enough lighting inside your room.
Alternatively, you can incorporate some light or vibrant accents as decorative pieces to help brighten up the entire visual appearance.
---
Denim Blue
Actually, most blue shades are not a great option when it comes to brown. However, we find out that some blue shades can still bring a great result when used together with brown carpet, and this denim blue is one of the best choices.
This particular shade had a strong gray tone to keep it looks neutral compared to most kinds of blue, and this is the main reason why it can blend nicely with the brown flooring.
In our opinion, this denim blue couch can be a great option if you want to apply modern farmhouse or Scandinavian decor style to your home.
---
Yellow
Yellow and brown is a unique combination, where the yellow can bring a splash of vibrant pop but at the same time still going together flawlessly with brown.
This can happen because most browns had some yellow undertone in them, and that's why they complement each other beautifully. If you want to make a fun and cheerful but still comfy and homey living space, then surely this combination is the perfect choice for you.
---
Burgundy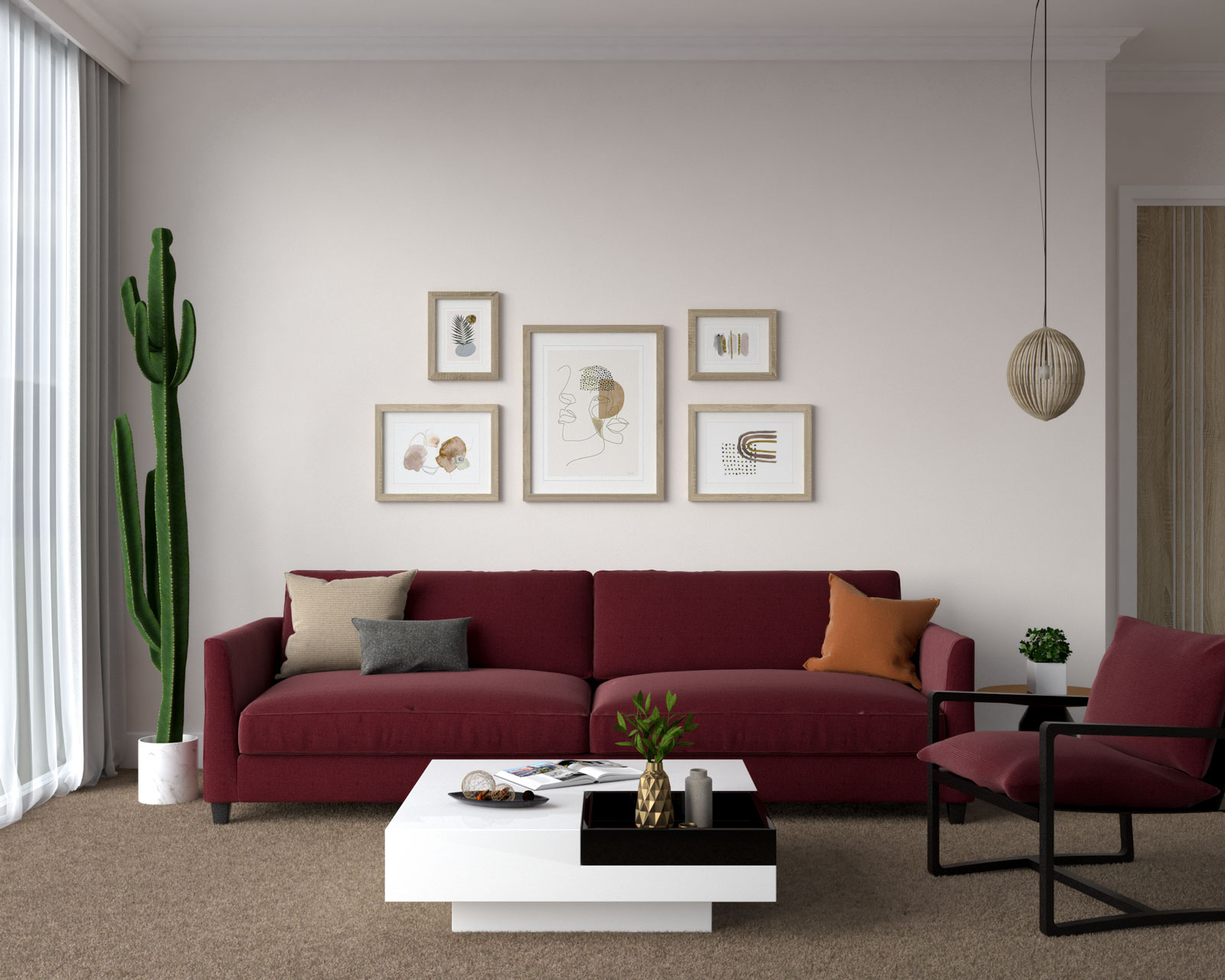 This is another great option if you want to make the sofa or couch stand out against the bold brown carpet and become the centerpiece for the entire living room.
The velvety burgundy couch surely will attract everyone's attention easily with its strong and rich dark red tones. To enhance its glam looks, add some gold, brass, or metallic accents around the couch.
---
More Awesome Couch Ideas