Today, using an artistic and creative approach in interior design is very popular. One of the main reasons for its popularity is because by using this approach, any room can look fresh, unique, and attractive compared to conventional interior design styles that tend to be boring.
One part inside your home where you can devote your artistic soul is the walls. As a large canvas, you can experiment and express your personality here by using paint and brushes.
Geometric wall paint is one of the wall painting concepts that is often used to create an artistic and creative style wall. There are no rules and standard restrictions in painting walls with this geometric style, you can freely pour your expression on your walls.
But without clear concepts and ideas, there are big risks that can damage your room instead of making it more attractive. For this reason, in this article, we share 15 examples of our geometric wall paint that you can replicate or use as ideas and inspiration to create your own geometric wall paint style.
15 Unique and Creative Geometric Style Wall Paint Ideas
Here is our 15 creative geometric style wall paint created by our interior design team :
1 of 15
Yellow and Blue Colorful Wall
Our first geometric style wall idea is this fun, vibrant and colorful wall using yellow, blue, and gray color combinations. This wall painting concept is a perfect choice for anyone who is energetic and full of spirit.
Besides the color combinations that we used in this wall, you can as well use any other color combinations to create a similar geometric wall paint concept. One important thing when choosing the colors is to use 30-40% of a bright color such as yellow ones in this example, and then combine it with other colors that are softer and more natural.
---
2 of 15
Simple Soothing Blue and White Wall
For those of you who like a clean and simple room, but still had an artistic feel that makes it different from any other room, then this wall paint concept can be a great option for you.
A combination of simple geometric shapes with natural blue and white paint created a unique wall effect. This wall concept also very simple and can be made easily at your home.
---
3 of 15
Unique Triangle Teal and Gray Wall
The next wall paint on this list is this unique green and gray triangle shape wall paint ideas. Triangle is one of the most popular shapes when it comes to geometric wall paint.
Arranged in random order, making this one wall concept look artistic and interesting. Another important thing is choosing a fresh green color combination that makes anyone who sees this wall paint will be amazed.
---
Before we continue this list, here are some recommended geometric style wall art that is perfect to use on the geometric painted wall :
---
4 of 15
Modern Creative Sage and Cream Geometric Murals
This gorgeous wall not only combining a perfect color combination: cream and sage, but also comes with a simple yet artistic geometric shapes.
This awesome wall doesn't look overly complicated, but will still capture everyone's attention thanks to its beauty.
---
5 of 15
Mountain Effect Geometric Wall – Scandinavian Style
For those of you who have a home with a Scandinavian-style interior design concept and want to paint your walls with a geometric concept, then this example can be an alternative for you. Yes, by making simple yet firm "mountain" style geometric lines on the walls.
And to give a more Scandinavian impression, we choose a natural color that looks very Scandinavian. The combination of dark gray with white works well to achieve this job.
---
6 of 15
Navy and Gold Accent Wall
When it comes to an accent wall, navy or dark blue is surely one of the most popular option. However, the plain navy wall sometimes isn't enough, and you may need to add more finishing touch to make the wall stand out more.
Take a look at the example above, where we not only add a simple yet artistic geometric lines that makes the wall looks much more interesting, we also use gold paint to accentuate the lines to gives some glam and luxury twist to the wall.
---
7 of 15
Creative Random Geometric Shapes
To create this kind of wall, you may need to carefully planned it and use your creativity in a full force in order to create a gorgeous walls. But actually, it will be worth it.
As you can see, even tough in this wall we only use a simple color combinations: white and brown, it still looks awesome because of the geometric shape.
The randomness also becomes an important point here as it can avoid the repetitiveness that sometimes can make a boring looks.
---
8 of 15
Modern Diagonal Geometric Lines Wall
This gorgeous yet neutral wall is actually pretty simple, where we just add some black geometric lines combined with different shades of gray. This wall can be a perfect choice for any modern, monochromatic style interior.
---
9 of 15
Beautiful Pink and Gray Wall
If you are looking for ideas to paint a geometric shape in your daughter's bedroom walls, then the concept can be a good choice for you. In this concept, we made simple geometric lines and then combine pink, light gray, and white to produce a beautiful and soft wall effect that can make your girls feel comfortable inside their bedroom.
When painting a simple geometric like this, the most important thing to consider is the paint color selection. Bad composition of the colors can make the results look terrible, but on the contrary, the right color selection can create an attractive and artistic wall.
---
Here is another great geometric style wall art :
---
10 of 15
The Shade of Blue Using Geometric Pattern Wall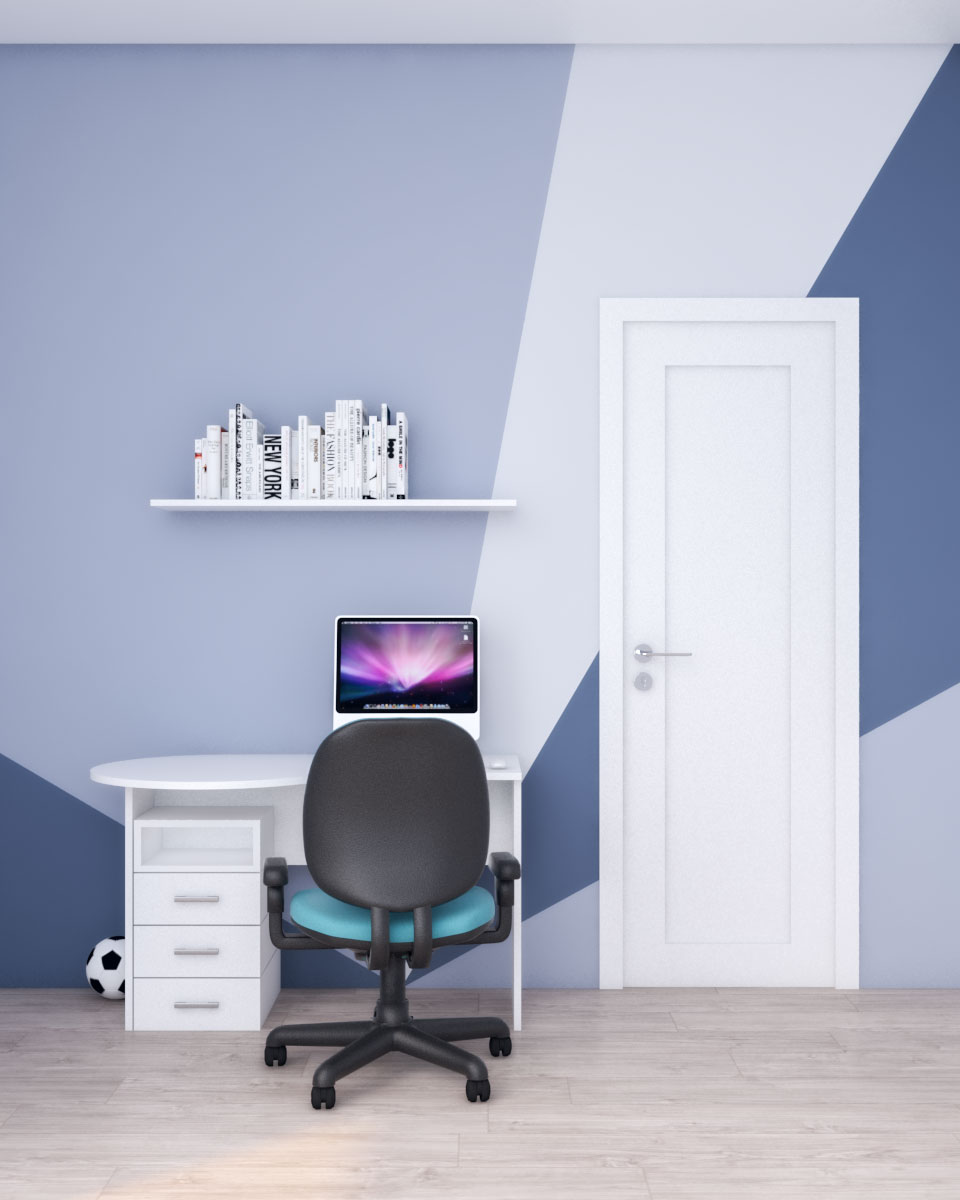 If in the previous design we made an example of geometric wall ideas made especially for girls, then in this design we made a geometric pattern wall that will look greats on any boys bedrooms.
The geometric pattern used in this design is simple, we only create several straight lines at different angles. The main key in this kind of wall paint style is choosing the right color. In this design, we used a blue color scheme with the same hue but in different levels of shades, so that even though they look a bit different, those colors combinations blend perfectly.
---
11 of 15
Black and White Geometric Style Wall Paint
The black and white interior design concept is getting more and more popular. But oftentimes, this interior design style resulting in a monotonous and boring look. One trick to avoid this problem is by using geometric paint such as this example.
Although it looks simple, the effect caused by this wall paint is very interesting and elegant, and most importantly, makes this "black and white" bedroom far from boring.
---
Besides using paint and canvas art, you can use some decorative wall items to add some geometric touch to your wall. And here are some of them :
---
12 of 15
Glamorous Gold Geometric Pattern
Most (if not all) women love gold, but using gold to cover the entire bedroom wall is certainly not a good idea. To avoid this, you can try to make gold geometric lines to create glam gold style bedroom walls.
This resulting in a wall that not only looks beautiful but also elegant and glamorous and perfect for any woman who wants to express their soul and personality.
---
13 of 10
Creative Geometric Style Wall and Door
The next wall design is a simple but unique geometric concept wall. By using geometric lines that are integrated with the door to create a flawless effect. This concept can produce simple yet creative and artistic wall effects.
You can experiment with other geometric shapes that may be more complicated than this one. But this kind of concept requires a little extra effort compared to another wall paint because you will need to do additional work that is painting your door.
---
14 of 15
Simple Geometric Lines Wall Paint
The final concept in this article is a wall with simple white geometric lines that are painting above the brown wall. This concept is perfect for those of you who want a simple yet artistic wall.
One of the important keys when making this kind of wall paint is to make sure the lines are continuous and blend with another side of the walls, which will bring unique and interesting 3D effects.
---
15 of 15
Yellow Wall with Artistic White Lines
The plain yellow accent wall behind the cream sofa actually already looks gorgeous, but in this case, we need to add more twist to boost it's appearance.
And it can achieve quiet easily just by adding some random white lines in the wall, making the wall not only looks more artistic, but also soften and smooth the looks of the yellow paint.
---
Browse More Wall Paint Ideas