Gray, the chameleon of colors, steals the show in interior design, effortlessly fitting into both classic and ultra-modern setups. Whether you want it to play a leading role or just make a cameo, gray got your back.
However, using gray as the main theme for your living room comes with some consequences, and one of the most important is to choose the right supporting elements that can prevent the gray-themed interiors from looking boring and monotonous. This can include the walls, floorings, or furnishings.
When it comes to flooring, some of the best options that you can use as the perfect foundation for your gray living room include white marble tile, white wood, cream marble tile, light natural wood, and blue tile flooring. These flooring options emerge as a stellar choice for any gray-dominated living room, creating a harmonious dance between elegance and modern charm. They can also add some richness and a touch of luxury, elevating the overall look of your living space.
Read on as we dive further into all these amazing flooring options.
1. White Marble Tile Flooring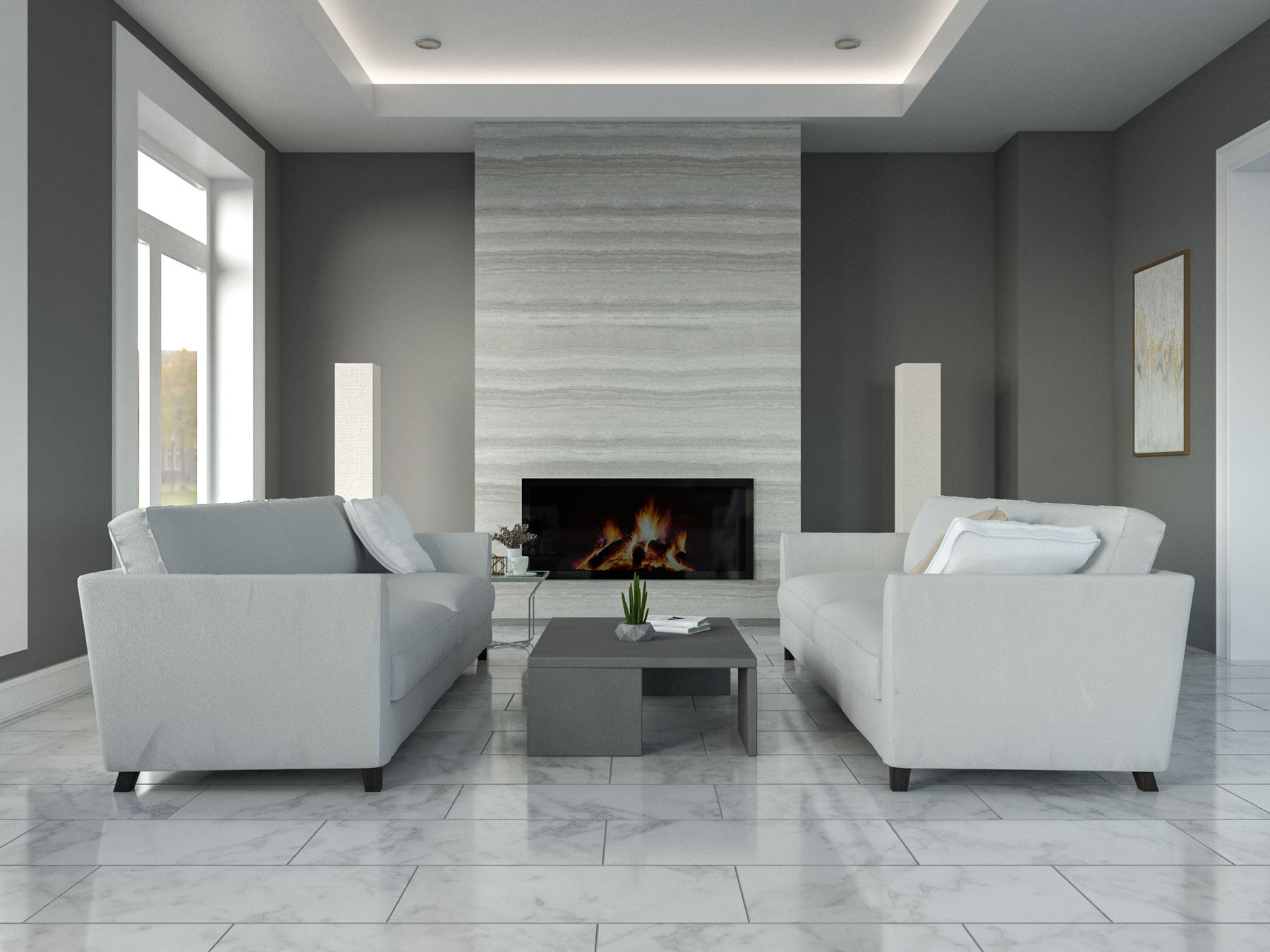 Why overcomplicated things when even just a simple choice can work awesome? The white tile can easily solve all of your confusion as they will obviously blend well inside literally any interior scheme, including a gray living room. And surely this kind of flooring is very easy to get and available almost everywhere.
For a bit more stylish and flawless look, you can go with white marble tiles that have a bit of grayish stain/pattern in them, such as white Carrara marble tile.
---
2. White Wood Flooring
Alternatively, you can go with white wood flooring. This can be a great choice if you want to keep your flooring look simple, clean, and sleek, but at the same time still have some natural wooden looks.
The white wood floor will also create some contrast with any gray items or furnishings above it and make them stand out elegantly.
---
3. Cream Marble Tile Flooring
For any living room that is totally dominated by gray elements such as gray walls, gray furnishings, and gray accessories, these kinds of rooms will probably lack some warmth.
The best and easiest way to bring the warmth that is needed is by using any flooring that has a lot of warm tones in it, like this cream tile marble.
Using these cream tile marble floors not only will spread the needed warm vibe to the entire living room, but it can also keep the consistency of modern elegant looks throughout your space.
---
4. Light Natural Wood Flooring
This is another great flooring option for any gray living room that lacks warmth. The light wood flooring can instantly make any space feel welcoming and inviting, and those are essential foundations for any great living space.
There are a lot of wooden options that have these kinds of colors, some of the most popular ones are White Oak, Maple, or Birch.
---
5. Blue Tile Flooring
If you want to add more color to your gray-themed living room, you may try using blue tile flooring. Choose any blue tile that has some grayish undertone to get a more neutral look and will blend easily with all of the gray elements around it.
Furthermore, the blue flooring can spread a fresh airy vibe that can make the gray living room feel more alive and energetic.
---
6. Pale Brown Wood Flooring
Another great wooden choice that will work amazing inside any gray living room. The pale brown wood floors had a bit of gray tone in them, and that's what makes this kind of flooring look flawless when used inside any room that is filled with gray elements.
Furthermore, unlike most wooden floors, these pale wood floorings tend to have a more modern than vintage look, and that's why they can also be a great choice if you are going to create a modern, contemporary style living room. Some wood that naturally have this kind of colors are Oak, Walnut, Willow, or European Beech.
---
7. Black Laminate Wood Floors
For you who want to really make the entire gray living room stand out in a bold, strong, and elegant manner, then you can try using black laminate wood flooring.
This kind of flooring surely will be darker than all of the gray elements inside the living room, and that will visually make those gray items look lighter.
However, please make sure that your gray living room has plenty of neutral lights before deciding to use this flooring.
---
Browse More Flooring Ideas