As a neutral color, gray should be very versatile and easy to combine with other shades, right? Well, that's not necessarily the case.
This earthy color had a broad range of shades from a very light gray to a dark one. Its lighter side surely can be easily blended with another color, but when it comes to the darker tone, things can become much more complicated.
Things can get worse if you are using dark gray in a large element, such as the wall. Although it can produce a bold and elegant look, this kind of wall is quite difficult to blend with other hues.
If you are using dark gray paint for your living room wall, then one of the most common obstacles that you probably found is when choosing a couch/sofa color that will work beautifully with it.
To help you solve this kind of issue, here we will share our thought on what color couch that will work well with a dark gray wall.
10 Best Couch Colors for Dark Gray Wall
1 of 10
Blue Couch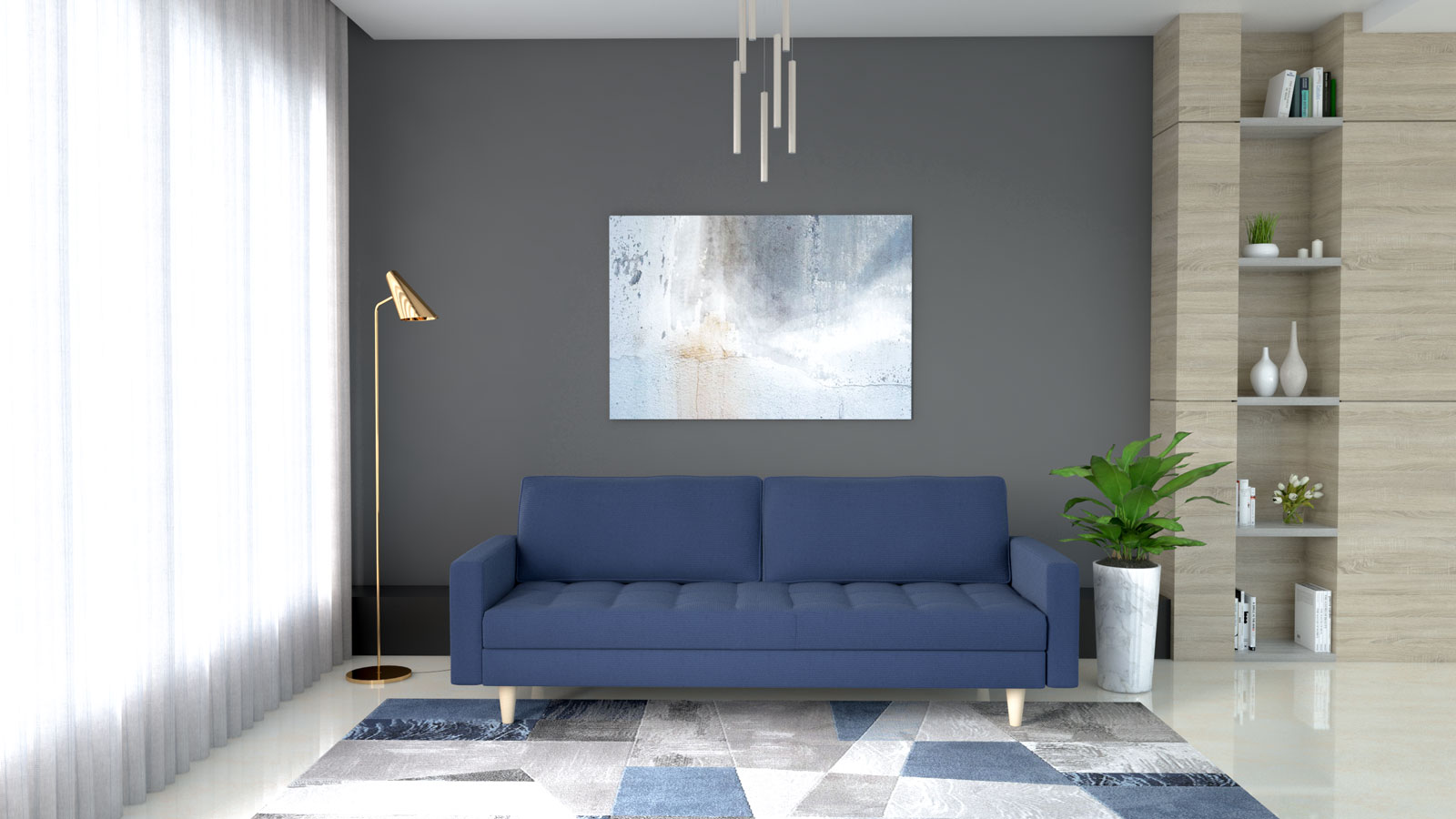 If you are choosing dark gray as your wall paint color, then we are pretty sure that you want to create a bold and elegant space, right? And one of the best colors that can help you achieve that goal is blue.
Any medium to dark-toned blue couch can work perfectly, as it can strengthen the elegance of your spaces while adding a new layer of bold shades to help enrichen the entire look.
Another reason why we love this pair is the ultra-modern look that it'll produce that will be an ideal visual appearance for any contemporary interior style.
---
2 of 10
Light Gray Couch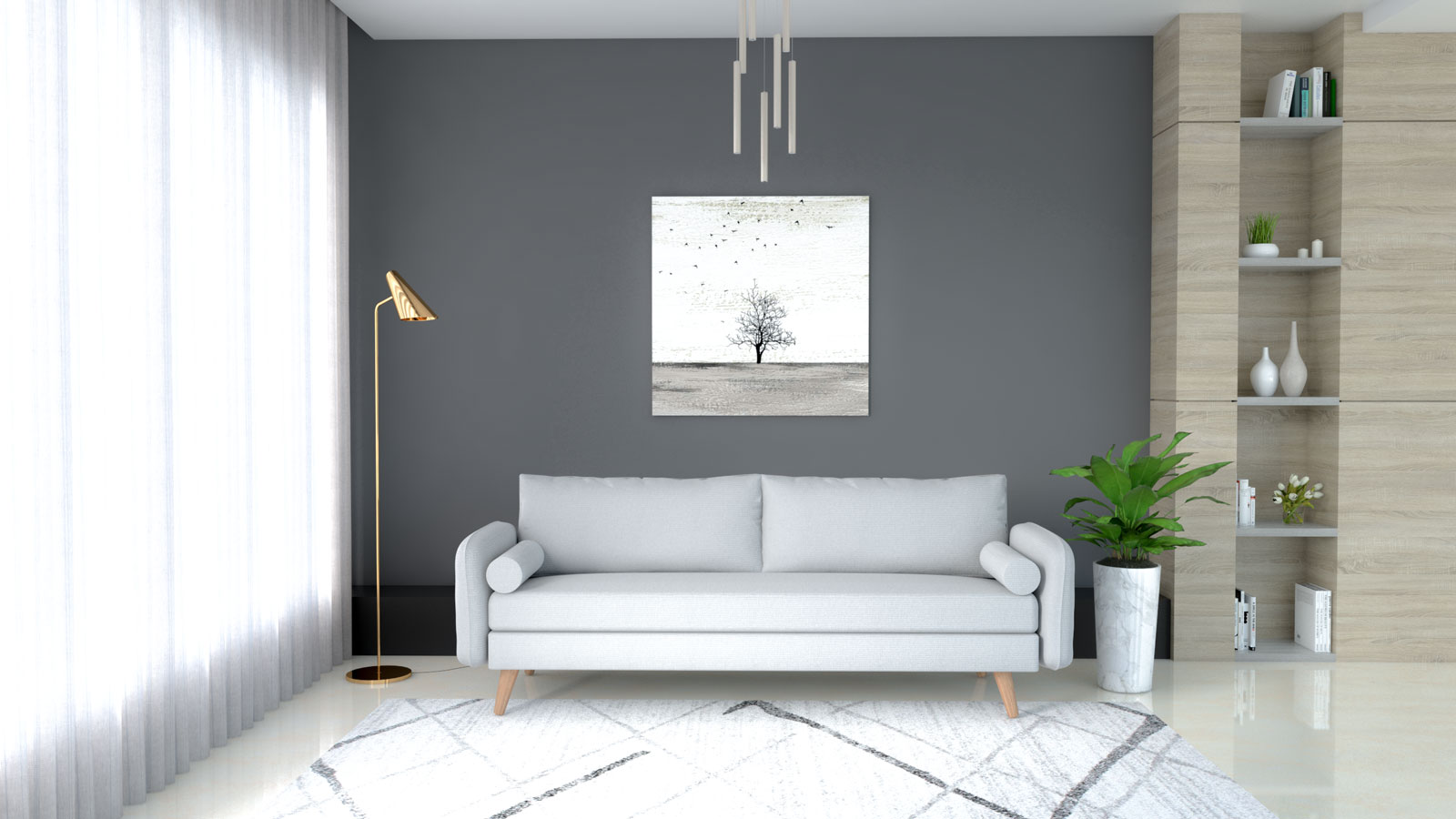 You can create a stunning monochromatic space by combining the dark gray wall with the light gray couch. To get an even better result, add more gray tones that can help broader the range of gray and avoid your space feel monotonous. One of our favorite ways is by using a very light gray rug.
These combinations not only will create an aesthetic and eye-pleasing look, but also can produce a calming and comfy ambient.
---
3 of 10
White Couch
Using dark-toned gray paint for your wall can potentially make your space feel dark and a bit gloomy. To solve this, a white couch can be a perfect choice as it can bring a brightening contrast beautifully.
Furthermore, this kind of couch can keep the entire space look clean and simple but the bold wall still feels quite strong and dominant.
---
4 of 10
Ivory Couch
This is a great alternative to white in case you want the couch to have a bit of warmth vibe but still give similar light, crisp and bright effects. Additionally, the ivory couch can adjust the deep, cool-tone dark gray wall and make the entire space feel more warmer and welcoming.
The problem is that sometimes these sleek couches don't give the perfectly flawless looks against the dark gray wall, but don't worry, you can solve this easily by throwing up some gray decorative pillow to it.
---
5 of 10
Aqua Couch
This is another awesome couch color for gray wall. With its unique subtle greenish-blue shade, the aqua couch will turn any boring living room into a dreamy, stylish space! The dark gray wall also can become a great background for this particular couch as it will help highlight the couch to make it stand out and bring out all of its potential.
---
6 of 10
Mustard Yellow Couch
Yellow can be a perfect sofa color for living room with dark wall, especially if you want to add a splash of fun vibe into your spaces. Most yellow shades can work quite nicely with dark gray, but if we should choose one of the best, our choice goes to mustard. This particular shade had a bit of bold and elegant touch, thus it's a perfect mix for the wall with similar characteristics.
Using a yellow couch can also bring a cheerful and joyful vibe to your entire living room, and it can be a great benefit since it's the place where your family will spend most of the time together.
To get the best results, we love to add some gold, brass, or metallic accent throughout the room as it can help enhance the yellow accent and also add a bit of luxurious touch.
---
7 of 10
Dark Green Couch
Most of the time, although it can create an elegant and bold look, the dark gray walls can feel boring and unattractive. To overcome this, a dark green couch can be the best option. Associated with nature, this vibrant shade can add a fresh vibe that can bring your room to life, and also can be a great choice for any room that lacks greenery.
Moreover, dark green can still have some touch of boldness that can make it look really well with any dark-toned wall.
---
8 of 10
Mint Couch
Another green shade that can works nicely with dark gray is mint. And this is one of the best alternatives if you want to bring the freshness of the nature in a more soft and subtle way.
This unique shade can bring a splash of vibrancy while at the same time will looks really clean and simple, so it's a great choice to create a perfectly balanced living space.
---
9 of 10
Blush Pink Couch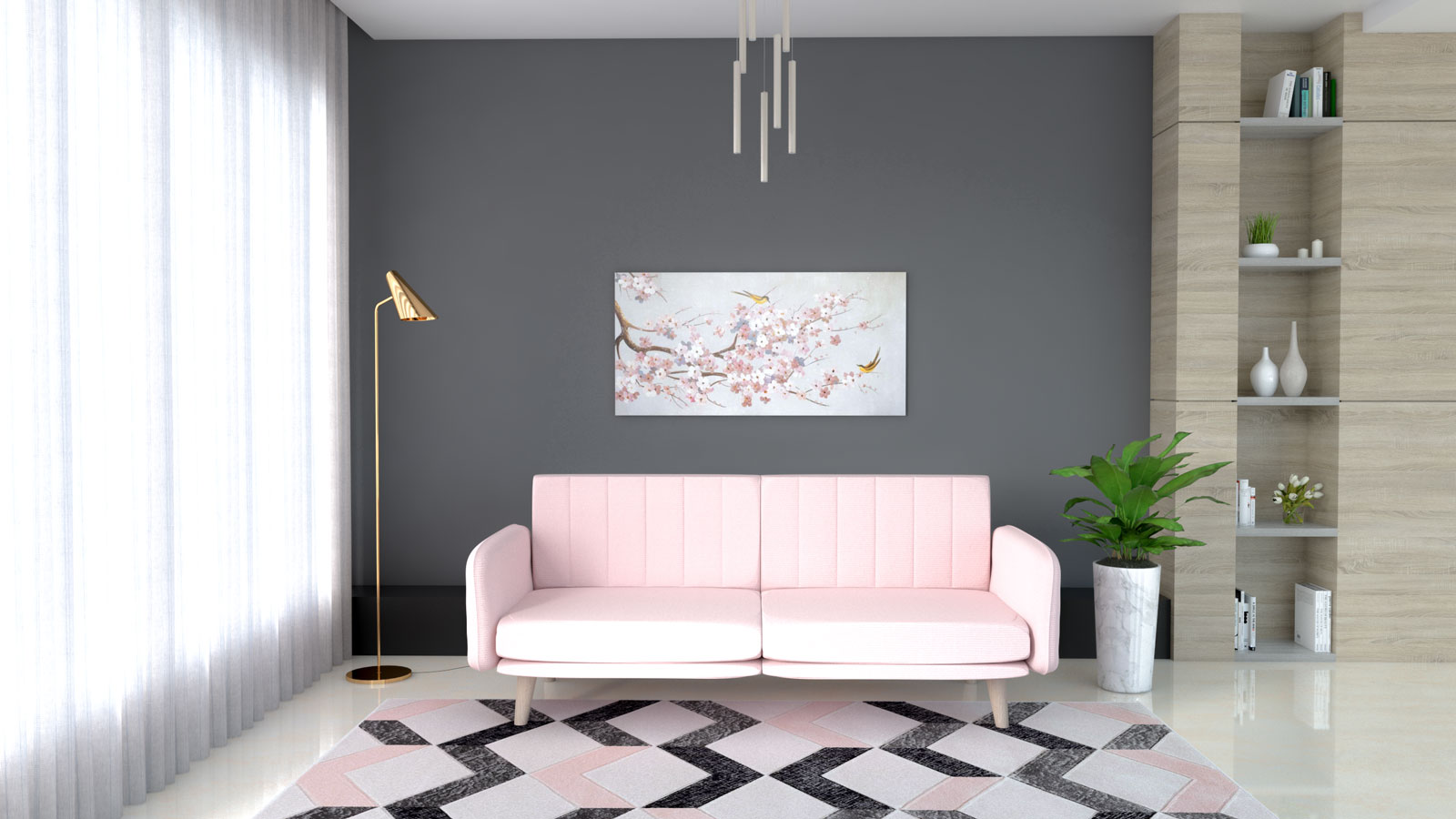 If you want to add a twist of sweetness to your spaces, then a blush pink couch can be the perfect choice for you. This particular shade tends to be more neutral compared with other typical pink shades, thus it can easily be blended with other colors, even a bold one such as the dark gray.
The blush pink couch can also work really well if you want to bring a more romantic vibe to your living room with gray wall.
---
10 of 10
Light Blue Couch
This is another great blue shade that can fit nicely inside any living room with gray walls. The lightness it brings can brighten up the entire space, while its blue hue provides plenty of airy and tranquil vibe that makes the living room feel calm and cozy, without getting rid of the elegance that the dark gray wall brings.
You can keep the couch as the only light blue element and make it a beautiful accent, or you can incorporate more light blue furnishings and decoration items to make it become the primary palette alongside gray.
---
Browse More Couch Ideas