If you're renovating and have already decided that you're going with white for the walls; the next step is deciding which color and material your floors are going to be. This decision can be challenging, as it seems like the options for flooring are endless. However, we're here to help provide you with a comprehensive guideline in order to make the choice easier for you.
Now, you may be wondering why matching the right flooring color with your white walls is so important. Firstly, while white is a very forgiving color that matches almost anything, it is still possible for it to clash or blend in too much with certain colors.
There are a few important things to consider before choosing the flooring color for a room with white walls, so let's get started.
What's the Lighting of the Room?
Certain materials reflect lighting better than others, so it is important to take into consideration how much natural lighting you have available to you in a space. Furthermore, if your room lacks plentiful lighting, you may want to choose flooring that will help brighten the space.
What's the Overall Purpose of the Room?
Deciding whether to go with wood, tile, or marble flooring is heavily dependent on what the function of your space is. For example, you may want to go with tile or marble for high-use and high-mess rooms like kitchens and bathrooms for easy cleaning.
7 Best Flooring Colors for Room with White Walls
Beige Floors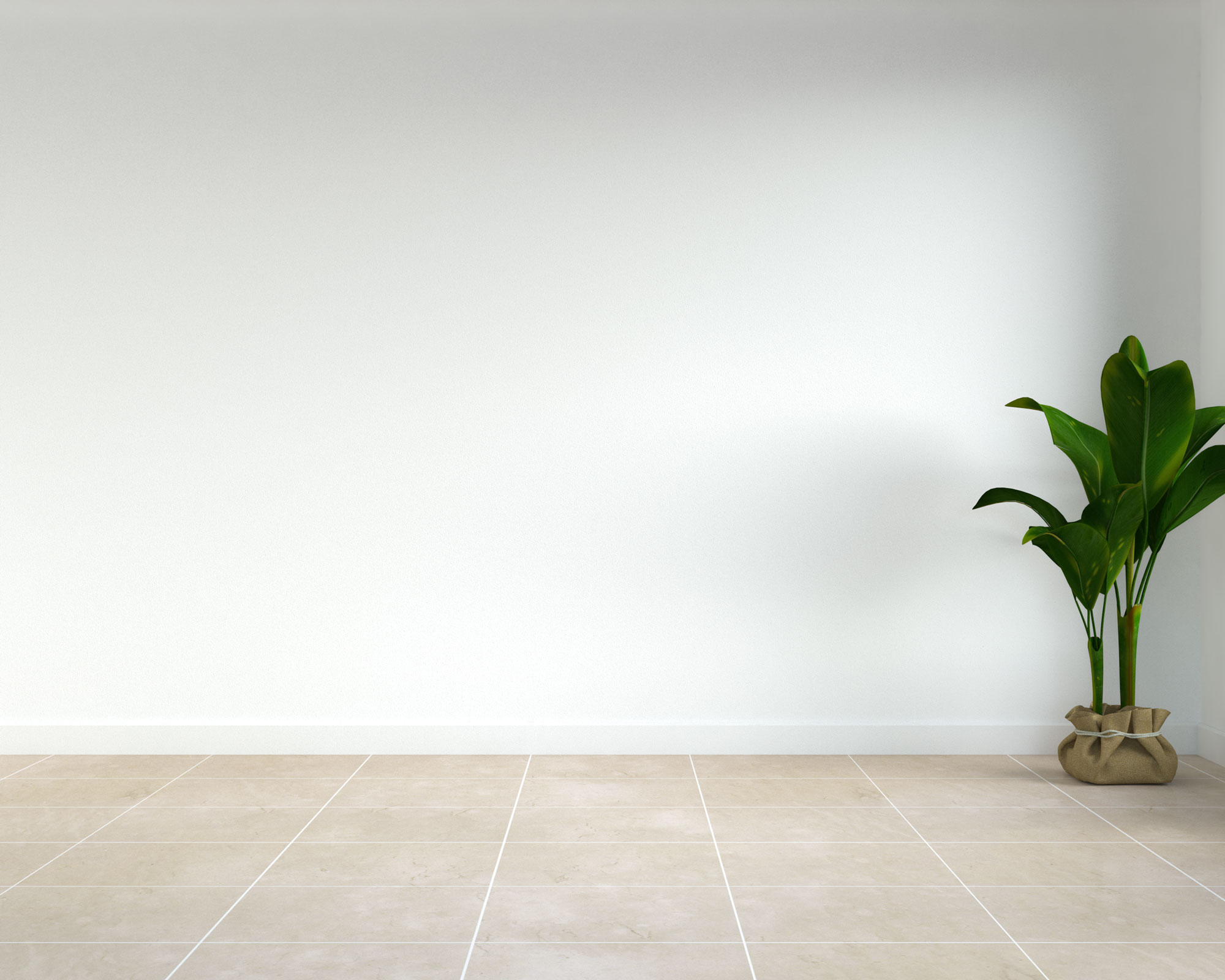 Beige floors are the perfect in-between color for matching flooring with white walls. The beige offers a slight contrast, while not being too showy.
It is not too light to barely show up, but it is not too dark to take too much attention and overpower the rooms overall feel. Beige floors also work great for those who want a more natural and earthy color scheme in the space.
Lastly, as it is a natural color, beige would look especially great in rooms with plenty of natural lighting.
---
Light Wood Floors
Light wood floors possess an impressive ability to make any room feel larger than it actually is. Pairing the light wood with white makes this ability even more powerful, making the entire room feel even larger.
If the space you have is small and you're looking to make it feel more roomy, this pair is a great choice.
Light wood floors also give the room a more natural, calming feel for those who love boho style, but they're also just a classic option for anyone.
---
Gray Tile Floors
Gray tile floors put together with white walls will offer contrast to some extent, without taking too much attention from the brightness of the walls.
If the furniture you're planning to have in the room is more on the cooler-toned side, this combo is a great option as both white and gray are known as "cold" colors.
The elegant gray tile paired with the fresh white walls will pave the way to allow for even the most minimalist designed room to appear glamorous.
---
Black Marble Floors
Installing black marble floors in a room with white walls creates a stunning and crisp visual contrast that adds serious depth to a room.
As black marble typically has white marbling in it, it offers not only a contrast, but a delicate blending with the wall as well, ensuring the two most important parts of the room mesh well together.
Not to mention, black and white is a timeless color combination that will make any room it is placed in look both chic and sophisticated.
---
White Marble Floors
While it may seem like an abnormal decision to make both your walls and your floors pure white, there are definitely some advantages to this combination.
If you're looking for consistency in the room, this option is a great choice as the two whites will unify together seamlessly.
If you have an open floor plan, the two whites may help make your room look larger. However, if the room is packed with things, the lack of contrast may make the room appear smaller.
---
Dark Hardwood Floors
Conversely from light wood floors, dark wood floors have the ability to not necessarily make a room look smaller, but make it feel cozier.
The white walls and dark floors pair exceptionally well as while white is more on the plain side; the deep, dark brown flooring adds a certain boldness to the whole room.
However, if your room is already on the smaller side and you don't want it to feel even smaller, you may want to opt out of this option.
---
Brown Tile Floors
Brown is an incredibly unique and versatile color, and paired with the color white, it creates both a cozy and elegant feel, as well as a fresh and earthy vibe.
Tile in general tends to add a clean feeling to any space, but the warmness of the brown balances it out, ensuring the space doesn't feel too uptight.
Additionally, both the white walls and tile tend to reflect light beautifully, so in a room with plenty of natural light, this pairing will elevate your space significantly.
---
From deciding on color schemes, furniture, and other design elements; we understand just how challenging renovating an entire room can be.
We hope that this article has helped you in your decision making process of finding out which is the best color floor for a room with white walls.
Nonetheless, remember that the most important aspect of interior design is you. While certain technical interior design elements such as balance and color coordinating are unquestionably important, the most important factor is if you yourself genuinely like it or not.
If your interior design sense isn't the norm, that's okay! The only way creativity in this field grows is when people take risks and are bold with their own individual tastes. So go out there and design your dream room with no fear!