Brown couches or sofas are widely known for their flexibility as they can blend easily with almost any interior design style, from traditional to modern ones. This couch is also loved by many homeowners as it can bring a beautiful combination of elegant touch with a warming vibe that is a perfect recipe to create a comfy sitting area.
As earthy tones represent the earth and ground, a brown sofa can be a perfect choice to add natural and fresh looks to any living space.
However, decorating around brown sofas or couches can be quite complicated and not as easy as it looks, especially when you want to use it as a main focal point for your seating area. While too much contrast can overpower the couch and make it looks disintegrated, lack of contrast also doesn't work well as it will make the entire space feel boring and monotonous.
Thus, carefully choosing any decorative elements to be placed around a brown couch becomes very essential to make or break your spaces.
While there are a lot of different items and elements that can be placed around a couch, in this article we will be focused on one most important and crucial element, the rug.
So, what color rugs go with brown couches? Keep reading.
Best Rug for Brown Couch
Tan Rug with Brown Sofa
Our first answer when someone asks what color rug goes with brown couch is tan. This soft color had a perfect amount of brown tone that makes it can work seamlessly with any shades of brown, from light brown to dark brown leather couches.
So, whenever we got an interior design project that involves a brown furnishings, then tan becomes our first priority for the rug.
---
Gray Rug with Brown Couch
Neutral shades usually become one of the best options when it comes to difficult couch colors. And for a brown couch, our favorite neutral is gray.
Using a gray rug alongside with brown can create a well-balanced look, as the warm and rich brown tone is balanced out by the cool and cozy gray.
Furthermore, the gray rug can help enhance and highlight the couch.
---
Sage Rug for Brown Couch
Sage is a unique color that works perfectly with neutral hues like brown. And that's why the sage rug can complement the couch beautifully.
Not only the sage help refresh the brown, but it can also bring a calm and natural sense to your space.
---
Olive Green Rug
Here is another awesome green shade for brown couch. While it shares similar characteristics with the previous option, sage, an olive provides a bit more warmth thank's to its yellow undertones.
Thus, it can go together with the couch to create a totally comforting and welcoming interior space.
---
Cream Rug with a Brown Couch
Cream is quite similar to tan, but it has a slightly lighter and softer tone, thus it can be a great choice if you want to create a neutral, comfy, and soothing living space.
However, it still had a small amount of brown tones that will keep the rug and couch looks integrated.
We love to use this cream rug and brown sofa combination, especially when decorating any space using a contemporary or minimalist style.
---
Navy Blue Rug
If you want to create a richer, bolder, and more elegant space, then you can be using another bold color for the rug to be combined with the brown furniture, and any dark shade of blue can work wonders for this particular task.
Using a blue rug will also help refresh the looks and avoid your space feeling monotonous.
However, to keep the space well balanced, we prefer using any blue rug with some neutral color combinations such as the navy blue and white rug that we used in the image above.
---
Blue Gray Rug
If you prefer a less intense blue, then you can try this blue-gray.
This rug still provides plenty of calmness and tranquility as any other blue shades, but comes with strong gray undertones to keep it neutral. Thus, you can still have a rich and colorful space without being overly vibrant.
---
Red Rug and Brown Couch
Honestly, this is a risky color scheme, but if you do it properly, it can create a stunningly beautiful, and elegant spaces.
Both the red area rug and the couch can stand out to make the entire seating area become dominant, and it will be very useful especially if you had an open plan living space.
---
Brown and Red Rug
However, if you are thinking that the plain red may look too offensive, you may want to try any brown rug with red accents.
These kinds of rugs can blend harmoniously with the sofa as they share the same hues, while the red accent works beautifully to add a splash of luxurious touch to your seating area.
---
Rust Rug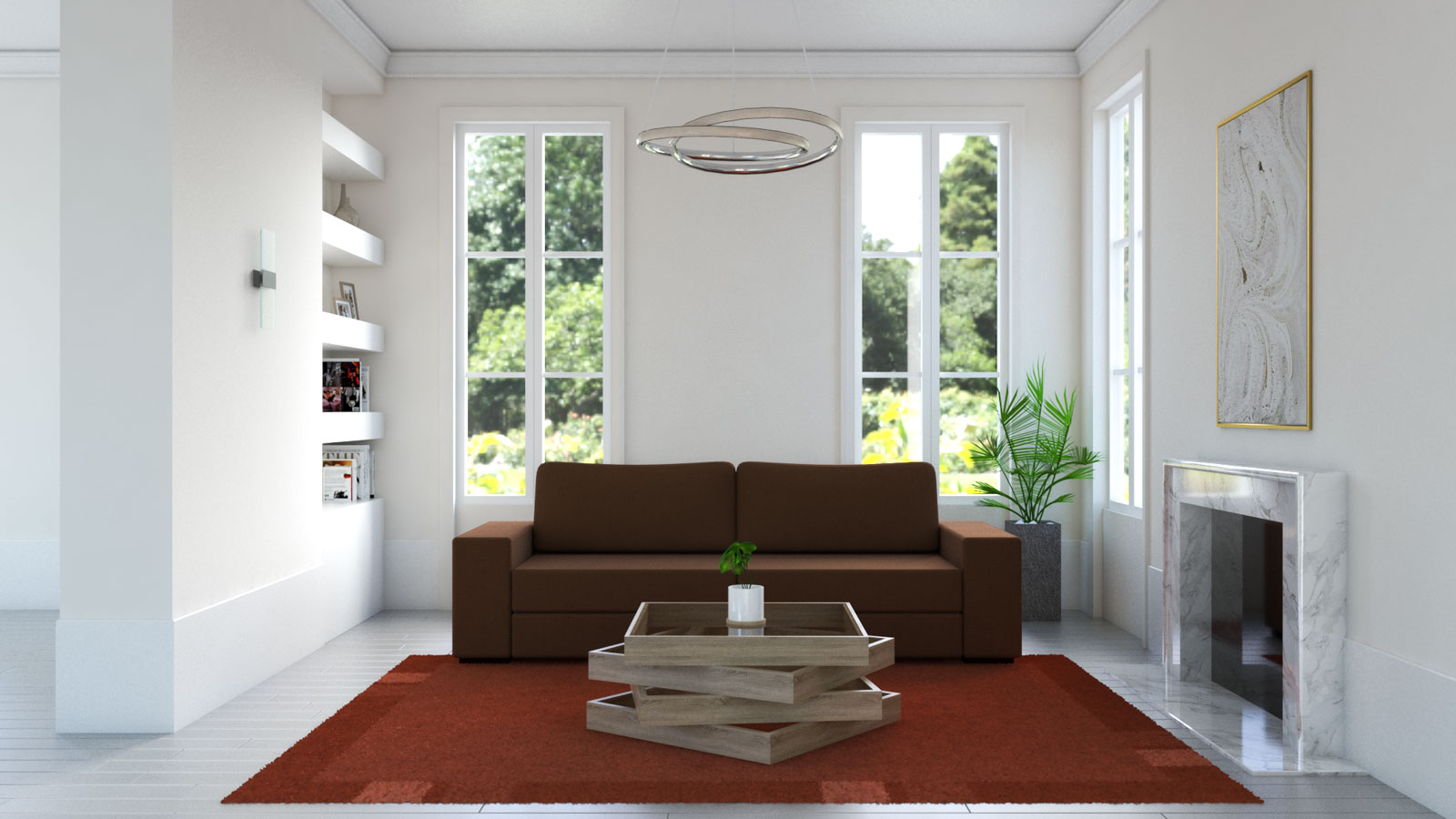 If you think your couch become too dominant in your living area, then using a rich and vibrant rug can be a great way to slightly decrease its boldness, and one of our favorites for this job is rust.
Rust is a unique color that combines orange and red tones, and when it is used alongside with brown, the result is quite interesting.
However, avoid using a plain rust rug as it would overwhelm the area, and choose ones with some texture and patterns.
---
Yellow Rug with Brown Couch
As we already said before, brown is very versatile shade and can be used in almost any decor style. And for any cheerful setting such as a tropical, beach house, or summer decor, you can combine it with the yellow rug to get the best results.
Almost any yellow tone can work well with brown, from light yellow, pale yellow to dark yellow.
---
Mustard Rug
Here is a great example of other yellow shades that can blend nicely with brown. The mustard yellow is a deep, rich yellow tone that unlike any other yellow, provides a bit of boldness and elegant touch.
And that's why this mustard rug can go side by side with a brown furnishings without any problem.
---
Brown and Yellow Rug
Alternatively, you can try using any brown rug that had yellow accent, like the ones that we used in the image above.
This kind of rug will keep the brown as the main palette, but at the same time add some interesting pop to lift up the vibe of your living room.
---
White Rug
Actually, a white rug never goes wrong. That said, when it comes to brown sofas or couches, it may be not the best option.
However, using the white area rug can still be a great choice for some cases. For example, if you need to brighten up the looks of your couch, or use it inside a small living room to make the entire space feel a bit more spacious. The white shag rug can also tie the room together, making the entire area looks flawless.
---
Brown and White Rug
If you don't want to go away from brown, then this is one of the best choices for you. The brown and white rug can further improve the warm and inviting ambiance to your home.
And you don't need to worry about making your space look boring, as the white accents can give interesting contrast effects to avoid monotonous looks.
---
Gold Rug
One of the best ways to unleash all of the potentials of the brown furniture is by surrounding it with glamorous elements. And you can do this by pairing it with any rug that had some gold accents in it.
Even though it is certainly not real gold or metallic elements, this rug still had a strong glam vibe that will help make your couch feel luxurious.
---
Maroon Rug
Another rug to go with brown couch that can bring an astonishing glamour touch is maroon or dark red. Although it looks pretty similar to the red rug that we mentioned before, the maroon comes with a completely different vibe.
It is not as vibrant as any other red, but sparks bold, luxurious visuals that will instantly elevate the entire space.
---
Charcoal Rug
Charcoal or dark gray rug offers plenty of elegance that perfectly meets the glam looks of the brown.
And even though charcoal is quite intense, is still as neutral as any other gray, so it won't be a distraction, and still keep the brown sofa becomes the main focal point for your living room.