Brown couch or sofa are widely known for it's flexibility as it can blend easily with almost any interior design style, from traditional to modern ones. This couch is also loved by many homeowners as it can bring a beautiful combinations of elegant touch with warming vibe that is a perfect recipe to create a comfy sitting area.
As an earthy tones that represent the earth and ground, brown sofa can be a perfect choice to add natural and fresh looks into any living spaces.
However, decorating around brown sofa or couches can be quite complicated and not as easy as it looks, especially when you want to use it as a main focal point for your seating area. While too much contrast can overpowered the couch and make it looks disintegrated, lack of contrast also don't work well as it will make the entire space feel boring and monotonous.
Thus, carefully choosing any decorative elements to be placed around a brown couch become very essential to make or break your spaces.
While there are a lot of different items and elements that can be placed around a couch, in this article we will focused on one most important and crucial element, rug.
Best Color Rug for Brown Sofa
Tan Rug with Brown Sofa
If there is one color that arguably the best choice to go alongside with brown, than it should be tan.
This soft color had a perfect amount of brown tone that make it can work seamlessly with any brown shade.
So, whenever we got a interior design project that involve brown couch, than tan become our first priority for the rug.
---
Gray Rug with Brown Couch
Neutral shade usually become one of the best options when it comes to difficult colors. And for a brown couch, our favorite neutral is gray.
Using gray rug alongside with brown sofa can create a well balanced looks, as the warm and rich brown tone balanced out by the cool and cozy gray.
Furthermore, the gray rug can help enhance and highlight the brown couch.
---
Cream Rug with Brown Sofa
Cream is quite similar with tan, but it has slightly lighter and softer tone, thus it can be a great choice if you want to create a neutral, comfy, and soothing living space.
However, it's still had a small amount of brown tones that will keep the rug and couch looks integrated.
We love to use this cream rug and brown sofa combination especially when decorating any space using contemporary or minimalist style.
---
Navy Blue Rug with Brown Sofa
If you want to create a more rich, bold and elegant space, than you can using another bold color for the rug to be combined with the brown couch, and any dark shade of blue can work wonders for this particular task.
Using blue rug will also help refresh the looks and avoid your space feel monotonous.
However, to keep the space well balanced, we prefer using any blue rug with some neutral combinations such as the navy blue and white rug that we used in the image above.
---
Red Rug and Brown Couch
Honestly, this is a risky combinations, but if you do it properly, it can create a stunning beautiful and elegant spaces.
Both the red area rug and the brown couch can stand out to make the entire seating area become dominant, and it will be very useful especially if you had an open plan living spaces.
---
Rust Rug with Brown Sofa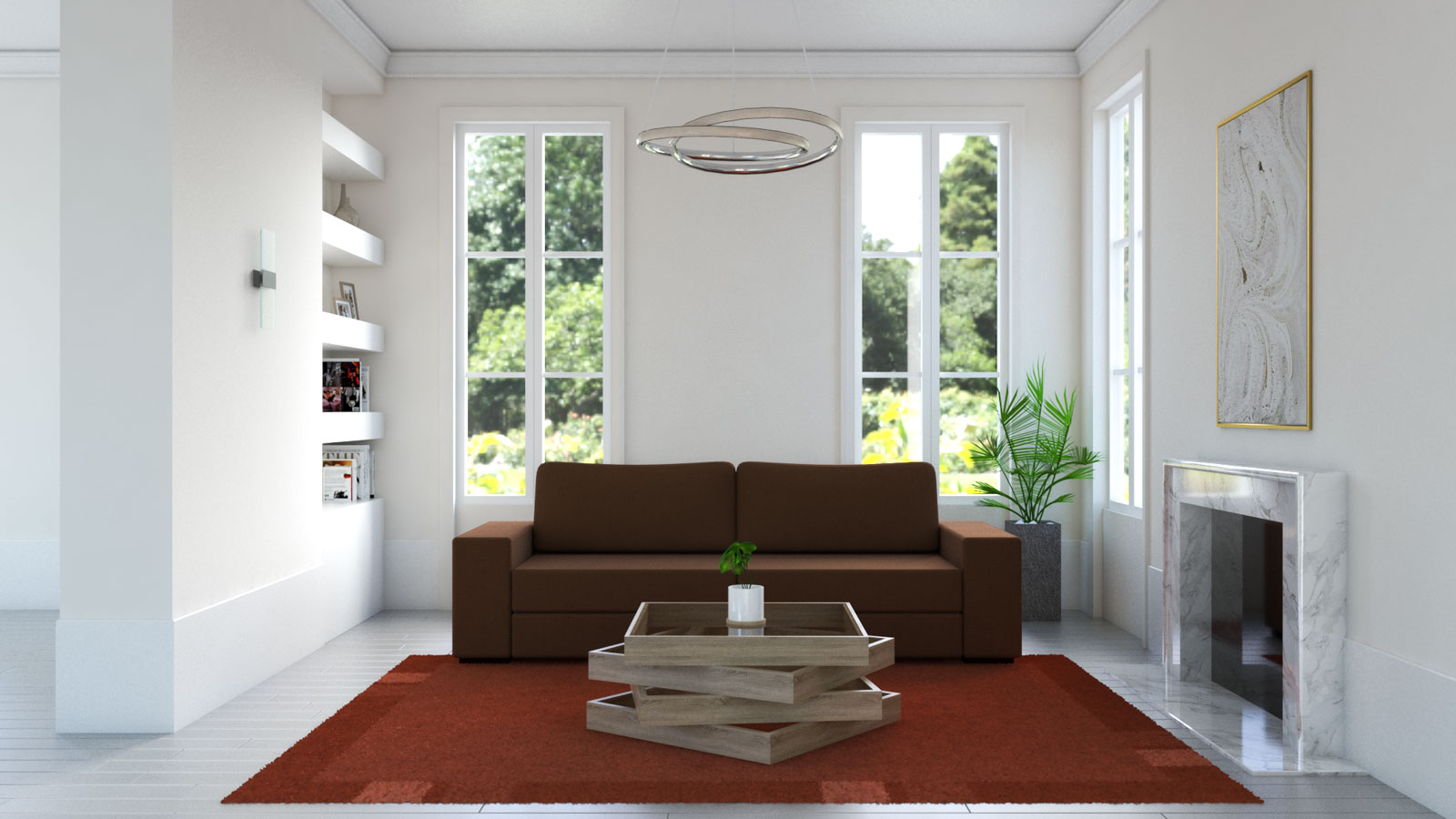 If you think your brown couch become too dominant in your living area, than using a rich and vibrant rug can be a great ways to slightly decrease it's boldness, and one of our favorite for this job is rust.
Rust is an unique color that combine orange and red tone, and when it used alongside with brown couch, the result is quite interesting.
However, avoid using a plain rust rug as it would overwhelm the area, and choose the ones with some texture and patterns.
---
Yellow Rug with Brown Couch
As we already said before, brown couch is very versatile and can be used in almost any decor style. And for any cheerful settings such as tropical, beach house or summer decor, you can combine it with yellow rug to get the best results.
Almost any yellow tone can works well with brown, from light yellow, pale yellow to dark yellow.