Blue and brown may not be the most popular color combination in interior design spaces. However, if you can use them perfectly, this combination will easily evokes a sense of tranquility and sophisticated elegance that makes your interior stand out.
The blue crates a serene and tranquil vibe, while brown bring the earthy nature for a warm and welcoming ambiance, creating a perfect harmony wherever they are used.
To make this combination work, one of the most essential things is to choose the right blue shades that can really complement brown. And since there are a wide variety of blue, this simple task can be overwhelming and challenging.
And that's the main reason why we write this post. Here, you can explore some great blue shades that blend flawlessly with brown, creating a symphony of style and comfort inside your room. So, without further ado, let's begin.
7 Best Blue Shades That Goes with Brown
Steel Blue
With muted blue hues and gray undertones, steel blue had strong neutrality that makes it blend effortlessly with any color, including brown. Furthermore, the cool-tone of steel blue will neutralize the warmth of brown, creating a more balanced look.
This combination will evokes a sense o nature and tranquility, a great reminiscent of a serene coastal ambiance.
---
Teal
Teal and brown is a great color combination that mixes the vibrant and lively hue of teal, with rich and earthy tones of brown. This resulting a depth yet harmonious blend.
Moreover, teal can also be a great choice to modernize your brown-themed interior, adding some modern yet fresh looks to your home.
---
Spruce Blue
Spruce blue is a unique color that perfectly mixed blue, green, and gray undertones, resulting in a fresh, elegant, and stylish shade.
And since spruce blue had a strong gray tones, it can easily blend with brown, while still provide striking contrast to let both of the spruce blue and brown elements to shine. This pair will works best inside any modern or contemporary style interior.
---
Baby Blue
If your brown elements looks overly strong and you want to soften their looks, then baby blue can be the best choice for you. The soft and soothing looks of baby blue tone-down the bold brown shade, resulting in a delicate and balanced appeal.
Moreover, baby blue can be used to creates a tranquil and peaceful spaces, and that's why this color scheme can be a perfect choice for bedroom.
---
Oxford Blue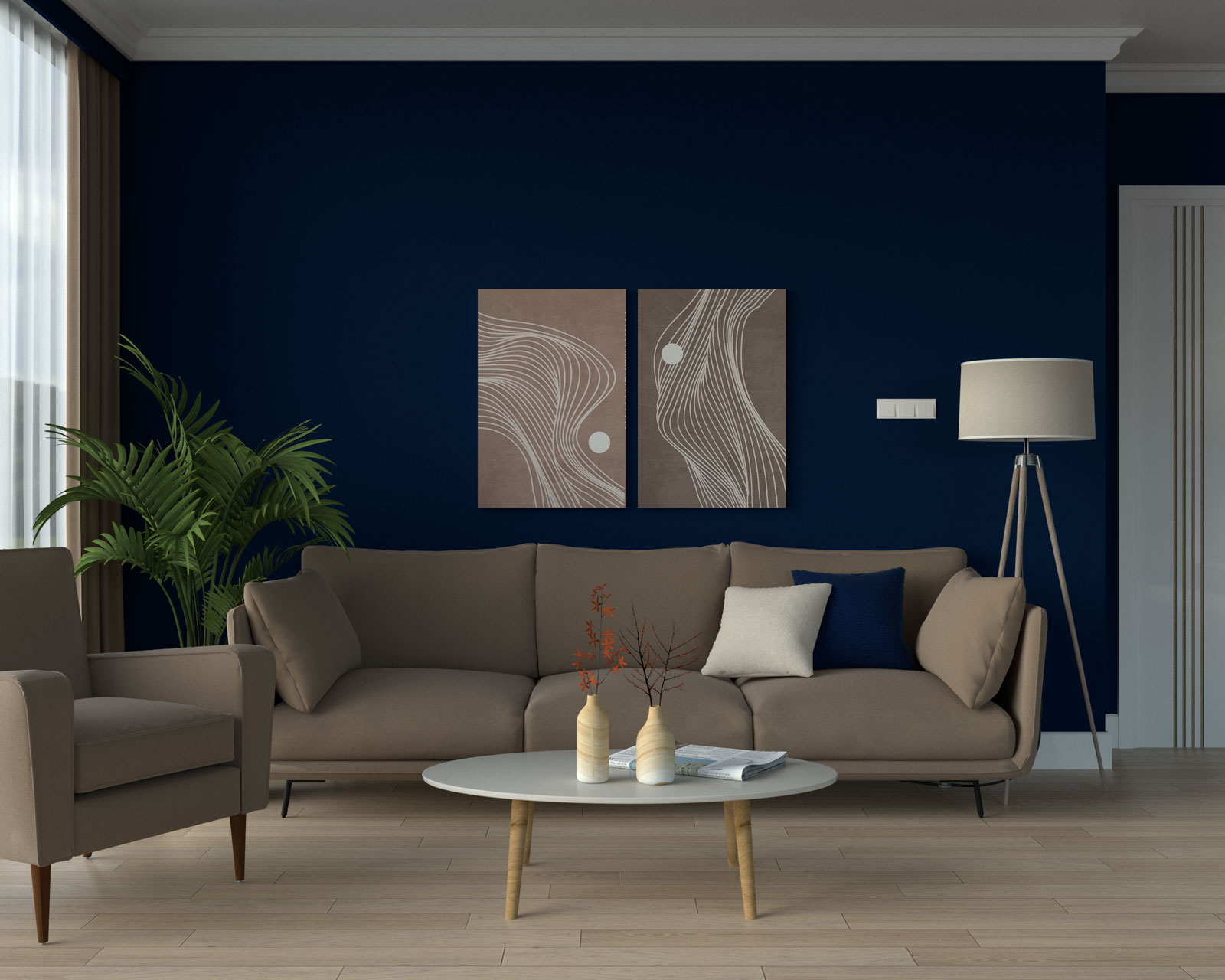 Oxford blue not only will complement brown elegantly, but it's deep and rich hues let it pop and becomes a new focal point to your space.
With strong contrast, this pair brings a sense of depth and regality to your interior, while still keep a welcoming and warm ambiance. You can use this stunning shade in furniture, textile, or accent wall.
---
Navy
Another great bold blue shades that work nicely with brown, but this time, it comes with strong gray undertones for a much more neutral and calming effects.
Navy not only bring a big statement wherever it used, but it can also serve as a bold backdrop that boost the appearance of your brown furnishings.
---
Cornflower Blue
If you need to bring some vibrant pop of color to your space, then you can try using cornflower blue. This unique blue shades complement brown perfectly, producing plenty of contrast for strong depth and stunning visual.
This vibrant blue shade also can help brighten and lighten up any space, giving a sense of openness and serenity.