In the middle of the upward trend of minimalist furniture with neutral or pastel shade, the brown couch still had its special place among many homeowners.
With its unique character of elegance with a touch of classical feel, the brown couch has a stunning visual appearance that not only makes it eye-pleasing but also can lift the entire room's appearance.
Unfortunately, crafting a perfect interior design with a brown couch as the centerpiece is not an easy task. Behind all of its advantages, pairing a brown couch with other colors can be very challenging.
We often heard about the homeowner who need to redecorate, redesign, and changing their furniture and decoration items just to find a "good enough" living space around their brown couch.
Another important thing that should be done properly to have a great visual look with a brown couch is to match it with a perfect wall paint color as its background. Well-matched wall color can also be a great starting point to determine what kind of visual result do you want to achieve for your interior.
However, among an enormous number of choices of paint colors, it's quite tricky and difficult to find the best one that can match a brown couch. After having tried a bunch of different colors, we find out that here are some best wall paint color for brown couch :
What Wall Paint Color Goes with Brown Couch?
White
There's no need to add a lot of explanations for this color, as this one can work wonders with any other colors, including brown.
White can be a great choice if you want to make a simple living space that still looks stunning thank's to the gorgeous brown sofa. White can also work to wrap up the entire space if you are using brown and other different shades inside the same room.
---
Light Beige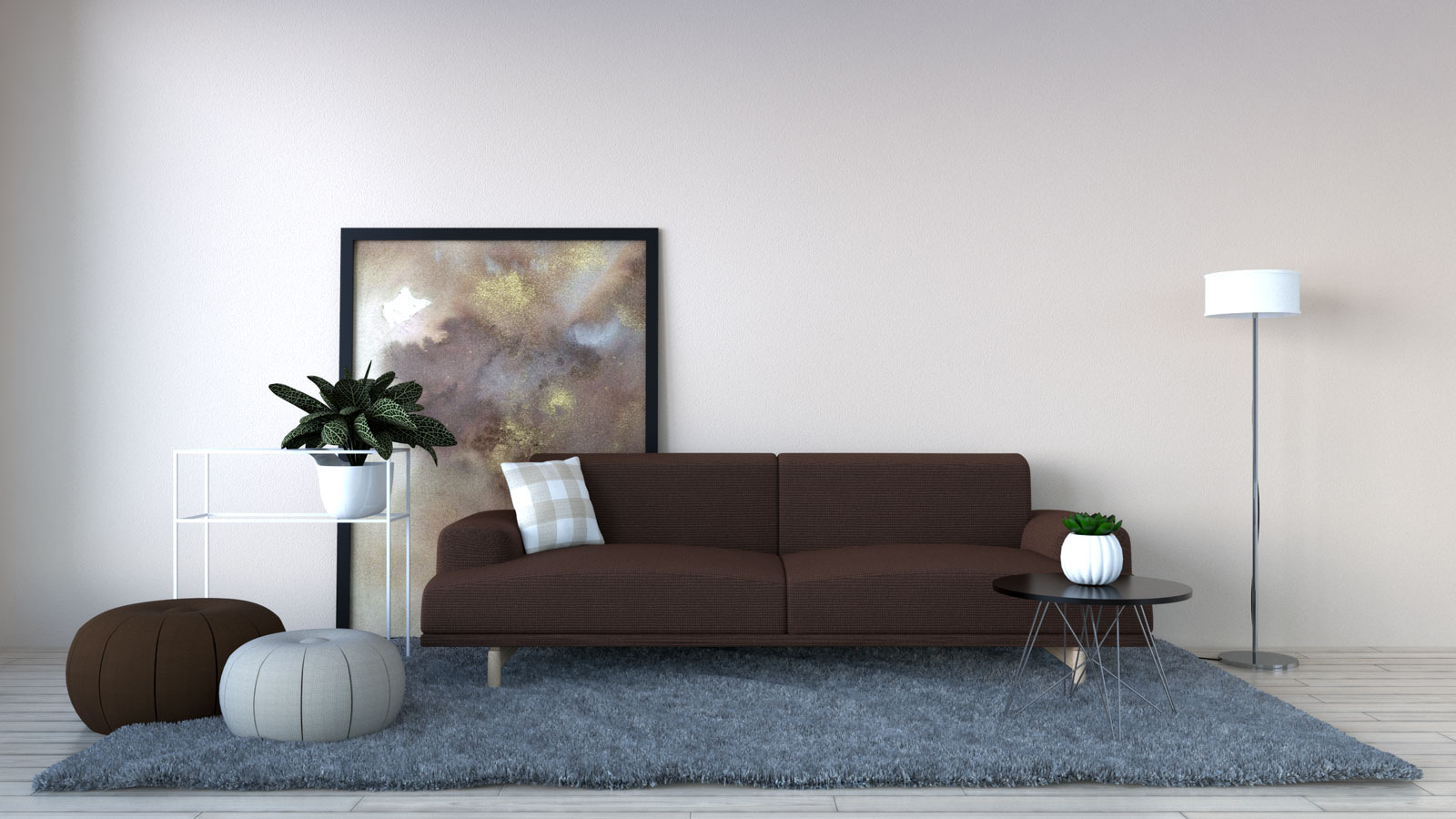 At first, this color is very closely similar to a typical plain white. But if you take a closer look, it had a slight brown tone, and it's very beneficial to make it feel flawless with the brown couch.
This shade can be an ideal choice if you want a room that looks seamlessly, yet still keep it clean, simple, and crisp.
---
Flax Yellow
Flax Yellow or oftentimes called flaxen is a pale yellowish-gray color. This shade will embrace all of the energetic vibes from its yellow tone but in a more subtle and soothing look.
Decades ago, yellow used to be popular to be used with brown, especially for a classic or modern-mid century style. However, this scheme has been left behind as most yellow shade will bring an overly flashy effect. But this can be avoided by using a more calming yellow paint such as this flax yellow.
---
Tuscan Yellow
If you still want a fun and vibrant yellow paint, that we highly recommend this Tuscan yellow. This unique color is created by combining a yellow base with a touch of orange and red tone, producing a bright shade that reminds of summer-time sunlight.
Thus, this shade can be a great option if you want to bring a fun and cheerful tropical summer vibe into your space.
---
Mineral Gray
Generally, gray is a versatile shade that can easily blend with any other colors. However, things can be a little bit different with brown, as most of the gray shade actually can work quite well with it.
But in our experience, there is one shade of gray that can still bring a great result when used as a background for a brown couch, and it is mineral gray. This dark gray tone can bring a deep, bold and elegant feels to the room. However, we only recommend this color to be used as an accent wall behind the brown couch, as using it for the entire wall can make the entire space feel too dark and gloomy.
---
Mint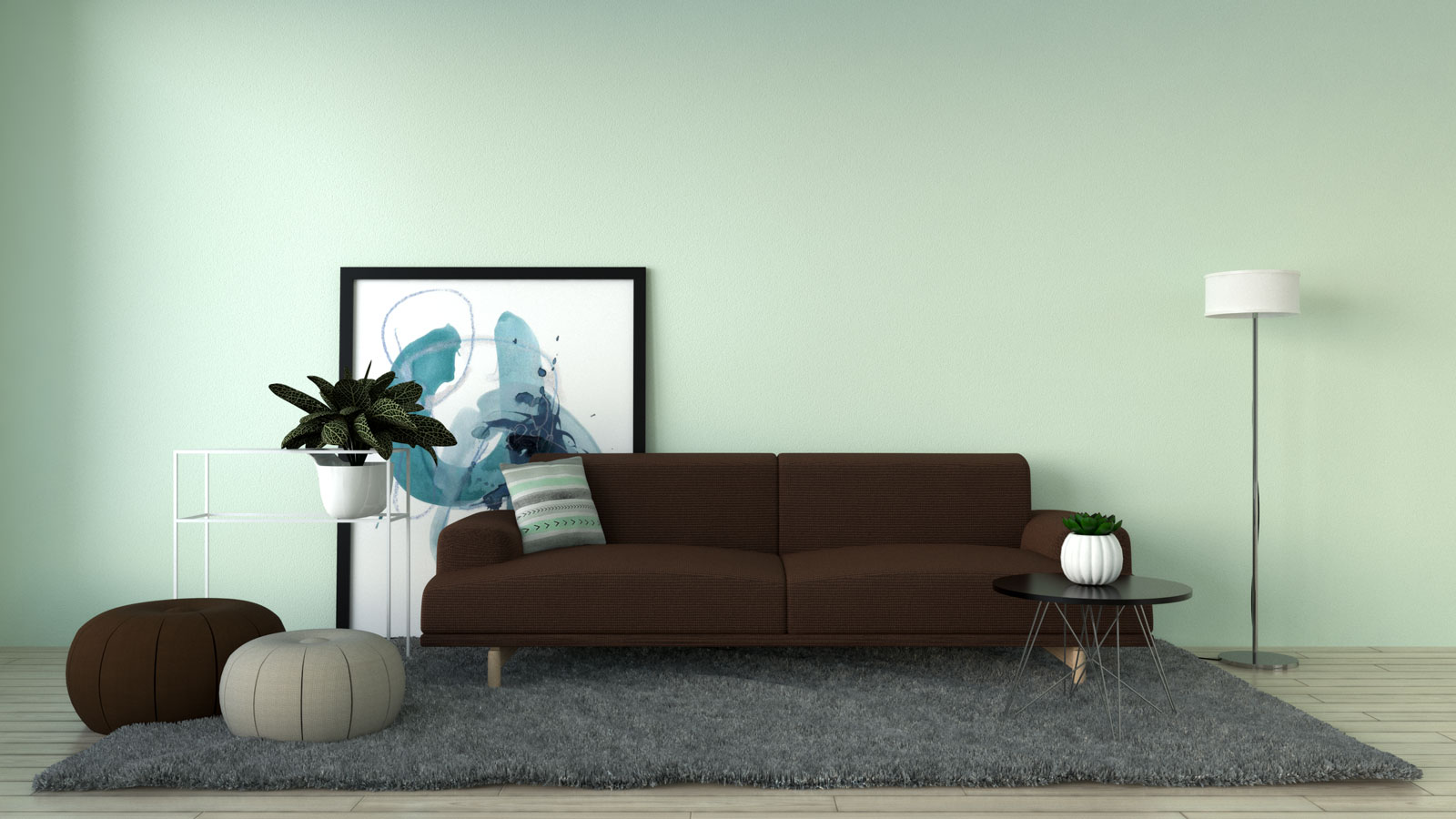 Brown is known for a strong earthy tone. Thus, using this color can be a great interesting strategy because not only it can help balance out the brown, but it's also the same earthy natural tone that makes both colors can blend easily.
Thanks to its green tone, mint can bring fresh and natural effects, while its blue tone works on a more calming and cozy side. This beautiful combination can bring an interesting effect when used as a background for the brown couch, as you can see in the image above.
---
Silver Mist
the mixture of light gray with a bit of blue tone resulting in this unique and interesting shade. And we love to use this color as a wall paint behind any bold and rich furniture, such as a brown couch.
Another reason we love this color is that it's not as boring as any typical grayish shade.
---
Terracotta
Terracotta is an interesting, unique, but very underrated color. This exotic shade can blend quite well with a brown couch. Furthermore, although there is too much contrast between them, the couch will still stand out in a much more harmonious way.
Moreover, if you want a more personalized and not mainstream living room, then this can be a great color choice for you. However, as with many other exotic colors, we recommend using it only as an accent wall.