Blue is one color that can embrace a lot of different feelings, whatever you want to use it. For example, a light, beachy blue is popular for any coastal or beach house, dark blue or navy can bring a bold and elegant vibe to create a modern look, while vibrant blue is perfect to bring a splash of pop in a stylish, tranquil vibe.
And that's why blue becomes one of the most popular colors when it comes to furnishings, as it can fit into literally any decor and interior style.
Moreover, blue furnishings is quite versatile and can easily blend alongside any other color.
However, things can be quite different for any room that is full of blue furnishings. With blue as the majority or the primary palette, it can be a tricky job to incorporate any other shades, especially for large elements such as walls.
But don't worry, there are still some options that can work well in these particular situations, and here they are :
Best Wall Colors for Blue Furniture
White
Why overcomplicate things when a simple and easy choice can solve all of your problems?
Yes, plain white walls can work great inside any room that is full of blue furnishings, not only to create a beautiful contrast, but this wall color can also help enhance and makes all of the blue stand out and bring its best visual appearance.
White walls can work perfectly with any shade of blue, thus, whatever kind of blue you are using, whether it's light blue or dark blue, you can use white as the ideal choice for your walls.
---
White Snow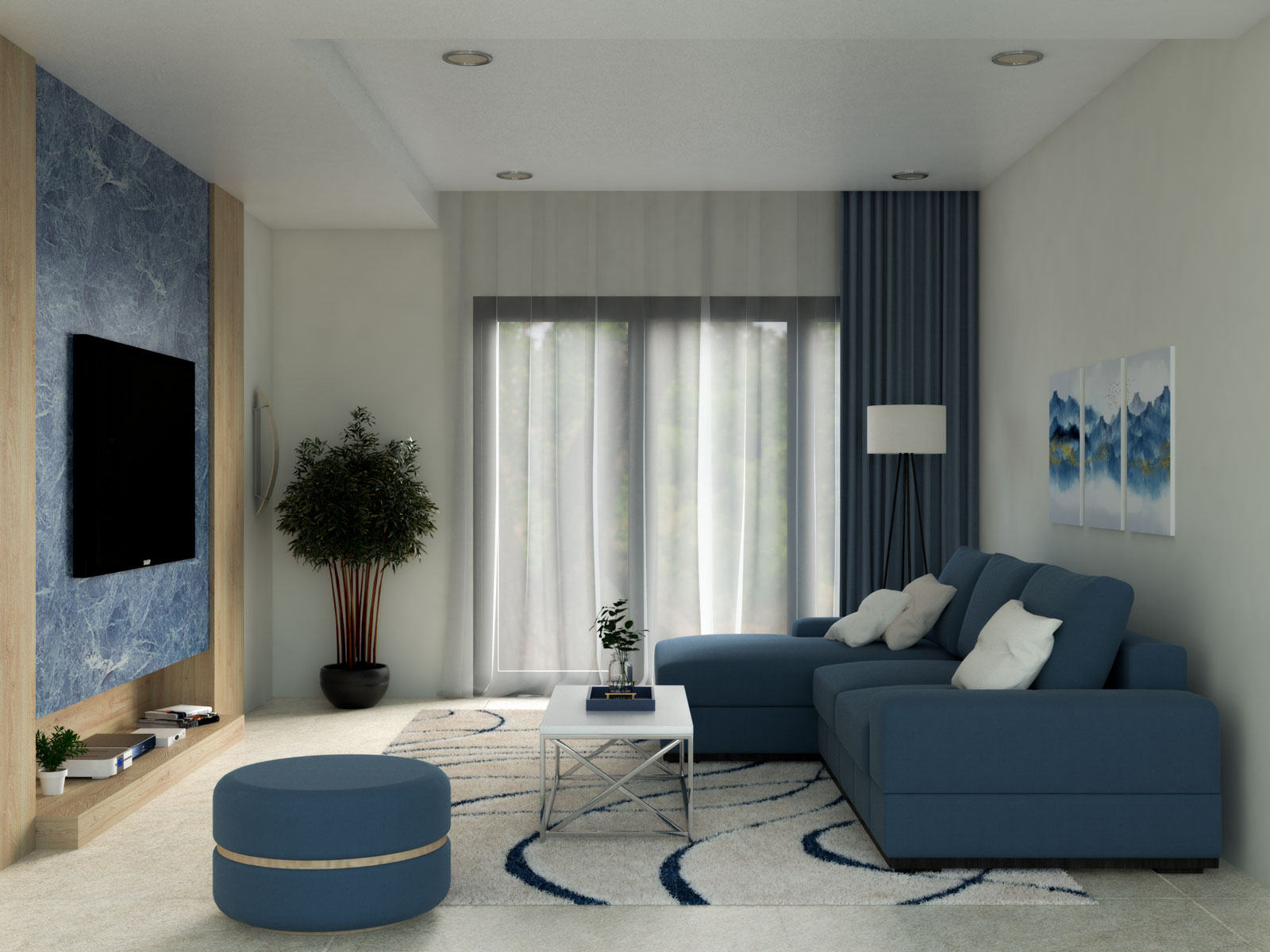 Blue is a cool-toned shade, and that's why some rooms that use this shade as the primary palette may lack the warmth and welcoming ambient. You can solve this easily by using any warm shades for your walls, and for this specific purpose, white snow is our most favorable choice.
The white snow color can spread very similar effects compared to a plain white, but in a warmer tone that can balance and lift up the entire room appearance.
We love to use this wall color for any room that needs to be inviting and welcoming, such as a living room.
---
Gray Screen
If your main goal of using blue furnishings is to create elegant spaces, then gray is surely the best wall color to enhance and accomplish that goal.
As a neutral, it's easy for gray to blend with any color, so there won't be any problem combining it with blue. While any shades of gray can work nicely with blue, we recommend you to try this gray screen.
This particular gray had a balanced medium tone that looks great with blue furnishings, and at the same time spread a bold and elegant vibe to take any room to the next level.
---
Iceberg (Light Blue)
Monochromatic is a currently trending decor style, and you can achieve that style by combining blue furnishings with blue walls. However, using a similar blue between the furniture and the walls is surely not a good idea as it can potentially create a weird, monotonous look.
Thus, you should use any combinations that still produce a bit of contrast. If you are using medium to dark-toned blue for your furniture, then we highly recommend you to try this iceberg blue.
This very light shade of blue can create a clean, bright, and sleek look like any typical light shade, but at the same time still had a strong presence of blue tone to keep the harmonious and flawless looks.
---
Indigo
Alternatively, you can try this indigo that works really well inside any living room with blue furniture. This particular shade had a strong amount of gray undertone to make it looks neutral and bring some contrast with all of the blue furnishings, but still keep the consistency of blue flows thank's to its deep blue tone.
---
Mint
If you are looking for any green shades to compliment your blue-furnished room, then we highly recommend this one: mint. This particular shade had a bit of blue hue in it, and that's why the mint-painted walls complement the blue furnishings perfectly.
And at the same time, it still had plenty of fresh and natural ambient like any typical green, which will be very beneficial to refresh the room's visual appearance in an aesthetic way.
---
Venetian Yellow
Yellow is one of the best opposite colors for blue, and that's why these combinations can work well to create an interesting space. However, when it comes to the walls, most yellow is surely not a great option, especially for any bright or vibrant yellow.
But don't worry, you can still create awesome looks using any softer or lighter yellow, and one of our favorites is this light venetian yellow. This particular shade had a calmer and softer appearance compared to most yellow, and that's why it can still look nice when used as the wall paint colors.
And when it is combined with blue elements, the results will be much better, thank's to the beautiful contrasting effects between both colors.
---
Explore More Color Ideas