Gray couch is getting more and more popular in recent years. It brings a fresh natural look that can easily fit into nearly any decoration style or color scheme. A gray couch can be used in a traditional interior style or modern ones.
However, choosing the right wall paint that can blend perfectly with a gray couch can be a tricky job. With the right colors, you can create elegant looks whether you want the couch to be blend with the entire room decor set it up as the focal point for the room.
To find the perfect wall paint color that will match perfectly with the gray sofa, our interior design team conduct an experiment with tested a lot of different paint colors. And here in this article, we will share the result of this experiment to you to help you choose the right color paint for your wall that will go well with a gray sofa.
And here is the results :
Best Wall Color for Gray Sofa
1. White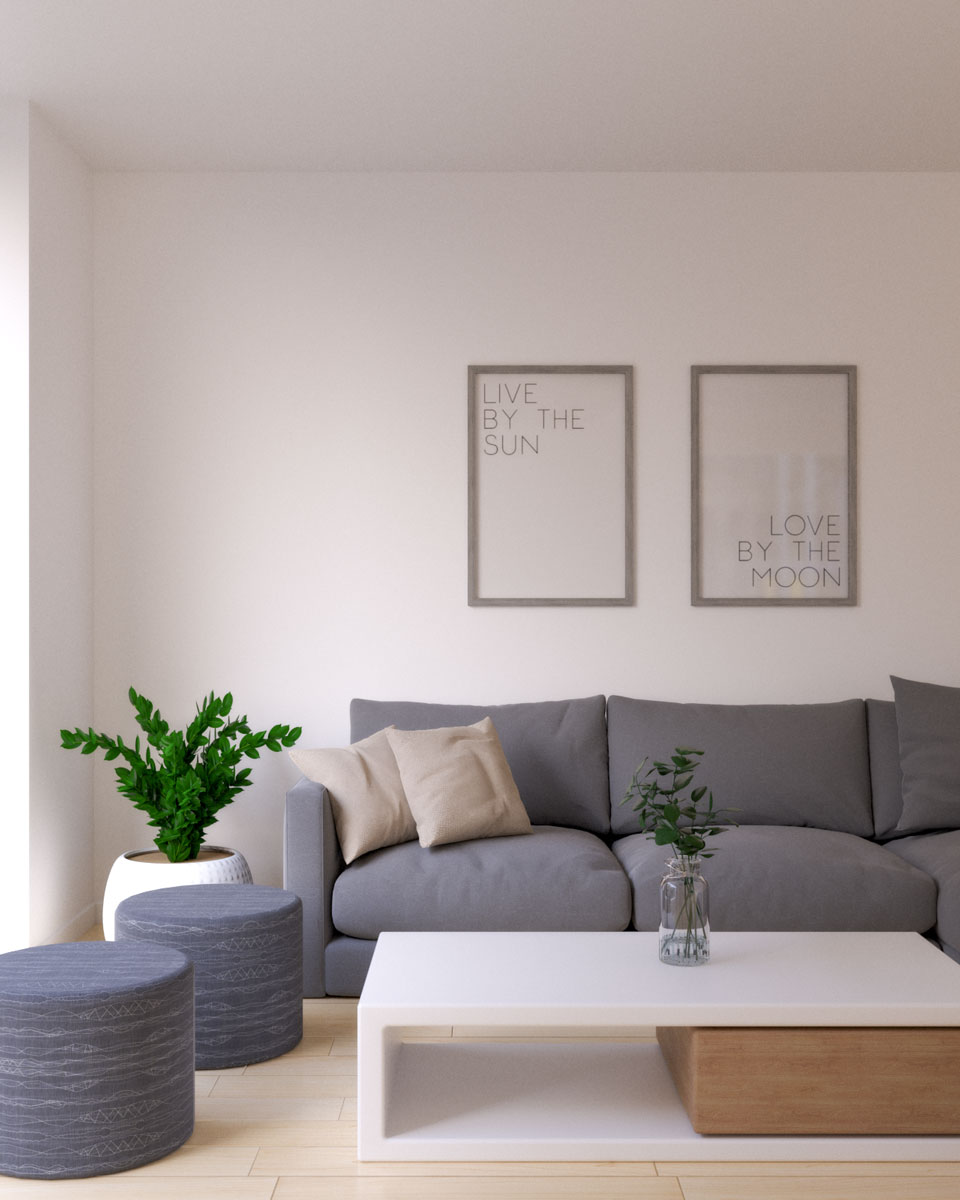 Yes, it's the easiest and simple solution for any room with a gray couch. White paint can blend well with any different couch colors, so does with gray. This color also can be used in any different decor style. If you don't want to take some risk when choosing the right paint color for your living room sofa, then go with white can be the perfect choice for you, as it would never go wrong.
White wall also works great as a canvas, where you can easily hang any wall decoration items there. If you want to make your living room more colorful and vibrant then you can use some bright colored wall art. Or, if you want to keep it simple, you can use any minimalist, grayscale, or white and black wall art. The possibility is endless in a white wall.
Shop the Look
Live by the Sun Love by the Moon Minimalist Artwork by Modern Digital
---
2. Light Gray
Using a lighter shade of gray for wall paint color can make the couch stand out while still look flawless. Those combinations also bring a modern and warm atmosphere.
Pairing light gray with a darker sofa also creates a monochromatic look that is perfect for any modern, minimalist, or contemporary style decor.
If you want to create a comfortable and relaxing living room, that light gray may be the best colors options that will go well with any gray sofa.
Shop the Look
Gallery Wall Kit Black and White Square Photos by Gallery Perfect
---
3. Light Brown
Most gray colors had a cool tone. If you want to add more warmth into your living room then you can mix it up with warmer tone colors. And light brown is one of the warm colors that can pair beautifully with a gray couch. By using this shade as wall paint, you can keep your living room balanced.
You can use light brown paint for your accent wall behind the gray sofa and became a focal point for your living room, or use it to paint the entire wall in your living room.
Shop the Look
Abstract Geometric Scandinavian Modern Wall Art Prints – Set of 2
---
4. Grayish Blue
Most blue shades won't go well with a gray sectional sofa, but we found out there is some shade of blue that can still work great, and one of them is grayish-blue.
This color is produced by combining blue that is calm and relaxing, and gray undertones. This color looks more sophisticated and stylish than a typical blue.
Since this color had some gray composition in it than that's the reason why this color looks flawless with the gray couch. Those combinations share a similar tone yet a few blue effects created a more vibrant and fresh atmosphere.
Shop the Look
3D Blue Ocean Beach Wall Art by Amatop
---
5. Sage Green
If you want some darker color to paint your wall then you can go with sage green. This grayish, silvery undertones green bring a lot more elegant twist rather than the typical green colors.
Using this as a wall paint also can create any decor items on this wall that looks more stand out, and this is perfect for you who want to show off any of your wall decors as a centerpiece of your living room.
But we highly recommend that you use this kind of color only for an accent wall, as using this wall paint for the entire wall of your living room can make it looks gloomy and dark.
Shop the Look
Sorbus White Minimalist Rectangular Floating Shelf
---
6. Beige
Using neutral tone colors such as beige for the wall paint behind the gray couch can help create a soft and welcoming living room. The beige color will go beyond white, yet feel sweeter than the typical tan. This color also can help the living room feel brighter as it creates sunny and warming effects.
Another advantage of using beige as wall paint is that it can blend easily with any other colors and elements of your room, not only the gray couch. If your living room had any different materials and colors then this color can help you to incorporate all of those different elements together. To get an even better result, use a throw pillow with similar beige shades of the wall.
Shop the Look
1 KINGO Teal Landscape Hand Painted Abstract Canvas Wall Art
---
7. Light Blue
Blue is one of the most favorite colors when it comes to interior design. In previous ideas, we have stated that grayish blue can goes well with a gray couch, but there is another shade of blue that can also work well for this job, which is light blue. Light blue can help a living room feel more natural as these colors represent nature (sky).
Using light blue also helps to add more depth and personality into the living room. And when combined with a gray couch, those combinations work well to help balance each other to create a natural, calming, and elegant living room.
Shop the Look
Abstract Geometry Mountain Canvas Prints Wall Art
---
More Similar Articles