We're Affiliate
We hope you love the products we recommend! Just so you know, we may collect a share of sales or other compensation from the links on this page. Thank you if you use our links, we really appreciate it!
Beige is one tricky colors when used in interior design. Improper use can make a room look boring and unattractive. However, with the right design, this color can produce a soft, comfortable and elegant room.
As a neutral color, beige is a very versatile color. This color can be used alone or combined with other colors, and both will provide the same good results. In addition, although this color is generally used for classic interior, actually this color can easily blend with any other interior decorating styles.
Famous for its calming and relaxing effects, beige is often became the main color choice for bedroom walls with goals to create an ideal place to rest after a day of having a hard and busy day.
In this article, we will provide 10 examples of bedroom designs that use beige-colored walls made by our interior design team. You can make these design a reference to design your own beige bedroom wall. Let's get started.
Best Beige Bedroom Wall Paint Ideas
1 of 10
Beige Wall and White Wood Combinations
In this bedroom project, we use a combination of beige and white wood on the walls. This composition looks very beautiful with a combination of an elegant appearance with a touch of natural feels thank's to the wood.
The combination of beige with white finished wood is perfect for those of you who want to have a bedroom that looks fresh but still feels soft and calming, so it makes everyone feel comfortable inside the bedroom.
Shop the Look
Minimalist Modern Blue Moon Phases Watercolor Wall Art by Westbrook Design Studio
This simple watercolor geometric moon phase artwork is perfectly blended with our beige wall. It's adding some vibrant natural colors that will make any wall looks more alive.
Green Leaves Plant Prints Scroll Artwork by ASENART
Adding some green element into any room not only can be done using any real or artificial plants or vegetation, but you can also using this kind of wall art that will bring similar effects.
White 2-Drawers Accent Nightstand Table by Ameriwood Home
This multi-functional table not only will keep your essential items within easy reach, but also will make your overall room decor looks much more gorgeous, thank's to it's modern feel and stylish design.
Unique Stone Look White Bedside Table Lamp by Simple Designs
What we loved most from this table lamp is it's unique stone shaped ceramic base that looks gorgeous and fit any decor style.
---
2 of 10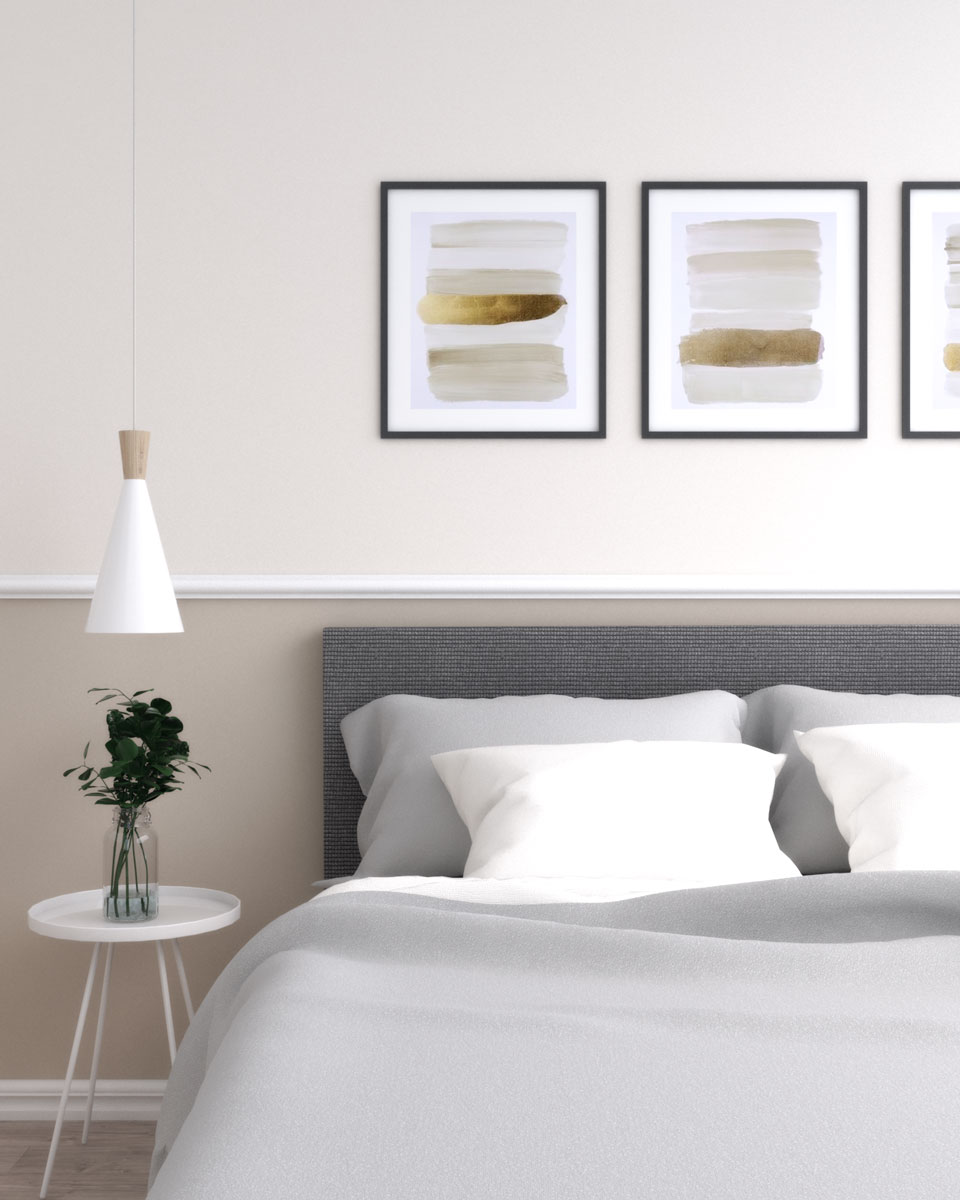 Two Tone Bedroom Wall using Different Beige Shade
The next beige bedroom wall that we made is this two tone style wall using two different beige shades. At the bottom part of the wall, we used the darker beige and for the upper side, we used a lighter ones. The molding trim lines used to be a divider so that the transition of the two colors looks more beautiful.
The concept of room wall paint like this is very common and widely found, but what can be a distinction is the colors combination choice. And this beige combination looks very attractive and makes the bedroom walls look quite luxurious, elegant yet still feels soft and soothing.
Shop the Look
Gold Foil 3 Piece Set Contemporary Geometric Wall Art by Urban Habitat
Using gold elements in beige wall can produce a sophisticated glamorous looks, and that's the goals that we want to reach for this projects. That's why we used this beautiful abstract geometric shaped gold wall art for this bedroom.
White Ceiling Pendant Light Fixtures by BOKT
This beautiful pendant lamp combine natural wood element with modern white aluminium that blend perfectly to bring decorative looks and warm cozy feels into any bedroom.
Accent Patio Metal Steel Side Table Black/White by HollyHOME
This simple round table has an unique stylish design that will easily fit into any home decor style. Made using high quality steel to ensure this item has a great durability and waterproof surface, this table can be used in indoor or outdoor section of your home.
---
3 of 10
Scandinavian Style Beige and White Bedroom Wall Paint
This room actually looks very simple, but with the right selection and composition of wall paint that makes this room a lot more classy. Yes, with a beige with white composition, making this room look luxurious, comfortable and spacious even though this is a small sized bedroom.
Beige is used as the main color where most of the walls of the room use this paint. And to give a more interesting effect, we added a little white element to the bottom molding trim and a little at the top of the wall. This little touch can bring significant changes to the overall interior design of this room.
Shop the Look
Simple Black and White Set of 3 Feather Print Artworks by Westbrook Design Studio
Scandinavian style is famous for it's simplicity in artistic ways, and this wall art meet those requirements. With neutral black and white colors, this artwork surely will match perfectly with any beige wall.
Scandinavian Style Glass Top End Table by Safavieh
With unique wooden three leg style, this end table is our most recommended table for any room with Scandinavian style decor.
Scandinavian Style Black and Wood LED Swing Arm Table Lamp by Tomons
This multi-functional table can be used for bedside lamp or reading/desk lamp. With gorgeous Scandinavian style, this lamp not only works great to provide extra light source for your space, but also can be a great decorative items to help enhance your interior looks.
---
4 of 10
Vintage Beige Wall with White Base Molding
Beige is the perfect color to use as a bedroom paint with a vintage concept. That's why in this bedroom design we use this color as the main color for both the walls and for some furniture and other room decoration items.
And to make the walls of this vintage-style bedroom even more attractive, we added a white base molding that seemed to blend perfectly with the beige walls. This base molding not only adds a vintage feel to the room, but also gives a touch of classy classic touch.
Shop the Look
3 Panel Hand Drawn Flower Canvas Wall Art by Wall26
This 3 panel lavender pink flower artwork is a perfect wall decoration for any vintage style bedroom. This item also works great when combined with beige painted wall.
Brushed Nickel with White Modern Opal Glass Shade Pendant Lamp by Possini Euro Design
This item combine simplicity with elegant modern touch that blend perfectly to make a gorgeous pendant lamp. It's elegant swag style and soft curves of the glass create a casually chic looks that will brighten room home.
Simply Elegant X-Design Nightstand Table with Bin Drawer by Magic Union
With X shaped structure that not only looks unique and creative, but also give this table extra strength to hold any heavy items. It's simple and stylish design make this table versatile and can be used in any different home decor style.
---
5 of 10
Beige and Wood Bedroom Accent Wall
The combination of beige and light natural wood looks very flawless and blends perfectly thanks to a similar color composition between those two. Therefore we try to use both elements to create an accent bedroom wall in this project.
And the results are as we thought, it looks very beautiful. Considering that the main concept of this room is luxurious contemporary, we added a bit of vertical lines to the beige walls to add to that impression.
---
6 of 10
Classic Art Deco Beige Bedroom Wall with Molding Trim
For those of you who want a room with a classic art decor style that uses beige as the main color, maybe you can take this design as an example. This beige bedroom wall is very simple and easy to apply on your own in your home but the results look very luxurious and elegant.
The combination of white trim molding with beige walls gives a glamorous classic effect. So, this room no longer needs a lot of wall decoration because it already looks very attractive. We just added a gold brushed wall lamp to add a little luxurious impression and give a little touch of gold to the beige walls of this room.
---
7 of 10
Beige Wall in Farmhouse Style Bedroom
Farmhouse design style does not always have to use wooden walls, such as what we did in this project. The use of soft and natural colors like beige can also be used quite well and is still blend perfectly with farmhouse style bedroom decor.
To give more farmhouse effect to the room, we added a few wooden wall hangings that blend well with the base color of the walls, beige. Using this color also gives other advantages where your farmhouse style bedroom will look brighter compared when using wooden walls.
---
8 of 10
Simple Vintage Beige Bedroom Wall
For those of you who like simple bedrooms, beige is the ideal color choice for your bedroom walls. This color looks simple, but still looks beautiful and not a boring ones even if you don't do any decoration on the walls of your room.
As you can see in our bedroom design, where the beige color makes this very simple bedroom still look attractive even though we don't use excessive decoration on the walls of this room.
---
9 of 10
Beige Wall in Contemporary Bedroom
Many people think that the beige color is only suitable for a room with an old style interior design, such as classic or vintage. But actually, this color can also be used equally well for contemporary interior design styles such as contemporary or minimalist, like this bedroom.
We use beige as the main color to cover the entire wall of the room, and the results look very good and blend well with a variety of contemporary style furniture and decoration items that we use.
---
10 of 10
Beige Wall in Modern Mid-Century Sytle Bedroom
Another design style that is suitable for using beige walls is the modern mid-century style, as in this design. Here, we not only use beige as a wall paint color, but also use various decorations and furniture that use this color.
And this trick works well, which makes the wall look flawless with the overall interior decoration of the room. In addition, the use of beige also helps make the room look brighter and makes the room feel more spacious.