Beige is one tricky color when used in interior design. Improper use can make a room look boring and unattractive. However, with the right design, this color can produce a soft, comfortable, and elegant room.
As a neutral color, beige is a very versatile color. This color can be used alone or combined with other colors, and both will provide the same good results. In addition, although this color is generally used for classic interiors, actually this color can easily blend with any other interior decorating style.
Famous for its calming and relaxing effects, beige is often become the main color choice for bedroom walls with goals to create an ideal place to rest after a day of having a hard and busy day.
In this article, we will provide 10 examples of bedroom designs that use beige-colored walls made by our interior design team. You can make these designs a reference to design your beige bedroom walls. Let's get started.
1 of 15
Beige Wall and White Wood Combinations
In this bedroom project, we use a combination of beige and white wood on the walls. This composition looks very beautiful with a combination of an elegant appearance with a touch of natural feels thank's to the wood.
The combination of beige with white finished wood is perfect for those of you who want to have a bedroom that looks fresh but still feels soft and calming, so it makes everyone feel comfortable inside the bedroom.
Shop the Look
---
2 of 15
Two Tone Bedroom Wall using Different Beige Shade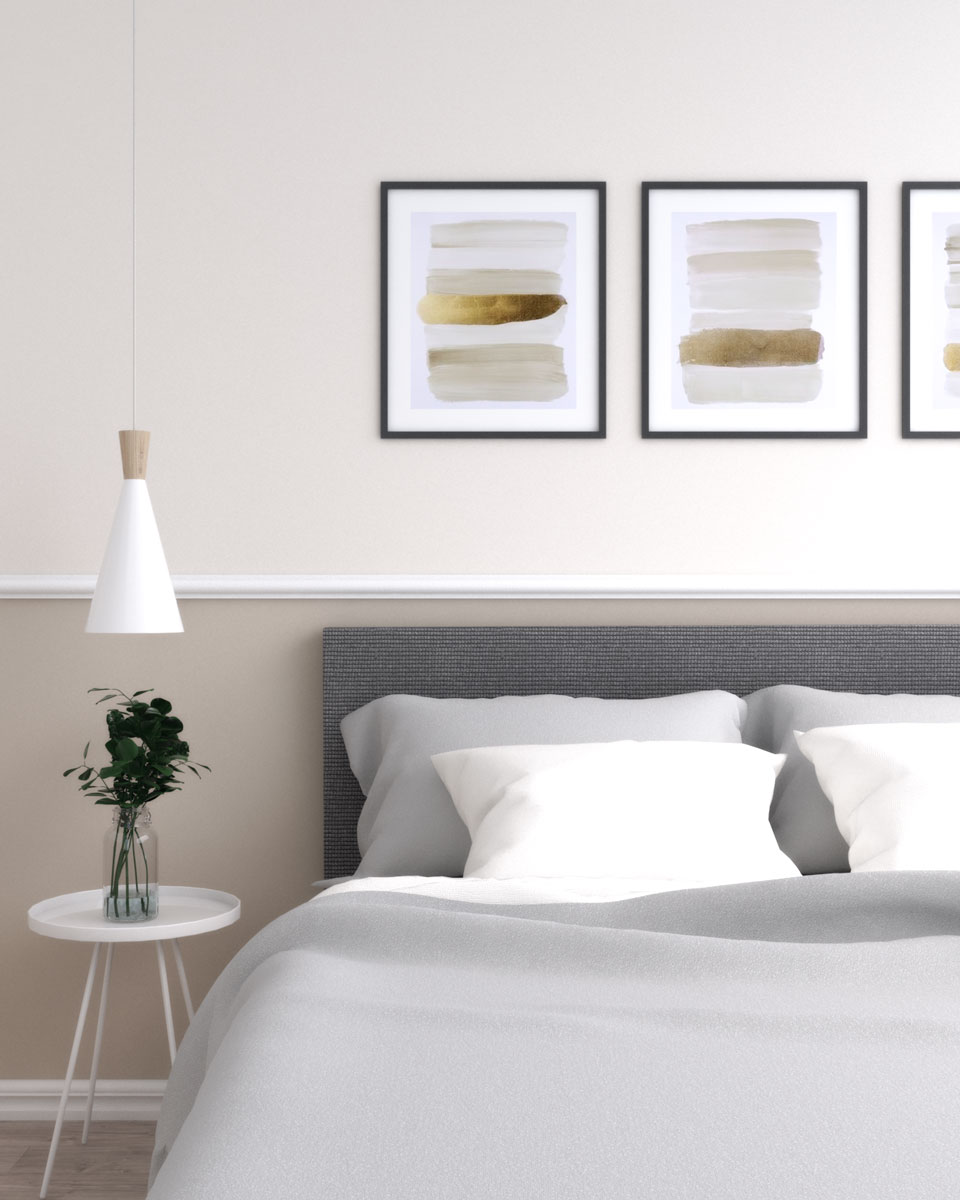 The next beige bedroom wall that we made is this two tone wall using two different beige shades. At the bottom part of the wall, we used the darker beige and for the upper side, we used lighter ones. The molding trim lines used to be a divider so that the transition of the two colors looks more beautiful.
The concept of room wall paint like this is very common and widely found, but what can be a distinction is the colors combination choice. And this beige combination looks very attractive and makes the bedroom walls look quite luxurious, elegant yet still feel soft and soothing.
Shop the Look
---
3 of 15
Scandinavian Style Beige and White Bedroom
This room actually looks very simple, but with the right selection and composition of wall paint that makes this room a lot more classy. Yes, with a beige with white composition, making this room look luxurious, comfortable, and spacious even though this is a small-sized bedroom.
Beige is used as the main color where most of the walls of the room use this paint. And to give a more interesting effect, we added a little white element to the bottom molding trim and a little at the top of the wall. This little touch can bring significant changes to the overall interior design of this room.
Shop the Look
---
4 of 15
Tan and Beige Bedroom with Gold Accents
Beige and tan are a perfect combination to achieve stunning monochromatic looks. However, there will be some cases where using both shades together can make the bedroom feel a bit boring. Thus, to avoid it, you may need to incorporate some strong accents, and in this bedroom, we are using gold.
The gold accents work wonderfully to bring this bedroom back to life, and at the same time enhance the looks of the beige wall and tan headboard, making them becomes the awesome focal point for the entire bedroom.
---
5 of 15
Bedroom with Beige Shiplap Wall
Shiplap walls are wonderful, but sometimes, they can look a bit outdated. But don't worry, you can easily refresh and modernize its looks by repainting it using a more modern color such as beige. As you can see in the image above, the beige paint refines the shiplap wall in a modern twist, without taking away its fresh and natural beauty.
To make the beige shiplap wall looks even better, we add a lot of contrasting items in front of it such as a black pendant light and wooden clock.
---
6 of 15
Two Tone Brown and Beige Bedroom Wall
This is another great bedroom idea using two-tone wall concept. In this bedroom, we combine beige as one of the lightest shades of brown, with darker brown. Creating a stunning layered visual appearance that complements each others.
For the brown part, we use wall molding to bring some depth, create a more modern look, and make this wall much more interesting than any typical two-tone wall.
---
7 of 15
Beige Boho Style Bedroom
When it comes to boho or bohemian interior, a neutral tone like beige surely become the primary option. This shade will bring the earthy natural looks that are become the main requirement in order to get a perfect boho look.
Moreover, the light, subtle tone of the beige wall will become the perfect background for any simple yet artistic bohemian decoration items, helping them to stand and become an interesting point of the bedroom.
---
8 of 15
Vintage Beige Wall with White Base Molding
Beige is the perfect color to use as a bedroom paint with a vintage concept. That's why in this bedroom design we use this color as the main color for both the walls and for some furniture and other room decoration items.
And to make the walls of this vintage-style bedroom even more attractive, we added a white base molding that seemed to blend perfectly with the beige walls. This base molding not only adds a vintage feel to the room but also gives a touch of a classy classic touch.
Shop the Look
---
9 of 15
Beige and Wood Bedroom Accent Wall
The combination of beige and light natural wood looks very flawless and blends perfectly thanks to a similar color composition between those two. Therefore we try to use both elements to create an accent bedroom wall in this project.
And the results are as we thought, it looks very beautiful. Considering that the main concept of this room is luxurious contemporary, we added a few vertical lines to the beige walls to add to that impression.
Shop The Look
---
10 of 15
Classic Art Deco Beige Bedroom Wall with Molding Trim
For those of you who want a room with a classic art deco style that uses beige as the main color, maybe you can take this design as an example. This beige bedroom wall is very simple and easy to apply on your own in your home but the results look very luxurious and elegant.
The combination of white trim molding with beige walls gives a glamorous classic effect. So, this room no longer needs a lot of wall decoration because it already looks very attractive. We just added a gold brushed wall lamp to add a little luxurious impression and give a little touch of gold to the beige walls of this room.
Shop The Look
---
11 of 15
Beige Wall in Farmhouse Style Bedroom
Farmhouse design style does not always have to use wooden walls, such as what we did in this project. The use of soft and natural colors like beige can also be used quite well and is still blend perfectly with farmhouse-style bedroom decor.
To give more farmhouse effect to the room, we added a few wooden wall hangings that blend well with the base color of the walls, beige. Using this color also gives other advantages where your farmhouse-style bedroom will look brighter compared when using wooden walls.
---
12 of 15
Simple Vintage Beige Bedroom Wall
For those of you who like simple bedrooms, beige is the ideal color choice for your bedroom walls. This color looks simple, but still looks beautiful and not a boring one even if you don't do any wall decor for beige walls.
As you can see in our bedroom design, where the beige color makes this very simple bedroom still look attractive even though we don't use excessive decoration on the walls of this room.
---
13 of 15
Beige Wall in Contemporary Bedroom
Many people think that the beige color is only suitable for a room with an old-style interior design, such as classic or vintage. But actually, this color can also be used equally well for contemporary interior design styles such as contemporary or minimalist, like this bedroom.
We use beige as the main color to cover the entire wall of the room, and the results look very good and blend well with a variety of contemporary style furniture and decoration items that we use.
---
14 of 15
Beige Wall in Modern Mid-Century Style Bedroom
Another design style that is suitable for using beige walls is the modern mid-century style, as in this design. Here, we not only use beige as a wall paint color but also use various wall decor and furniture that use this color.
And this trick works well, which makes the wall look flawless with the overall interior decoration of the room. In addition, the use of beige also helps make the room look brighter and makes the room feel more spacious.
Shop The Look
---
15 of 15
Beige Bedroom with Cherry Furniture
One problem that often occurs inside any bedroom that uses a beige wall is that the wall may look too similar to many popular kinds of wood. Thus, the color and grain texture of the wood wouldn't be highlighted beautifully compared to when they were used alongside another color.
But don't worry, there are still some great woods that can look awesome inside any beige bedroom, such as the cherry wood. In this bedroom, we use a lot of cherry furnishings, and thank's to the reddish-brown tone of the cherry wood, they create enough contrast against the beige wall, and this is very essential to make them stand out beautifully.