The two-tone paint is a wall painting concept that was popular decades ago but recently begun to gain some popularity again. Years ago, this wall paint style was identical to the classic design style, but now, it can be applied in any interior design style such as minimalist or contemporary ones.
The most important thing to consider when painting walls using a two-tone color concept is to choose the right color combination. Choosing the wrong ones will give a bad result.
One of the easiest methods for choosing colors for this concept is to use neutral colors. White is the best neutral color and can blend well with any color. Another neutral color that can be used as well is gray.
Another method is that you can use similar colors with different shades. For example, you can combine blue with dark blue or navy blue.
You can also use a composition of two colors that have very different levels of contrast. This method is indeed quite risky but can provide excellent results if you can choose the right high-contrast color composition.
Painting walls with two-tone paint effects not only requires high creativity but also high courage. But the results are directly proportional to the risk taken, where painting a wall using this concept can make your wall much more beautiful, interesting and attractive compared to when using a single paint color.
For you who are bold enough to take some risks, here on this page we will share with you some inspiration as we've created 10 two-tone paint ideas using various styles and color combinations.
15 Awesome Two Tone Wall Ideas
1 of 15
Beige and White Wall Paint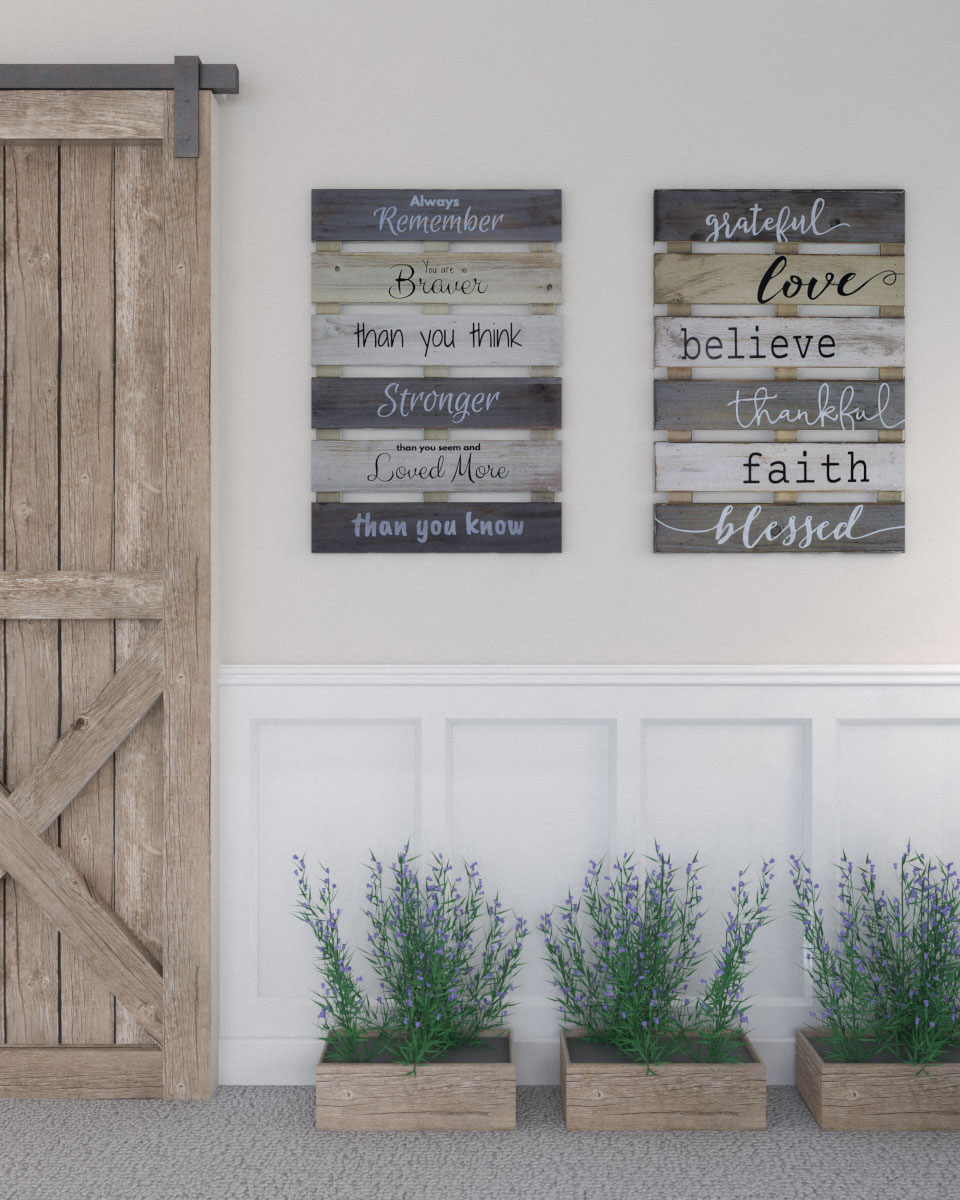 The first two tone wall idea that we created is this beige and white wall paint. Both of these color combinations produce soft and calm wall nuances and can be used for various types of interior design styles.
In this example, we use these two colors in a farmhouse-style room, and the result is good enough to create a soft, natural impression that is needed in any farmhouse-style interior design.
The combination of these two colors can be used in any room in your home, from the bedroom, living room, and even in the kitchen.
---
2 of 15
Monochromatic White and Light Gray Wall Paint Color
Monochromatic is a concept where we use natural palette colors with single base hue and extended using its shades, tones, or tints. We can apply two tone wall paint effects using a monochromatic style such as in this wall design.
Here we use white and light gray which produce minimalist but beautiful monochrome color combinations. This combination is very suitable to use in any room that requires calm and relaxing ambient, such as in the bedroom.
---
3 of 15
Brown and Beige Two Tone Wall for Bedroom
This is another awesome monochromatic 2 tone wall paint concept that comes in bold and glam looks. The brown and beige had similar tone but comes with intense contrast, thus they can compliment each other while still looks perfectly harmonious.
The beige part of the wall spread a lot of light and bright vibe, while the brown part provide glam and elegant looks that blend together creating a stunning visual appearance.
To add more richness, you can try some unique brown shades, such as chocolate brown, brunette, or espresso brown.
---
4 of 15
Elegant Two Tone Living Room Wall using Gray and Navy
For you who want to create a totally elegant space that doesn't look boring, you can try using this combination. The two tone navy and gray wall works together perfectly to spread strong elegant vibe, and thank's to the blue part, the wall won't looks boring as any typical gray-painted wall.
Although almost any blue shades can works really wall alongside gray, we prefer any blue that had a strong gray undertone in it, such as dark blue or navy blue, as they tend to looks much more neutral compared to most blue shades.
---
5 of 15
Green and White Wall
Green is a color that brings a fresh and natural impression. However, painting the whole room with this color can make the room look too flashy and unappealing. Thus, we need to balance it, and the best color for this job is white.
For this two tone wall design, we combine green with white paint, where the green will be the main color. This resulting in a vibrant but soft and calming room, which will make anyone feel comfortable.
---
6 of 15
Sage and White Wall
Sage is one trending color that gained a lot of recognition in recent years. You can use this color alone to paint your entire wall, or use it alongside more neutral shade like white to get a sleek and lighter appearance.
For the best result, keep the sage as the main dominant part of the wall, and use white to accentuate and highlight it.
---
7 of 15
Coastal Style Blue and White Wall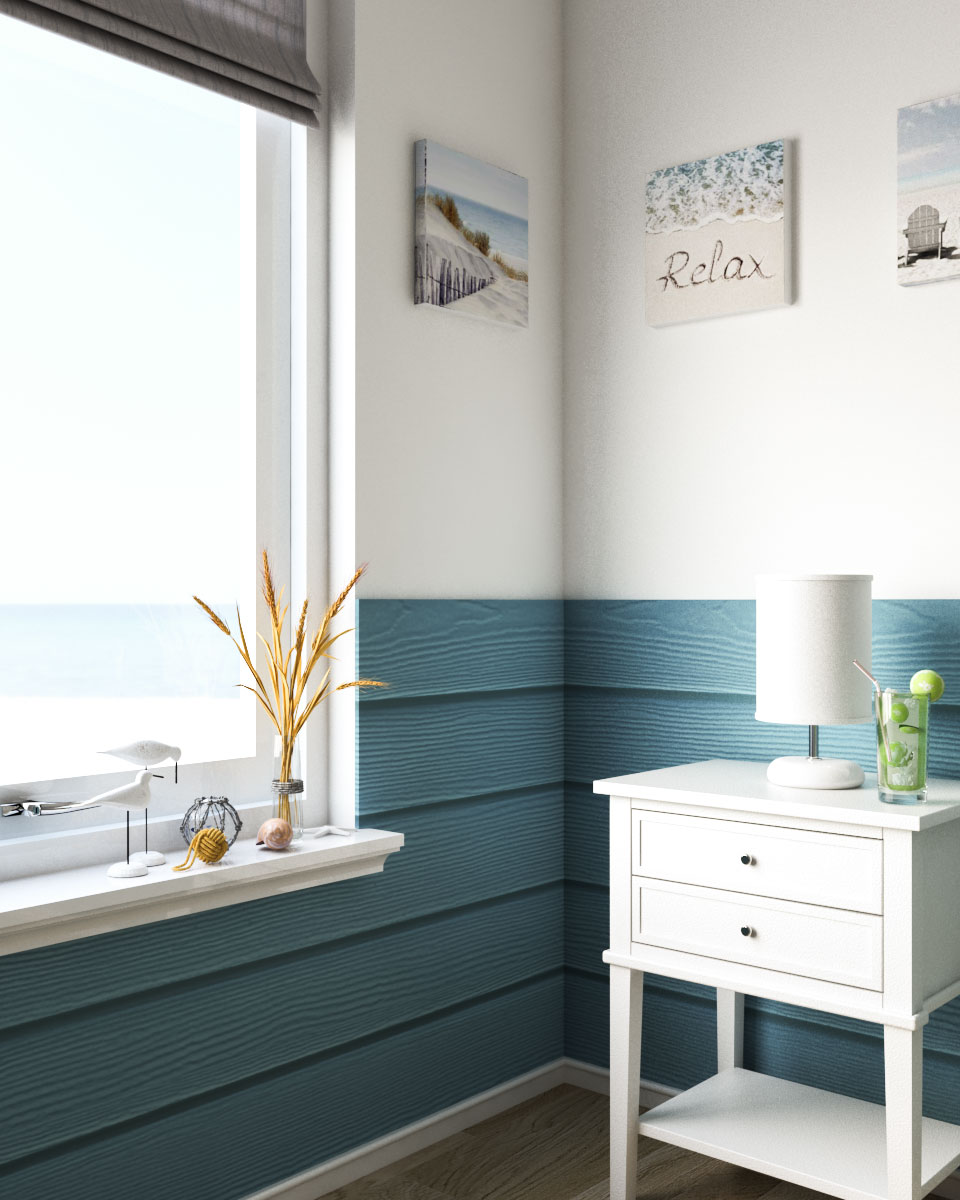 Blue is the ideal color for coastal or beach-style decor. And when combined with white paint, the results can create a relaxing beach aura and make anyone feel calm and comfortable.
The blue color also emits an energetic feel and enthusiasm for anyone who sees it, and this is exactly what a coastal decoration needs.
---
8 of 15
Living Room with Teal and Mint Wall
We love to use this green combo to make a fresh yet bold statement for any space. The teal wall provide enough bold and dominant looks that will easily capture everyone's attention, while the mint part spread some fresh and bright ambiance to balance up the teal.
Another advantage of this combination is that you can still get plenty of contrast between the two different wall tone, while at the same time they works together in harmony.
---
9 of 15
Soothing Pink and White Two Tone Bedroom Wall
Pink is the favorite color for most women and is certainly one of the first color choices when they want to paint their walls. However, using pink paint for the entire wall is not a good idea, because it will make the room seem too girly.
For this reason, balancing is needed to make it more neutral, as we did with this two tone walls where we combine pink with white paint to create a room that would be loved by any woman.
---
10 of 15
Two Tone Living Room Wall using White and Orange
Orange is a stunning and vibrant color that can create a lot of interest to any space. However, due to it's intense looks, many homeowners afraid to use it for the wall. Actually, you can tone-down and make the orange wall feel softer by combining it with light, neutral shades. For this particular job, obviously white is the best option.
The two-tone white and orange wall will looks much softer compared to any single-painted orange wall, but still provide a catchy looks that will make any room feel much more interesting.
---
11 of 15
Black and White Wall Ideas
Using black paint on the whole wall is certainly not a good idea, therefore, if you really want to use black for your walls, then it is highly recommended to combine it with any other colors using two tone wall concept. And, there is no better color to be combined with black than white.
Those combination that have a high contrast makes the walls look luxurious and elegant, and for those of you who want that luxurious and elegant feels in your home, then this combination is worth a try.
---
12 of 15
Vintage White and Cream Bedroom Wall
When designing a vintage-style room, the cream color is one of the most ideal colors to bring the vintage impression of the room. This color, which is also often referred to as linen white, not only looks soft, but also gives a calm and comfortable impression to anyone who sees it, and this is one of the goals of creating a vintage-style room.
In this two tone wall ideas, we try to combine cream paint with white to keep it simple, even though any other colors can also be combined with this cream paint as good as white.
---
13 of 15
Navy Blue and White Walls
Today, blue is one of the most popular colors. However, painting your walls using blue paint is not an easy task. The wrong choice of color or concept can make the room feel dark and cold.
One simple trick to avoid this disaster is by combining it with other colors, such as white. In this design, we combine navy blue or dark blue wall with white paint to make the room feel brighter and warmer.
And this combination works great as it creates a room that looks attractive and warm despite using fairly dark shades of blue.
---
14 of 15
Gray and White Two Tone Paint Ideas for Bedroom
The combination of gray and white is the most ideal color combination when creating a two tone bedroom walls. You will never be wrong when combining those colors, whatever the shape and design of your wall.
The combination of these two colors is also very versatile and suitable to be used in any decor style. If you want to have a room that not only looks luxurious and elegant but still soft and warm, then you can try this color combination for your wall.
---
15 of 15
Vertical Gray and Yellow Wall in Bedroom
Yellow is mostly known to be able to create fun and energetic ambient when used as the wall paint color for a room. However, using yellow paint to cover the entire wall can make the room seem tacky and excessive, that's why we need to add another color.
In this unique two tone bedroom wall design, we choose the gray color which served to neutralize the yellow paint. As a natural color, gray works very well when combined with yellow and resulting in a room that feels fun and vibrant, but still good and eye-catching.
---
Browse More Wall Ideas