Beige is one of the best neutral paint colors for homeowners who seek a soft, elegant interior. This timeless shade can be used literally anywhere, from the bedroom, living room, dining room, kitchen, or even in the bathroom.
However, the main cons that you may often hear – or even face when using beige to paint your walls is that sometime it may look very boring, too mainstream, or even unattractive. Yes, this is the big consequence that really happened a lot inside any room with beige walls.
But don't worry, you can easily overcome this by adding some twists to your beige wall using other colors. Even one or two pieces of wall art or wall decoration items can bring a huge impact to refining the looks of any beige walls. And thank's to its versatility, it's quite easy for a beige wall to blend with literally any color.
In this post, we will give you some inspiration on some best accent colors that can work perfectly alongside beige walls. Let's get to it.
What Accent Colors Goes with Beige Wall?
Dark Brown
Actually, beige is one light shade of brown. Thus, it will be an obvious choice to combine it with other darker brown shades, and for this particular case, we tend to choose dark brown or chocolate brown.
These dark brown shades will provide plenty of contrast against the beige wall but still looks perfectly flawless as both had a similar hue. If you need to boost the classic or glam looks of your beige wall, surely this is one of the best options for you.
---
Emerald
The common problem with beige walls is that they often lack freshness, and this can be easily solved by incorporating green shades into your color scheme. Although all shades of green can work well with beige, emerald is one of our favorite choices.
This particular shade tends to look bolder and had a more cool ambiance compared to any typical green, and this will be helpful to neutralize the warm tone of the beige, creating a well-balanced visual appearance.
---
Light Gray
Sometimes, any room with beige walls can look outdated, and if you are facing a similar problem, then you may try incorporating light gray into your space.
The light gray items will easily modernize the looks of any beige walls, making them more up-to-date in stylish and elegant ways.
---
Navy
If you need a strong color that not only can bring an immediate impact, but also bring some elegance touch to your beige wall, then navy is surely the best option for you.
And since navy and beige is totally opposite color, they will create a strong and bold contrast that makes the navy accents stand out easily.
---
Sky Blue
This is another great blue shade that matches beige walls beautifully. Using any sky blue wall art or accessories on the beige wall will balance the tone of the walls and at the same time keep the soft and soothing appearance flowing between them.
---
Mint Green
Another great shade that can be a great choice for you who want to keep your entire wall looking soft and subtle is this mint green.
We love to use mint green artwork or accessories on the beige wall to achieve an aesthetic and eye-pleasing look, while at the same time providing some richness and freshness to avoid the wall looking boring and monotonous.
---
Yellow
Yellow is a great option for you who want to add a splash of pop to any boring beige wall.
Moreover, any yellow items will instantly bring a joyful, energetic vibe to the wall, thus making it looks much more attractive and interesting. While most yellow shades can work well with beige, we prefer any lighter yellow rather than the darker ones.
---
Orange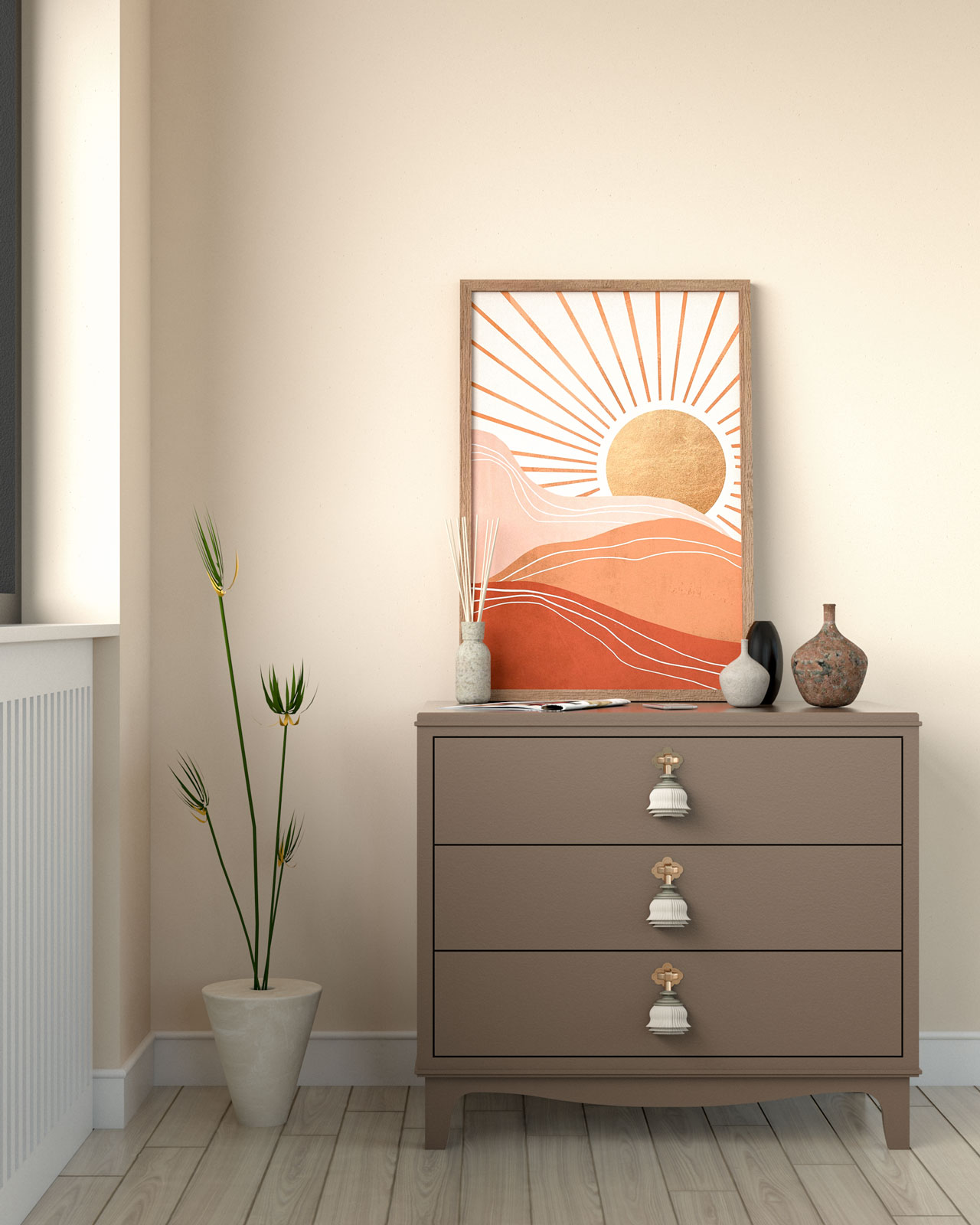 This is a great alternative to yellow, especially for you who want to achieve a similar result without making your walls look too vibrant.
The orange items not only will accentuate the beige wall beautifully, but it also looks perfectly flawless against the beige wall, making them blend in perfect harmony to elevate the visual appearance of the entire space.
---
Light Pink
Adding light pink decoration to the beige wall not only will enrich and makes any beige walls look more interesting, but it can also provide a touch of beauty to your space.
Moreover, as light pink had a similar softness to beige, this combination will look perfectly flawless without interfering with each other.
---
Purple
If you are feeling that your beige wall is boring and becomes too mainstream, then you need to add unique accents to personalize and make it much more attractive. For this case, purple is one of the best options.
The purple items can elevate the looks of any beige wall with their unique visual appearance, and at the same time looks bold enough to become one of the focal points for your space.