When it comes to ceiling, white is by far the best color choice. With ability to reflect plenty of light, white ceiling can creates an airy and spacious feels. Moreover, white can also create an illusion of space, openness, and luminosity, and that's why most homeowners and interior designer choosing white to paint their ceiling.
However, even tough it looks pretty simple, white also comes with some tricky challenges. With different of white shades available, you may need to find the right ones that fit your design style and preferences.
The nuances of each white shades can also varies by a lot, and can give a significant impact on the overall look and atmosphere of the room.
Are struggling to find the right shade of white for your ceiling? Let us guide you through where we will share some of our favorite white shades that based on our experiences, will works best for ceiling color.
Best White Paint Shades for Ceiling
Gypsum by Sherwin Williams
This muted, creamy white is our favorite options for ceiling. It can works with almost any color palette, and gives any room a boost in brightness and lightness, thanks to it's high reflective effects.
---
Extra White by Sherwin Williams
If you need a sleek and crisp white paint for your ceiling, then you can try this option. Combining a stark white looks with a hint of blue-gray in it, the Extra White by Sherwin Williams can help enhance the looks of your wall, and make it looks much warmer.
This option works really well if you are using cool light or for any north-facing room.
---
Shell White by Sherwin Williams
Shell White can be the best choice if you want a ceiling that feel warm, bright, and inviting.
As a warm white with a hint of peach undertones, the shell white is not only looks amazing, but can also creates an uplifting mood for your entire spaces.
---
White Dove by Benjamin Moore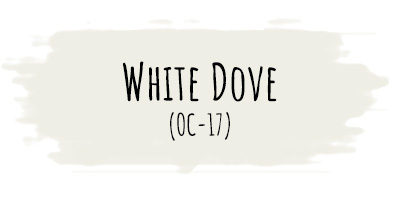 As a best selling white paint from Benjamin Moore, White Dove surely doesn't need a lot of introduction.
This beauty blend warm white with a hint of greige undertones, creating a warm yet modern visual that can blend easily with any other colors.
---
Chantilly Lace by Benjamin Moore
For a classic style interior, this is our favorite option. Bringing a pure silk appeal, the chantilly lace gives your room a hint of yellow, making a warm and fun ambiance.
This kind of paint will works even better when combined with warm-toned walls.
---
Decorator's White by Benjamin Moore
Makes your ceiling looks sleek and stylish by using Decorators White by Benjamin Moore. With high LRV, the decorator white can also gives your room a more open and spacious feels.
With slightest touch of gray undertones, the decorators white works well inside any room with cool-toned color palette.