When you are renovating your kitchen or simply want to spruce it up, painting the cabinets may be the easy one that can create a big impact. And for the cabinets, white is one of the most popular choices, for many good reasons.
White is a timeless color that never goes out of style. It can easily make any kitchen look brighter, more spacious, and more inviting. The white-painted cabinets can also blend easily with almost any kitchen decorating style, from a traditional to a modern minimalist.
Lastly, white cabinets can help any other elements inside your kitchen to shine, whether it's the countertops, the backsplash, or even the kitchen appliances.
Thus, if you are using a stunning countertop such as marble or granite, pairing them with white cabinets can unleash all of their potential and let them stand out to become the centerpiece of your kitchen.
At first, white paint may seem very straightforward, but actually, it doesn't. With some different white variants, every single shade can bring different outcomes.
If you are looking for the best white shades for your kitchen cabinets, we highly recommend you to try Alabaster by Sherwin Williams or White Dove by Benjamin Moore. Those white paint colors not only offer a purity and sleek appeal as most white, but also come with a hint of richness that will make your entire kitchen feel warm and comfy.
Let's dive in for more great white color options for your kitchen cabinets.
Best Sherwin Williams White Shades for Kitchen Cabinets
Pure White
Pure White from Sherwin Williams isn't actually a "pure". It has some hint of yellow that makes it have some warmth, but not too much so it doesn't appear too stark.
While many people choose this shade for walls, it is also a great choice for kitchen cabinets, making your kitchen feel clean without look boring.
---
Site White
This can be a great choice if you want to create a modern, contemporary kitchen. The Site White by Sherwin Williams brings a sleek, neutral look while at the same time its cool blue undertones create a calming sense.
This paint color will work even better when combined with some gray elements, such as gray countertops or gray walls.
---
Snowfall
At first, this option may look pretty similar to the previous one, but actually, it's a bit different.
Rather than having blue undertones, the Snowfall by Sherwin Williams comes with slightly violet undertones, emphasizing some peaceful and serene feels while still looking perfectly bright and light.
---
Alabaster
If you want to give your kitchen some brightness without sacrificing warmth, then you can try alabaster. As one of the most popular off-white options for Sherwin Williams, Alabaster goes beyond the typical white and comes with some warm and soft undertones.
It will easily make your cabinet look sleek and crisp while at the same time bringing plenty of warm ambiance to make your kitchen feel rich and alive.
---
Best Benjamin Moore White Shades for Kitchen Cabinets
White Dove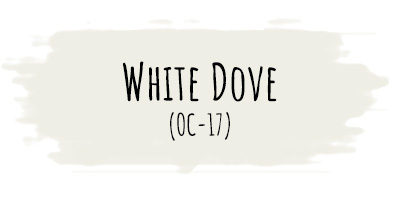 When it comes to warm white, a white dove is one of the most popular choices from Benjamin Moore. Having some beautiful yellow undertones, this color can easily evoke a welcoming and inviting ambiance into any kitchen.
You can use this color to paint your kitchen cabinets in a white-themed kitchen to add some depth and richness without going out from the primary palette.
---
Simply White
Another great warm choice from Benjamin Moore, but with an even softer and more subtle appearance. It's yellow undertones is just enough to give a hint of warmth, while still looks pretty clean and flawless.
We love to use this color for any kitchen with classic, traditional style.
---
Silver Satin
With a beautiful combination of white with lavender and gray undertones, this sleek shade looks so much richer than any typical white.
While it still feels warm, its gray undertones help create a much more neutral and well-balanced appearance, making this paint a great versatile option that works well inside any kitchen design style.
---
Pink Damask
Add some sweet twist to your white-themed kitchen by painting the cabinets with Pink Damask by Benjamin Moore. Its beautiful blush pink undertones bring a subtle yet rich visual appearance, creating an aesthetic look to your kitchen.
You can also use this option to soften up the overall kitchen looks, especially when you are using some bold elements such as dark countertops or dark backsplash.