Some homeowners may be thinking that the half wall ledge is outdated. But the truth is, half wall ledge can make a wall looks more interesting, add more depth to the wall, and also bring more additional function to your spaces.
A lot of people often misunderstanding ledge with shelf. Indeed, they are had similar functions, but quite different in terms of form. Shelves usually mounted to the wall, and a ledge is built-in within the wall with some trim works.
Meanwhile, there are some different kind of half wall or often called a pony or knee wall. Mostly, a half wall is a wall that used as a partition to separate the rooms. There is also a half wall that is built in the existing wall to add more thickness to the half part of an existing wall.
In term of interior decoration, half wall ledge can be a great place to display any decor items or accessories, such as vases, 3d lettering, photo frame, and any other decoration items to help make the room looks much more interesting.
When used in a basement, a half wall ledge can be a great place to put any items or tools to keep the basement organized and neat. Using a decorative ledge can also help make any boring and monotonous basement wall looks much more attractive.
Best Caps for Basement Ledge
Before creating a half wall ledge, you should be planning what kind of caps that you want to choose for the ledge. And here is our best recommendation for caps that are perfect for basement half wall ledge :
MDF
MDF is the most cost-effective and flexible choice for ledge caps. You can easily buy any MDF board in nearby stores and install it in your half wall. And finally, you can finish this MDF cap using any paint colors that match your decor style.
Wood
Another best material for the basement ledge is wood. You can choose any wood colors and texture that suit your basement style. Don't forget to finish this wood ledge cap with a coating to make it more durable and long-lasting.
Unfinished (Plaster/Concrete)
You can also leave your half wall unfinished without any cap yet still looks great especially when you want your basement to have some industrial rustic looks. But make sure that you make the plaster surface smooth, where you can do this quite easily using a piece of sandpaper.
Our Favorite Wide Floating Ledge for Basement
Modern Wall-Mount 60 Inch White Floating Ledge by Wallniture Denver
47 Inch Long Rustic Style Floating Ledge Large Shelf by Giftgarden
Basement Half Wall Ledge Ideas
To give you more ideas and inspirations before creating your own half wall ledge for your basement, our interior design team created 5 different half wall ledge, and here they are :
1 of 5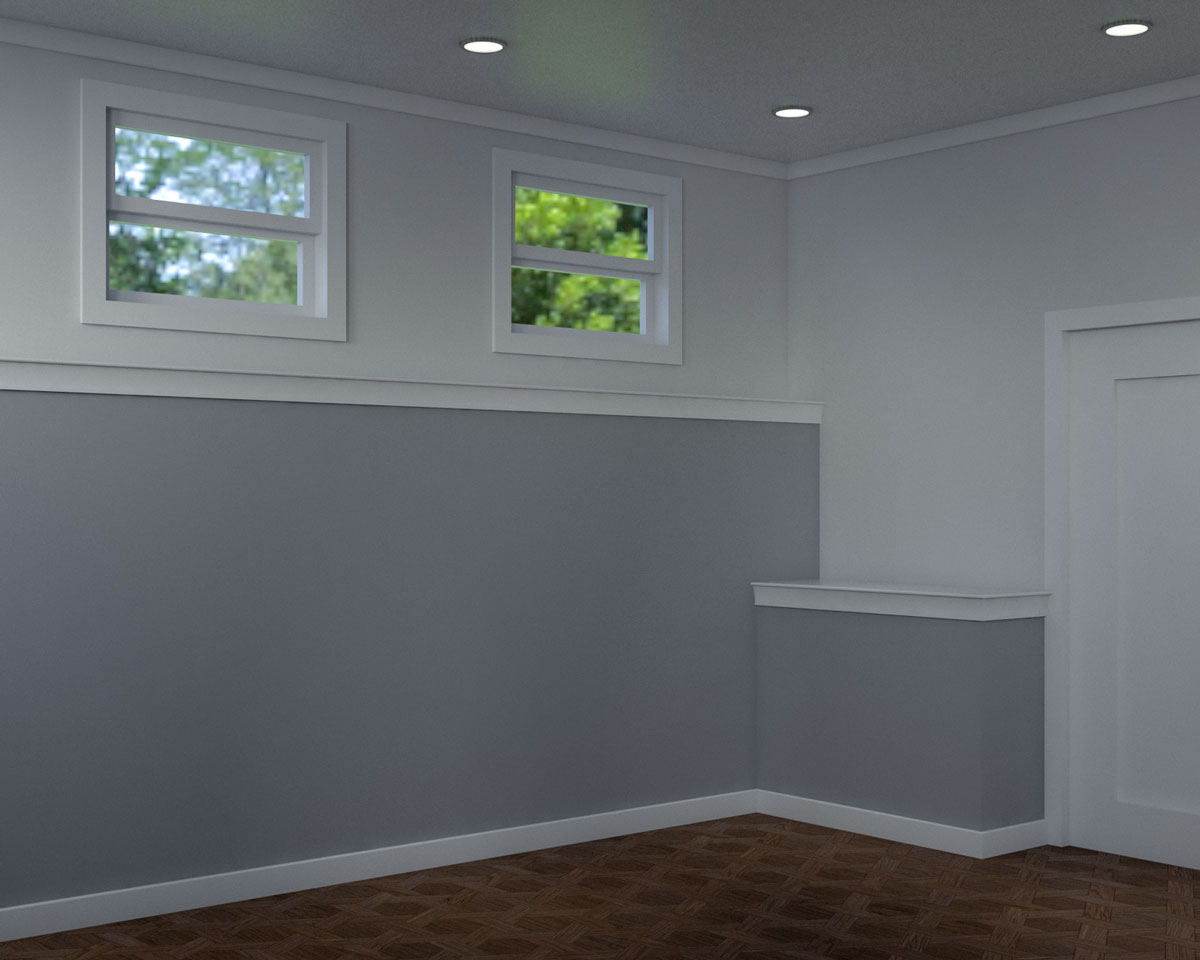 Simple Gray and White 2 Tier Half Wall Ledge
For this room, we created the half wall ledge in a slightly unusual way. Yes, we create it with 2 different height to create a tiered ledge to make it looks more interesting rather than typical half wall ledge.
This style of ledge also very useful when you had any kids in your home that usually come to your basement. This way, you can put any dangerous items or tools such as a saw on the upper ledge where those kids can't reach, while the safest items can be put on the lower ledge.
To finish this ledge, we used molding trim with classical contemporary style and finished it with white glossy paint.
---
2 of 5
Wooden Ledge Above Wall Trim
Another idea that you can use to create a half wall ledge is by combining it within a trim molding. This can make the ledge looks integrated with the molding, thus make it looks flawless and beautiful.
If you prefer this approach, you can use the same materials for the ledge cap with the molding materials (usually a MDF), or, use some different materials to create a contrasting look such as what we did in this design where we used the wood board for the cap.
Alternatively, you can finish your ledge cap with any vinyl paper/stickers with a wooden texture to get more natural looks, and here are some great wood vinyl that you can use to cover your ledge cap :
Best Selling Wood Vinyl Paper
Gray Wood PVC Stick and Peel Self Adhesive Waterproof Paper
Faux Wood Grain Textured Self-Adhesive Decorative Vinyl
The reason why we choose wooden materials is to bring some rustic farmhouse looks into the room, and that's why we choose the grayish looks wood for the ledge cap.
---
3 of 5
Simple Wooden Half Wall Ledge
For you who want a more simple yet elegant approach, this kind of half wall ledge can be a perfect choice for you. It's a very simple ledge with a wooden cap.
This kind of ledge is also perfect to create two-tone wall painting effects for your room where you can use two different paint colors for the bottom and upper part of your walls while the ledge cap works as the separator and border effects.
---
4 of 5
Farmhouse Style Half Wall Ledge
If you are using a farmhouse style decor for your home, then make sure you used the same style for any different part of your home to make it looks integrated and flawless, including when you decide to create a half wall ledge. And this is an example of farmhouse style half wall ledge that can be used for a home with farmhouse style decor.
This half wall ledge actually quite simple, with molding trim used as the cap, and then we used a white wood board to cover the entire half wall in vertical alignment. This white wood board is important to bring the farmhouse looks that we need, thus give the half wall looks more natural and artistic.
---
5 of 5
Ledge with Shelves
If you need a lot of additional storage spaces in your basement then you can use this approach where we created a ledge above the shelves. Indeed, it's a bit different while it's actually not a half wall, but we include this in the list since most basement owners need extra storage to help them organize a lot of different items and tools in their basement.
---
Best Heavy Duty Ledge Brackets
Heavy Duty Rustic L Style Metal Wall Brackets
Heavy Duty Floating Hidden-Style Shelf Brackets
Heavy-Duty & Extra Thick Iron Finish Brackets for Shelf/Ledge