Whether you're doing a remodel or building a new home, planning your kitchen involves endless design decisions and if you've decided to go with the warm beauty of oak, you'll need to pair it up with a gorgeous backsplash.
A backsplash is a functional aesthetic, with that being said you need to choose the best material that fits your particular needs. And one of the most crucial aspects to start on your quest for the best backsplash for your kitchen is the color.
Color makes wonders in any space and when it comes to backsplashes there are two main principles to keep in mind and these are contrast and cohesiveness.
We've gathered the best color backsplash to go with the oak cabinets either in their honey or reddish color tones to create that visual impact your kitchen deserves.
17 Awesome Backsplash Ideas for Oak Cabinets
Black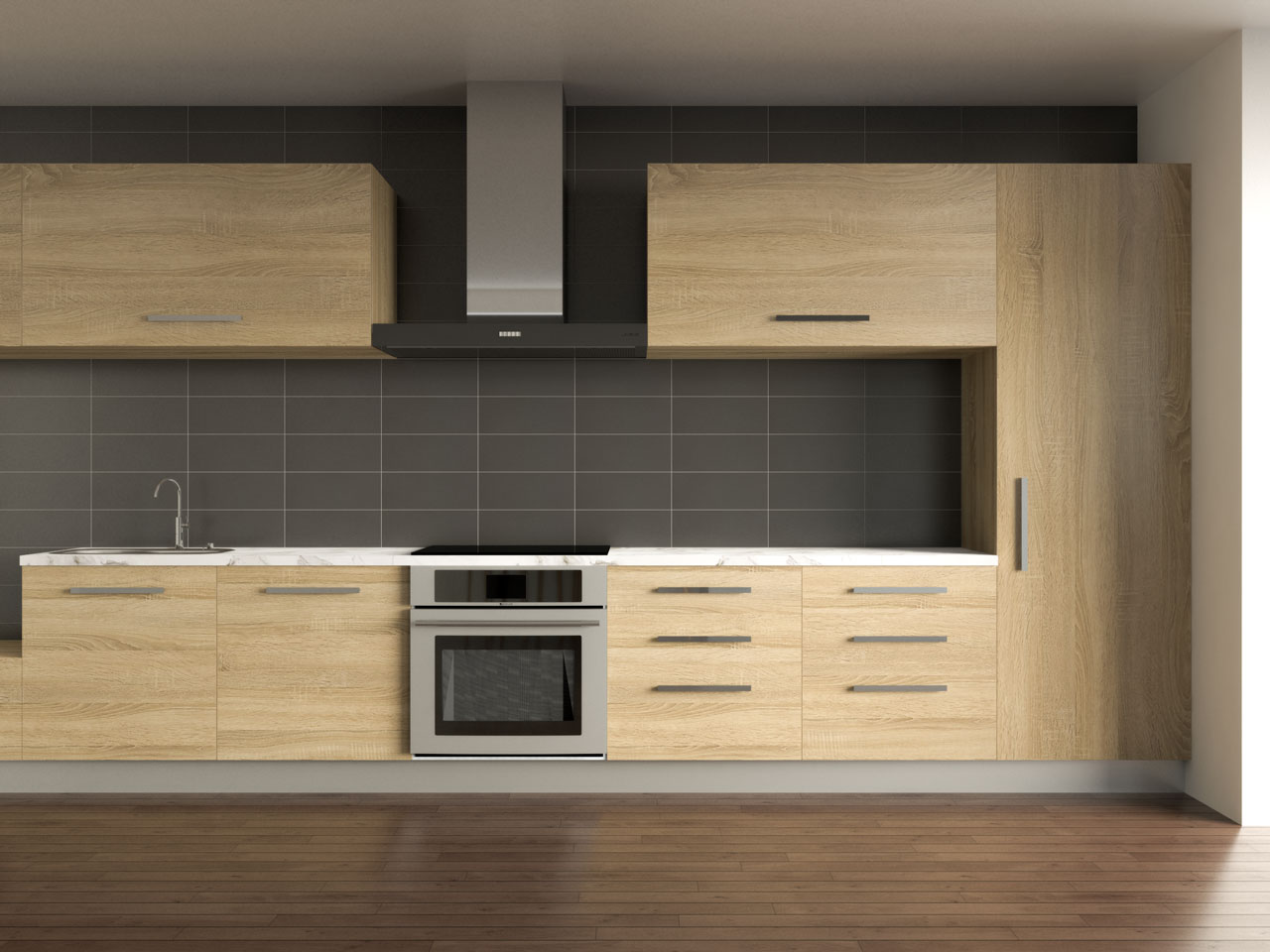 Elevate the look of your kitchen in an instant with a black backsplash with a matt finish.
Black can add weight and dimension to your kitchen space, as the honey oak color tends to be too yellowish creating a pale look to your room.
If you're unsure of the strong presence of black in your kitchen, you can go with a lighter hue such as greige which is a mix of beige and gray colors.
---
White
Since oak is a unique wood with beautiful grain and color, you may want to expose it and use a plain white backsplash. Using this simple choice can help make your oak kitchen cabinets become stand out, and look so much better.
Furthermore, the sleek and crisp appearance of the white backsplash creates a clean look to your entire kitchen.
---
Light Gray
Add a touch of elegance to your kitchen using a light gray mosaic backsplash. This kind of backsplash will easily modernize the looks of any kitchen, including the ones that use oak cabinets.
And since light gray is a strong neutral, it's pretty easy for this backsplash to blend with any kind of oak, from light oak, honey oak, or dark oak wood.
---
Cream
For you who want to create a totally harmonious and seamless kitchen design, then you can try this gorgeous option. Raw cream marble tiles had a very similar tone to most oak, making this awesome backsplash go together in harmony with your oak kitchen cabinets.
These everlasting elements also will boost the prestige and glamour vibe of your kitchen, making it not only an enjoyable space to cook, but also becomes one interesting feature of your entire interior.
---
Dark Emerald
Since oak had a very strong natural look, why not combine it with other natural colors like green? Almost any green shade can work beautifully alongside oak, but one of our favorite choices is this dark emerald green.
These deep, bold shades of green bring more than just a freshness, but also a touch of glam modern appearance. Thus, you can still have a fresh, earthy kitchen with a bit of a modern twist.
---
Pale Yellow
If you are using any variety of oak wood that had a slightly yellow undertone in it, then it will be a good idea to match your cabinets with pale yellow backsplash.
This kind of backsplash does not offer plenty of brightness and vibrancy like typical yellow, but still quite enough to lift up your entire kitchen while being in the same color tone as the oak cabinets.
---
Olive
Another awesome green shade that you can try to pair with your oak cabinets. Olive is a unique green shade with a hint of yellow, making this color feel much warmer than any typical green.
Thus, using olive green backsplash can provide plenty of warmth to lift up the mood of your kitchen.
---
Nyanza
Not a famous color name but you've probably seen the very light green tint in many kitchen showrooms paired with the honey-colored shaker cabinets.
The gorgeous hue has a bluish undertone that adds a wisp of freshness to the warmer cabinet color tone. The result is a lively kitchen look where you can add bits of darker green embellishments.
Either go for the plane surface tiles with a matt finish and laid out in a diagonal square grid for a statement backsplash or create a more traditional surround with glossy subway tiles.
---
Pale Spring Bud
This is a light shade of yellow with a mix of green and blue. If you love yellowish tones but want a more modern take on your kitchen backsplash this is the perfect color to go for.
The pale spring bud goes well with any tone of oak cabinet and creates a cohesive and mellow interior.
For a modern twist look for elongated hex-shaped tiles in pale spring bud or any similar hue. You'll be surprised by how stunning it looks with your honey-toned cabinets.
---
Mousy Indigo
The mousy indigo on the onset looks like charcoal gray but it actually comprises blue, red, and green tinges and is considered a medium-dark shade of orange.
The darker tone works well with reddish oak cabinets when lined with white grouting. A striking look for your traditional cabinets is by having them in a diagonal square grid layout.
Though you can also go with small squares in a grid layout for streamlined oak cabinets.
---
Blue-gray
Since oak brings plenty of warm tones, it may be a good idea to counter it out using some cool-toned backsplash like this blue-gray. This blue-gray mosaic tile backsplash looks pretty awesome alongside oak cabinets, creating a well-balanced ambiance to the entire kitchen.
Moreover, adding the different hues creates more depth and richness, resulting in a much more interesting kitchen appearance.
---
Gray Stone
If your goal is to create a totally natural kitchen with different earthy elements, then without any doubt, the gray stone backsplash will be the perfect option for you.
This natural combination brings multiple layers of earthy elements, while still looking pretty elegant and modern. For better results, we highly recommend you choose black stainless appliances to finish up your kitchen design.
---
Chinese Tea Brown
Pump the reddish color through your backsplash surround with the Spicy red-brown or Chinese tea brown.
The lovely brick color creates a cohesive look with your red oak cabinets and makes your kitchen truly the heart of the home.
Highlight the reddish color variations with warm light and you'll get the Italian kitchen air.
---
Almond
If you want to make your kitchen look bright any time of the day without the dullness of the color white, go with a similar hue with a tinge of yellow-brown.
There are a lot of almond-colored tiles and the earthy tone is a favorite choice for stone cladding with varying strains and graining.
Layout 6" x 6" filed tile in a diagonal layout and add black inserts to add a pop of color to your wall.
---
White Coffee
Looks delicious as it sounds, the white coffee is a very light shade of brown with red, green, and blue undertones. The milky color tone gives a cohesive match to your oak cabinet but is lighter.
If you have an ample amount of kitchen cabinets in a small kitchen, having a monolithic color scheme can brighten up the room and seem visually larger.
White coffee hues are available in almost all types of interior backsplash materials such as ceramic or porcelain tiles. You can use black grout to add contrast and emphasize your backsplash wall if you plan it to be your kitchen's centerpiece.
---
White and Brown
Mix the bold, classical looks of brown with the clean and brightness of white by using this brown and white mosaic tile backsplash.
As we already said before, brown will easily blend together with oak cabinets, while the white elements of the tile create sleek and clean contrast to light up the entire kitchen. This combination will work even better for any classical-style kitchen.
---
White and Yellow
Another gorgeous colorful tile that can easily boost the mood of your kitchen. But unlike any plain yellow backsplash, this white and yellow tile provides a totally different ambiance.
The white elements of the tile help making the entire kitchen look sleek and clean, while the yellow brings enough splash to make your cooking time feel more fun and joyful.
---
Choosing the best backsplash color for kitchen with oak cabinets is both an exciting and challenging feat for any homeowner.
If in doubt it's always safe to go with the classic tones such as white, black, or gray but don't forget to inject your personality.
Also, consider the lighting both artificial and natural when choosing colors, as light colors can tend to be too bright during the day or dark colors can look too gloomy without proper lighting.
---
Browse More Backsplash Ideas