An empty space above kitchen cabinets can disrupt the overall aesthetics of your kitchen, leading to a visual void that often appears awkward and incomplete.
Looks really boring and awkward, isn't it?
However, this gap can be easily decorated, so you can transform this empty space into a more visually appealing feature, while at the same time giving more additional functionality to improve your cooking space.
According to our experienced designers, here are some interesting things that you can do with the empty space above your kitchen cabinets :
Wine rack
Showcasing artwork
Wall stickers
Mirrors
Additional cabinetry
String lights
Cookbook-shelves
Decorative basket
Below, you can find some illustrations of all those approaches, along with other interesting things that you can do with the empty spaces :
17 Creative Above Kitchen Cabinet Decor Ideas
1. Create a Wine Rack
If you are a wine lover and had a lot of wine collections then you can use the empty space above your kitchen cabinet to put those wine bottles.
You can create or order custom shelves with bottle rack that will perfectly fit the space, or buy a ready-to-use wine rack.
Here are some beautiful and affordable wine rack that you can buy online :
KINGRACK Stylish Elegant Classic Style Wine Rack
FOSTERSOURCE Natural Bamboo Storage Shelf Wine Rack
Baridoo Stylish and Practical 12 Bottles Wine Rack
---
2. Use Set of Wall Art
Another way that you can use easily decorate the space is by using some set of wall art. By using this approach, you can turn those boring spaces into a more attractive and artistic one.
It's recommended to use two or more different pieces of wall art to make all the space filled.
To make it perfect, choose any wall art that specially designed for the kitchen. There is a lot of options available, and here is some of them :
Colorful Funny Kitchen Decoration Print Art – 6 Set
Inspirational Modern Rustic Farmhouse Kitchen Wall Decor Art – 4 Pcs
---
3. Using Inspirational Wall Stickers/Vinyl
Sometimes cooking can be a tough job and you need some extra motivation in order to create great quality food, and one way to get those additional motivations is by using an inspirational wall sticker quote in your kitchen. You can utilize the empty wall space as a place to put this kind of stickers.
If the empty wall spaces is too deep which makes the stickers can't be seen, you can create a custom frame for the wall stickers by using a wood or MDF and place it right at the edge of your cabinet. This way, the stickers can be more visible.
Kitchen Dining Room Love Family Prayer Quote Sticker
This Kitchen is Seasoned with Love Wall Quote Sticker by Picniva
---
4. Using Wall Mirror
If you had a relatively small kitchen, then using this trick not only can make the boring wall area looks more attractive but also can help make your kitchen feel much larger and spacious.
For the best results, you can order a custom-size mirror that will fit the entire space, but of course, this will cost you some serious money. Another more affordable approach is by buying a ready to use mirror, or, the most cheaper options is by using mirror sheets or mirror looks stickers like this :
EDGEWOOD Flexible Wall Mirrors
Hexagonal Acrylic Mirror Wall Stickers
---
5. Add Extra Cabinet for More Storage
This option is the best for you who want a clean and organized kitchen, yes, you can add an extra cabinet above the old existing ones. To make it looks integrated, create them with the same or at least similar material, color, and style.
For this approach, you should order a custom size one as it will be difficult to find ones that will exactly fit the spaces, and surely it will cost you some money, but the result will be worth it.
---
6. String Light for Fun Kitchen
You can make boring spaces look magical using string light/twinkle light. By using this items, not only it will give some additional lighting at the night, but also bring a happy and cheerful ambient to the kitchen all year long.
And here is some string light that we highly recommend for you :
Fairy Firefly LED String Lights
100 LED Star String Lights
---
7. Create a Bookshelves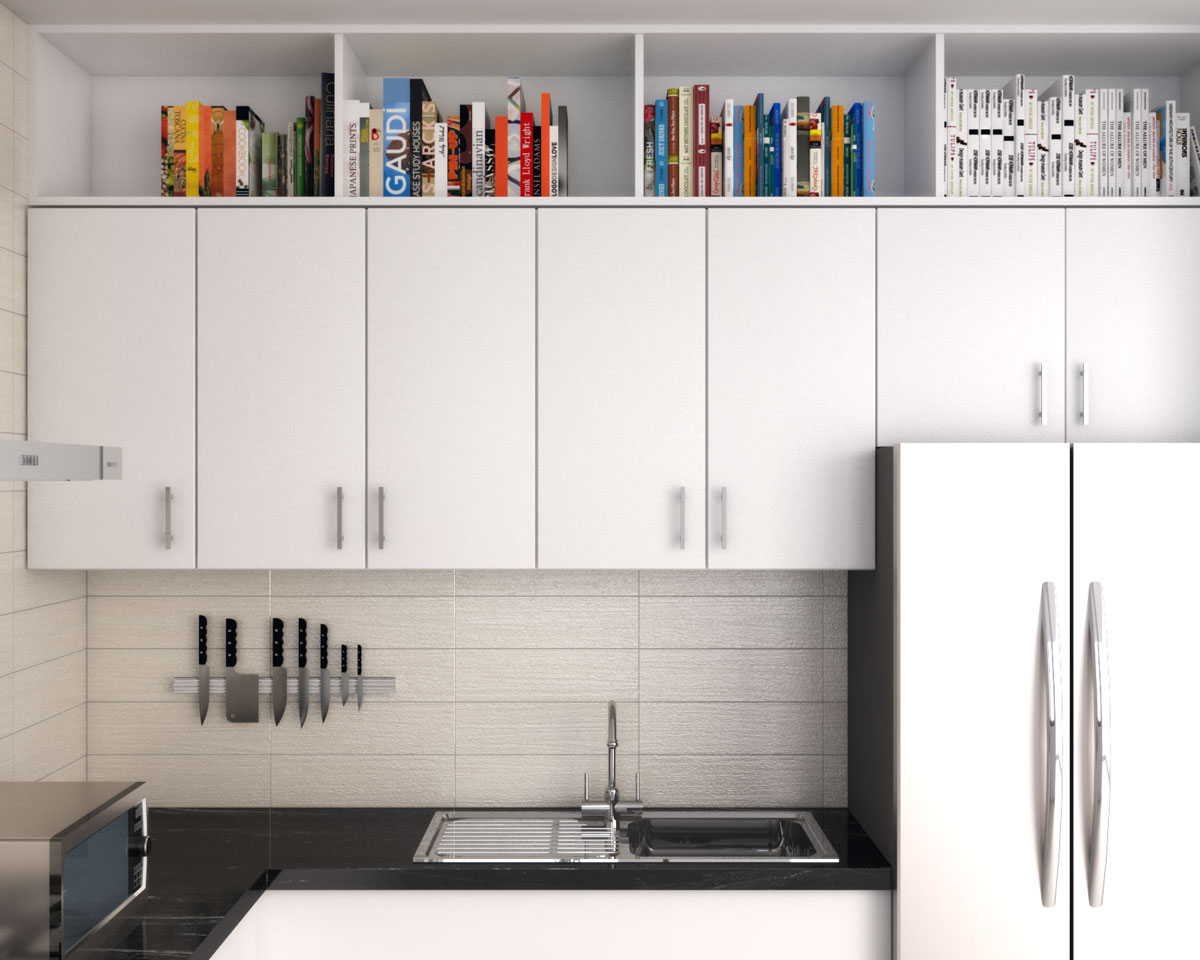 When you asking random homeowners on what to put on top of your cabinets, than certainly almost no one will answer that question with books. Placing a book in the kitchen may be sound weird for most people, but in reality they aren't.
If you had a lot of cookbooks or recipe, than that's a good ideas to turn the spaces into a bookshelf to put and organize those books.
You can do this by just stacking those books, or, for a more organized approach, you can create a custom shelves with several section that can help you categorize your books collection.
---
8. Move Your Cabinet up to The Ceiling
This is one of the most simple and easy methods among all of the list here. Yes, you can move the cabinet up so there is no space left.
But one downside of this method is that it will be more difficult to reach, especially when you had a high ceiling in your home.
---
9. Decorative Baskets
This is another important technique of getting rid of that annoying space. Just go to the market and purchase beautiful baskets where you can store valuable items.
The length of the empty wall spaces will determine the number of baskets you're to purchase, that is if you want an orderly arrangement. Again, this method technique serves as extra storage for different kitchen items.
Things like cooking books, journals, and some other important spices and condiments that you use occasionally.
Instead of using an old boring basket, you can use some beautiful one like these :
Woven Strap Basket
DECOMOMO Large Foldable Storage Basket
---
10. Cafe Style Chalkboard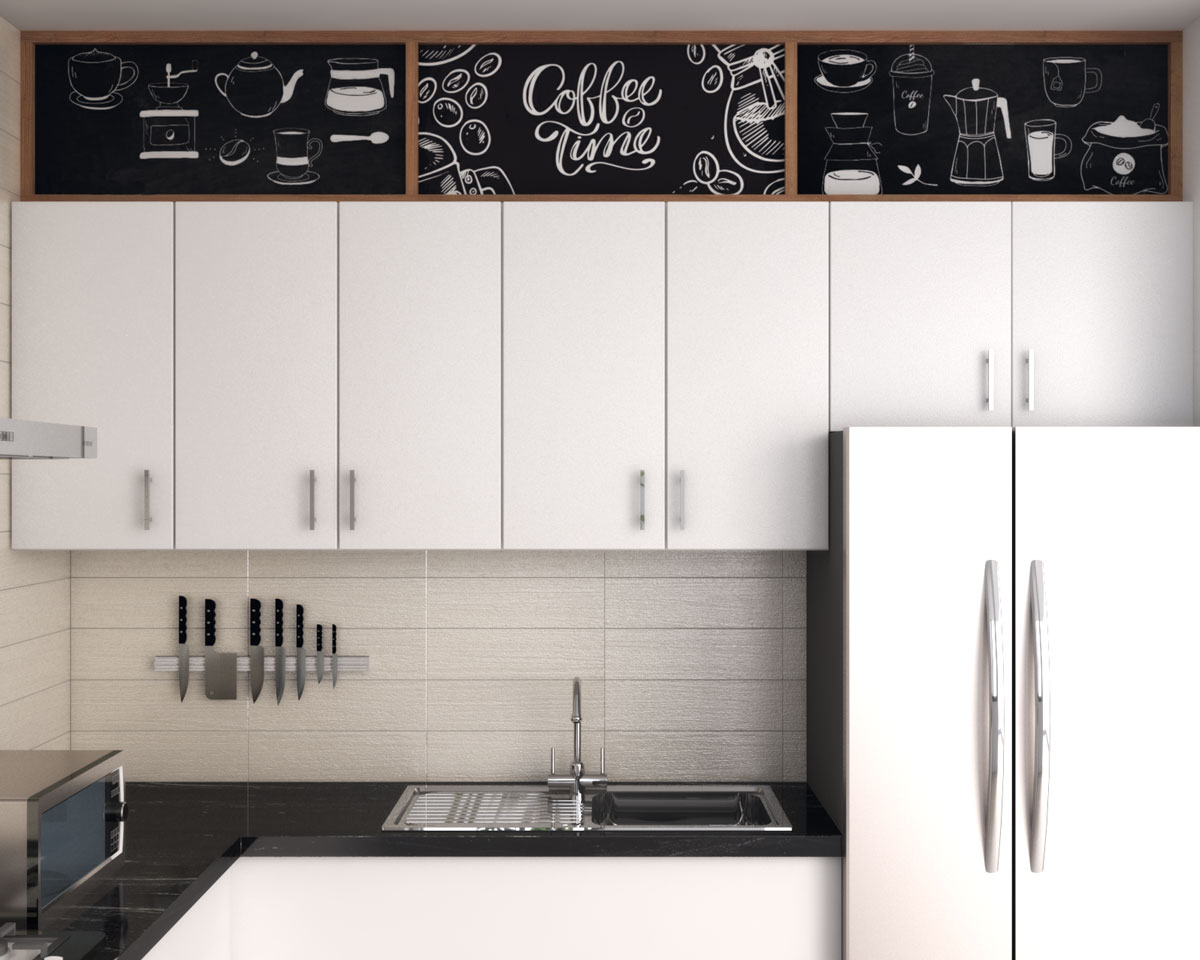 If you had an artistic soul then you can create a chalkboard on the spaces and use it as a canvas for creating some art or quotes there.
By using this method, you can easily change the art or text based on your mood or even the season. For example, you can craft Merry Christmas quotes or happy birthday greetings on your spouse's birthday.
Blackboard/Chalkboard Adhesive Wall Decals
---
11. Wall Garden
Sometimes cooking can be a stressful job, and one of the most effective way to reduce the stressfulness is by adding some greenery into your kitchen. A lot of scientific research proven that looking at some plant or vegetation can reduce the stress level.
If there is not any available space in your kitchen to put the plant, than you can use the empty wall space above your cabinet. Although surely you only can put artificial plants rather than the real ones there.
The most easy and simple way is by using vases with artificial plants and put it up there. But there is another creative approach that you can use, by using some artificial vines or leaf, where you can hang them in the wall and than you can turn the boring spaces into a beautiful wall garden.
Here is some beautiful and realistic looks artificial hanging leaf or vines that you can buy and use to create your own wall garden in your kitchen :
Ivy Greenery Leaf Vine Artificial Foliage
Artificial Eucalyptus Leaf Vines
---
12. 3D Wallpaper / Wall Panel
Another method that you can use is by installing a 3d wall panel / wallpaper. Using this method, the uninviting space will looks more attractive and anyone who see it will think that the space is created on purpose.
Today, there are a lot of different 3d wall panel textures and designs available on the market. You can choose the ones that will match your entire kitchen or home decor.
In the example above, we use a white stone looks panel to bring some natural vibe in contemporary style. Use your creativity and imagination to create your own!
Here is some beautiful 3d wall panel that can be a great option for you if you prefer this method :
Peel and Stick 3D White Brick Wall Panels/Wallpaper
3D Wavy Wall Panel
---
13. Place Unused Glasses and Plate
Almost every homeowner had some glasses or plates that rarely been used, for example, the ones that you only used when hosting some party or seasonal events. You can use the space to put all of those items.
To make it looks more organized, you can build your own shelf to put those tableware.
---
14. Use Bold/Dark Paint
As we already said before, the empty wall space will be dusty most of the time, and it's not a good ideas to paint it with a clear or light paint since it will looks dirty. The easy way to avoid this is by using any dark wall paint to paint those walls.
With dark wall paint, those area will look darker and anyone wouldn't really notice if there is some dust or even any cobwebs there.
---
15. Add Crown Molding
This trick not only will make the empty wall space looks like created on purpose, but also will make your entire kitchen looks more attractive and beautiful.
But one important thing when applying this trick is that you should choose a big crown molding that will cover almost all of the spaces. If you can find ones, combining any crown molding with baseboard can also work well.
---
16. Set of Colorful Jars
This is another way of keeping a collection together like the basket we talked about earlier. The space above the cabinet may be enough to contain some jars and you can arrange it based on the colors to create a beautiful looks.
---
17. Try Hanging Artifacts
These man-made objects are very beautiful. For those that love history and archaeology, you can place one or two artifacts there. They are vintage arts and good for memories of ancient history.
I would say it's a very mature design, you could be tired of many baskets, tins, and jars because you're not needing any extra storage.
---
And that's it! Hope you like our creative above kitchen cabinet decor ideas, and get some new and fresh inspiration to create your own.
You can use one of those ideas separately or even mixing two or more different ideas to get a better results.
If you think this article help you to get some ideas on what to do with the empty space above cabinets, we are really appreciate if you help us share this article on your social media.
Also don't forget to follow our social media accounts to get notified every time we publish new interesting article like this ones, thank you!
Check Out Other Similar Posts