White kitchen cabinets are one of the most popular kinds of cabinets – thanks to their versatility. This kind of kitchen cabinet can be used in almost any kitchen decor style – from vintage, classic, farmhouse to modern or contemporary ones.
Another advantage of using a white cabinet is it's relatively easy to find the perfect countertops colors that can blend perfectly with it. Unlike any other cabinet color, a white cabinet can be paired with almost any color and type of kitchen countertop.
Although almost any countertops color can be used alongside white cabinets, there are some of them that will perfectly match with it – while some others can still look quite good but don't blend really well.
In this article, we will share with you our ideas on what are some best countertop colors that can match white cabinets perfectly, and here they are :
Best Countertop Colors for White Kitchen Cabinets
1. White Marble Countertops
For you who prefer to blend your white cabinets with marble countertops, then going with white marble is one of the best options. This kind of countertops will keep your kitchen simple yet still looks elegant and gorgeous.
Using white marble countertops for white cabinets can create monochromatic effects that make them look flawless, while its marble vein will bring some royal and glam touch. Furthermore, using white marble countertops can bring a crisp and clean feeling to your kitchen.
To create a luxurious and stylish kitchen, this is one of the best countertop colors for white kitchen cabinets.
---
2. Gray Marble Countertops
For some people, using white marble with white cabinets may seem too boring and monotonous.
If you are one of them then you can try to use gray marble countertops with white cabinets. This combination will bring similar effects with the white marble countertops, but with a few contrasting effects to add some depth into your kitchen spaces.
---
3. Black Marble Countertops
Black marble countertops can create a lot of contrast against white kitchen cabinets and help make your counter be the focal point of your kitchen spaces. And that's why this is one of the best countertops that go with white cabinets.
These countertops also bring a lot of elegant and luxurious feels and can be a perfect choice for any kitchen that are using minimalist, contemporary or modern kitchen decor style.
---
4. Brown Marble Countertops
A lot of homeowners think that brown countertops will only match with any brown, cream, or wooden kitchen cabinets. But the truth is that it will still work great when used alongside white kitchen cabinets, as you can see in the image above.
Using brown marble countertops with white cabinets can add some earthy and natural feels to your kitchen and make it looks fresh, while at the same time still looking luxurious thanks to the shining marble effects.
If you want to go with a more classic or modern mid-century approach for your kitchen then brown marble countertops can be a great option for you.
---
5. Cream Marble Countertops
Another awesome countertop color for kitchen with white cabinets that can achieve similar effects with the brown marble is by using a cream marble countertop.
This color is much softer compared with brown and can make your kitchen looks soothing and natural, and this will make you want to spend a lot of time inside your kitchen.
---
6. Green Marble Countertops
Green element is famous to add some fresh and natural looks into any space inside a house, and it will bring the same effects when used as kitchen countertops.
Using green countertops with a white cabinet can be a great option especially when your home decor uses green as one of the color schemes.
---
7. White and Brown Marble Countertops
This is one of the best countertops for white cabinets that will blend beautifully while at the same time bringing some bold and glam looks like any typical brown counter.
To get a more flawless look when using white cabinets with brown countertops, you can choose any brown and white marble with more white veins than the brown, while to get a stronger glam and luxurious feeling, choose any marble with more dominant brown.
---
8. Venice Blue Marble Countertops
With a perfect combination of dark gray with light blue veins, this stunning marble can be a perfect fit for any kitchen that uses white cabinets.
This marble had a more neutral look compared to any other blue marble, thus making it a versatile choice that can easily blend with other elements around it, such as the backsplash and kitchen appliances.
---
9. Calcatta Green Marble Countertops
We highly recommend this marble for you who want to create a kitchen with a soft, subtle, and soothing ambiance.
Even though it doesn't have a strong green appearance, this Calcatta green marble still spread some freshness as any typical green element, while at the same time bringing a touch of elegance to your kitchen.
---
10. Bronze Marble Countertops
The most common problem with any white-themed kitchens is that they may look too simple and too far away from luxurious feels. If you are facing a similar problem, then this can be an ideal choice for you.
The magnificent dark brown bronze marble boasts a lot of glam and luxury feels, thank's to its beautiful golden look vein. This marble surely will stand out especially when surrounded by a lot of white elements.
---
11. Blue Granite Countertops
If blue is one of your favorite colors then you can use it for your kitchen counter. This color can easily blend with kitchen cabinets, especially when you are choosing the right texture, pattern, and stain.
One of the best blue materials that you can use for your kitchen counter is blue granite. Most of the blue granite has some white spots that can bring a few complementary effects within the white kitchen cabinets.
---
12. White and Gray Granite Countertops
This granite countertop can be a perfect choice for any homeowners who want to keep simplicity as the main goal for their kitchen.
Its white vein surely will keep the white connections flowing between the cabinets and the countertops, while the gray vein adds a bit of an elegant look to avoid your kitchen looking monotonous.
---
13. Bethel White Granite Countertops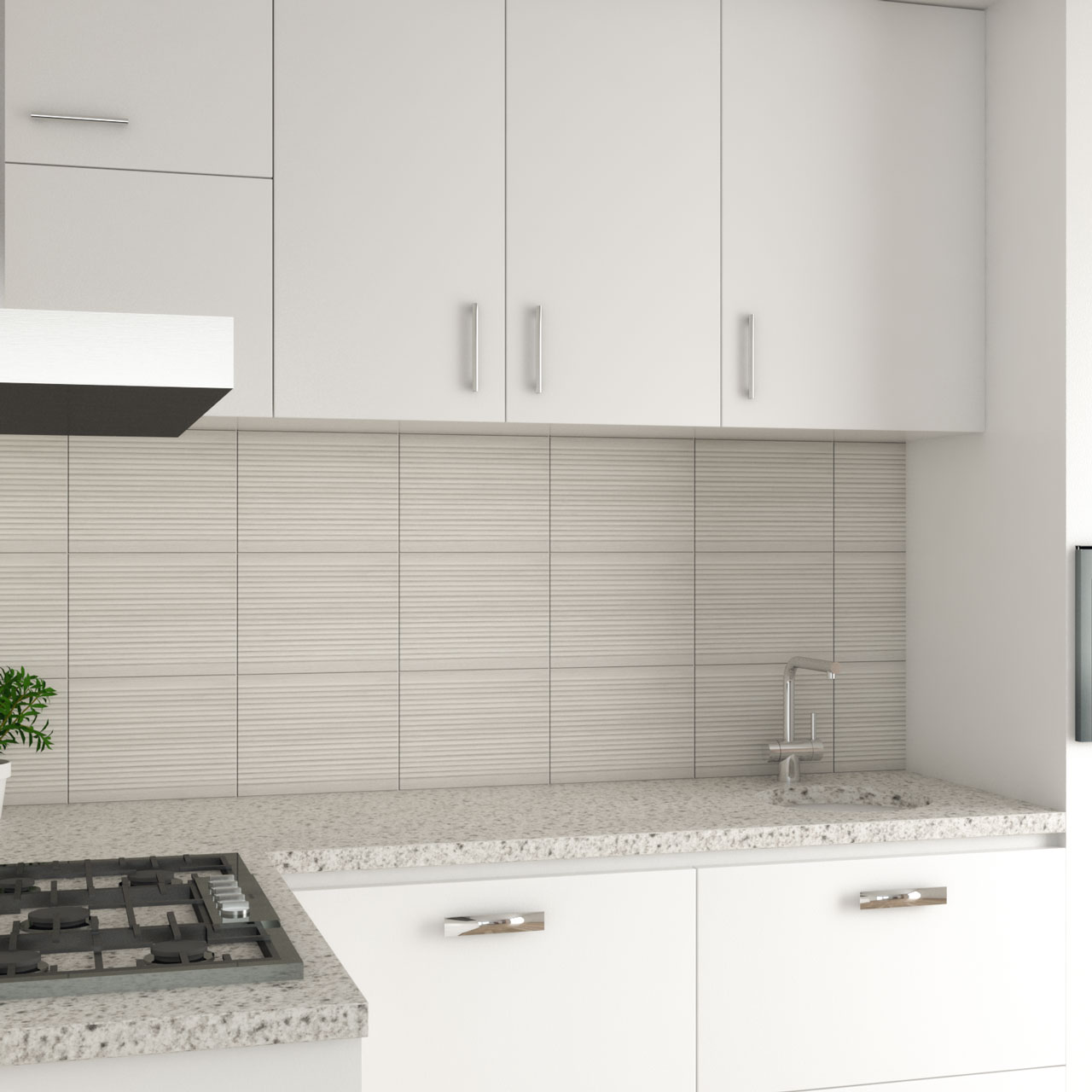 This granite had a beautiful combination of a warm white base with black flecks, resulting in a simple, warm yet elegant visual appearance that will pair gorgeously with white cabinets.
Spreading a lot of warmth vibe, these granite countertops will make any kitchen feel comfy.
---
14. Dark Gray Granite Countertops
This is another awesome countertops to match white cabinets. The combination of dark gray granite countertops with white cabinets will provide an elegant contrast that makes any white-themed kitchen looks much more interesting.
Surely it's not as bold as black, but this kind of granite can still stand out elegantly and becomes the main focal point for the kitchen area.
---
15. Wooden Countertops
For any decor style that uses a lot of wooden elements such as farmhouse or vintage, you can use wood countertops in your kitchen.
This wood counter will still look good when used with white cabinets. To achieve the best results, choose wood with fine texture and grain.
---
16. Plain White Quartz Countertops
For a simple and minimalist kitchen, you can use a combination of white cabinets with white countertops that will make the entire kitchen looks clean and flawless.
And one of the best materials for this kind of counter is quartz. This all-white approach will make you easier as it can complement any kind of decor style.
To get the best results when combining white quartz countertops with white cabinets, add some warmth, fresh and neutral elements through your kitchen. This will help avoid the entire kitchen becoming boring and monotonous.
---
17. Plain Black Quartz Countertops
Black is always been a to-go color when looking for something that brings contrast to white. As you can see in the picture above, these white cabinets and black countertops combinations can bring an elegant and stylish touch.
Using plain black quartz countertops also can completely distinguish your countertop with the white cabinets surrounding and make them stand out to create a depth and bold look for your kitchen.
---
18. Light Gray Quartz Countertops
For you who are thinking that black is too strong while white can be too boring and monotonous, then light gray can be a perfect option for you. These plain light gray quartz countertops will string bringing enough contrast against the white cabinets, making them easily distinguishable.
Additionally, it wouldn't be too bold and overly dominated the entire space as black countertops will do, thus you can keep the simplicity of your kitchen. With all of the benefits above, we can confidently say that light gray is one of the best quartz countertops for white cabinets.
---
Explore More Countertop Ideas