Terracotta flooring can embrace rustic charm and warm qualities to any kitchen, and that's the reason why a lot of homeowners still love using this traditional material.
Terracotta also had the capabilities to spread a unique ambiance that blend both comforting and style, creating a beautiful culinary space that appreciate the beauty of natural aesthetic.
However, the main challenge with terracotta tile lies in it's rich and unique hues, as it can be difficult to find the right colors that can complement and harmonize with it.
In this article, we will guide you through the intricate journey of selecting the perfect cabinet colors, finding the right one that harmonize seamlessly with your terracotta foundation.
7 Best Cabinet Colors for Kitchen with Terracotta Floors
Dark Olive Green
This is our favorite choice when it comes to terracotta flooring. The dark olive green cabinet had a rich and warm tone that resonate beautifully with the earthy charm of the terracotta, forming a well-balanced and warm color palette.
The dark olive kitchen cabinets infuses your culinary space with a sense of natural luxury, elevate the visual aesthetic of the entire kitchen.
---
Off-white
If you prefer to keep a simple and clean aesthetic as the main theme for your kitchen, then off-white can be the best option for you.
This warm white shade beautifully complement the richness of terracotta, making the beautiful flooring material to shine and becomes the center of attention of your kitchen.
---
Light Yellow
Lift up the ambiance of your kitchen by using light yellow cabinets. This gentle and subtle yellow hues harmonize beautifully with the rich earthy tone of terracotta, fosters a sense of happiness and comfort.
The combination of light yellow cabinets and terracotta tile instantly creates a lively kitchen that exudes a sense of charm and warmth.
---
Blue-green
If you are looking for a blue shades that can perfectly blend with the rich and striking hues of terracotta, then we highly recommend you to go with blue-green. This cool, soothing yet vibrant blue shades create a striking visual contrast against terracotta, providing a visually balanced and sophisticated look.
This combination will easily transform any kitchen into a serene oasis, with captivating cabinetry that becomes the main focal point within the kitchen.
---
Beige
As a neutral, beige can easily harmonize with terracotta, creating a soft and balanced aesthetic. The beige cabinets also infuse your space with warmth and charm, boost the entire kitchen ambiance in a visually pleasing look.
This pairing works really well if you are planning to create a traditional or classical style kitchen design.
---
Sage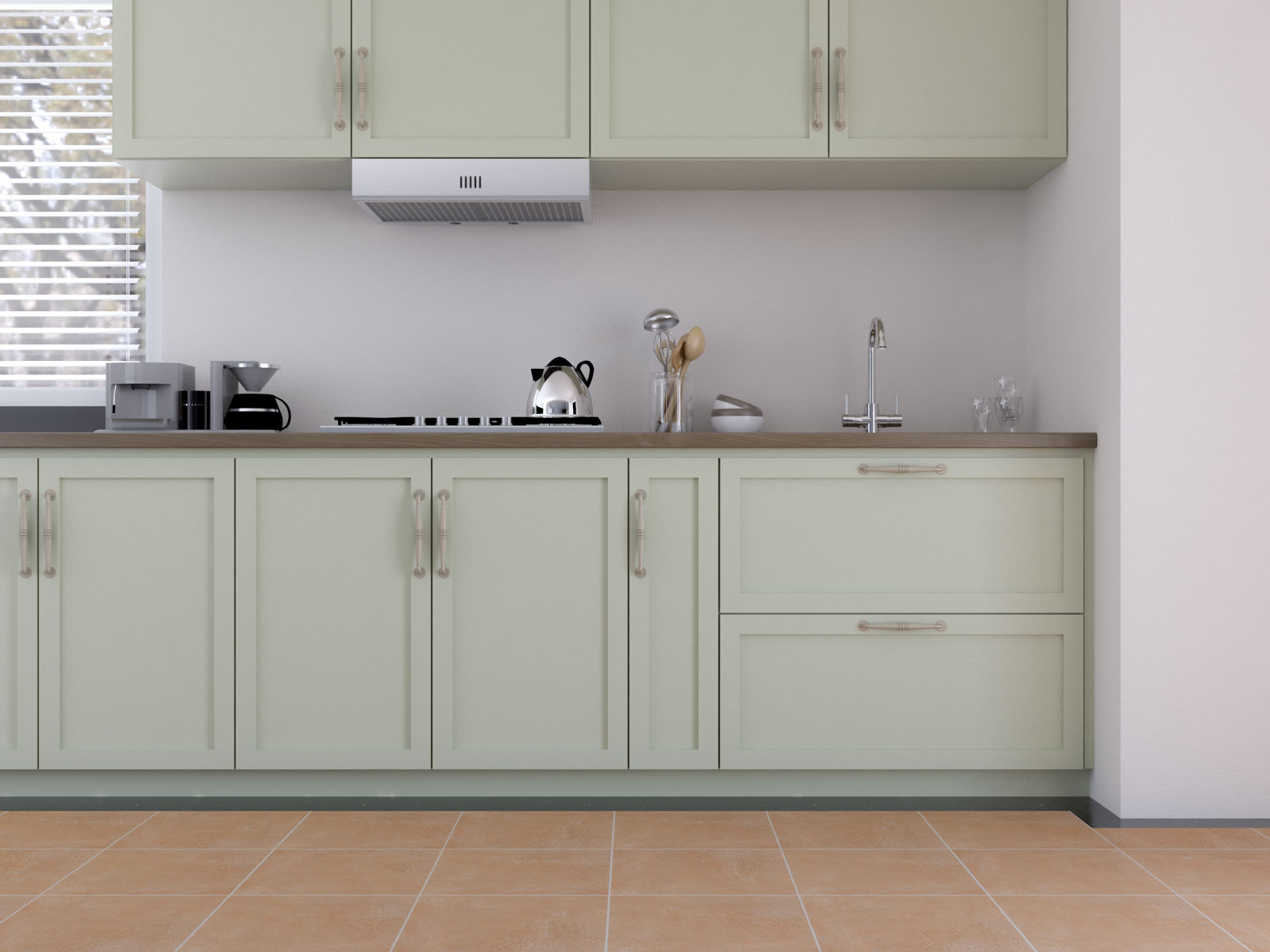 Sage is a unique color that bring a captivating yet refreshing aura to the kitchen. When combined with terraccota, the muted tones of sage creating a balanced aesthetic against the warm, earthy palette of terracotta.
This combination instantly evokes a sense of natural tranquility and rustic elegance, crafting a kitchen with aesthetic and visually pleasing design.
---
Charcoal Brown
If you want to let your cabinetry stand out as the centerpiece of your kitchen, then charcoal brown can be a great option. The neutral bold tones of charcoal brown beautifully offset the terracotta flooring, while also enhancing and highlighting it's natural beauty.
The kitchen with charcoal brown cabinets and terracotta floors easily create a big statement to your home, spreading a unique and compelling character.