Green had a very wide range of shades, from the light ones such as mint or sage to the bold tones such as emerald or dark green. Thus, whatever effects you want to achieve for your room, there surely will be a shade of green that can help you achieve your goals.
When it comes to furnishings, or specifically for sofas or couches, one of the hottest current trends is olive. This shade had a unique characteristic with some yellow hue that makes it feel much warmer than any other greens but still had similar fresh looks.
Additionally, an olive couch or sofa can bring glam looks and that's why this particular item can be a perfect focal point to create stylish and fascinating living spaces.
However, this unique look comes with some tricky problems. It's very hard to find any other colors that can go well alongside olive. Thus, if you had chosen or bought an olive couch, then you will get a lot of additional homework, such as choosing the right rug colors – if you are planning to use one below the couch, or even need to repaint the walls behind the olive couch – if your current wall color not going well with it.
To help you with this, we did an experiment by trying many different wall colors to find the best one that will be a perfect background for any beautiful olive couches. And here are the results :
Best Wall Colors for Olive Couch
White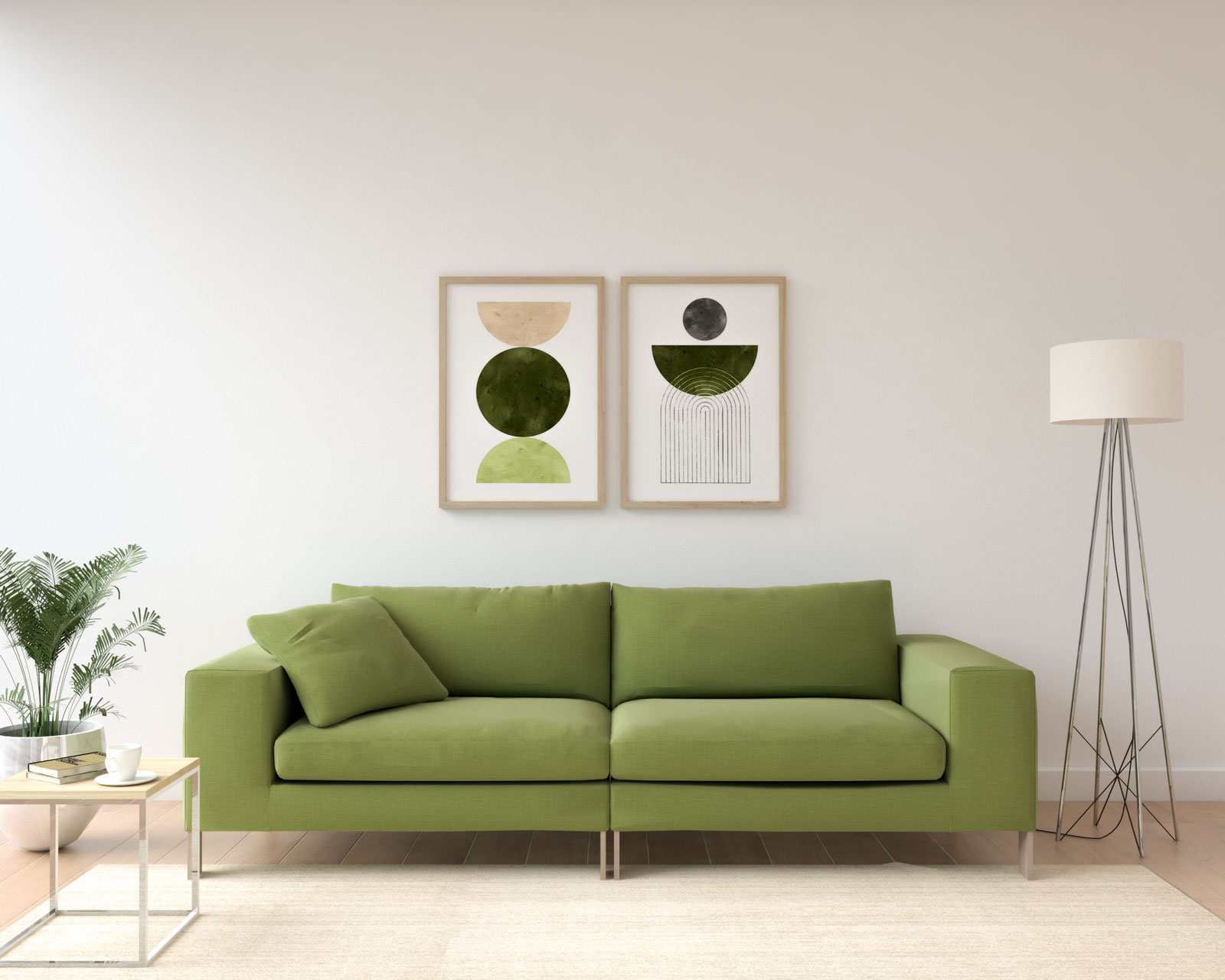 If your main goal when deciding to buy an olive couch is to make it becomes the centerpiece of your living spaces, then we highly suggest you go with white walls.
The plain white wall is obviously the best background to highlight and make the couch stand out, and let the beauty of the olive becomes the one and only visual attraction for the entire room.
---
Light Sage
This is another great choice: light sage. By using this color to paint your walls, you can keep the green flows harmoniously between the couch and the wall behind it, while still bring enough contrast as they had a different hue to avoid the monotonous looks.
Moreover, with its very light appearance, this wall color can spread a lot of brightness to the room.
---
Light Mint
Another light green shade that we love to use alongside the olive couch is this light mint.
This wall color can bring a more intense green vibe that makes the couch and walls look absolutely flawless but still keep a soft and subtle appearance.
Thus, it won't be taking over the dominance of the olive couch as our main focal point for the entire living room.
---
French Navy
For you who need a strong and bold wall to accompany the olive couch, then we highly recommend this french navy.
This color is a bit lighter compared with the more popular navy, so it can still easily adapt with another different hue like our olive couch. The elegant contrast they bring can also elevate the looks of your living spaces.
However, only use these kinds of colors as an accent wall behind your couch, as we don't recommend using it for the entire walls as it can make your room becomes too dark.
---
Light Pale Yellow
In most cases, green and yellow don't look really well when used together in one scheme. However, things can be a bit different with olive, thank's to its yellow hue that makes this shade can still looks well alongside yellow.
Additionally, the light yellow wall and olive couch can be a great combination to create a light, bright looks that can stimulate joy and happiness for anyone who comes and sit there.
---
Light Peach
Peach has a similar warm vibe with the olive, and that's what makes it a great option as the background to create a very welcoming and inviting seating area, but still keep the visual appearance soft and smooth.
The pleasant and aesthetic looks also become another reason why you should try this combination for your own living room.
---
Cedar Brown
Most brown shades had some red hue in them, and that's why they are will not work well with green. But if you still want the gorgeous brown walls, don't worry, you can go with any brown that had the least amount of red, such as this cedar brown.
This cedar brown looks much more neutral compared to another brown, while still bring similar effects such as the earthy looks and spread the comfy ambiance throughout the entire room.
---
Gray
Sometimes, an olive couch may look too strong and intense, and in most cases, it can do more harm than good for the entire visual appearance of your room.
To soften and balance any living room with olive sofa, gray is surely the best option. The gray walls can help neutralize any dominant olive couch and make it less intimidating, while at the same time still highlight and keep it as the main star for your living room.
Any shades of gray can works really well with olive, so you can choose whatever tones suit your decor style preferences.
---
Explore More Wall Color Ideas