Brown is one special, timeless color that will provide an earthy tone in bold looks. And that's why, brown finishes items are widely popular such as brown sofa, brown table, or brown rug.
However, things are quite a bit different when it comes to walls. Using brown is not as popular as any smaller elements such as furnishings or decorative items. Even some homeowners think that painting their walls with brown is a big gamble, but if done properly, the results will be as satisfying as winning the big prize lottery.
In a perfect setting, the brown wall can spread a welcoming and inviting sense in a natural and earthy vibe. Some brown tones can even bring a touch of sophisticated glam and elegant looks.
One important key to achieving the perfect result when using brown to paint the walls is to mix it inside the right color scheme. Truthfully, coordinating the brown wall with any element around it can be very hard, so you need to consider it carefully as it can make or break the visual appearance for the entire space.
In this post, we will give you our insight and ideas for furniture colors that look amazing against the brown wall.
Best Furniture Colors for Brown Walls
White
As we already said before, painting your interior wall with brown is a gamble. But don't worry, you can increase your odds and reduce the risks by choosing the safe and easy option: white.
White furnishings can work inside any environment, so it's relatively easy for them to fit inside any room with brown walls. Moreover, the sleek white furnishings can spread a light and bright looks throughout the room and help tone-down any dark brown walls to make them less intimidating.
For a bigger impact, put any large white items against the brown walls, like a white sofa or place a large white area rug next to the brown walls.
---
Beige
Beige furnishings can bring a similar benefit with white when used alongside brown walls, as it will help make the entire space feels a bit lighter and brighter.
Additionally, as beige also had a bit of brown tone in it, they can provide a more flawless and seamless visual looks to create a harmonious and uniform tone throughout the entire spaces.
---
Light Gray
Most people choose brown for its classical glam and elegant looks, and you can strengthen and boost it by incorporating some light gray items.
Light gray had a similar elegant vibe as brown and that's why they look amazing when used together.
Furthermore, with its neutral character, it will be very easy for any light gray furniture to blend and complement any brown walls.
---
Dusty Blue
Blue is one of the most popular shades to combine with brown. However, things can be a bit different when it comes to brown walls, as the dominant looks of the walls can conflict with the vibrant blue furnishings, and can potentially make them look awkward together.
But if you are a fan of blue, don't worry, you can still makes them works together as long as you are choosing the more neutral blue, such as this gorgeous dusty blue, as your furniture.
The dusty blue furnishings are looks much more neutral compared with any other blue, and that's why they can blend nicely with the brown walls, while still bring a nice contrast and spread some tranquil and airy ambient to create a cool and cozy spaces.
---
Beige and Sage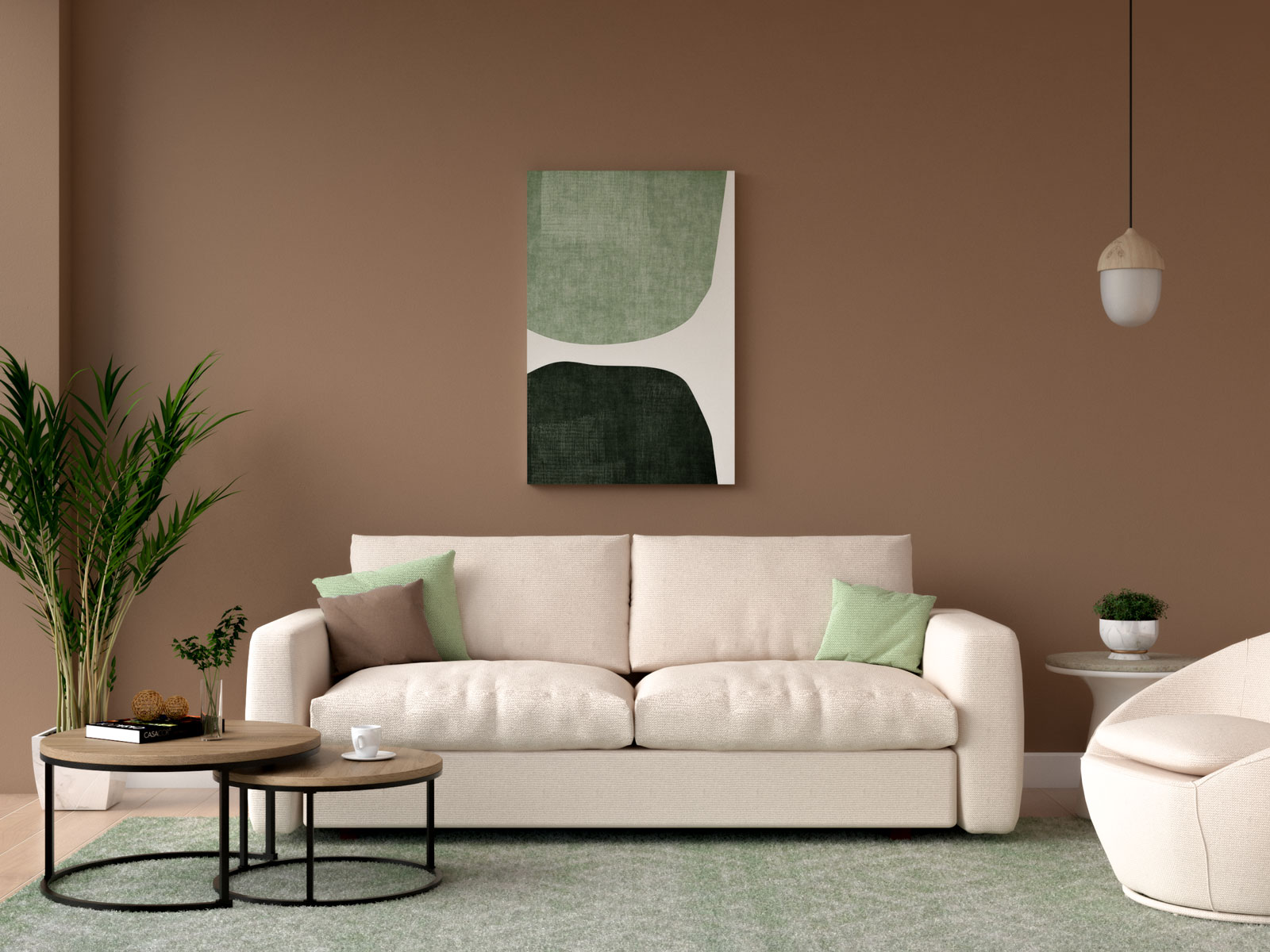 Based on our experience, green furnishings won't work well alongside brown walls. That's said, you can still use them as an accent and combine them with more neutral choices, such as beige.
As you can see in the image above, we put some sage decoration to accentuate the brown walls and beige furnishings to bring a splash of pop and refresh the looks of the entire space.
Even some small items such as sage green throw pillow or sage artwork can make a big difference as they can stand out naturally against the brown.
---
Light Gray and Yellow
Here is another great combination that you can use to elevate any room with brown walls. As we had said before, any light gray furnishings can complement the brown walls perfectly, but in some cases, they may lack of surprising elements, and that's when the yellow does its job.
The vibrant hue of any yellow items can instantly lift and cheer up the mood of the brown room, creating a more fun and happy atmosphere.
Additionally, those yellow accents can be very beneficial to break the monotony when using two neutral shades like brown and gray as the primary palette.
---
Navy
For some people, combining brown walls with other dark colors may sound weird, but actually, it isn't. Especially if you can find the dark shades that can complement the brown walls perfectly, such as the gorgeous navy.
The navy blue had a very similar characteristic to brown, and that's what makes them look good together. However, only use this combination inside any spacious room that had sufficient natural lighting.
---
Charcoal
This is another great bold furniture color option for living room with brown walls. Unlike the previous option, navy, charcoal tends to be much more natural that is essential to keep everything look simple and at the same time keep the brown become the main dominant palette.
To enrich the looks and avoid the gloomy feels, put some light and neutral accessories throughout the space.
---
Get More Furniture Color Ideas