Maple is a highly durable hardwood, making it an excellent choice for hardworking kitchens. It's a versatile option that suits a variety of different kitchen styles from youthful and modern to sophisticated and traditional.
Once you've settled on this beautiful wood, you may wonder what color countertops go with maple cabinets. Your worktop color and material can completely change the vibe of your space, so consider what aesthetic best represents you.
You should also be honest with yourself about how much maintenance you're likely to keep up with.
We've put together seven of our favorite countertop ideas to help you on your way to your ideal kitchen design.
7 Best Countertop Colors for Kitchen with Maple Cabinets
White Quartz
White quartz places an uber clean cap onto maple cabinets, which is always highly appealing in a space where food prep takes place. The crisp white finish will retain its pristine appearance without too much hard work too, thanks to its stain-resistant non-porous makeup.
Since white quartz countertops have a reflective quality, they can also visually brighten kitchens that lack natural light or have shady corners.
---
Beige Granite
Beige granite countertops meld gently with the natural tone of maple kitchen cabinets. This visually soft combination works well in open-plan living spaces where it's desirable for the kitchen to fall into the background.
It's also well suited to spaces with a rustic or traditional charm, where wood chopping boards and utensils will add to the warm tonal mix.
To prevent this creamy combo from becoming too stuffy, freshen with a clean white backsplash and light-reflective cabinet hardware.
---
Black Marble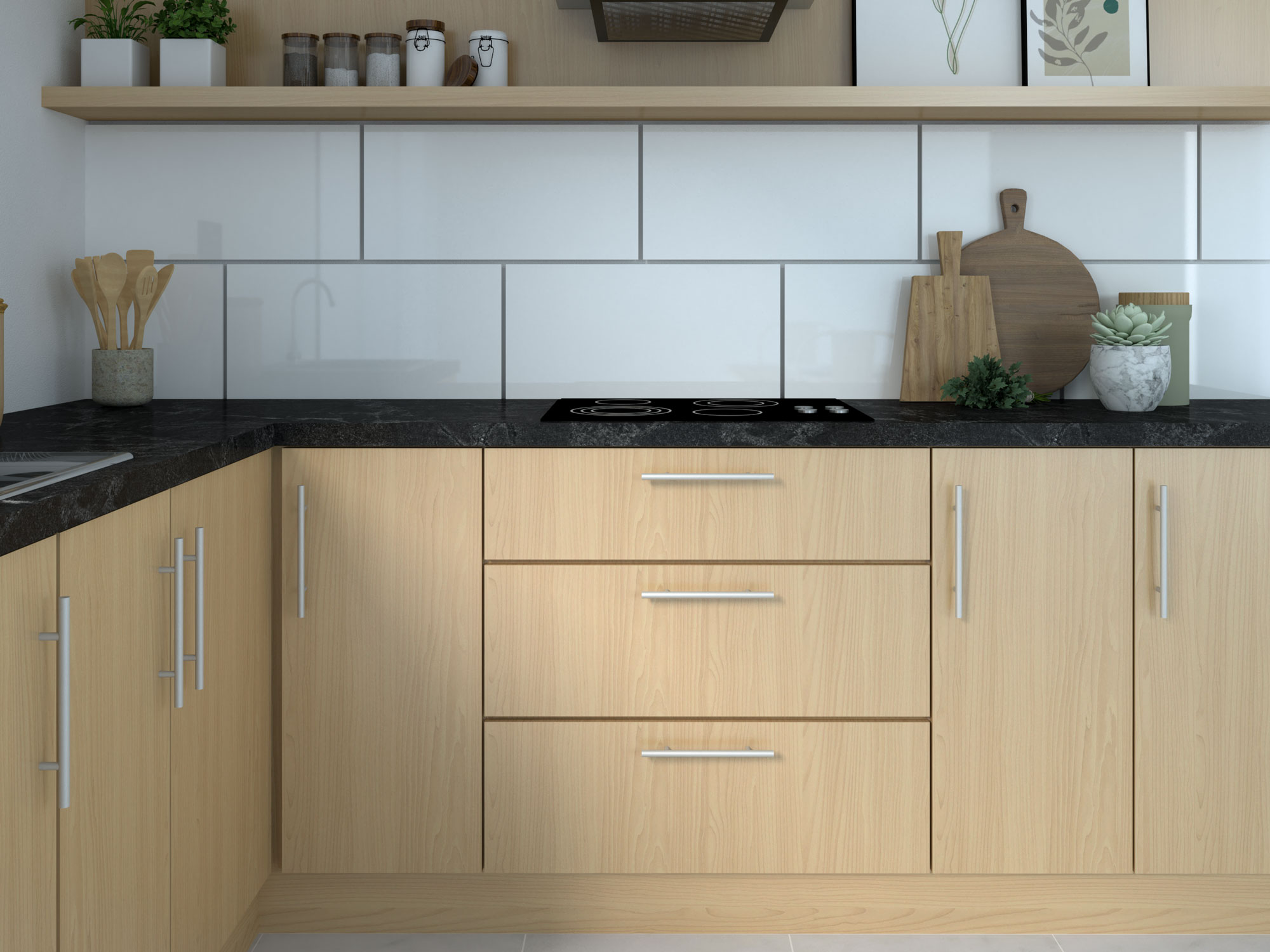 Black marble countertops place striking contrast onto maple kitchen cabinets. This dark stone won't suffer food staining as easily as its lighter counterparts.
However, minerals in hard water make white marks where water has splashed and dried. Occasionally, hard water minerals can even cause etching on the surface of the marble.
You can bring it back to its former glory with polishes but be prepared for ongoing maintenance.
---
Brown Granite
Brown granite countertops place a rich, chocolatey coating onto lighter-toned maple kitchen cabinets. This sophisticated combination works well in traditional surroundings with elegant kitchen fittings and accompaniments.
It's also a great choice for retro-inspired spaces with colorful mid-century modern kitchen accessories and bold wall art. Clean white backsplashes or quirky tiled statement walls work equally well in tandem with this union.
---
White Granite
White granite countertops give a maple kitchen design a refined finish. Durable and beautiful, white granite adds an air of elegance to the space.
It is also a versatile option that can be paired with just about any accent color, so you can have fun changing out your kitchen accessories with the season or just as the mood takes you.
---
Dark Brown Marble
Dark brown marble countertops add a bold slice of luxury to a light maple kitchen design.
This neutral yet highly tonal combination has a sharp modern edge, which serves well alongside en vogue open kitchen shelving filled with mason jars and dry pantry staples.
Freshen the space between with a white tiled backsplash and an enlivening burst of natural greenery.
---
Yellow
Yellow countertops contribute instant warmth to a maple kitchen design. The rich injection of color creates a unique aesthetic with unexpected flair.
Yellow countertops go well with natural wood kitchen accessories and the lush greenery of indoor plants. Pepper with solid black accent pieces to anchor the color palette. A white backsplash will give the eye a place to rest.
---
Conclusion
With the light versatility of maple wood, you have a lot of freedom in choosing your kitchen countertop color and material. You can also achieve these looks on a budget with convincing dupes for natural stone. Although, they're not nearly as durable in the long run.
Remember to be realistic about the amount of maintenance and stain removal you are willing to undertake. Choose a countertop material that suits your lifestyle rather than one that will rule you.
With this piece of the puzzle in place, you can finalize the look with complementary canisters, stylish small appliances, and cheerful kitchen art.
---
Browse More Countertop Ideas