Farmhouse kitchens are an accent kitchen style that will never be out of style. Though compared to more kitschy country kitchens, farmhouse kitchens prioritize comfort and are more charming and sophisticated.
However, in designing a farming house to meet its purpose, the color that goes on the wall contributes not only to the aesthetic appeal of the kitchen but also to the feeling it creates.
Hence, choosing the right wall color for your farmhouse kitchen is crucial to create the vibe you enjoy most in a kitchen.
When choosing the right wall color for a farmhouse kitchen, factors to consider include the existing colors in the kitchen and the feeling to create.
Factoring in different variables, here are some ideal colors for a farmhouse-style kitchen:
7 Awesome Wall Paint Color Ideas for a Farmhouse-style Kitchen
Pure White Walls
Pure white is a leading characteristic of the farmhouse style. Regardless of your preferred color for your kitchen accessories, white, a neutral color, will match other colors in the kitchen.
According to NKBA, white color palettes took a whopping 72% of all farmhouse kitchens designed in 2019. This is attributed to the ease of mixing other color palettes with pure white.
You can also go for white with the counterpart and kitchen selves to bring out the best of your white-colored farmhouse kitchen.
Plus, white creates a feeling of purity and innocence.
---
Sage Green Walls
Sage green is a popular, important color for different home décor styles, and it is not left out in designing farmhouse kitchens. This shade of green is popular for the feeling of serenity and calmness. 
It makes sense to opt for sage-green in a farmhouse kitchen, not only because it is a neutral color that can accommodate other colors but for the vibe it creates in the kitchen.
---
Cream Walls
Thanks to its warm and inviting nature, the cream color is yet another ideal wall color to choose for a farmhouse kitchen. The cream color is timeless in home décor, and this can be attributed to its neutral shades.
Also, cream color offers different options, meaning you have a range of choices to choose from. Whether you go for gray cream or ivory cream, you are on your way to creating a calm and inviting farmhouse kitchen.
---
Light Beige Walls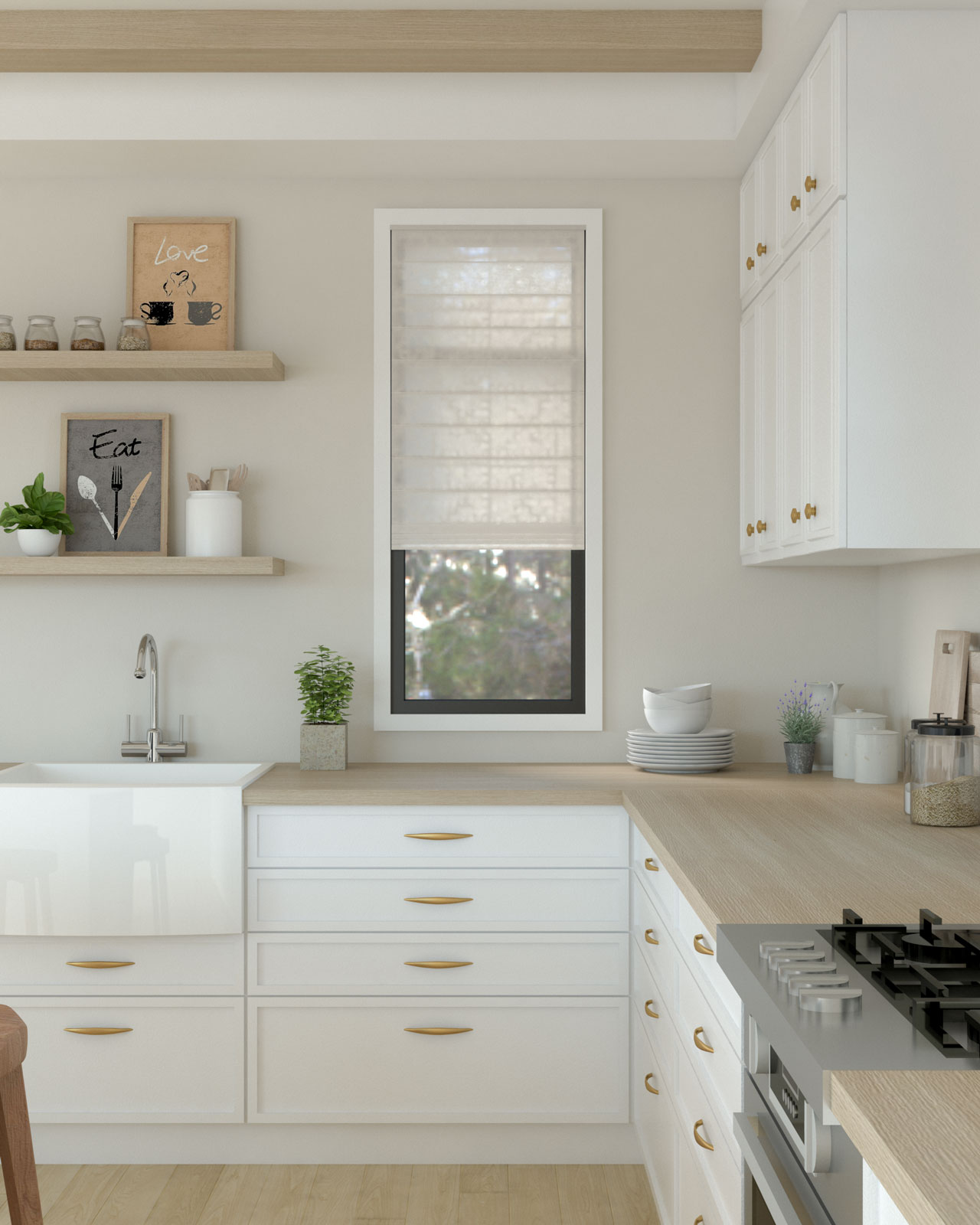 The list of best wall colors for a farmhouse kitchen is incomplete without light beige. Light beige is also regarded as a neutral color and can be matched with other colors in the kitchen.
For example, if you choose light beige for the walls, you can opt for gray with the countertop and white for the shelves without interrupting the connections between the colors in the kitchen.
---
Pale Blue Walls
If you are a fanatic of blue but don't want to go for pure blue in your kitchen, you can consider some shades of blue, and pale is a great option to consider.
Pale blue, a neutral color, also mixes well with other colors in the space. This means you can paint your kitchen walls pale blue and go for another color with other items in the kitchen.
Also, blue carries the aura of peace and calmness, and if you want these vibes, pale blue is an excellent choice for your farmhouse kitchen walls.
---
Light Brown Walls
Light brown is usually a force to reckon with in home décor. It is an aged neutral color that fits into different purposes when it comes to design and even fashion.
The color helps create the impression of genuineness. Color psychologies also regard light brown as a representation of honesty, health, and nature. Light brown is the best color to go for if you want these vibes.
---
Light Gray Walls
Light gray is yet another neutral color that has been an asset to the home décor space.
Light gray is a close color to white, meaning if you find value in white but have reasons not to go for it, light gray is another option to consider. Plus, with gray-white, any other color you choose in the kitchen will fall in place.
---
Final Thoughts
Choosing the right wall color for a farmhouse can be a daunting task with the different options before you. However, following expert tips will help you choose the right color with no headaches.
By knowing what impression to create in the kitchen and what color suits the existing colors, you can easily choose the right wall color for your kitchen. Regardless, the major tip here is to go for a neutral color. Going for a neutral color means you can choose any other color in the kitchen.
This piece has provided the ideal wall colors for a farmhouse kitchen, and you will always be right with whichever color you choose from this list.
---
Explore More Farmhouse Decor Ideas