Teal, combining the freshness of green and the elegance of blue, has gained popularity as a unique and stylish choice for personalized home decor. You can incorporate teal into your space through decor, accessories, furnishings, or even by painting your walls.
Painting your interior walls with teal can be a great way to create a bold statement for your home. However, pairing teal walls with the right furniture colors can be a tricky job. The ideal furniture color not only should enhance the boldness and richness of the teal, but also tie the room together and create a balanced, aesthetically pleasing look.
In our extensive journey through the world of interior design, we've learned that when it comes to rooms featuring teal walls, the finest furniture choices are white, gray, lime green, brown, and royal blue. These furniture colors bring out the best in teal walls, enhancing its unique charm. These options also ensure a perfect balance between style, comfort, and aesthetics that will ultimately result in a stunning interior that you'll love.
Read on as we delve deeper into all of these fantastic options.
1. White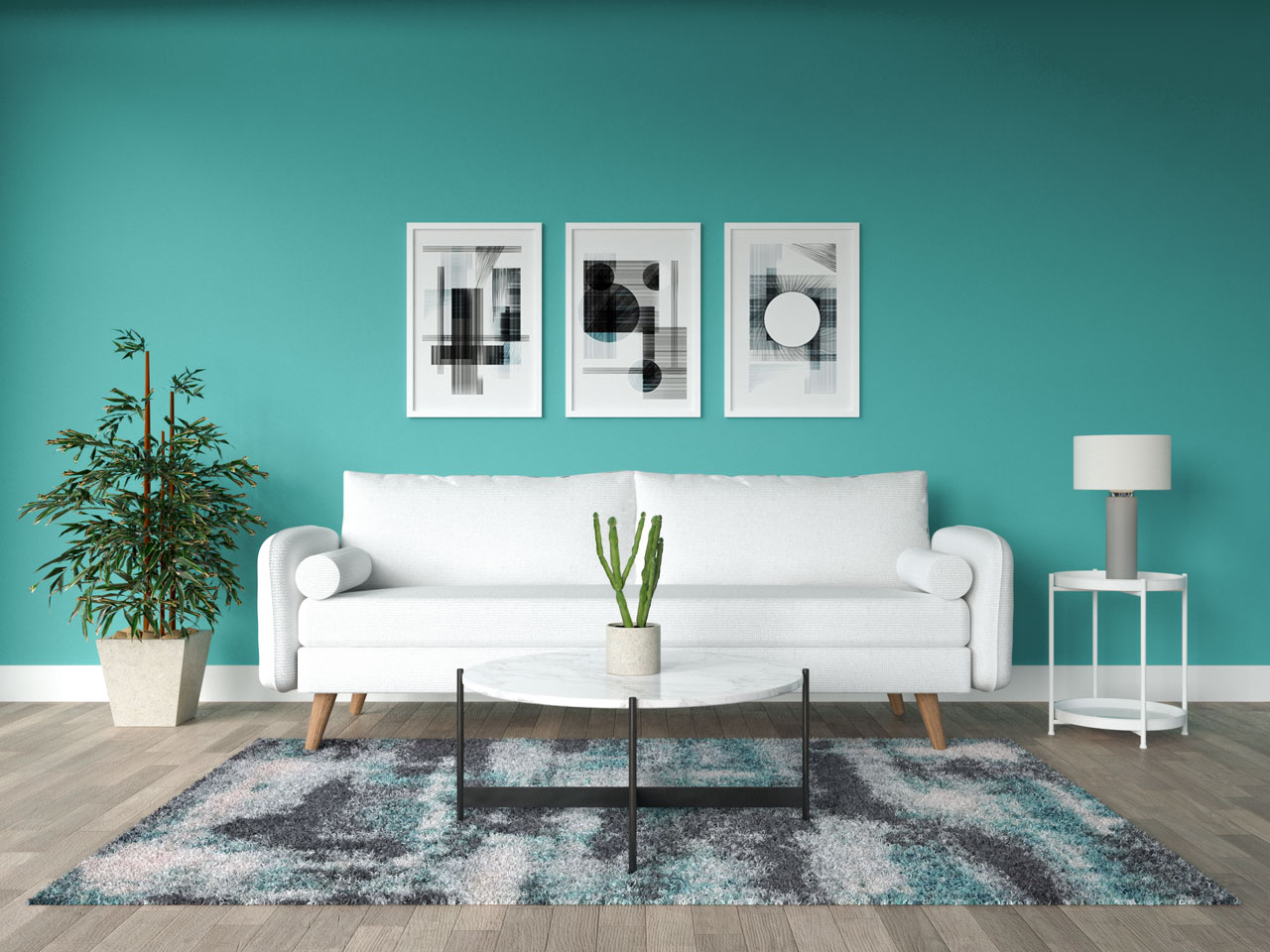 When it comes to tricky colors like teal, then the simplest, easiest, and most importantly, risk-free choices obviously go with white. As its nature, white can blend with literally all kinds of colors, thus it will never go wrong even with unique colors such as teal.
But that's not the only reason we put white on the first of this list, as there are still many other benefits when combining white furnishings with teal walls.
As you can see in the image above, all of the white furniture looks beautiful against the teal background, producing a clear and crisp contrast that can enhance both the furnishings and the walls.
---
2. Gray
If pure white looks too mainstream for you, then you can go with gray. It will produce similar effects with white but in a bit deeper tone.
Gray surely won't produce a lot of contrast such as white, but still looks nicely against the teal walls.
Moreover, gray can also add some elegance to the spaces that blend perfectly with the royal and luxuriousness of the teal.
---
3. Lime
For those who prefer a more seamless visual appearance, then you can try combining lime furniture with teal walls.
Lime furnishings will keep the green-hue stay consistent throughout the room, but still bring some visual differences to avoid the monotony, thanks to its yellow hue.
Furthermore, the yellowish hue of the lime will spread a bit of joy and a fun ambiance to lift the entire space.
---
4. Royal Blue
Another great alternative to achieve a flawless look is this gorgeous royal blue. This vibrant and deep shade of blue looks amazing alongside teal elements and brings some sense of tranquility throughout the entire room.
Additionally, as any typical blue shade, royal blue furnishings will create an airy and serene look to make any room feels cozy in stylish ways.
---
5. Brown
Brown may not the most popular furniture color for living room with teal-painted walls, but still a good option in case you want to soften the vibrant and strong teal with a more natural and earthy choice.
Furthermore, using brown furniture with teal walls can help create a more balanced vibe – thank's to its warmth, and make the room feel more comfy, welcoming, and inviting.
---
6. Gray and Yellow
Yellow is obviously one of the best opposite colors for teal. However, in most cases, using dominant yellow furnishings is surely not a good idea.
But don't worry, you can still use yellow as an accent to create a vibrant, contrasting pop against the teal wall. This can be achieved by using the combination of gray and yellow furnishings, with gray as the main colors and yellow as the additional accents or accessories.
To get a strong presence of the yellow, spread it to many different places such as pillows, wall arts, end tables, or curtains.
---
7. White and Gold
Teal wall is popular for its luxurious and glam looks. And you can enhance and bring those kinds of vibe to another level by incorporating some gold or brass elements around them.
Actually, any kind of gold or brass furnishings can works nicely, but for the best results, go with white and gold items.
The white elements can help the gold stand out and wrap up the gold and teal to visually consolidate and integrate them all together.
---
Explore More Furniture Color Ideas