Bohemian interiors are a dream come true for those who love surrounding themselves with art, culture, and beauty. If you're someone who cherishes a free-spirited and cultured lifestyle, Bohemian décor and furniture strike a harmonious balance between nature and ornamentation. They make use of natural materials and rich artistic textures to create a unique and inviting atmosphere in your home.
However, to fully cherish all of your bohemian decor and elements, you need a perfect backdrop, or in other words, an ideal wall paint color.
For a bohemian-style interior, some of the best wall paint colors are beige, cream, light olive, blush pink, and light sage. These hues had warmth qualities that perfectly capture the essence of your bohemian elements. At the same time, these colors tie up together the bold, colorful accents and patterns that often become the main character of bohemian interiors.
Read on as we explore all amazing wall color ideas that fit perfectly inside any bohemian-style interiors.
8 Best Wall Colors for Bohemian Interior
Beige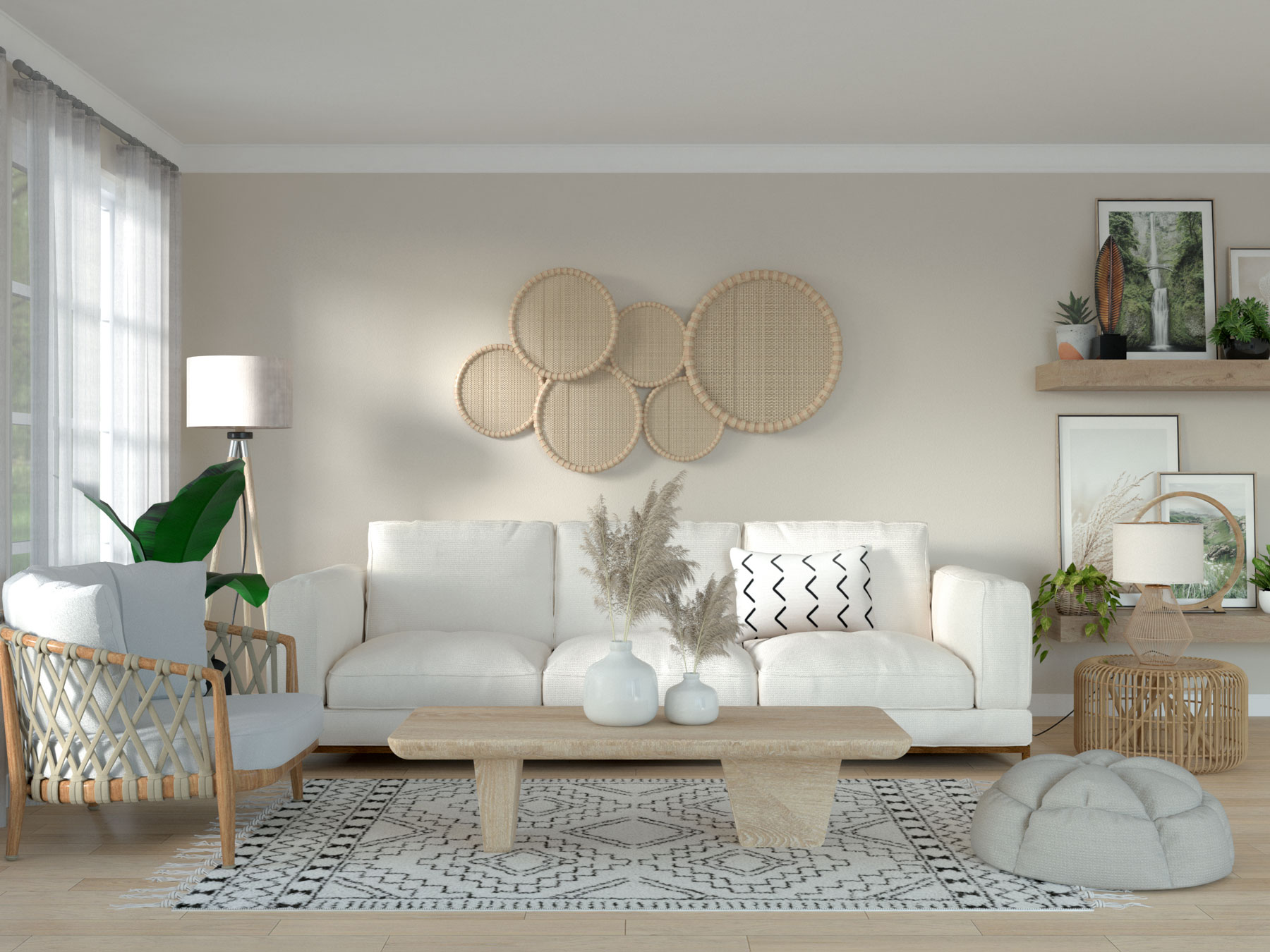 Beige is a serene and elegant color tone to paint your walls and prepare them for a juxtaposed blend of vibrant hues and an abundance of contrasting textures.
Beige will create a muted color palette to hang up your artsy wall art, mandala tapestries and bring in a variety of color tones without ruining the elegance of the backdrop.
Suppose you're planning to add bamboo furniture and rattan accents to the living space. In that case, beige wall create a beautifully balanced earthy palette to bring out the best in your interiors. Beige will strike a delightful contrast with all natural furniture materials, be it bamboo, rattan or wood.
---
Cream
Cream has a thick and foamy consistency that brings the interiors to life by drawing in maximum sunlight, creating an airy and well-lit space. This neutral toned palette is different from other muted shades because it has a rich and dynamic personality that radiates through the interiors despite blending well with other elements.
Cream walls will create a nice palette that allows other colors and textures to shine without losing its consistency and power.
You can work with brown-toned colors or strike a whimsical blend of bold patterns and shades. Cream is amazingly versatile and you can dress it up in any given aesthetic to achieve your desired bohemian effect.
---
Pure White
When it comes to experimenting with bohemian décor accents, you can never go wrong with pure white walls. The crispness and neatness of white creates a serene, mess-free backdrop to experiment with natural materials, wall art, abstract patterns and chic Boho elements.
We love how white walls anchor the living space with their creamy consistency, drawing in ample light to create the illusion of spaciousness. Rattan wall art looks splendid when paired with crisp white walls.
However, white walls need regular maintenance and care to prevent dust smears and debris residue, especially if you live in a dust-prone area.
---
Light Olive
Here's something artsy and eclectic for bohemian homeowners who adore a refreshing burst of colors: pair up your bohemian décor with light olive wall paint to strike all the right chords of maximalist chicness!
Light olive is such a delightful color to paint the walls, giving your interiors an invigorating burst of energy. This versatile shade blends beautifully well with other colors without losing its character or being overshadowed.
It stands tall and proud and radiates its sun-kissed energy while giving your interiors a bold pop of vibrancy.
---
Blush Pink
Suppose you want to play up your living space with a vibrant and beautifully blended bohemian décor without dabbling in neutrals. In that case, blush pink is the perfect shade to strike a balance between bold and neutral.
This classic shade of pink isn't overly bold and it certainly isn't too faded to be overshadowed by another hue.
It offers a clean and crisp backdrop to play up a variety of bohemian accents, such as Moroccan lighting, rattan wall art, bamboo furniture and richly textured rugs. It will create a colorful yet serene anchor to fill up the room with light, giving your bohemian interiors a divine feminine aesthetic.
---
Light Blue
Here's another delightful shade for homeowners who find neutrals boring and prefer the energy of soft-toned bright hues: paint your walls in light blue. All shades from the blue family radiate a dynamic and refreshing energy, but light blue is a class apart with its muted grace and delicate charm.
Much like blush pink has a feminine appeal, light blue has a subtle masculinity that will give your bohemian interiors an invigorating new dimension.
This energetic burst of blue will lighten up your living space, anchoring your Boho furniture in a delightfully vibrant profile.
---
Light Sage
Sage green is all the rage in interior gazettes and architectural circles, and homeowners are finding this scintillating shade a much-need reprieve from the monotony of crisp whites and dark hues.
This quintessential Boho shade is an eclectic choice to create a nature-inspired bohemian palette with earthy combinations and natural materials.
Pairing beige or brown with bamboo or wooden furniture often creates a dull brown-toned interior profile. In contrast, pairing these natural materials with a pastel hue like sage green creates an artsy and vibrant combination.
---
Medium Brown
Medium brown is a fabulous choice for homeowners looking to create an outdoorsy aesthetic that blends the earthy shades of nature with a richly textured aplomb. Medium brown is a lazy and deep-toned shade that will anchor your interior profile with harmony and consistency.
This versatile and muted shade will serve as the perfect earthy backdrop to experiment with rich and bold patterns and bring in an array of dark textures. Medium brown will blend beautifully into the background without losing its understated charm.
---
Final Thoughts
Bohemian interiors are all about experimenting and finding your unique expression of art and culture. There are no set rules to follow or standards to adopt, for experimentation and personalization lie at the heart of bohemian aesthetics.
Finding the right wall color is crucial to give the interior one color tone that serves as a harmonious anchor, grounding the elements with its consistency. We advise conjuring your design vision and finding that color that allows you to experiment to your heart's content.
---
More Wall Paint Color Ideas