There are several tricks for making a small living room feel bigger, and one trick is to paint the walls. Of course, the color you choose can make or break your small spaces.
Why is it so important to choose the right color for your walls? The last thing you want is a color that makes an already-small room feel smaller.
This is why you need to consider how the wall color affects the mood of your space. If you need ideas for your space, here are seven of the best wall colors for a small living room.
Wall Paint Color Ideas for Small Living Room
Pure White
One idea is to paint your living room pure white or bright white, without any blue, pink, or gray tints. A pure white living room feels larger, open, and airy, which is essential in a small space.
It reflects light to make your living room feel bigger and brighter, and it is easier to add pops of color to a pure white living room. If you cannot settle on a shade for your living room, open a bucket of pure white paint.
---
Grayish-white
You can add a cooler tone to the walls with grayish-white, plus, you do not have to worry about the gray making the room feel smaller. Lighter shades of gray can make the space feel bigger, and grayish-white is a great way to play it safe.
You can even add splashes of calming colors through accents. In addition, you have the option of adding a darker shade of gray through pieces such as your throw pillows and planters.
---
Warm White
If you want to use a shade of white, but not pure white, consider painting the walls in warm white. It is no secret that white makes a small room appear larger, but the warm undertones add a cozier vibe to your living room.
Imagine how your warm white walls are going to look with your wood finishes. You can even add accessories in warmer tones to enhance the atmosphere.
---
Creamy Yellow
There is nothing like creamy yellow to add a bright, cheerful vibe to a small room. The yellow shade reflects light to make the space feel more open, but the creamy undertone keeps from overdoing the yellow.
Of course, the yellow shade also adds a sense of comfort to your living room, as well as a reminder of a farmhouse-inspired home. This is perfect for adding a cozy vibe while making your small room looks bigger.
---
Mint
If you want to add a splash of color to your living room walls, you can never go wrong with mint. Just like other light shades, mint makes the room feel lighter and brighter, but it also keeps your space from feeling too ordinary or boring.
When you pair the mint walls with white trim, you are adding a clean, fresh look to your living room. You can even enhance the look with mint throw pillows on your couch.
---
Gray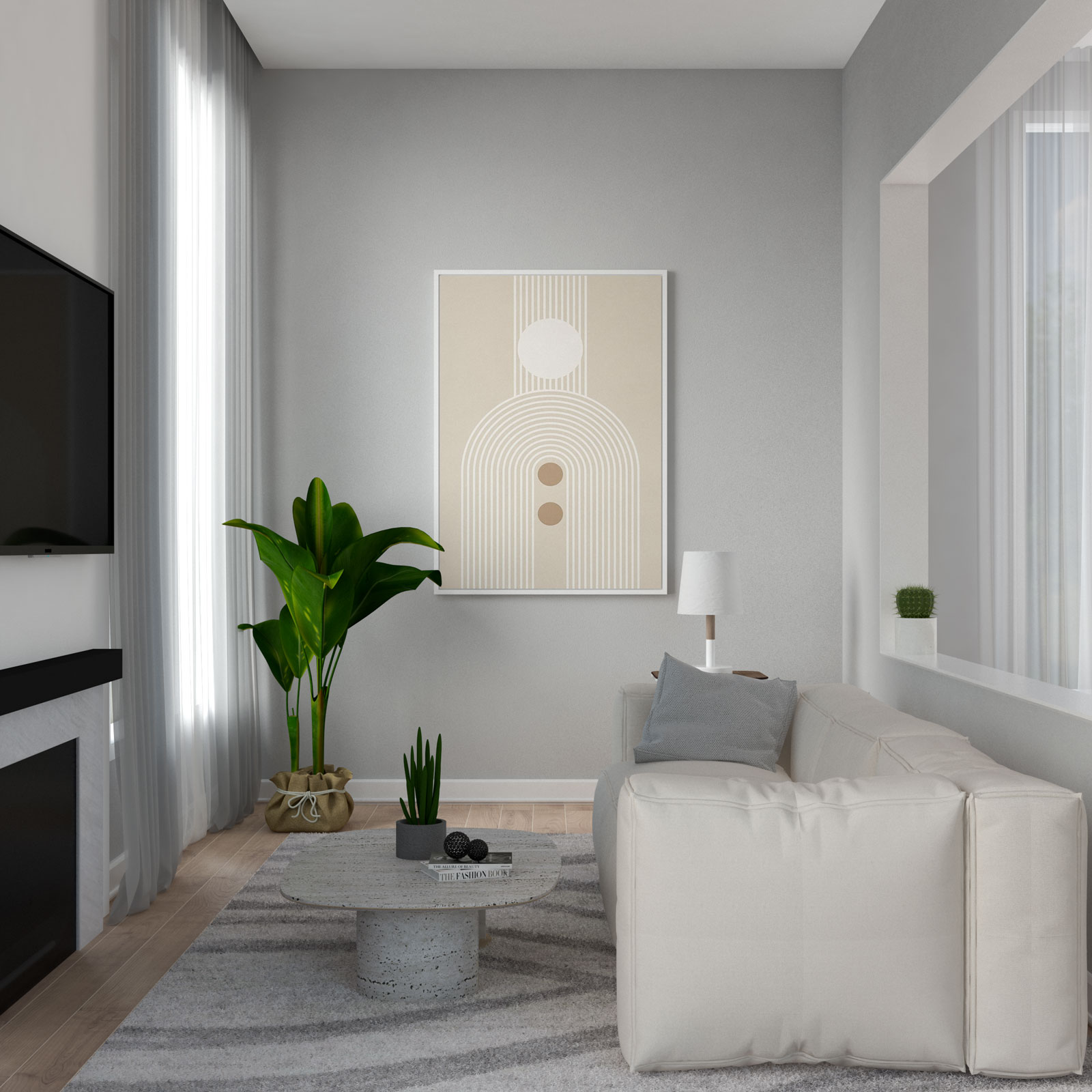 Gray is a great choice because it comes in a range of shades. You can use a light gray shade to keep your space feeling brighter but cooler, or you can mix cool and warm tones with the grayish-white shade that was mentioned earlier.
In addition, it is easier to add pops of blues, greens or pinks to a gray living room, and you can even use dark gray accents to add depth to your space without making it feel smaller.
---
Sea Green
Bring the fresh natural beauty from the shallow ocean floor to your home.
The saturated green paint color can be one of the best paint colors for small living room that needed a calming and relaxing vibe to compensate the limited spaces. Combine this color will neutral furnishings such as white or beige to get an even better results.
If you want to use this shade to paint your wall, our favorite choice is Colonial Revival Sea Green (SW 2825) by Sherwin Williams.
---
Sky Blue
Sky blue is another good soft paint colors for small room. This shade reflects light to make the space feel as bright and open as an extra window.
Blue is also great for adding a calming vibe to your space, which is always ideal for a living room. With sky blue, you do not have to worry about choosing a shade of blue that is too dark for a small space.
---
Pale Blue
Alternatively, you can try this light blue gray or pale blue paint color. This shade had a very similar characteristic with the previous one, but comes with stronger gray undertones, make it looks much more serious and elegant.
---
Olive Green
Having a combined fresh and natural ambiance from the green with some warmth and vibrant from its yellow undertones, olive green walls will easily lift up the mood of any small apartment or home.
Using olive green will make the entire space feel fun and cheerful, while also adding a deep fresh vibe to make a relaxing spaces.
---
Light Teal
Teal gained a lot of popularity in recent years. This modern, blue-green color had a combined benefits both from its blue and green hues. So, not only you can get a fresh looks, it also spread plenty of calmness and airy vibe.
This option will be a great choice for any small modern living room.
---
Lavender
This soft, subtle purple shades will spread plenty of brightness to your living space without being overly vibrant. And that's why we love to use this paint color for any room that doesn't have plenty of natural lighting.
To make it looks a bit more mature, you can combine the lavender wall with some bold, darker color such as dark gray, black, or dark natural brown.
---
Soft Pink
Another sweet and gorgeous choice in this list. If you are afraid of using pink as it may be not a gender neutral options, you can try this softer and subtle version.
The soft pink also comes with a hint of orange tones, make it looks vibrant and cheerful to help set up the mood of your living spaces.
---
Pearl Gray
Pearl gray is a light gray with a hint of green undertones, making it looks much richer and fresher than any typical gray.
This is a perfect wall paint color for you who want to keep your home simple and elegant, but also want to add some twist to make it fell more alive.
---
Sage
Another popular color that can looks great in a small living spaces. Sage is a gray-green color that benefited from both shades, the fresh looks of the green with a hint of elegance and neutrality of the gray.
And this neutrality is the main reason why sage can practically fit in into almost any color palette.
---
Greige
For a modern small living room, greige can be one of the best choice. It will easily modernize the looks of the entire room, but still keeps everything looks soft and neutral.
One of the great ideas you can try with greige is creating a monochromatic interior design by combining the greige walls with dark brown furnishings.
Some of the best greige paint that you can use is Agreeable Gray by Sherwin-williams or Revere Pewter by Benjamin Moore.
---
Peach
This soft yet vibrant color can create a bright and sweet ambiance, making your living space feel fun and friendly. Moreover, peach shade will spread plenty of light to lift up the brightness of your interior.
This color can also be a great option for any living room that uses plenty of dark furniture or accessories.
---
Final Thoughts
There is nothing like a fresh coat of paint on the walls to change the vibe of your small living room. The best part is that you can choose from several shades to reflect light and make your space feel open and airy.
Whether you want to stick to neutrals such as gray and pure white or add a splash of color with creamy yellow or sky blue, the right color can transform even the smallest living room into a comfy, cozy space.
When choosing a paint color, play around with samples to see what looks best in your space. With the right color, you can easily make your small room feel more spacious.
---
Explore More Wall Ideas