Sage as a shade symbolizes wisdom, balance, tranquility, and most importantly, peace. Sage green walls create a peaceful and tranquil abode, inspired by growth and ecology.
This palette represents growth and serenity, and you can accentuate the appeal by pairing it with colors that allow its unique charm to shine through the interiors.
This endlessly versatile palette blends beautifully with a wide range of colors, including white, taupe, gold, purple and deep reds. We advise focusing on your interior vision and understanding the aesthetic you want to create in your living space.
Read on to explore 7 amazing colorways to pair your sage green walls with well-coordinated furniture shades.
7 Best Furniture Colors for Living Room with Sage Green Walls
White
White and sage green make a heavenly match, for both colors symbolize peace, tranquility, and acceptance. They create a serene combination that will reflect maximum sunlight to create an airy, spacious, and brightly-lit interior profile.
This subdued pistachio-dominated palette exudes a European-inspired aesthetic – much like the pastel and chalky palettes one finds on the islands of Greece.
There are innumerable ways to play around with the sage green and white combination. For instance, you can invest in crisp white sofa, ottomans, or chairs and pair them with a moss green rug, pistachio green wall art, and accents of brown and nudes.
---
Taupe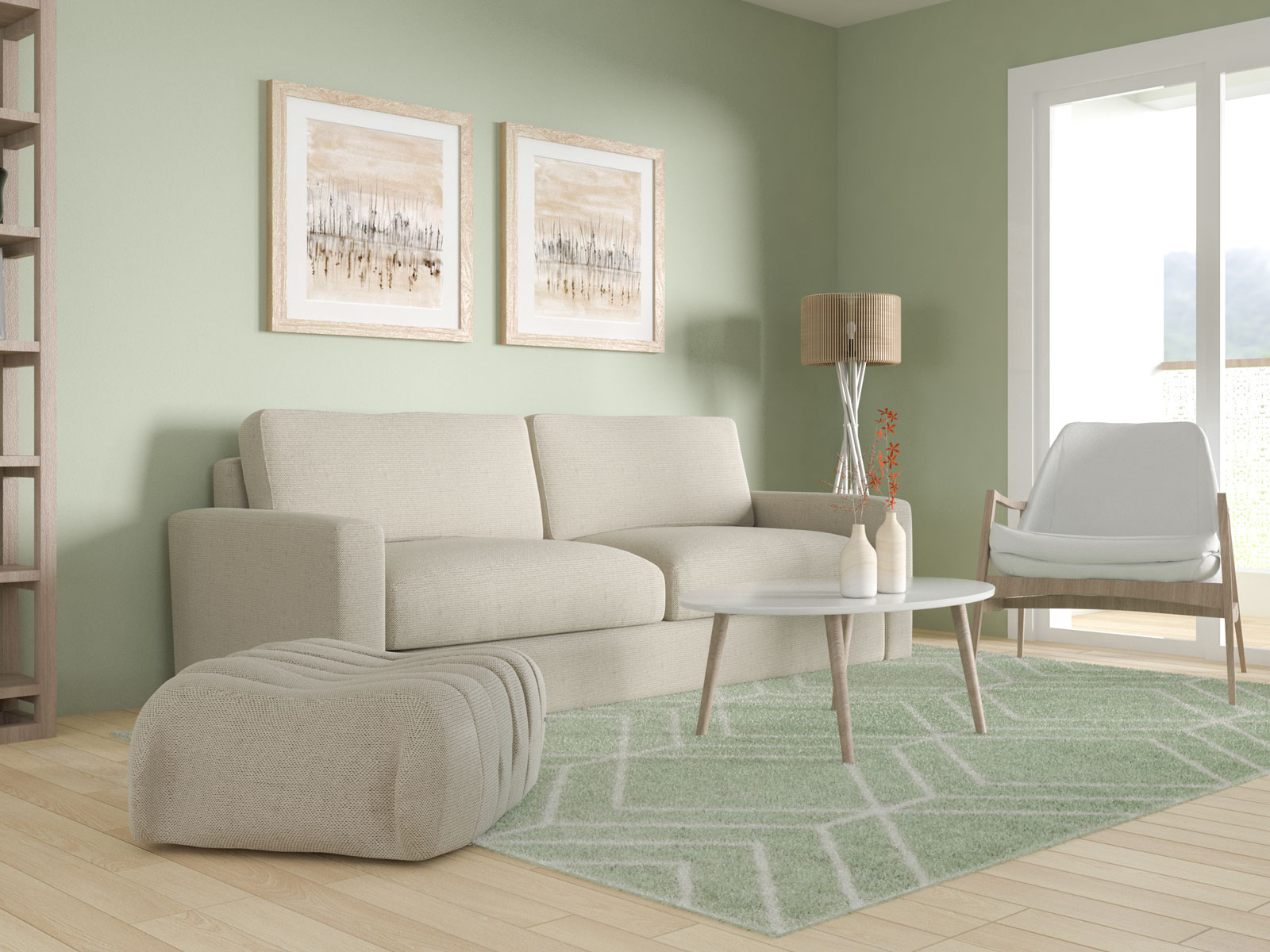 Taupe is a splendidly serene palette to allow sage green to dominate the interior profile by subduing other colors with its rich and creamy consistency.
Taupe will stand down and let the sage green walls steal the show with their majestic charm. We love how taupe blends beautifully into the aesthetic profile, anchoring the living space with its depth and earthiness.
Taupe is a fabulous choice for homeowners who prefer low-maintenance furniture to minimize their cleaning chores, and want to strike a balanced combination.
---
Orange
There's simply no going wrong with the feisty and fiery energy of orange, and we adore how it brings out a flirtatious playfulness in the peaceful and subdued profile of sage green.
If you want to give your sage green walls a zing of spicy energy, you simply cannot do better than orange furniture!
Orange furniture will give your sage green walls a bold dose of toasty warmth, perfect to create a homely and lived-in appeal. You can sneak in different shades of orange, especially rust, to infuse more depth into the interior profile.
---
Light Gray
Here's the ultimate color to create a sleekly polished minimalist profile: pair your sage green walls with light gray furniture.
This nature-inspired combination reminds us of the moss green of the forest, sage of the marshlands and the subtle gray of rocks nestled near the riverbanks.
This palette is delicate and refined, and you can beautify its appeal by adding subtle forest greens, earthy browns, and sandy nudes. Even subtle hints of black would be great to amplify the refinement with bold aplomb.
---
Dark Brown
Another remarkable nature-inspired palette that will work wonders at blending the outdoors with the indoors: pair your sage green walls with the muddy undertones of dark brown furniture. Dark brown and sage green has a special place in natural landscapes, and this is a combination that will give your living space a delightful outdoorsy appeal.
Light and dark tones always blend beautifully well to create profoundly charming combinations, and this sage green and dark brown palette is endlessly refined and elegantly tasteful.
You can experiment with different furniture styles, such as chesterfields, ottomans, L-shaped couches, and ottomans to achieve the aesthetic you desire.
---
Creamy Yellow
Creamy yellow is a divine shade to amplify the creamy consistency and pastel energy of sage green with a tastefully sophisticated interior profile. This is a combination that exudes serenity and sunshine, perfect to draw in ample sunlight and create a well-lit living space.
You can sneak in creamy yellow with sofa covers, floor cushions, table décor, lighting fixtures, and wall art.
This palette is quirky yet soft, perfect for homeowners who enjoy subdued accents without the monotony of dull shades. You can add more pastel colors to this mix to make it quirkier and more exciting.
---
Dark Emerald
A delightful two-toned palette that is a glorious celebration of green and its significance in Mother Nature's treasure trove of breathtaking sceneries. Pairing emerald green with sage green is a classic and timeless combination that will transform your living space into an architectural and design masterpiece.
This combination exudes regal glamor, for emerald is a shade that symbolizes royalty, splendor, and celebration. The dark and light combination is divine, and since it plays up two colors from the green family, the palette is rich and soothing for the eyes.
You can play around with emerald green furniture and explore large and bulky designs, such as a classic chesterfield with plenty of floor cushions and footrests to amplify the green in the foreground.
---
Final Thoughts
Sage green is divinely serene and its creamy consistency makes one fall in love with its refreshing energy. You can pair this gorgeous pastel shade with any color and the result will be lovely and delightful.
However, avoid shades that will overpower the peaceful appeal of the sage green with awful noise and busy patterns.
Instead, aim for a bright and well-coordinated combination that amplifies the refreshing aesthetic of sage green with depth, richness and boldness. Orange achieves this effect with amazing grace, and emerald green brings out the best in sage green by adding fabulous depth and contrast to the palette.
Focus on the aesthetic you wish to create and define your vision before you start experimenting with colors and combinations.
---
Browse More Furniture Color Ideas