Decorating any room that is dominated by gray furnishings can be easy but complicated at the same time. As a versatile shade, it's much easier to incorporate and mix literally any color with gray, but at the same time, choosing the wrong ones can lead to a boring or monotonous look.
Thus, the key to achieving the perfect visual results when using gray as the main palette is to find a perfect balance between the gray and other supporting colors, where the neutral gray can still look simple and elegant, while the other colors do their job whether to bring some splash of pop or just to enrich the spaces.
And this will become more crucial if you are planning to add any big colorful element to your room, such as the accent wall. As you may already know, the main purpose of the accent wall is to create a stunning focal point that captures everyone's attention immediately, so it needs to be bold, strong, and dominant, but at the same time can blend flawlessly with your gray furnishings.
If you are looking for some accent wall color inspirations, you are in the right place. Here in this post, we will show you some of our favorite accent wall colors that based on our experiences, work best inside any room with gray furnishings. Without further ado, here they are :
Best Accent Wall Colors for Gray Furniture
Dark Brown
Without any doubt, this is our favorite accent wall color for any room filled with gray furniture, as the dark brown can fulfill all the requirements of a great accent wall: it can bring a strong and bold visual appearance, blend flawlessly with all of the gray furniture, and create a perfectly balanced vibe, thank's to its warmth that neutralizes the cool-toned gray.
---
Navy
This is another great option for you who want a bold and dominant accent wall. The navy accent wall will create a strong statement to the entire room, especially when it's surrounded by neutral gray elements.
Furthermore, the elegance of the navy matches perfectly with the elegant look of the gray furniture, resulting in a stunning and sophisticated visual appearance.
---
Charcoal (Dark Gray)
For you who prefer a more harmonious look but still want the accent wall to stand out as the centerpiece for your room, then you can try using any dark shades of gray, such as charcoal.
By painting your accent wall with dark gray, you can keep the gray tone flow pleasantly between different elements inside your home.
To get the best results, make sure that there is enough contrast between the shades of gray that you are using for the furniture and the dark gray paint of your accent wall.
---
Dark Sage
Many homeowners may feel hesitant to blend green with gray, and we don't blame them as we agree that many green shades don't work really well with gray.
But that doesn't mean that you can use them together in one place, especially if you can pick the right shades of green that tend to look much more neutral than any typical green, such as this gorgeous dark sage.
Thank's to its strong gray undertone, the dark sage can blend beautifully with gray elements, while still spreading the natural vibe as any typical green and producing a fresh atmosphere to avoid your gray-themed room feeling boring and monotonous.
---
Soft Blue
This is another great shade of blue that will work nicely amongst gray furnishings, especially for those who want an accent wall with softer and lighter looks.
In other circumstances, this particular shade may not work really well as an accent wall, but things can be a bit different inside any room that is dominated with gray elements, as this subtle shade can still stand out to become the main focal point for the entire spaces.
Another reason why we love to use this color for an accent wall is that it can bring a lot of soothing and tranquil vibe to make any room feel cozy and relaxing.
---
Canary Yellow
The downside of using gray as the primary color is that it can potentially make your room feel monotonous and uninteresting.
If you are facing a similar problem, then you need to add some spark to make your room back to life, and for this particular job, there are no better choices than yellow.
Yellow elements can easily lighten up any boring room, even when it's only used as an accent. Thus, just painting a small portion of your wall with yellow can make a big impact.
While most yellow can work well with gray, one of our favorite choices is canary yellow, as this shade can spread a strong bright, and sunny look, but comes in a lighter and softer appearance compared to any other yellow.
---
Rust Orange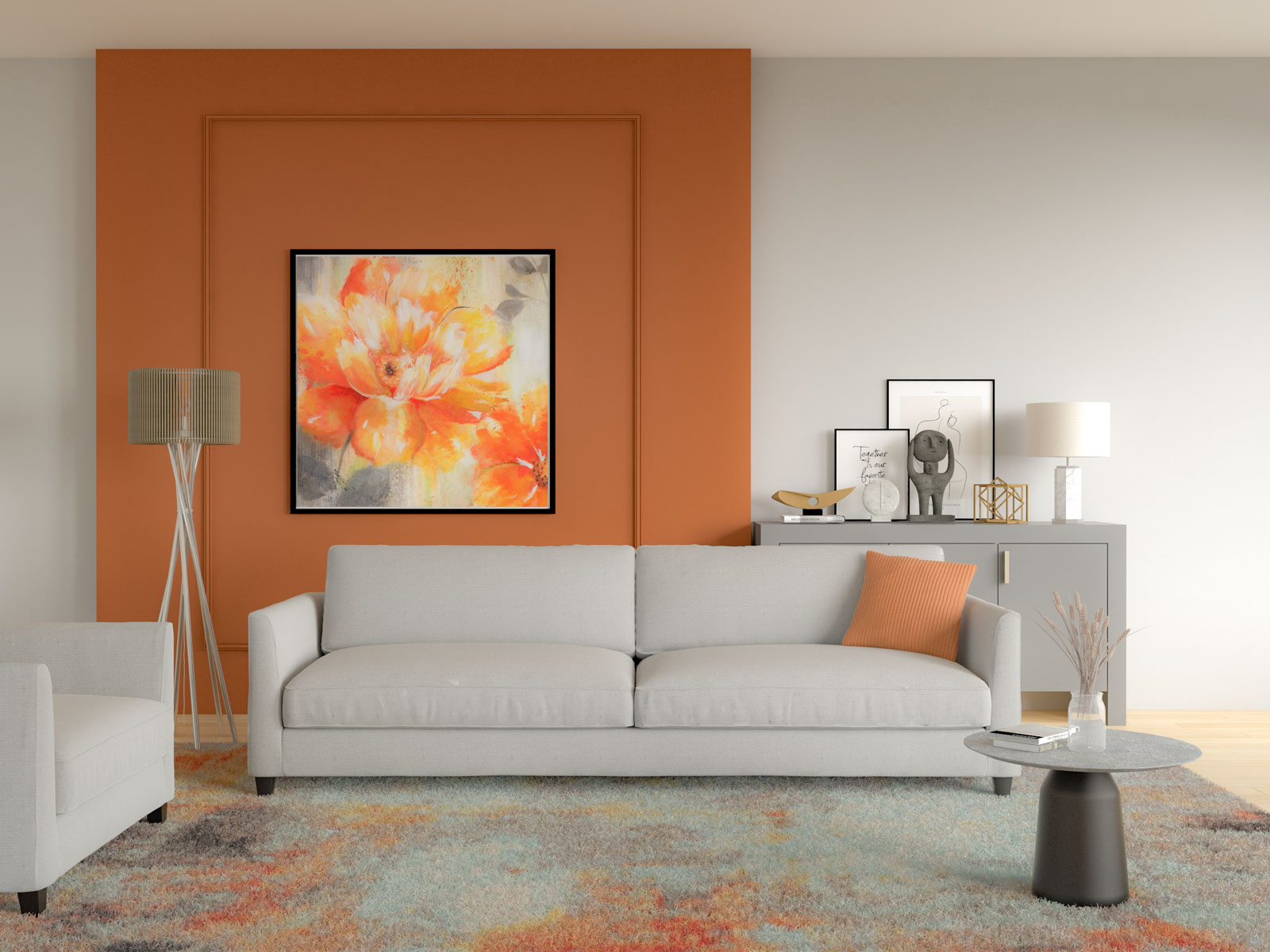 Orange is a great alternative to yellow if you want to add a splash of pop using accent wall for your gray living room.
However, some orange shades may be too vibrant and can bring more harm than good to your overall room's appearance, thus you need to pick the perfect orange shades that suit your design's style and preferences.
One of our recommended orange shades is this rust orange. And the main reason we choose this particular shade as it had some gray undertone in it, and that's becomes very crucial to make the orange accent wall blend perfectly with the gray furniture.
---
More Awesome Posts About Accent Wall