An accent wall can be a great feature to instantly elevate any room without costing you a lot of money. Just repaint one side of your wall, and your room's visual appearance will totally change!
However, a lot of homeowners may think that this kind of wall will only be suited for any large or spacious room, but actually, it isn't. In fact, you can still create an accent wall in any small room, and still brings similar gorgeous results.
But the main difference is that in a large room, you can literally use any paint colors that you want from the darkest colors to the brightest or vibrant one, so you can use your creativity and imaginations to create a unique and interesting feature wall.
While in a small room, the color selection must be done very carefully as choosing the wrong colors can do more harm than good.
In this post, our interior designers will share with you some unique color ideas that can be a perfect choice for an accent wall in small living spaces. Enjoy!
Accent Wall Color Ideas for Small Living Room
Light Gray
When it comes to a small room, then white is surely the most favorite color to paint the entire walls. And if you also did this for your room, then light gray may be the best option for you.
For a small space, obviously, a lighter tone may work well compared to any darker choices, and that's why using light gray to paint your feature wall can keep the entire room feeling bright and light, while it will still stand out amongst the others white walls.
Using a neutral shade for a feature wall can also bring a lot of opportunities to use any colors for wall decoration purposes, and here you can use your creativity and imaginations, whether you want to use vibrant and bright pieces of wall decor or use bold and darker ones.
---
Powder Blue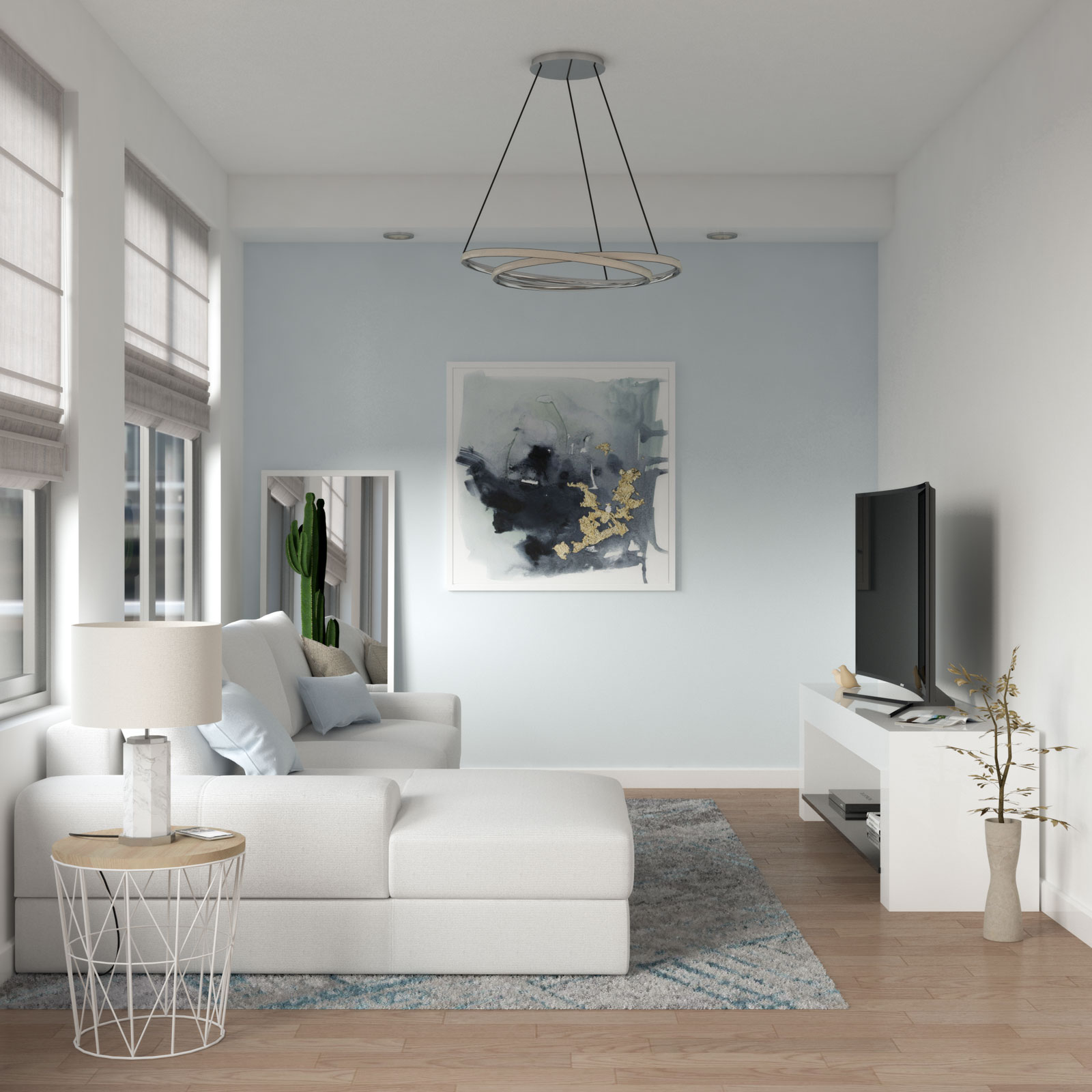 If you are a fan of blue, then an accent wall is surely the best way to bring these shades to your interior. However, for small spaces, surely the lighter blue shades tend to work better compared to the darker ones.
And that's why for this particular case, powder blue is one of our favorite. This shade is a very light shade of blue that almost looks like white, but still brings a hint of blue-hue that is enough to spread some airy and tranquil vibe.
Thus, you can still have a blue ambiance for your room, while still keeping the entire space feels bright and light.
---
Aleutian Blue
This is another light blue shade that will work nicely as an accent wall for small spaces. It's a bit darker than the previous choices but comes with some gray undertone that makes it looks very neutral.
And this neutral look surely will bring a lot of benefits when it comes to small living spaces, such as giving you plenty of room to add other colors to your palette.
---
Light Sage
Sage is one of the most popular colors in today's interior design trends, and that's why you will see a lot of homes using this beautiful shade as an accent wall.
However, for small spaces, a typical sage may look a bit dark and can potentially make the room feel gloomy, and that's why we are suggesting the light sage as the brighter and more rationable option.
This particular shade will still look as good as the typical sage but comes in a very light and bright appearance.
You can use this color to paint your wall to bring a fresh and natural feels that makes your home feel pleasant and relaxing.
---
Light Mint
Here is another great shade of green that you can use to paint your accent wall. As you can see in the example above, the light mint wall stands out smoothly to become the main of attention for the entire space without being too strong or overly dominant.
Furthermore, it can be a great option if you want to create aesthetically pleasing looks for your interior that will amaze everyone's who sees it.
---
Taupe
For you who want to bring the beauty of earthy tone to your home, then surely brown shades are the best option for you.
However, most brown shades may be too intimidating to become the accent wall for a small living room, except for some of the calmer and softer choices such as taupe.
This particular shade still had a strong brown hue in it but comes in much calmer and softer compared to any typical browns, and that's what makes this shade can works beautifully in a small space.
To get the most of it, combine the gorgeous taupe accent wall with a lot of fresh and natural greenery.
---
Charcoal
As we already said before, light shades tend to work best for an accent wall in small spaces. However, if you still want to use bold and dark colors to create elegant looks, then only go with charcoal.
Thank's to its neutral looks, this color can still work well compared to any other bold choices.
But before deciding to use this color, please make sure that your small room had enough natural light and only use it alongside the pure-white walls.
---
Olive
Olive green is a popular, widely used color for an accent wall. Unlike most green, this unique shade spread plenty of warmth, thanks to it's yellow undertones.
Thus, by using olive green to paint your wall, not only you will get a fresh natural ambiance as any typical green, but it can also turn the entire room into a charming and welcoming space.
---
Teal
A sophisticated ultra-modern space is what you will get when using teal as your feature wall. So, if you are planning to remodel your small room into a more modern and up-to date style, you should try this stunning color.
For an even better result, mix teal with another elegant color like gray or blue-gray.
---
Peach
In a small space, it's important to have a charming and warm ambiance to help you and everyone feel comfy. And that's one of the main reason why we include peach in this list.
This soft-toned shade will stand out beautifully as feature wall without being overly vibrant or stark. Furthermore, you can get a beautiful aesthetically pleasing looks using peach wall.
---
Canary Yellow
If you need some splash of pop to cheer up your boring room, then obviously, yellow tone is the best answer. This color can reflect light and make your space feel larger and brighter. However, when it comes to small space, overly bright yellow may not work well.
So instead, you can choose any yellow options that had softer looks such as this gorgeous canary yellow.
This subtle, soft yellow can still accentuate any wall cheerfully without being too much. You can also neutralize it a bit by combining the canary yellow wall with some white decorative items.
---
Warm Greige
As a new gray, greige gained a lot of attention in recent years. This stunning color combine gray and beige in a perfect, ultra-modern looks. It had the elegance of gray, while at the same time spread plenty of warmth as beige.
With still carrying the neutral character, greige can easily fit literally everywhere, including inside a small room. As you can see in the image above, the greige wall make the room appear larger.
Without any doubt, greige can be a great alternatives to gray or beige if you are looking for a neutral paint color for your wall.
---
Browse More Accent Wall Ideas