Whether you want to create a classic bedroom or going into a more modern style such as minimalist or contemporary, gray furniture can always be a great choice because of its versatility.
These kinds of furnishing not only will create an elegant look but also can bring cozy and comfortable ambient that's very essential to help you drift off to sleep.
Moreover, gray furnishings are relatively easy to blend with other colors, so it will give you a lot of room and flexibility to add more shades into your spaces. So you can use your creativity and imaginations to blend it with literally any colors that you want in order to create your personal taste for your bedroom.
And if you need some inspiration, we will show you some of the best wall colors that can works nicely inside a bedroom with gray furniture. And here they are :
Best Wall Color for Gray Bedroom Furniture
White
Gray and white is the new black and white. Using both colors in the same spaces not only will create a clean, crisp, and airy look, but the contrast they provide can bring more elegance that is perfect for any bedroom with modern, minimalist, or contemporary decor style.
Furthermore, the white walls can be a perfect background to highlight all of your gray furnishings and push them to make a big visual statement to the entire bedroom.
---
Lighter Gray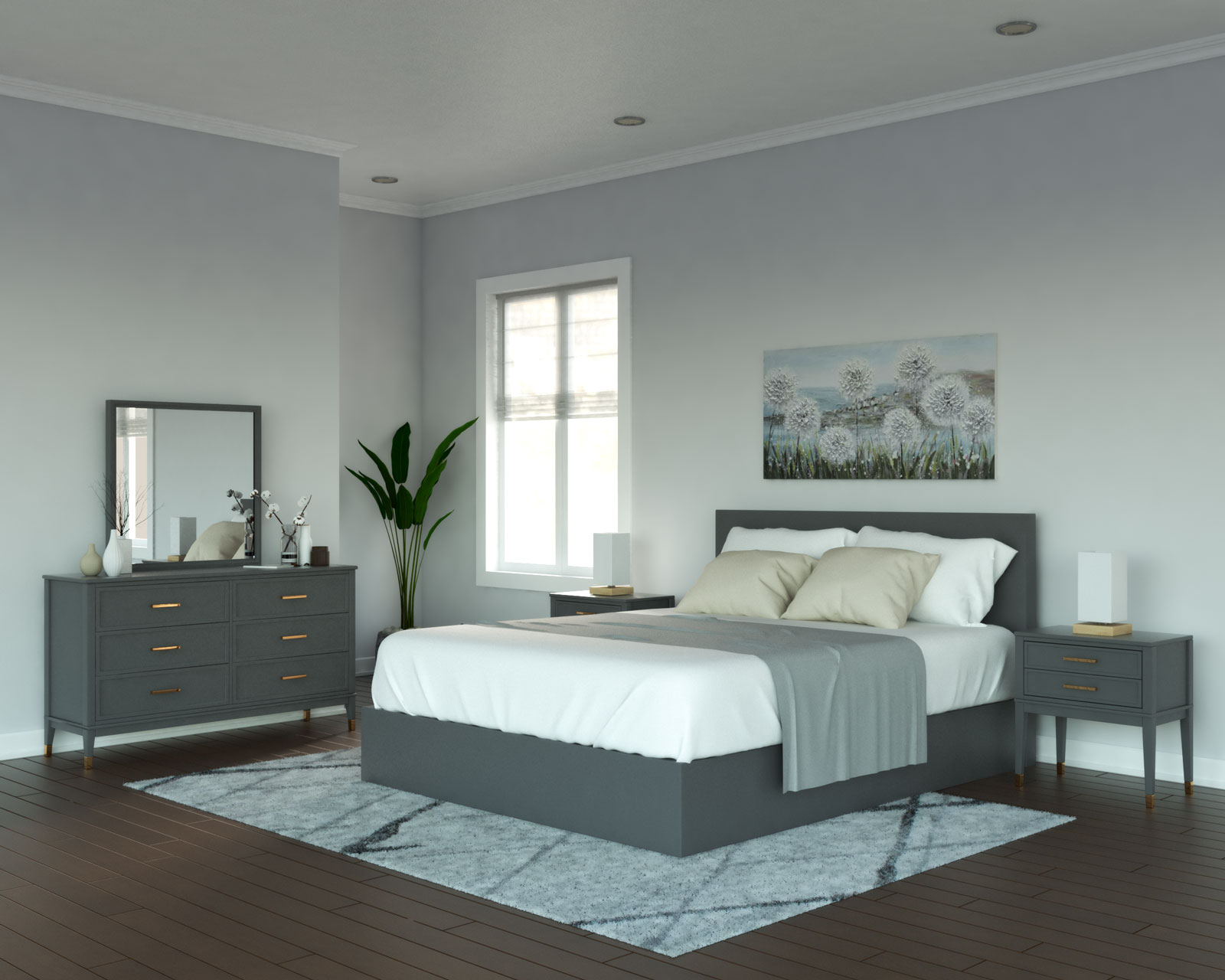 Monochromatic style surely will bring some risks, but if done properly, it can bring worthy results! If the majority of the furnishing of your bedroom comes in dark gray finishes, then you can try this approach by painting the entire walls with light gray.
This kind of wall color can still bring a noticeable amount of contrast that is essential to avoid the boring and monotonous feels, and will beautifully tie up the entire bedroom.
We also love to use this color for the walls because it can highlight all of the gray furnishings elegantly instead of distracting them away.
---
Pearl Gray
If you want to add some richness to your bedroom that using gray furniture while still keep the harmonious feels, then this unique shade of gray can be your option.
Pearl gray is a delicate shade of light gray that reflects the nature in an elegant and luxurious vibe.
Thus, it can add a bit of drama but still works in harmony with all of the typical gray furnishings.
---
Ivory
Sometimes, using the same gray for all of the furniture can make the bedroom feel a bit boring, drab, and dull. If you are facing similar situations, then using a warm-toned wall like ivory can be the perfect solution, especially if you want to keep the entire space simple, neutral without using any too strong and colorful choices.
This color scheme is quite popular especially for creating a classic or modern-mid century style bedroom.
When using this palette, we love to add some glam elements such as gold or brass to add more rich and luxurious feels that can be a great accent to enhance both gray and ivory elements.
---
Beige
Another great alternative to ivory is beige. This wall color can bring a more dramatic feeling and live up the tone for the entire bedroom.
The beige walls can also spread a welcoming and inviting ambient while still keep the comfy and cozy vibe of your bedroom.
---
Slate Blue
In some cases, adding another hue is the best way to break out the monotony. But doing that while still keep the entire bedroom works together in harmony can be a tricky job.
To achieve those goals, you should choose any colorful shade that still had some noticeable gray undertone, like this slate blue.
Painting your bedroom walls will slate blue will instantly make your bedroom more alive, but at the same time still blend nicely with all of the gray furnishings.
---
Sky Blue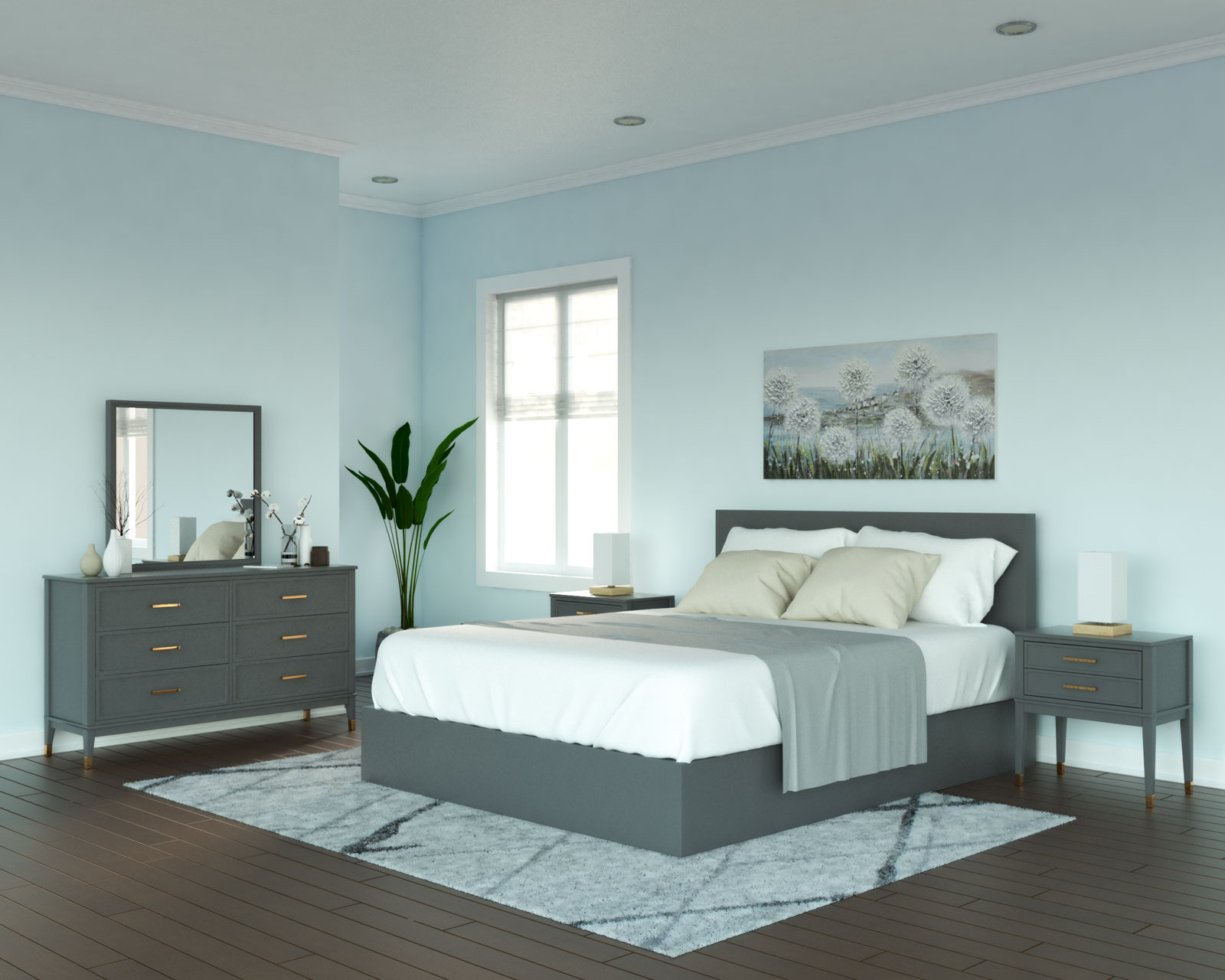 This vibrant yet soothing shade of blue can be a perfect choice to bring a stark contrast between the walls and the furnishings.
Moreover, this dreamy palette of sky blue with gray can create a tranquil, serene feel that is very essential for any bedroom in order to help you relaxed even after having very busy and stressful days.
---
Lime
Another vibrant color that you can choose to compliment the bold gray furniture is lime. This unique shade will bring the combinations of the freshness of the green hue with the fun and happiness of the yellow.
And when combined with the elegance of the gray, all of them will create a perfectly delightful bedroom.