With the deep richness of brown kitchen cabinets, there are a number of countertop colors that provide a complementary finish.
However, this selection of our top seven will help you make the most of your new culinary space. When it comes to choosing what color countertops go with brown cabinets, you should consider whether your kitchen design needs more light or some added interest, or if you want to strive for a bold and dramatic aesthetic.
You should also take a little time to ponder the upkeep of different materials, which we'll take a brief look at here in this helpful rundown.
10 Best Countertop Colors for Kitchen with Brown Cabinets
White Quartz
White quartz cuts a fresh and clean line across the top of brown base cabinets, making the whole room aesthetic appear crisp and energized.
This is an ideal option for kitchens that are undesirably shaded since white quartz has a wonderfully light-reflective quality. Don't worry too much about marking this white finish either, its non-porous quality makes it stain resistant.
---
White Marble
When you see marble you see luxury. A white marble countertop may be a little more sensitive to stains but it does deliver a high-end look that's difficult to match.
With stunning gray veins striking through the marble, this wonderful material adds interest and beautiful contrast to brown cabinets, delivering a unique pattern into every installation. With this look, you'll always know that you have one of a kind.
---
Black Granite
Black granite countertops make a bold and sophisticated crown for brown kitchen cabinets. This dark combination of materials sets a dramatic scene for a serious cook. A highly durable material, granite can put up with heavy knocks, hot liquids, and slicing and dicing.
Black countertops don't show as much daily dirt as their lighter counterparts, however, do incorporate good kitchen lighting so that your dark decor doesn't become gloomy.
---
Gray Marble
Gray countertops have a cooling effect upon warm brown kitchen cabinets, creating a pleasing balance of tone. Gray marble provides a high-end look with a timeless appeal, making this material a great long-term investment.
Alternatively, a gray custom-cast concrete countertop projects a contemporary industrial aesthetic that can elevate your room and push your home interior in a whole new direction.
---
Dark Gray Concrete
If you need an even bolder and stronger look, you can choose dark gray concrete. These concrete will perfectly match with any dark wood cabinets, going together in classical dark appearances.
This combo will creates a stunning rustic industrial kitchen style.
---
Beige Granite
When teamed with beige granite countertops, brown kitchens become a warm and welcoming place with a mildly traditional charm. With a coffee and cream appeal, this is a place where you'll want to spend time with friends, chatting over a hot beverage.
Use white ceramic accessories to cut through this meld of materials, along with some indoor plants or live herbs to add a note of freshness.
---
Light Wood
Light wood countertops make a terrifically tonal arrangement when teamed with dark brown kitchen cabinets. This combination of natural wood grain makes a homely look that complements boho design aesthetics, rustic interiors, and botanical-infused decor schemes.
If you don't mind the occasional maintenance of resealing the wood, then this is an ideal budget-friendly option that is easy to repair too.
---
Cream Marble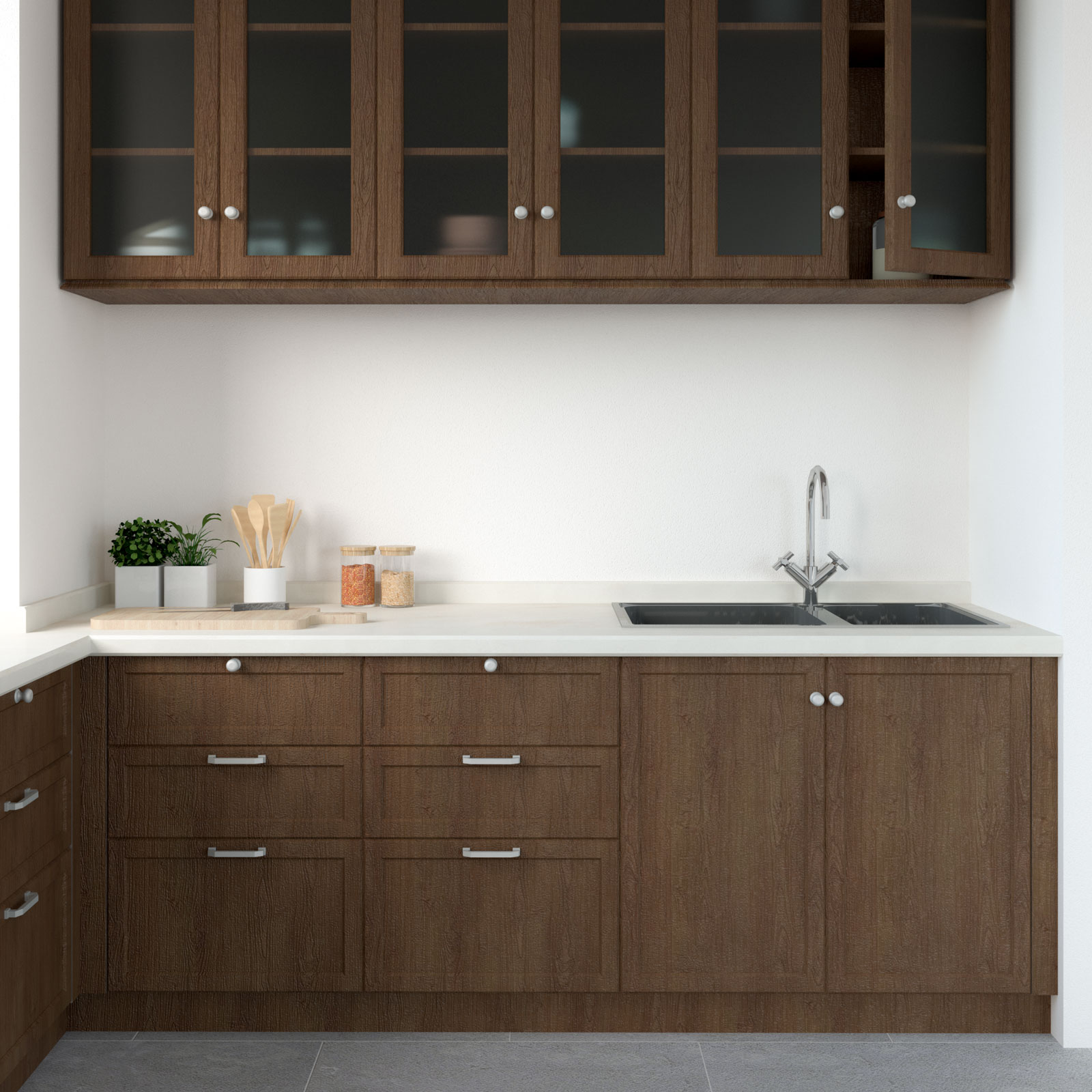 The cream marble countertops will easily add a glam luxury touch to any brown-themed kitchen. It's lavish, sleek looks also brighten the tone of your kitchen, making the dark cabinets feels a bit brighter.
You can use this combination to creates a gorgeous classical kitchen.
---
Brown and White Marble
Brown and white marble countertops offer the visually lightening quality of pale marble with the warming effects of a color-matched grain.
This is an earthy option that exudes natural beauty, whilst carrying a distinct hint of luxury.
A muted combination, brown and white marble countertops with brown cabinetry make a calming neutral scene that looks handsome with natural wood kitchen accessories.
---
Gold Imperial Granite
This kind of granite had a unique looks, a combination of orange, beige, and brown color flowing in an awesome natural pattern.
With plenty of warmth, this countertops not only makes your kitchen looks glamorous, but also feel welcoming and alive.
---
Conclusion
With all of these aspects in mind, it can prove extremely challenging to settle on a final choice. Keep your budget firmly in mind, decide on the level of upkeep you're willing to do going forward, and assess the level of natural light in your room before proceeding.
Of course, there are ways to create a "look for less" with budget-friendly dupes on the market that will give the look of stone but do bear in mind that they will have less longevity.
Unless you enjoy regular revamps in your kitchen space, go for something that will stand up to the daily grind. Brown kitchen cabinets have a timeless appeal, so your kitchen countertop should go the distance too.
---
More Countertop Color Ideas