Recently, darker couches tend to be more popular compared to any lighter ones. Not only these kinds of couches are easy to maintain, but also they can bring a bold, elegant statement into your home.
And among many dark finishes couch, dark gray is one of the best choices, thank's to its versatility that makes it fit easily into any decor scheme and combined with any other shades.
However, using dark couches like dark gray can bring some difficulties, especially if they are placed in any small-sized room or in any room that lacks natural lighting.
In this kind of situation, the couch can potentially look too dark that making it feel drab and unattractive.
If you get stuck in a similar condition, don't worry. We will share with you 6 simple decorating tricks that can help make your dark gray couch feel a bit lighter and brighter, and here they are :
1. Use Bright Wall Color Behind The Couch
Repainting the wall behind the dark couch can be one of the most effective ways to instantly transform the vibe of your sitting area.
Fortunately, gray is a very neutral shade that can be easily blended with any other color, including any bright or vibrant ones. So, you can choose any colors you want to live up to your spaces.
Based on our experiences, a warmer tone tends to work best when it comes to dark gray couches.
These kinds of colors can bring a welcoming warm ambient that will balance out the dark couches. Furthermore, it can visually make the entire space feel a lot brighter.
---
2. Combine With Bright Rug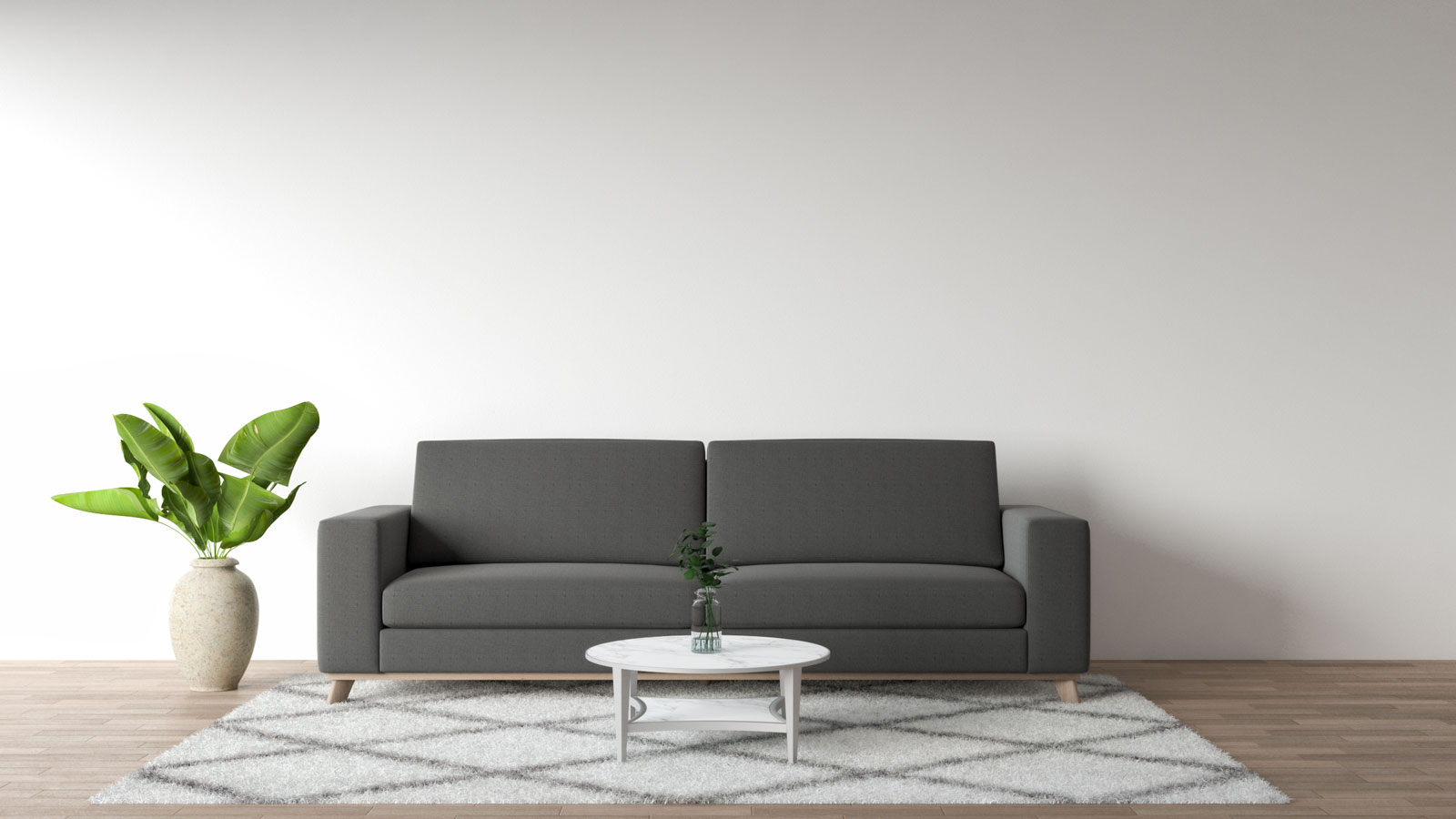 Another way that you can use it to easily brighten up your dark grey sofa is by combining it with a bright area rug. This can bring a lot of impacts especially if you are using medium to dark colors for your flooring.
The most straightforward choice is surely a white area rug. Using a white rug not only will make the entire area look brighter, but it can also provide a beautiful, clean contrast with the gray couch and help make the couch stand out more.
Other bright or vibrant colors can still work wonders too. You can use your own creativity and imagination to mix and match the couch with any bright rug, such as light yellow or sky blue.
This also can be a great way to add some splash of colors to bring some fun and joy vibe inside your room.
---
3. Contrasting With Throw Pillow
Many homeowners may think that throw pillows are only used for decorative purposes. In fact, it can also be very beneficial to set up the tone and vibe for your couch, and it can also make the couch feels a little bit brighter.
As an example, you can see on the image above, where we put a gorgeous white pillow with a gold accent on our dark gray couch.
The pillow instantly refreshes the looks of the couch, while the gold accent adds a touch of beautiful glam vibe.
---
4. Add Bright Accent Using Throw Blanket
If you need more functional, and cozy options, then surely this one is for you. Yes, you can make use of a comfy throw blanket with light or bright fabric colors to help brighten up your dark gray couch.
Furthermore, in terms of functionality, these blankets will keep you warm and comfy during winter time.
---
5. Put Bright Artwork Behind It
Actually, this is a more indirect way but still can bring a noticeable impact if done properly.
Yes, you can put any bright or vibrant artwork behind your couch to lift and cheer up the entire space, thus can manipulate our perspective and making the dark couch feels a bit brighter.
To make this works, we highly recommend you to use any strong and vibrant artwork that uses very bright colors such as yellow, orange, or red.
---
6. Add Additional Lighting
If you want to brighten up not only the couch but also the entire room, then surely you should add more lighting sources to your space.
The best way is surely by adding more windows to let more natural light comes in, but it can cost you a lot of time and money.
A more affordable alternative is by adding some additional lamps, such as a standing floor light or some additional ceiling light.