The design of a room or home is not complete without a coffee table. A coffee table helps enhance the room's look while providing convenient support for items.
However, when choosing a coffee table for your living room or any other room, the color is a crucial factor you don't want to skip.
Now that you have a gray couch or sectional, you want to go for a color coffee table that suits your design without making the room look messy, and you are probably confused as to which color coffee table goes with a gray couch.
Though you have a list of different colors to choose from for your gray couch, it is worth noting that a neutral-color coffee table is usually the best choice for a gray couch, and you should shun bright colors. If you must introduce a bright color in the room, you may consider it for other accessories.
12 Best Coffee Table Colors for Gray Couch
White
White and gray are regarded as a good match in home decor. Combining a white coffee table with a gray couch creates a sophisticated view without making the room messy, as shown above.
White is considered an excellent choice of coffee table color for a gray couch as it matches different shades of gray, be it light, dark, or charcoal.
Therefore, a white coffee table will help enhance the look of your room regardless of the gray shade you choose for your couch.
---
Light Wood
Do you need a coffee table color to give a catchy look in the room with your gray couch? A wood-colored coffee table will do the job well without making the room look riotous.
Choosing light wood for your coffee table will match your gray couch and give your room a natural, refreshing vibe.
As shown above, the light-wood coffee table looks outstanding in the room without color contradiction.
---
Black
If you seek a gloomy outlook in your room with your gray couch, black is an ideal color to consider. Black and gray are both neutral colors that create gloomy color contrast in home decor.
A black coffee table works best with a light-gray couch. Light gray helps highlight black better and keeps the room more catchy than other shades of gray.
---
Gray Concrete
Achieve a gorgeous monochromatic looks by using gray concrete table. While other gray table may be creating a boring looks, this kind of table is quite different.
Since the concrete elements would have a strong texture and colors, it will make the table easily distinguishable with the couch, while still being in harmony for it's gray undertones.
---
Gray and Wood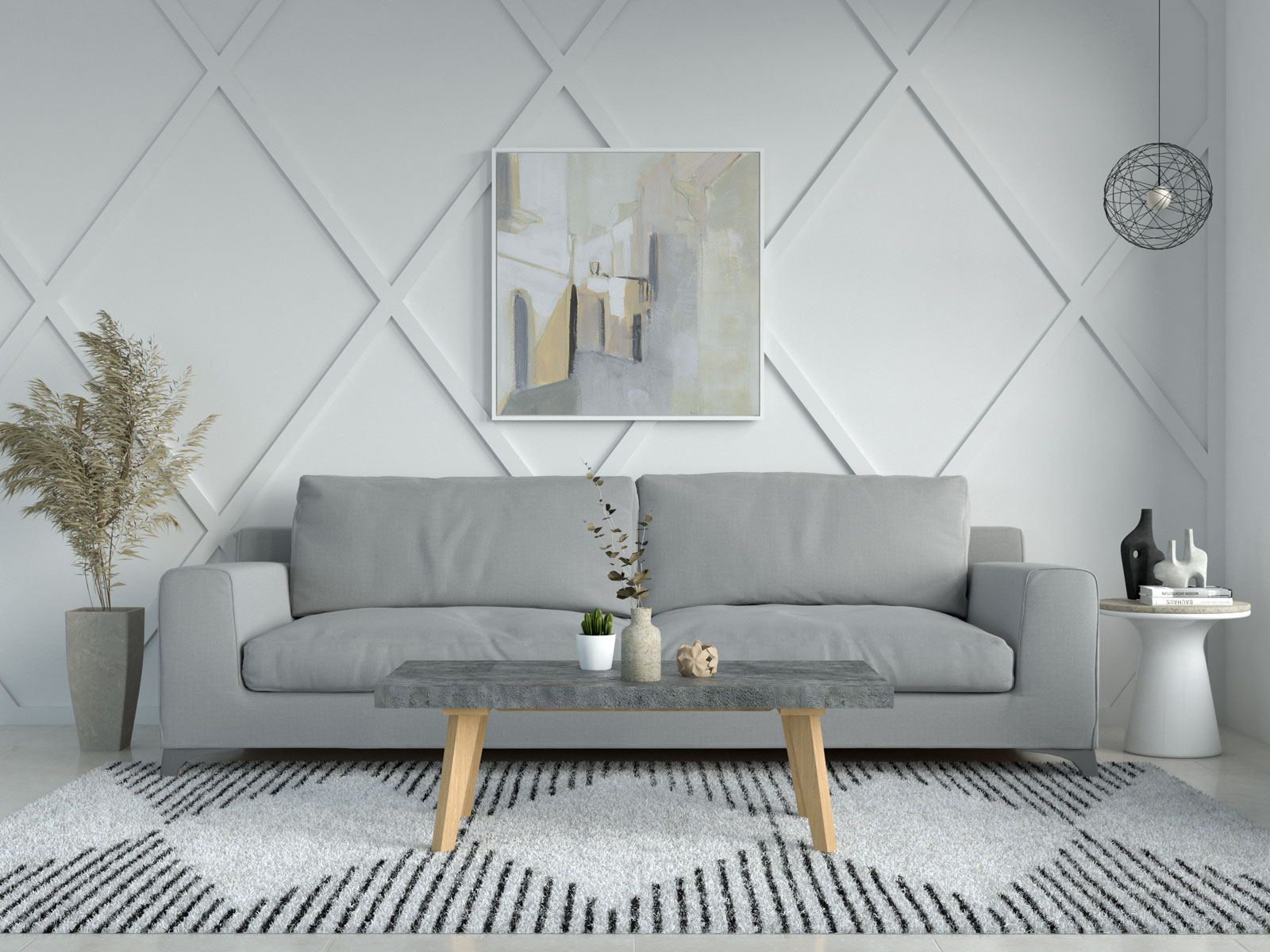 You can also choose any gray and wood table. This table will create a gray connection with the couch, while its wooden elements helps adding contrast that avoid monotonous looks.
For a better results, you can add some colorful decorations above the table.
---
Cream
Gray and cream is a perfect color combination that never goes wrong. The warmth of cream/beige will lift up the cool gray, making a more cozy and comfy appearance.
You can choose a simple, cream plastic coffee table or use a cream marble table for a glam, luxurious feels.
---
White and Black
Gray is regarded as a mix of white and black, and if you are looking for a color coffee table for your gray couch without going outside the color set, a white and black combination is a good option to complement your gray couch.
The design above shows a coffee table with a white top and black legs and stretchers. You can also work things around by making the top black and the legs white. Both options are great choices for a gray couch.
---
Dark Wood
White-wood coffee tables are not the only wood-colored coffee tables for a gray couch. A dark-wood coffee table will also get the job done to create a catchy look in the room.
This image shows how a dark-wood coffee table is matched with a gray couch. The table top is dark wood while the other parts are black, providing an elegant look in the room.
---
White and Gold
Though you can have a single color for your coffee table and get it right, mixing two colors for your coffee table is also a good idea, and white and gold are good examples.
A White-and-gold coffee table works best for a gray couch, but experts recommend choosing a warm shade of white so the contrast doesn't look too cool.
The image above shows how the white table top matches the side table and a part of the rug while the gold-colored legs match the artwork behind the couch.
---
Glass and Gold
While you can combine gold with another color to complement your gray couch, you can also combine it with glass to create a transparent view.
Since gray doesn't reflect much, matching it with a gold coffee table will make the room glossy and attractive, creating an overall catchy contrast.
What makes glass and gold more ideal for a gray couch is that it goes well with all shades of gray. However, it is recommended to avoid highly-reflecting shades of gold so it doesn't overtone the color contrast.
---
Dark Rustic Wood
Add a twist of rustic vibe to your home by using these dark wooden table. This kind of table not only creates a beautiful, artistic effects to your seating area, but also warm up the space with some traditional ambiance.
---
Glass and Silver
Another great simple yet stylish choices. The glass and silver table boost the modern and elegance of the couch, without being stand out too much. Thus, your gray sofa will be kept as the main focal point for your living spaces.
This kind of table will be a perfect choice for any small spaces as it will make your seating area feel clean and spacious.
---
Final Thought
The task of designing a room is not complete without a couch and a coffee table, but when choosing a color coffee table for your gray couch, the challenge is in knowing which color goes with a gray couch. While this can be daunting, following expert tips will help you make the right choice.
This guide has highlighted the best color coffee tables that go well with a gray couch.
---
More Awesome Coffee Table Ideas