A nightstand is a necessary piece of furniture to have in a bedroom. And while they play a significant role in the functionality of the bedroom, they are also not left out in designing the bedroom. This is why it is necessary to look for a nightstand color that benefits the design of a bedroom, especially the bed.
Now that you have chosen a gray bed, you are on the hunt for the best nightstand colors that go with a gray bed. Choosing a nightstand color for a gray bed, like other bed colors, can be daunting, especially with the numerous options before you.
However, with the right tips, choosing a nightstand color shouldn't be a headache. First, consider the colors in the existing décor such that the new color doesn't disrupt the existing décor. Second, know what vibe you want to create in the bedroom. These two factors should put you through in making the right choice of nightstand color.
Here are the best nightstand colors that go with a gray bed:
10 Best Nightstand Colors for Bedroom with Gray Bed
White
In décor, white is a neutral color to think of for those who don't want to overthink their color choice. White is a great choice of nightstand for a gray bed since it is a neutral color and goes well with every other color in the room, such as your gray bed, to make a bold statement in the bedroom.
As for creating feelings in the bedroom, white connotes purity and innocence.
---
Gray
If you don't want to go far with choosing a nightstand color for your gray bed or are a fanatic of gray, you can also stick with the bed color.
What makes gray a great choice of nightstand color is it is a color between white and black. Hence, if you are looking for something not too bright or dark, you are not making a mistake by settling for gray again.
---
Beige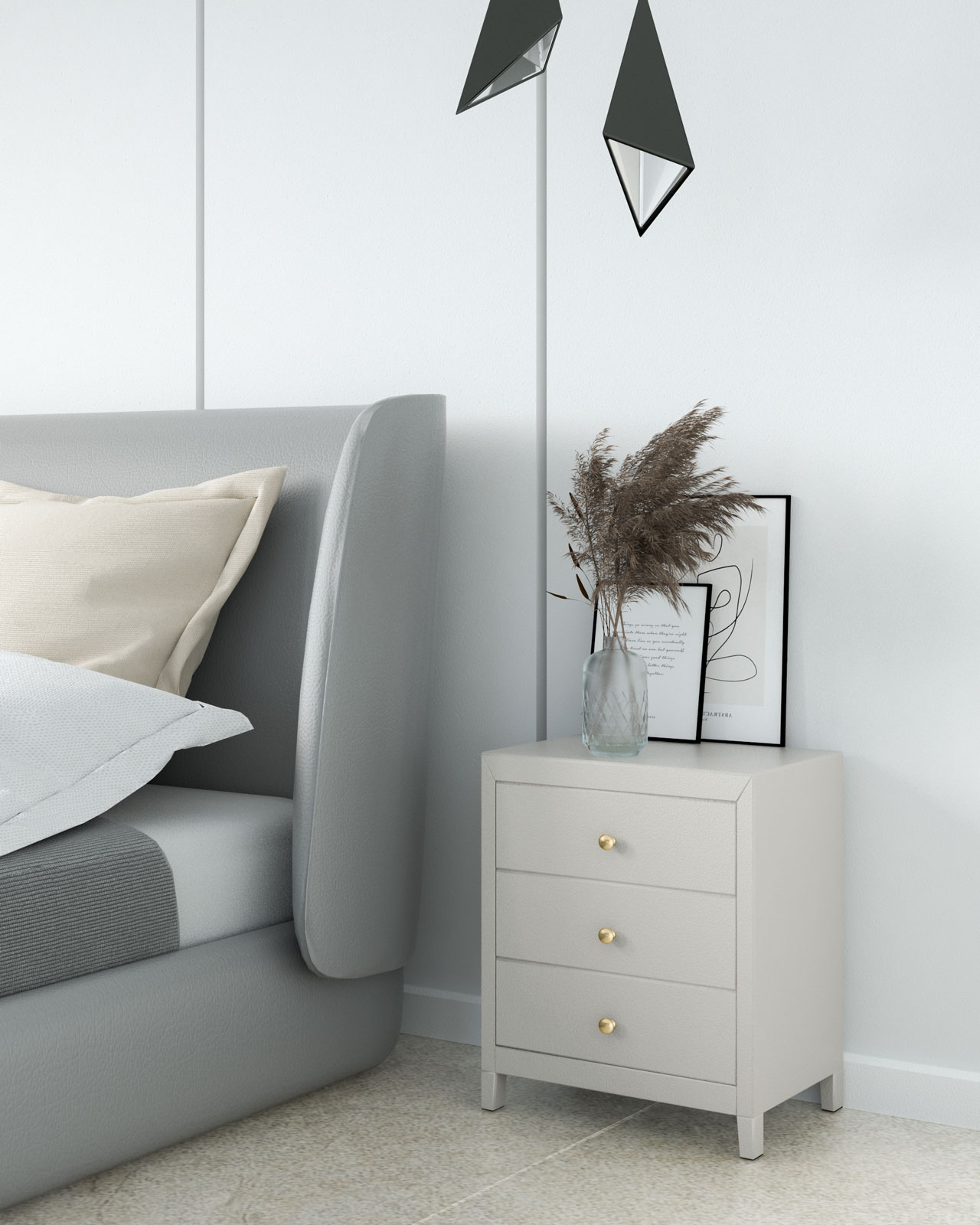 Beige is also a neutral color to make a great pair with another neutral color like gray. However, color psychologists recommend matching beige with a warm gray. The reason is that cool grays have blue and purple undertones, which don't go with gray, while warm gray has yellow and brown hints, which match well with beige.
Beige creates different vibes based on the color it goes with. For gray, matching beige with gray creates a sense of calmness.
---
Black
If you are looking for a nightstand color that won't complicate your design but yet powerful enough, black is a great choice to consider. Black, like other neutral colors, can accommodate other colors in the room.
However, black goes well with gray than other colors. This might be due to gray being a mix of black and white. Matching a black nightstand with a gray bed means both pieces can work together in the room to create a bold statement.
---
Navy
To break the monotony of your gray-themed bedroom, you may need to incorporate some strong accent color such as this navy blue nightstand.
These kind of nightstand will provide the similar elegance to the bed, while also adds different hues to enrich your color palette.
---
Dark Green
Alternatively, you can try this dark green nightstand. This is much better alternatives compared to most green shades that can looks overly vibrant and ruin the elegance of your bedroom.
---
Gray and wood
If you are targeting two colors for your nightstand, gray and wood are two great colors to consider for a striking effect. Wood creates different psychological health effects on humans based on the color. While dark colors of wood are known for a feeling of depression and anxiety, light shades of wood create an aura of peace, comfort, and coziness.
For gray, since gray is your bed color, matching gray with wood as your nightstand colors is an excellent option.
---
White and wood
While you know what effects wood creates in the room and the outstanding look it gives, white is a great choice of color to match it. White is excellently ideal for gray as it helps turn gray into a crisper, richer version.
Also, since white represents purity and innocence, you want to match it with wood as your nightstand color for a gray bed.
---
Gray and White
If you are a lover of gray and would love to have your nightstand with some tint of gray but with another color, consider gray and white. Since gray is already your bed color, you are not making a mistake by choosing gray again.
White is a great ideal color to match gray as they both work together to create a bright and airy space. However, your shade of gray might depend on the shade of gray you already have for your grey bed.
---
Black and White
For you who can't decide whether to go with white or black, why not choose both? A black and white bedside table will look awesome with a gray bed, as it provides both darker and lighter contrast, creating bold and sleek appearances.
These kinds of bedside table will be a perfect fit for any bedroom with modern contemporary style decor.
---
Neutral Brown
This color may not a popular ones when it comes to nightstand, but if you can find one, it can be a great option to compliment your grey bed. Especially if you want to creates a glam, classical style bedroom.
---
Conclusion
Choosing the right nightstand color for a gray bed might be daunting since you have different colors to choose from. However, with the right guide, making a choice of nightstand color to complement your gray bed without complicating your existing design shouldn't be a hassle.
This piece has provided you with the top nightstand colors that go well with a gray bed. Depending on the vibe to create in the room and your existing décor, you are never wrong with whatever option you go for on this list.
---
Browse More Nightstand Ideas